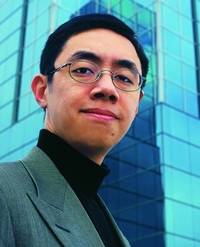 Like grape pickers rushing to gather their harvest before the first frost, engineers working on security systems worldwide are rushing to beat "Q-Day" — the day quantum computers can quickly crack current maths-based encryption protocols, a task which would take a classical computer centuries.
At present the algorithms used for standard two-key encryption can keep customer data safe since classical computers would take centuries to perform the number-crunching needed to crack the codes. But Andrew Cheung, Founder, President and CEO of Canadian security software firm 01 Communique, warns that Q-Day is approaching. This is the moment when hackers operating in the commercial, as opposed to national government, space can use quantum computing to crack previously safe encryption protocols.
He believes such computing is already available at national-government level and warns that it could come into the open space anytime within two years. To help enterprises combat this problem, the company offers a security solution dependent on programming, which is not susceptible to quantum cracking.
The solution, IronCAP, has expanded its market through the Hong Kong Trade Development Council's Asian Financial Forum (AFF). Mr Cheung recently discussed his company's offerings with Hong Kong Means Business.
We understand you have landed deals with PricewaterhouseCoopers (PwC), Hitachi and CGI (a Montreal-based global system integrator). Can you give us the details?
This is a direct result of our participation in the AFF in January. We knew some of their partners and prearranged meetings with the companies at their booths during the AFF 2020. They were attracted to IronCAP because of our post-quantum cybersecurity technologies, and adopted the solution.
Some of your products facilitate remote working – has the COVID-19 pandemic brought a great deal of business? Any details you can share?
Yes. Our remote-access users have tripled since COVID and look likely to triple again in 2021.
Will it be possible to retrofit IronCAP technology into the many existing encryption systems or will they all have to be rebuilt from scratch?
IronCAP is designed to be retrofitted into existing encryption system (e.g. compatible with PKCS#11, GPG, etc.) so that existing products can migrate with virtually no effort.
What are your main markets at the moment?
Currently our main markets are the United States, Canada and Japan. We want to expand our market into Mainland China, Hong Kong and Macao. While we do not yet have an office in Hong Kong, we have been seriously considering setting up one but the process was suspended by COVID.
Once COVID is passed, will you again consider setting up a Hong Kong office?
This will be the number one thing for us to do post-COVID. The office can be a very effective springboard into the mainland, and the [Hong Kong-Guangdong-Macao] Greater Bay Area.
What are the benefits of quantum computers?
Quantum computers, with a million times the power of classical computers, can perform scientific tasks that classical computers can never do such as DNA analysis, chemical reaction analysis, cosmology analysis, etc. This will create many technological breakthroughs for mankind.
At present quantum computers are still very experimental – when do you anticipate seeing commercially viable quantum decryption on the market?
Quantum computers are already way beyond the experimental stage since 2019. IBM Q [IBM Quantum, an industry-first initiative to build universal quantum computers for business, engineering and science.] was commercially available in January 2019. Google claimed quantum supremacy in October 2019. Honeywell in July 2020 released their quantum computers doubling the power of IBM and Google. Amazon offered their quantum computers for public use via the cloud in December 2019. These are only the facts available in the open world. Quantum computers owned at a national level are a big unknown. We believe quantum [code] cracking is already happening at a national level. Q-day is generally only referred to as the day when quantum computers are available in the hands of non-national hackers. We believe Q-day is a lot closer than most people choose to believe, just like any pandemic. Our estimate is any day between now and the next 24 months.
Is there a danger that a run of previously unexpected innovations could fast-track this?
This definitely could happen. The main obstacle in quantum computing is about how to obtain "quiet qubit". This kind of quantum science development can dramatically fast-track the development of qubit beyond imagination.
Some fear that quantum computers could crack any code because the required calculation time would go from centuries to seconds. How do you render code "quantum safe"?
IronCAP employs the Goppa code-based encryption technology that has been time-tested for over 40 years in the academic world with no mathematic cracking theory. This is the area where our crypto scientist, [IronCAP Crypto Scientist] Professor S Bezzateev, is a world-renowned expert. It is an error-correction technology that is not based on math so the excessive computing power of quantum computers has no advantage over a classical computer.
Will you take part in the hybrid online-offline AFF 2021, set for 18-19 January?
Yes. We will be a part of the PwC presence at the AFF 2021, as a partner to promote their post-quantum cybersecurity strategy.
AFF 2021 will run on 18-19 January 2021. To ensure the safety of participants and staff, the event will be held entirely online.
Related link
IronCAP