As technology powers ahead rapidly, Hong Kong start-up Roborn believes applications that can adapt to the changing needs in different markets and sectors will come out winners. Guided by this philosophy, the company has developed intelligent robots for measuring body temperatures and disinfection to help contain the COVID-19 pandemic. The products target both the Hong Kong and overseas markets.
Body temperature monitoring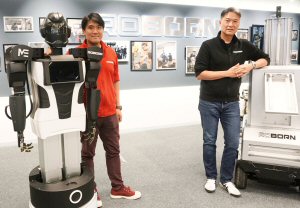 Roborn was set up recently by the Chinese University of Hong Kong Professor Larry Poon, together with his Master of Business Administration (MBA) programme students Mark Mak and Eden Lu. The three robot enthusiasts have complementary strengths – as an undergraduate Mr Lu majored in economics and finance and Mr Mak did so in electrical engineering, while Prof Poon specialises in business strategies.The development of the body-temperature monitoring robot stemmed from a discussion between Roborn founders in January, when COVID-19 broke out. "I talked with Mark, our Chief Technology Officer, about the need for a temperature measurement robot. We recalled that when SARS [the Severe Acute Respiratory Syndrome] struck in 2003 body temperature tests were required but portable thermometer sets required people to wait in line until they could stand close to the device, raising the risk of infection," said Prof. Poon, Roborn's CEO.
"We decided to find a solution. As a result, we developed the 5G temperature monitoring smart robot called "PEP3000" within 15 days," he recounted. "The robot can move around and use an infrared camera to measure the body temperature of many people at the same time. This detection technology is suitable for such venues as buildings, airports, cruise ships and hospitals, etc."The first two PEP3000 robots were donated to international organisations and local non-profit charitable organisations, Prof Poon said. The robot has since been used by various government departments, including the Electrical and Mechanical Services Department, the Correctional Services Department, the Fire Services Department and the Transport Department.
Disinfection robot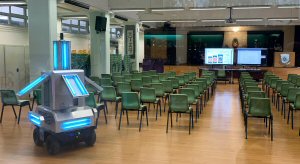 Targeting the pandemic, Roborn has also rolled out its 700mm-wide UV-C light disinfection intelligent robot called "Unicorn": "It has strong mobility and can be driven into such areas as cargo lifts, corridors, bathrooms and garbage rooms. The robot, remote controlled by an operator, can complete disinfection within minutes, and no liquid chemicals remain," said Prof Poon, adding that the Unicorn has been rented out to shopping malls, office buildings, insurance institutions and medical centres. Based in the government-linked digital community Cyberport, Roborn has a research and development (R&D) team of about 20 people. Robot assembly is also done in Hong Kong.Roborn has participated in a promotion campaign launched by the government and Hong Kong Trade Development Council (HKTDC) to promote local technology products to Association of Southeast Asian Nations markets. Under the scheme, Roborn has conducted business matching meetings with potential customers from Thailand, Indonesia and Malaysia. Prof Poon said the firm will also take part in future HKTDC exhibition to feature its intelligent anti-epidemic robots.
Adaptability and agility
Prof Poon said the company puts a premium on flexibility, with adapting to the market its top priority."Discussing technology in isolation is meaningless, so we came up with the trademarked concept of Techanization™," remarked Prof Poon."Techanization™ means integrating technologies including 5G, artificial intelligence (AI), robotics, internet of things (IoT) and cloud, for application in different ecologies to improve productivity, efficiency and sustainability," said Prof Poon. "The key is sensitivity to the market and its trends, together with the agility required to respond to them."
5G, AI and robotics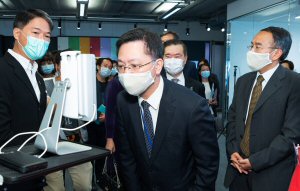 Explaining the approach, Prof Poon cited the example of the firm cooperation with Mainland Chinese telecoms companies ZTE and China Mobile in 2018 to develop "the mainland's first 5G motion-control humanoid robot". "With 5G, the operator can remotely control the robot in low latency," Prof Poon said. "Almost perfectly synchronised, this robot technology can be applied in industrial use, healthcare, education, and smart living, etc. More application opportunities are emerging." Roborn has since engaged in 5G demonstration activities with telecommunications companies in Mainland China, Hong Kong and countries associated with the Belt and Road initiative, using the robots to demonstrate 5G applications. Prof Poon said that over the past two years the company has been treating technology as living creatures. "A 5G robot equipped with AI performs as if it had a brain, and can be applied in industrial upgrading and transformation to improve efficiency," he explained."For example, a firm may have factories at more than one location, say Jiangsu and Zhejiang. With COVID-19 restrictions, QA [quality assurance] managers may not be able to travel and visit all production lines for testing, but 5G robots can help," he said. "The robot can approach the production line like a human being while the QA manager can, through the robot's video camera, see the processes in real time and conduct inspections as if on-site. Management can even use the pre-installed real-time meeting software to remotely discuss production processes at the factories."5G can also be used in other sectors for various purposes, such as streamlining medical treatment, said Prof Poon. "Many doctors go to hospitals and medical clinics for consultations every day and spend a lot of time travelling alone. 5G robots can save doctors' time by helping with daily management tasks such as communicating with nurses or providing simple reports and explanations for patients. This improves efficiency."Roborn is taking part in the Hong Kong Trade Development Council's (HKTDC) Hong Kong: Technology in Action campaign.