As a cooking pot of global cultures, Hong Kong is perfectly positioned for anyone wishing to import or export food items. And as COVID-19 restrictions fade into history, foodies across the globe make tracks to the city to sell, buy or just sample.
The HKTDC Food Expo, which runs from 17 – 21 August, will for the first time since 2019 permit visitors to taste the food and drinks on offer. It will also be the first large-scale gastronomic event since the lifting of all travel curbs, restoring the event's truly international flavour.
Global reach
The 33rd edition of the Food Expo presents the Public Hall and Gourmet Zone that will showcase global cuisines and dining options from around the world. The Gourmet Zone will feature nearly 100 exhibitors showcasing the finest cuisines from Asia, Europe and the United States, with desserts, organic greens and fine coffees from all over the globe, making it a must-attend event for those who are looking for diverse gastronomic experiences.
This year, the Food Expo's Trade Hall is renamed as Food Expo PRO, showcasing F&B products from 20 countries and regions, with 21 pavilions from Indonesia, Japan, Korea, Mexico, Poland, Thailand and from Mainland China's provinces, including Fujian, Heilongjiang, Hunan, Jilin, Sichuan, Zhejiang and more.
Exhibitors will showcase food items, service, and technology that reflect the latest product trends, such as Korea's flavoured pickled seafood, Singapore's traditional coffee with unsweetened oat milk, Poland's smooth and mild fruit-flavoured vodka, and essence of mushroom product from the Chinese Medicine and Health Food zone.
A unique offering is Isey Skyr, the sole food export to Hong Kong from Iceland. Skyr culture, a cheese-like yoghurt, has been a staple in the North Atlantic island for centuries. When it comes to cuisine, Iceland is usually associated with seafood, but dairy products are very much part of their diet as well.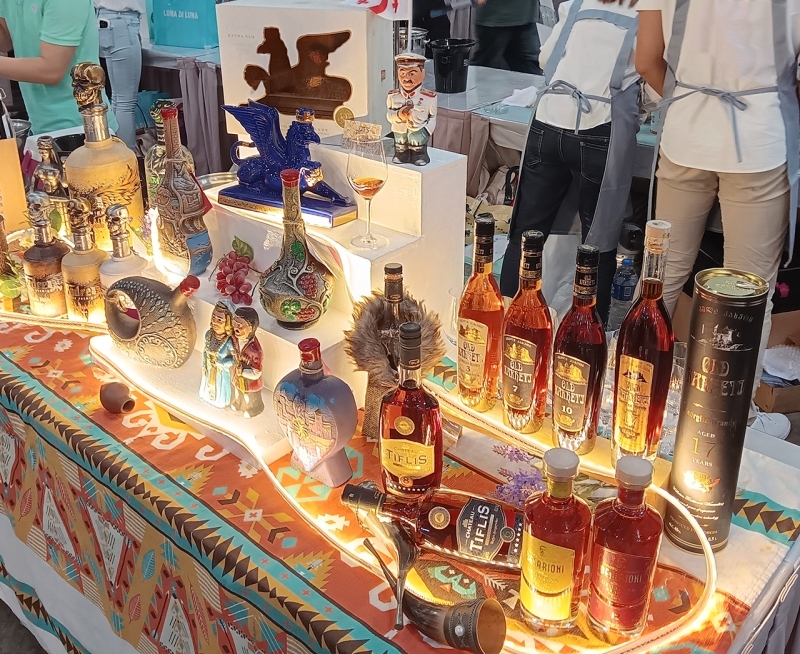 Turning to the eastern end of Europe, Georgia sits between the Caucasus Mountains and Black Sea and has entered into a Free Trade Agreement with Hong Kong. It is also the original home of grape wine. Archaeologists have found wine-producing vessels dating back an incredible 8,000 years, not long after the end of the ice age, in a Neolithic settlement south of the capital Tbilisi.
Grapes are a staple in Georgia, which is known for producing grape cheese. At the Food Expo, importer Georgian Vine is bringing a range of wines and brandies to the expo.
Japanese mochi dessert dumplings have found favour worldwide, which Food Expo visitors can get their hands on courtesy of importer Daymoon. Main picture shows fig and orange mochis.
The health and wellness theme, played out in the concurrent HKTDC Beauty & Wellness Expo, also comes to the fore at the Food Expo, where exhibitors include Plant A Foods Hong Kong, creator of plant-based meat dish, Omnipork.
Other concurrent events are the HKTDC Home Delights Expo, Hong Kong International Tea Fair and International Conference on the Modernization of Chinese Medicine.

Related links
HKTDC Food Expo
HKTDC Food Expo Pro
HKTDC Hong Kong International Tear Fair
HKTDC Beauty & Wellness Expo
HKTDC Home Delights Expo
The International Conference of the Modernization of Chinese Medicine and Health Products