Technology is driving the rapid changes sweeping across the world and is itself evolving rapidly to help companies and people adapt to these changes – a vast, global virtuous circle.Many technologies have humble beginnings – as dreams in the minds of start-up entrepreneurs. Knowing that a vibrant start-up ecosystem is essential for a global business hub, the Hong Kong Trade Development Council (HKTDC) runs many programmes to encourage entrepreneurship.
Boosting entrepreneurs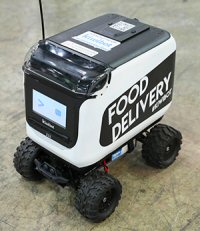 A flagship programme is the HKTDC's "Start-up Express" which targets start-ups with products or services suitable for the mass consumer market, as well as those with a strong desire to enter the international arena. Through a series of activities focused on capability building, mentoring and marketing, the programme aims to assist Hong Kong start-ups in building connections, exploring markets, seeking partners and enhancing brand awareness.

Twenty start-ups will be selected for this year's programme with the line-up being announced in June. To qualify for "Start-up Express", start-ups need to have been established for less than five years, have raised less than US$10 million in funding and have core or substantial operations in Hong Kong.Qualifying start-ups need to focus on one of these six technology areas: artificial intelligence (AI) and robotics, big data, biotech, Internet of Things (IoT), fintech or smart city.


Range of benefits
The 20 selected start-ups will receive a number of benefits, including participation in HKTDC's relevant local and overseas trade promotion events, exploratory missions to start‐up hubs, visits to high-potential developments in the start-up hub, and extensive media coverage. Winners will also be treated to power meet‐ups with business leaders or mentors in small, private settings.In addition, business-matching and connection-building opportunities will be arranged to help the young companies develop their networks.Many start-up entrepreneurs are focused on developing their technologies and need help to improve their business skills. The start-ups will be able to attend capacity-building workshops, learning essential business skills and gaining market intelligence.Beneficiaries will also become alumni of the HK Startup Society, benefiting from a resource platform targeted at elite start-up founders and co-founders.Applications for the 2020 "Start-up Express" close on 17 April – those interested can apply here.Applications and proposals will be vetted by representatives of the HKTDC and 50 start-ups will be shortlisted to pitch their ideas in a closed-door presentation. Those selected as semi-finalists will be invited to present at the final pitching session in June. Ten finalists will be chosen from that session to participate in this year's programme. In addition, winners from the previous cohort will be included, making 20 beneficiaries in all.The first major exposure for the "Start-up Express" winners will be the free-admission Entrepreneur Day (E-Day) at the Hong Kong Convention and Exhibition Centre, which features the Start-up Runway – a two-day start-up forum comprising a plenary session, thematic talks and sharing sessions. E-Day will run concurrently with Education & Careers Expo, Book Fair and Sports & Leisure Expo.Other offerings include the Start-up Clinic, with customised consultation services exclusive to start-ups and entrepreneurs. The Fund & Mentor Business Matching Session features one-on-one matching for start-ups to meet with potential investors and mentors to gain entrepreneurial advice and funding.
Exhibition zones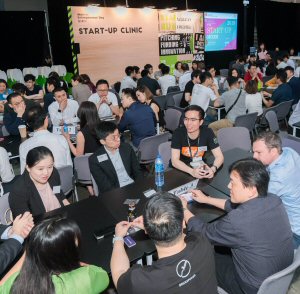 "Start-up Express" will feature an exhibition with thematic zones, including the Start-up Arena, showcasing innovation technology start-ups in several sectors including healthtech, biotech, fintech, greentech, augmented reality/virtual reality, IoT, AI and robotics as well as start-ups from non-tech industries.The Boosters zone will feature firms supplying support services to start-ups. These will include private equity and angel fund exhibitors, funding schemes, marketing, accounting, legal and logistics support, insurance, entrepreneurship training, start-up consultancy and business management, web design/hosting and IT support, co-working spaces and business centres, non-governmental organisations, trade associations and governmental departments.In the Business Opportunities Zone, E-Day visitors will find franchisors, franchising and brand agents, business brokerages and online businesses.In 2019, E-Day drew more than 280 exhibitors and over 18,600 visitors. One of the presenters, Sergio Pachon, Co-founder of food delivery bot firm Kiwi Campus (main picture, holding sign, with HKTDC Executive Director Margaret Fong), described his path to becoming an entrepreneur. In his case it was simple: he wanted to come up with a solution for efficiently delivering food on campus.Anyone interested in joining E-Day as an exhibitor can find out more here.Related link
Startup Express