A Hong Kong-based start-up has launched a phygital art and entertainment social marketplace. With the platform's unique artificial intelligence (AI) tools, companies can co-create useful non-fungible tokens (NFTs) with artists on-demand as eco-friendly corporate gifts, loyalty program stamps and membership cards in a growing Web3 digital economy.
PONS.ai was one of the 10 winning start-ups in this year's Start-up Express, the entrepreneurship development programme organised by the Hong Kong Trade Development Council (HKTDC). Building on its success, the company will also take part in HKTDC events such as the Asian Financial Forum (AFF) to expand its markets globally, build contacts, increase exposure and find partners.
The company is planning to conduct a series A financing round next year to further develop markets in the United Kingdom, Singapore, Mainland China, and the United States.
Co-founder and CEO Kelvin Tang (main picture), the former lead singer of Hong Kong independent rock band PANDORA, studied neuroscience and neuro-aesthetics at University College London (UCL), and later gained a master's double degree in International Management at the London School of Economics (LSE) and Università Bocconi in Milan, Italy. After graduation, he worked in consulting at a Boston Consulting Group company and a global promotional technology company overseeing 800 people worldwide together with its founders and CEO.
When he studied and worked in the UK, Mr Tang frequented museums and art galleries all across the world. He felt that even countries with the most advanced arts and culture ecosystem were not keeping up with the times, so he decided to quit his job and co-found PONS.ai with , Jay Chen, on a mission to combine cutting-edge technology with global arts and culture. A Hong Kong born and raised entrepreneur, Mr Tang was determined to contribute to Hong Kong's soft power and help make the city an international arts, culture and technology hub, strengthening Hong Kong's unique role to connect the East and the West.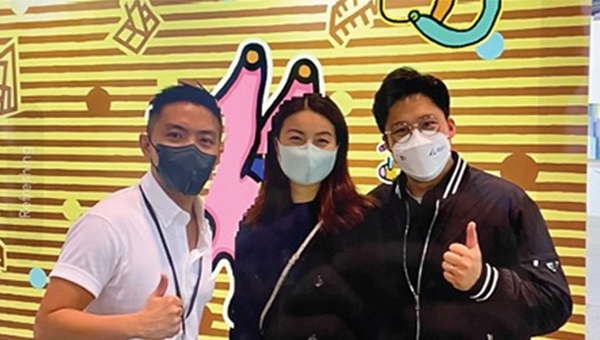 Global digital renaissance
Mr Tang said his mission is to build a technology business that can create financial sustainability for more creators worldwide. "Historically, many artists had to live in poverty while they were alive, yet after their death, their works would sell at extremely high prices, which of course is unjust. In addition, as AI will continue to empower and automate many facets of our lives rapidly, we must urgently build a new ecosystem to support our unique human strength—creativity. As a creator myself, I sincerely hope to do something significant for living artists in this digital era through leveraging innovative technologies to connect artists and their biggest patrons, companies."
He explained about some of the pain points for artists to sell art in traditional ways, such as the difficulty and slowness in collecting payments, while Web3 technologies like smart contracts and digital ownership on the blockchain have laid the foundation for creators to create an instantaneous and continuous income base.
Figures from Art Basel's "The Art Market 2022" report show global sales of NFTs for art and collectibles reached HK$87.1 billion (US$11.1 billion) last year. "I think the world has already entered a global digital renaissance, and all kinds of phygital (physical and digital) artistic creations will blossom even more with the swift progress made in the field of human-AI co-creation and blockchain. PONS.ai distributes NFT payments and resale royalties to creators instantly via fiat and/or cryptocurrencies, and at the same time the app makes it easy for art-loving consumers to own digital art and engage with the artists closer with exclusive phygital activities.
Diversified development
At present, PONS.ai cooperates with 60 internationally renowned artists whose works have been collected by the British Museum, M+ and distinguished individual patrons. They together can reach 1 million potential users around the world through their Instagram network. The company also holds physical events in venues such as shopping malls to attract customers, "letting them experience the fun of Web3 and co-creating their own NFTs with AI in seconds".
Mr Tang said he expects the platform's revenue will reach US$1 million this financial year, and the cumulative user tally will exceed 50,000, achieving positive cash flow.
The platform also helped Hong Kong actress Jacky Cai and top artists such as Kongkee, Don Mak, Jonathan Jay Lee, Mizuki Nishiyama and others to sell physical and NFT artwork. "We are built on the Flow blockchain, which is the most eco-friendly Web3 network according to Deloitte Canada, and consumers responded well to our environmental, social and governance (ESG) priority."
Green principles
Looking ahead, providing a marketplace for any companies to easily launch gamified Web3 marketing campaigns and better engage their customers long-term will become the company's main income source. PONS.ai has already completed projects and begun talks with a variety of large real estate developers, food and beverage groups, retailers, hotels, banks, Hong Kong Science Park, museums, galleries and movie production companies.
"One of the easiest ways for companies to get into Web3 is through corporate gifts." He said that the corporate gift market is worth as much as US$242 billion in the US alone, but in the past, many companies have created tonnes of physical waste by sending unwanted and generic gifts to customers, which is bad for the environment and has little or no promotional effects in the long-term.
"We empower corporate promotional events and offer guests an innovative O2O [online to offline] experience for them to continuously return and engage with the brands. For example, attendees can create their own utility NFTs in seconds by having fun taking a selfie and then choosing their favourite art style such as famous works by Van Gogh or Chinese watercolour by a living artist. The AI tool on our app then turns their selfies into personalised and collectible NFT souvenirs, and companies can utilise these NFTs as discount vouchers, loyalty programme stamps and tickets for end-customers to participate in exclusive events in the metaverse or brick-and-mortar stores, etc."
Mr Tang said there are many creative ways to collaborate with your NFT communities as owners in a decentralised autonomous organisation. "For example, the next step for movies to become more interactive with their fans is to allow NFT holders to vote on how the movie would end collectively as a decentralised autonomous organisation."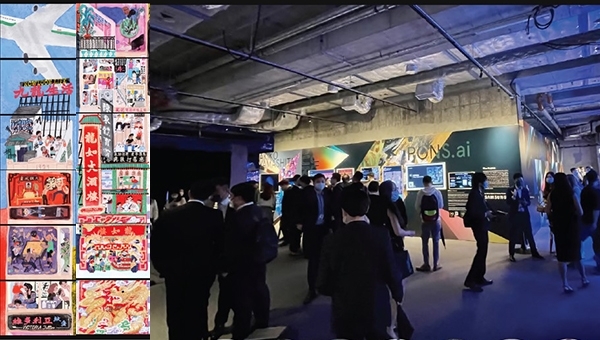 Institutional support
PONS.ai received a great deal of institutional support in its early days, including from accelerator and incubation programmes of HKAI Lab, the "X-PLAN 19" programme of Sequoia China and Hong Kong X Foundation, Google Cloud for Startups, NVIDIA, and Hong Kong Science Park. Alvin Lam from T12M Ventures has also provided funding and mentorship to the company.
Now firmly established in the Hong Kong market, PONS.ai is preparing to expand into international markets such as the United Kingdom, Singapore, United States and plans to set up an office in the Hong Kong-Shenzhen Innovation and Technology Park. The firm aims to launch a version of its marketplace app in the mainland before the end of this year and will promote it at exhibitions such as the China Hi-Tech Fair.
"The 14th Five-Year Plan clearly supports Hong Kong's development as a Sino-foreign cultural and artistic exchange centre, as well as an international information and technology (I&T) hub. We are strengthening this role by connecting artists and companies from the East and the West," Mr Tang said. His vision is to make at least 1 million connections between companies and creators by 2025.
Expanding network
"Participating in the [Start-up Express] competition allows us to expand our contacts, which is helpful for business development. There are also many media exposure opportunities and we can increase the company's reputation," Mr Tang said.
PONS.ai will participate in trade exhibitions and conferences organised by the HKTDC to deepen its understanding of various international market needs and further establish connections within the industry.
"We hope to meet potential investors in person at the Asian Financial Forum on 11-12 January next year and prepare for our Series A financing in 2023."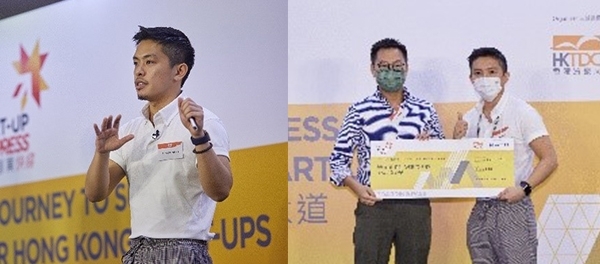 Related links
PONS.ai
Start-up Express