As the global call to reduce carbon emissions continues to grow, new‑energy vehicle production has become a more urgent priority.
To capitalise on this, Taiwan's information and communications technology industries, as well as its electromechanical sector, have developed an impressive capacity when it comes to the production of a wide range of new‑energy vehicle parts and components. This, backed by the efforts of Taiwan's government, industrial bodies and academic sector, has encouraged manufacturers to speed up related research and development (R&D) and production.
Taiwan began to integrate itself into the electric vehicle (EV) industry chain in 2005. At the time, Tesla, then at a very early pioneering stage, looked to source components from the island. As a consequence, Taiwan is now home to about 60 listed companies active in the EV sector, as well as a large number of unlisted firms. Of these, about 30 public companies still supply parts to Tesla.
Displaying strength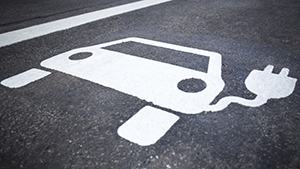 Most notably, Hsinchu‑headquartered AU Optronics has established itself as the world's third‑largest vehicle display panel manufacturer. Understandably optimistic about the role Taiwan is set to play in the global EV market, company Chairman Paul Peng, says: "Nowhere else in the world will you find such a comprehensive EV industry chain as there is in Taiwan. Here, manufacturers can find the necessary resources for the electromechanical integration and assembly of EVs all within a radius of 200km.
"In the case of EV assembly, the number of parts and components required is actually rather small. Basically, you need a motor, a central processor, a sensor and a display panel. Within Taiwan, all these parts can be sourced locally."
In terms of motors, Taichung‑based Hota Industrial Manufacturing is the world's leading supplier of battery EV decelerators, accounting for more than 20% of the global market. As well as being Tesla's sole reduction gearbox supplier, the company also produces similar products for General Motors, Ford, Chrysler and BMW.
Test of time
Tesla's longest‑serving Taiwanese supplier, however, is Fukuta. Operating out of Tongluo Township in north-western Taiwan, the company initially focused on producing motor drive systems for the manufacturing industry but has now been cooperating with Tesla for almost 16 years. At present, it produces the motors for both Tesla's Model S and Model X.
Another long‑term Tesla partner is Nan Sin Village‑based China Fineblanking Technology, a supplier of relay bases, gearboxes, door locks, engines, hydraulic systems, car seats and brake systems. Other businesses with significant Tesla connections include New Taipei City's Global PMX (transmission parts and components) and Taoyuan City's Kian Shen Corporation (isokinetic transmission shafts).
For other components, two of the territory's businesses – Mechema and CoreMax – specialise in lithium batteries, while Aleees is one of the world's leading suppliers of high‑end lithium iron phosphate battery materials. Another globally prominent company is Taipei's Chang Chun Petrochemical, a leading supplier of 6‑µ electrolytic copper foil, a key negative electrode material for lithium batteries.
With regard to electrical systems, Realtek, a Hsinchu‑based integrated circuit design giant, entered the vehicle market in 2014 and is now the only Taiwanese enterprise ranked among the world's top five vehicle ethernet chip suppliers. Meanwhile, the largest supplier of battery EV central controlled computers in Taiwan is Taipei‑based Pegatron, whose client list currently includes Tesla, Audi and Toyota.
Taking charge
When it comes to charging systems, Taipei's Delta Electronics has long been investing heavily in electronic control and electrical engineering R&D. After the launch of its first charging equipment model in 2010, the company was soon integrated into the Tesla supply chain.
Looking to the future, Taiwan's EV industry is now seeking to boost its subsystem production and vehicle system integration capacities. It is worth noting that since October 2020, when Foxconn announced the establishment of MIH (Mobility in Harmony), an open EV alliance, about 1,900 software and hardware business partners have signed up. Among them are a significant number of the Taiwanese companies referenced above.
MIH has co‑operation agreements with Stellantis (the world's sixth‑largest automobile group), Fisker (a US‑based electric automaker), Thailand's PTT and Mainland China's Geely. With a collective focus on design, key parts and components, subsystems and whole-vehicle manufacturing, the ultimate aim is to provide a full range of services and develop new EV markets.
Related link
HKTDC Research