Social-distancing rules led to many nail salons closing during the COVID-19 pandemic, prompting two university classmates to step out of their comfort zones and invest a significant sum in starting up a home-based nail art business. The duo design and produce relatively environmentally friendly and easy-to-use nail art stickers that allow even novices to easily decorate their own nails.
Within less than a year, Nail n Things had established a physical and online sales network. The popularity of the products ensured that the business quickly broke even.
The brand joined the Hong Kong Trade Development Council's (HKTDC) T-box transformation programme, which recommended Nail n Things reach more consumers by selling through the HKTDC Design Gallery. The company is already looking to the future, with plans to expand their business and gradually develop markets such as Taiwan and the Guangdong-Hong Kong-Macao Greater Bay Area.
Entrepreneurs' paradise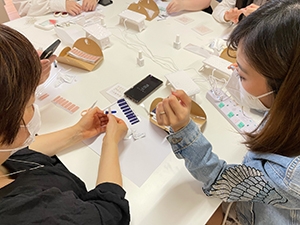 Nail n Things was founded by Michelle Li and Missy Lee. Ms Li was born and raised in Hong Kong but went to the United States to study design and has been engaged in the fashion industry for more than a decade. Ms Lee grew up in Taipei and also studied in the United States before working in Shanghai.
Proficient in marketing and internet marketing, Ms Lee said that having resided and started a business in Hong Kong , she regarded the city as the best place to be. "Hong Kong is a diverse city with many cultures. Consumers easily accept new things, making new product promotion easy. Hong Kong is also a trend-setting metropolis in the region, which is very suitable for brand development in a new industry like ours," she said.
Ms Li explained that earlier versions of nail art stickers on the market tended to be brightly coloured, avant-garde and extravagant, while office workers preferred elegant and fashionable designs. "This gap in the market offered us an entrepreneurial opportunity to launch nail wraps that are more beautiful and more in line with the tastes and daily needs of Hong Kong and Asian people," she said.
Asian culture
Ms Li said that nail art stickers have the advantage of being "fast, pretty, and positive".
"Generally, it takes at least 1.5 hours for a girl to go to a nail bar for get gel nails. Whether they are beautiful or not depends on the nail artist's skills. Removing the gel nails requires chemicals and long-term polishing which means there's a greater chance of the nail bed being damaged. With nail art stickers, everything takes just half an hour, and you can be sure of getting the pattern you want. Also, it's easy to remove the nail decoration simply by soaking your hands in hot water."
She added that even children and pregnant women can use the nail wraps, which are odourless and non-toxic. Their durability is comparable to gel nails, which can last for up to two weeks, and each pack of nail wraps is sufficient for two to four applications. "Compared with going to a nail art salon, it costs just half or even less. Of course, there are also some people who enjoy going for a manicure service, and they will buy the nail wraps and ask the manicurist to apply them."
Fully prepared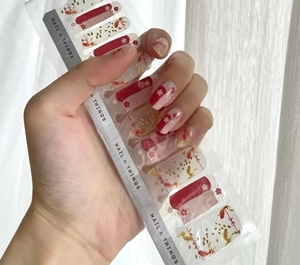 The Nail n Things founders did their homework before beginning the business, starting with data collection, researching market demand and consumer preferences, then designing nail wrap styles and sample boards. They also compared the effects of materials and the quality and stability of each manufacturer's products, formulating their promotion strategy and business development plan.
"This made us more confident and more steadfast in embarking on the road of entrepreneurship," Ms Li said.
They were determined to handle everything themselves from the outset. They dealt with product design, manufacturer liaison, product photography, website construction and management, publicity and promotion, in addition to customer service activities such as packaging, mailing and shipping out online orders, answering inquiries, and subsequent inventory management and account management.
"We have the best understanding of our brand positioning and product selling points so we endeavoured to handle things ourselves. However, as the business expands, we plan to hire two or three employees to handle the day-to-day tasks so we can focus more on the future development of the brand."
Building brand awareness
Nail n Things sells through its own website and multiple physical stores, with sales points in Central, Tsim Sha Tsui, Mongkok, Kwun Tong, San Po Kong and Sai Kung. The T-box team recommended they leverage the HKTDC Design Gallery at the Hong Kong Convention and Exhibition Centre to expand their retail network and enhance brand awareness.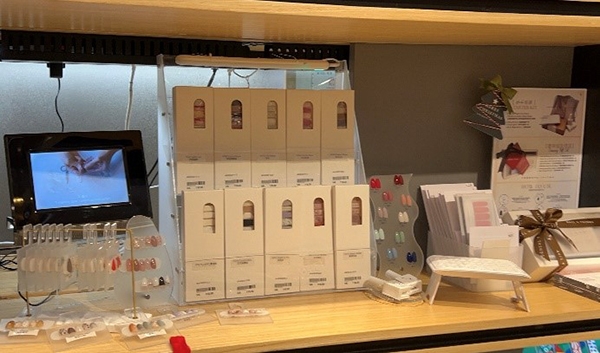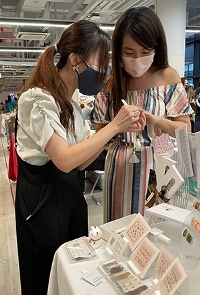 Pop-up stores in shopping malls and flea markets in various districts –including K11, iSQUARE, D2 Place, Central Market and Discovery Bay – have also been useful for promoting products and brand concepts and expanding their customer base.
"Many of our long-term online shopping customers have been brought in this way. We cherish this kind of face-to-face interaction. We can introduce the usage and benefits of the products and gather people's views on how to further improve our product design. For example, many customers expressed that they want to use purple nail wraps. We also launched festive collections and trial kits in response to public opinion, and the response has been overwhelming."
Risk management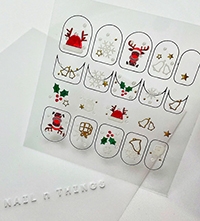 COVID-19 led to delivery delays and boosted logistics costs significantly. The company needed to reserve more production time, and also cooperate with factories in Shanghai, Guangzhou and Taipei to manage operational risks.
"These factories each have their own strengths and are good at producing different types of nail wraps and related products. If one of the factories shuts down, we can still continue production at another factory to avoid inventory shortage," Ms Li said.
Looking ahead, Nail n Things is actively preparing to expand its business in Taiwan. The firm has just opened a special page on Pinkoi, an etailing website specialising in selling designs and collections, and the response has been good.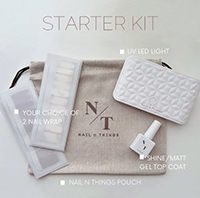 "When we launch more product series, we may use the Amazon and eBay platforms to enter the European and American markets in a similar manner. We also have a strong interest in the Guangdong-Hong Kong-Macao Greater Bay Area and hope to obtain more practical information through the support of the T-box team, such as a market profile for the GBA, the support for start-ups and government funding programmes in various cities in the region, and the cross-border e-commerce service launched by the Design Gallery and JD.com to help companies enter the domestic market."
Nail n Things is also actively exploring the business-to-business (B2B) market. "In addition to cooperating with other brands to launch joint products and wholesale products to other retailers, we can design nail wraps for companies that match their corporate image and provide exclusive customisation services," Ms Li said. "We can also organise interest classes for employees or cooperate with fashion brands to provide a nail wrap experience for valued customers in their promotional activities."
Related link
Nail n Things