Non-fungible tokens (NFTs) are pulling real-world assets into the metaverse and giving them value in the content-owner-driven world of Web 3.0. But since the metaverse is content-only and everyone can create items from scratch, or even virtualise real-world performers and let them live forever, why not go all-virtual?
Several speakers at the parallel MarketingPulse, eTailingPulse and EntertainmentPulse forums, organised by the Hong Kong Trade Development Council (HKTDC), described how metaverse denizens can be created.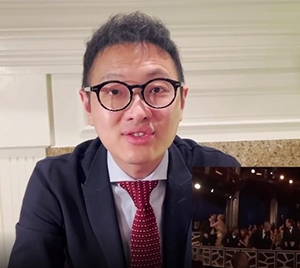 Virtual humans have become the talk of the town and Daniel Seah, CEO of Digital Domain, an Academy Award-winning studio and pioneer in creating virtual humans, addressed a session titled "Creating Immersive Entertainment with Virtual Humans" in which he showcased the ground-breaking technology involved and outlined its future development.
Displaying the power of Digital Domain's technology, he introduced legendary Taiwanese singer Teresa Teng (main picture), dubbed "Asia's eternal queen of pop", who joined him for a surprise Digital Domain return – despite having passed away in 1995.
Titanic launch
Mr Seah explained that Digital Domain is a visual effects studio, founded by Canadian filmmaker James Cameron in 1993, that made its debut with the blockbuster movie Titanic. Going on to work on effects-heavy features such as the X-Men and Transformers series, Digital Domain has amassed 11 Academy Awards, with the generation of lifelike virtual humans becoming its main focus. Digital Domain started this programme in the 2008 film The Curious Case of Benjamin Button to make Brad Pitt reverse-age from an old man to an infant – something that would have been impossible with conventional makeup techniques.
Virtual duet
The firm's cutting-edge product became its digital version of Teresa Teng, which showed how real people could be integrated into a digital experience. Taiwanese star Jay Chou was so impressed that he wanted to perform with the digital version of the late singer. They sang three songs together in the Taipei section of his world tour – and two of the songs were written after she died.
During his presentation, Mr Seah had Ms Teng sing a song and convincingly field interview questions.
DIY metaverse
Taking integration into the metaverse a step further is a virtual gaming firm that lets entertainment companies, artists and brands curate exclusive content for fans while generating new revenue streams. The fans themselves can even have a hand in developing the virtual environment.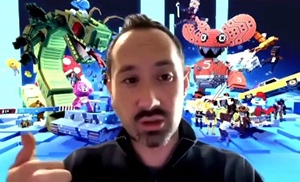 At the session titled "Building Virtual Lands in the Metaverse – The Sandbox", Sébastien Borget, Co-Founder and Chief Operating Officer of The Sandbox, described how the firm reimagines immersive experiences through NFTs and play-to-earn. He was interviewed by Bowie Lau, Founder of MaGEHold & MaG.
Ms Lau pointed out that people are paying millions for metaverse space. Mr Borget said media firms looking at the space need to devise fresh forms of entertainment which new metaverse users would be willing to spend time on.
Outlining his vision for The Sandbox, Mr Borget said: "There was a lot of user-generated content on mobile platforms but no way to reward users, so the best creators left after a few weeks. There was no retention. When NFTs came, we saw potential to combine so that users could own assets, letting us build worlds together. Creators are users who participate and grow the community."
He aimed to encourage interoperability, bringing avatars created outside The Sandbox into the virtual world. Users can even buy content outside and bring it in to The Sandbox, with the technology allowing for three-dimensional active characters that can move around, chat, and interact with other users' avatars.
Interoperability was essential to the metaverse, Mr Borget said, since millions of users will build, with 99% of the metaverse being user-generated. The firm needed to start by providing creator tools which would essentially be a virtual Lego – a simple set of tools with no need for a manual. Users can even build their own games.
Ms Lau pointed out that Hong Kong newspaper the South China Morning Post had brought the city's historic Star Ferry into its metaverse. She asked how Mr Borget expected to monetise content.
He said the SCMP's use of tourism and history is a good example of metaverse use, especially since few visitors have been able to come to the city for more than two years amid the COVID-19 pandemic.
Playful monster
In order to make money, service providers had to bring value by providing desirable user experiences. Mr Borget encouraged firms to be very creative with their approach to monetisation – for example, through an NFT linked to a virtual monster. A user might like the monster, fight with it in a game and want to bring on to their own metaverse property. An NFT could also become an access pass to enter a VIP area of the metaverse where there is added value.
He suggested experimenting initially and not seeking to generate revenue right from the start. "As with social media channels, it is all about what value you bring to those who are with you," Mr Borget said.
Related link
Marketing Pulse