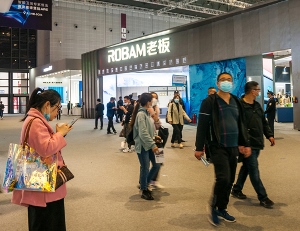 Shanghai's Appliance & Electronics World Expo was one of the many tradeshows cancelled last year as part of the measures designed to contain the global COVID-19 outbreak. This year, though, the show did go ahead despite having to contend with a two‑week postponement, a change of venue and far fewer overseas attendees than it might normally expect.
All of this, however, did not suffice to deter more than 1,000 exhibitors from supporting the event, the majority of which fell into one of four broad categories. The first was Smart Home, a category featuring a wide range of white goods, as well as a selection of intelligent water, air quality and personal‑care appliances. The Intelligent Technology category, by contrast, focused more on those manufacturers offering smarter and more connected products, typically making use of artificial intelligence (AI), 5G and Internet‑of‑Things (IoT) technology. The Digital Devices category then looked to showcase mobile and wearable devices, as well as a range of audio and video products. Finally, the Key Components grouping was reserved for companies displaying building‑block components for many of the items on display elsewhere, such as compressors, motors and integrated circuits.
Clean sweep
While not one of the event's official themes, the shadow of COVID-19 was pretty much inescapable with many of the appliances on display offering related safety, hygiene and wellness support. A clear example of this came courtesy of Ozonext, a business based in Huzhou city of eastern China's Zhejiang province and founded at the height of the outbreak.
Its key product is a portable ozone steriliser, a USB‑rechargeable unit that delivers a surface‑sterilising spray said to eliminate 99% of germs and bacteria, which it sells both under its own brand and as an original equipment manufacturer (OEM) supplier. Outlining the company's reasons for attending the event, Sales Manager Robert Huang said: "As, at present, we primarily sell into the North American market, we're attending this show for the first time as a means of developing our profile within Mainland China."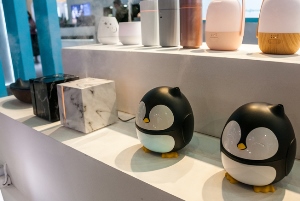 Another local firm attending the show as a way of raising awareness within the domestic lifestyle products market was Shenzhen‑based Lemoworld. A registered brand in the United States, the company specialises in aroma diffusers, humidifiers and nebulisers and has largely focused on overseas sales. At present, its products – including its popular penguin‑styled dispenser – are only available in the mainland via Tmall.
Outlining her view of the company's prospects within the domestic market, Sales Manager Zelma Su said: "While many older Chinese may think our products are a bit wasteful, we're thinking more of the future. A lot of young people want to enjoy life and are prepared to spend accordingly. It's very similar to the situation with perfume – old people don't generally use it, but younger people do.
"Prior to this, we have frequently exhibited in the US and Europe where the shows tend to be more targeted towards household goods. At this show, while it is relatively broad‑based, there are still plenty of potential customers on the lookout for interesting things. For our part, we also want to look around, which was one of the main reasons we decided to attend."
Another specialist in lifestyle products having a busy show was KASJ, a manufacturer of foot spa bath massagers based in Zhejiang's Cixi city. Clearly pleased with the company's reception at the event, Sales Associate Kevin Zheng said: "So many people are interested in what we have on offer that we've already run out of catalogues and name cards."
Founded in 2017, the company has a product design team in Germany, but manufactures in the mainland, its main market where it sells under its own brand. With Korea and Poland also among its key markets, it exports both under its own brand and on an OEM basis. At the show the company was particularly on the lookout for new local wholesalers and distributors, while also seeking to promote the latest addition to its well‑established foot spa range, which comes complete with a water‑sterilising ultraviolet light.
By contrast, Foshan, Guangdong‑based Top Profit was an exhibitor with its product range very much in a state of transition. Founded in 1995, the company specialises in rubbish bins, both traditional and more high‑tech sensor‑enabled models with electrically powered opening. Detailing how he sees the market evolving, Overseas Sales Manager Jack Tsui said: "Sales of traditional bins haven't been good for the past two years, but the sensor‑enabled models have been steadily getting more popular over the past five years."
Part of the appeal of the sensor bins is down to the fact they are said to be more hygienic. Looking to capitalise on this, the company had on display its Tezo and Selena ranges, which have spaces at the bottom for cockroach bait, and the Aurora series that is paired with a mobile app that controls opening. The company started making the sensor bins around seven years ago and they now account for more than 20% of its sales. It sells the bins on an OEM basis and also under its own Upella brand, with most of its output exported to the US and South Asia.
Scandinavian input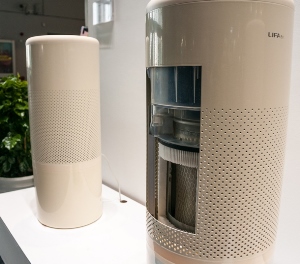 As with Top Profit, Helsinki‑headquartered LIFA Air also had on display a range of non‑electrical and electrical products, but with a focus on air purification. Introducing the business, Brand PR manager Wang Qihang said: "Although we've been around for 30 years in Finland, we're quite a new brand in [Mainland] China. We only entered the market in 2015, so we are attending this event in a bid to give our brand and products more exposure."
Along with the company's portfolio of personal‑protection products, including face masks, it also had on display its new smart air purifying humidifier, which went on sale at the end of last year. With sales boosted by ongoing concerns about the coronavirus outbreak, the unit proved to be a particular hit in the northern mainland.
Making their debut at the event, meanwhile, were the innovative Stellar mixed reality glasses, manufactured and developed by Beijing's EM3 Technology. Said to be compatible with a wide range of digital devices, including mobile phones, computers and games consoles, each lens has a 2K screen display and utilises Sony micro-OLED display technology, which provides a pixel density 10 times that of a typical phone screen.
Keen to establish the product's credentials, Yuan Ye, the company's Founder and Chief Operating Officer, said: "Half our developers are from Tsinghua University and include optical engineers and computer‑science graduates. This is our first show and it's important to all of us as we're looking for investors as well as feedback on the product. All going well, the glasses should go on sale in July this year."
The 2021 Appliance & Electronics World Expo took place from 23-25 March at Shanghai's National Exhibition and Convention Center.
Related link
HKTDC Research