The Belt and Road Initiative has grown and extended rapidly over its first decade and the Middle East has moved into the spotlight in recent years.
Underlining Hong Kong's role as an innovation hub in the Belt and Road, Hong Kong Special Administrative Region Chief Executive Mr John Lee led a delegation to the region early this year.
Banking links
Further strengthening links, the Hong Kong Monetary Authority (HKMA), the city's de facto central bank, last month signed an MoU with the Saudi Central Bank (SAMA). The MoU covered initiatives in financial infrastructure development, open market operations, market connectivity and sustainable development.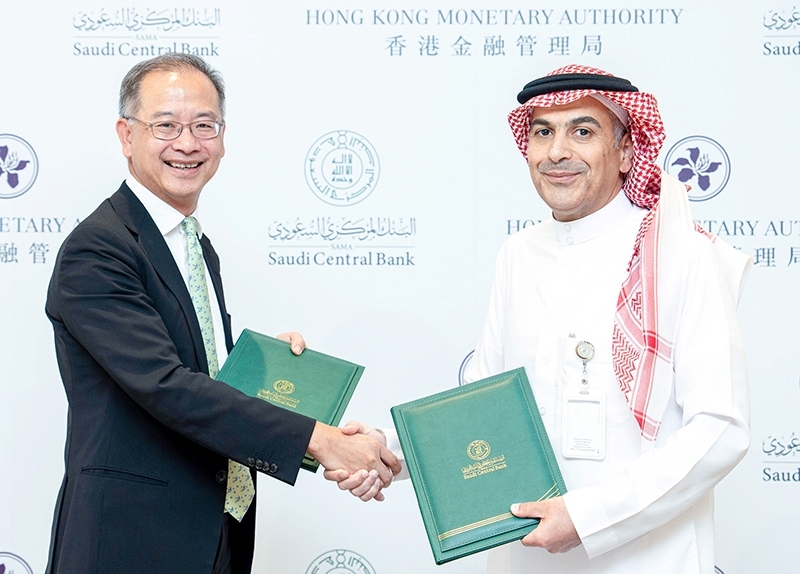 SAMA Governor Mr Ayman Alsayari and HKMA Chief Executive Mr Eddie Yue signed the MoU at the SAMA's headquarters in Riyadh. Both parties aim to promote knowledge-sharing in financial innovation and fintech, focusing on emerging trends, best practices, regulatory issues, policies and legislations. The MoU will also accelerate fintech collaboration.
Mr Alsayari said: "As the Kingdom develops as a global fintech hub, our links with other growing hubs become ever more important. HKMA is a long-standing partner of the Saudi Central Bank and also a leader in innovation. The MoU will support our relationship into the future, helping both authorities stay at the cutting edge and strengthening our ability to deal with mutual issues."
Mr Yue said: "There is huge potential for collaboration between the Kingdom of Saudi Arabia and Hong Kong in areas spanning the economy and trade, sustainable development, finance and fintech. The MoU, in particular, will further enhance mutual cooperation as well as exchange of information and expertise between SAMA and HKMA in financial innovation and Fintech.."
The Middle East and business prospects with Hong Kong, the Guangdong-Hong Kong-Macao Greater Bay Area (GBA) and Mainland China will feature at the Belt and Road Summit on 13 and 14 September this year, organised by the Hong Kong Trade Development Council and Hong Kong Government.
Belt and Road and GBA projects form business links far and wide, including with those not formally linked to the initiative, such as Sweden and Australia.
In contact
The COVID-19 pandemic highlighted the problem of isolation that many elderly people face, as Johan Krokstäde, Managing Director of Doro Hong Kong Limited, is all too aware.
Swedish firm Doro provides easy-to-use phones and connectivity services. Mr Krokstäde said the GBA was central to achieving those aims, as most Doros products were made in Southern China – primarily in Shenzhen and Dongguan – where the Scandinavian smart tech firm has established partnerships and relationships over a number of years.
Doro's products are sold in more than 40 countries on five continents via an extensive network of leading telecom operators, specialists, and retailers with strong distribution channels to end customers, Mr Krokstäde said.
The Summit can link firms in surprising ways. Tiny Mobile is a compact house builder, which uses modular design and innovations to design functional spaces for clients, build them in their workshop, and deliver them anywhere in Australia.
As a result of their participation in Belt and Road Summit 2022 deal flow, they were introduced to BlueMount Capital based in Brisbane. Subsequently, BlueMount Capital connected them with Sino Investment and conducted a strategy workshop with Tiny Mobile.
Related links
Belt and Road Summit