https://hkmb.hktdc.com/en/1X0AFWGW
Forum Puts High-tech in Spotlight
Innovators in Hong Kong come in all shapes and sizes, but they all see the city as an ideal place to launch their businesses.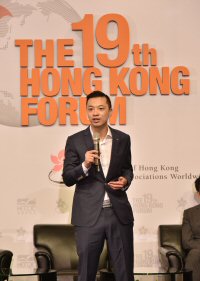 Technological innovation comes in many flavours and requires a wide variety of talents, delegates at the 19th Hong Kong Forum in early December learnt.
Speakers at the first session at the forum – "The Future of Technology: A Look at Hong Kong's Emerging Technologies" included Professor Dennis Lo, Director of the Li Ka Shing Institute of Health Science and Associate Dean (Research) of the Faculty of Medicine at the Chinese University of Hong Kong (CUHK) and Danny Yeung, CEO of Prenetics.

Both leaders run firms offering services in human genetics but their career paths could not be more different, emphasising the many ways in which talents can move into high-technology fields.

Mr Yeung is a serial entrepreneur who first went into business in his teens, selling baseball cards. His early businesses included setting up dessert chain Hui Lau Shan in the United States, after which he went into the hotel furniture business. He was then a co-founder and CEO of uBuyiBuy in 2010 (which was later acquired by Groupon), then mentor at 500 Startups, after which he was a founding partner at venture fund SXE Ventures before his current position, CEO and co-founder of Prenetics, which provides human genetics testing services.
Mr Lo, in contrast, has been a researcher at the university since the handover of sovereignty in 1997. He spent a decade developing a prenatal test to detect Down's Syndrome by looking for genetic material from the foetus in the mother's blood. This avoids the use of amniocentesis – drawing a fluid sample from the uterus – which can damage the foetus.

American company Sequenom licensed the technology from CUHK and launched the product in 2011. The technology is now used in 90 countries, with four million tests a year in Mainland China alone.

Mr Lo and other biotechnology enthusiasts went on to set up Xcelom, a biotech start-up based in the Biotech Centre in Science Park, Sha Tin which offers prenatal genetic testing services.

The innovation and technology (I&T) field was under the spotlight as Asia-Pacific business leaders gathered for the forum, co-organised by the Hong Kong Trade Development Council (HKTDC) and the Federation of Hong Kong Business Associations Worldwide (FHKBAW). The event attracted more than 360 business leaders from 30 countries and regions. Key topics at the 2018 forum included innovation and technology (I&T), the role of start-ups, and the development of fintech.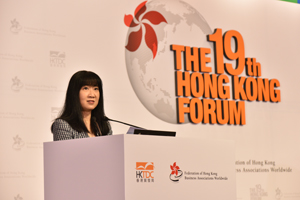 HKTDC Executive Director Margaret Fong said this year's event took place at a challenging time amid the Sino-US trade conflict and with rising concern over the stability of the global economy. "At a time of such uncertainty, it is crucial for companies to look further afield for new opportunities," she said.

Ms Fong noted that the importance of innovation and the huge potential presented by new technologies are currently hot topics in Hong Kong, with I&T made the key focus in the latest Policy Address by the Chief Executive of the Hong Kong Special Administrative Region (HKSAR), Carrie Lam.

Mr Lo noted that the HKSAR Government has in recent years given strong support to cutting-edge technology development, investing HK$10 billion in the medical sciences through innovative platforms such as Hong Kong Science Park. The city is equipped with world-class biotechnology capabilities that have great potential for further development, he said, hoping that DNA technology could be made more widely and freely available in Mainland China under the Guangdong-Hong Kong-Macao Greater Bay Area Development, helping to advance medical technology and benefit more people.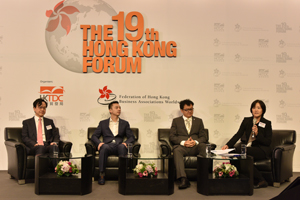 Joining the two biotech entrepreneurs in the panel – which was moderated by Irene Chu, Head of New Economy & Life Sciences, KPMG China – was Miles Wen, CEO of Fano Labs, a start-up which specialises in speech, natural language processing (NLP) and big data technologies to help enterprises with customer services, converting client queries into text. Fano specialises in fielding speech in dialects such as Cantonese and Sichuanese.

All the entrepreneurs were motivated by the impact they could have on society, as exemplified by three Hong Kong start-up entrepreneurs featured at the second panel session "Transformation Underway: Innovative Talents in Hong Kong" − Eric Gnock Fah, COO and co-founder of Klook ("Keep Looking", see "Hunt for Alpha"), Alan Lam, founder of Concept Infinity Limited, and Norman Cheung, founder of Boxful Technology.
Klook, a "unicorn" (meaning a start-up valued at more than US$1 billion), offers in-destination tour bookings. Mr Gnock Fah pointed out that flight and hotel booking had long been offered online but travel inside countries or cities and traveller experiences – such as day-trips – was a massive untapped market, especially since mobile-phone use has become so common. He said Hong Kong was a good place for such a start-up, since its high-tech neighbour Shenzhen had many engineers; he finds the Greater Bay Area useful. Other positives in Hong Kong's favour were its strong legal and bank support; it is possible to set up a company in just one or two days, as opposed to several weeks or longer in some countries.

Concept Infinity lets children write books with themselves as the heroes, and aims to encourage reading. Boxful offers mini-storage solutions, including fetching and delivering items, essential in high-density Hong Kong where many people do not have their own vehicles.
Related Links
Boxful
Concept Infinity
Fano
Federation of Hong Kong Business Associations Worldwide
Klook
Prenetics
Xcelom