https://hkmb.hktdc.com/en/1X0A9OX3
Vietnam Connects its Cost Advantages with China: The Scenario of an Industrial Park in Hai Phong
The lower labour costs, improved infrastructure and preferential tax treatment have all led to Vietnam attracting a significant inflow of foreign direct investment (FDI). Increasingly, the country is now targetting investment from higher value-added industries, with potential investors advised to look beyond labour cost advantages. There are, however, genuine concerns as to the lack of engineering expertise and ancillary industries within the country, a particular challenge for any business undertaking more sophisticated production with higher degree of automation.
In order to tackle this shortfall, certain investors – including a number from Hong Kong, are making use of the technical and other services, as well as material supplies from the Chinese mainland as a means of supporting their Vietnamese operations. Even for the infrastructural development, such as those in Northern Vietnam bordering China, one of Vietnam's development directions is to strengthen the country's access to the Chinese supply chain. In the circumstances, effective management and efficient logistics services are crucial when it comes to ensuring foreign investors and other related companies can properly orchestrate their cross-border arrangements and achieve the maximum operational efficiency.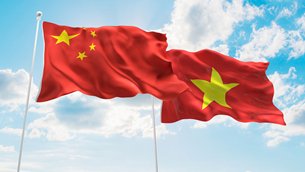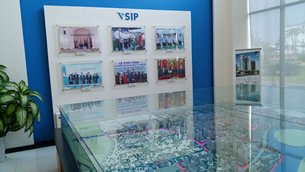 Enhancing the Infrastructure of Northern Vietnam
Northern Vietnam is being increasingly targetted by foreign investors, many of whom had previously favoured business opportunities in the south of the county. Highlighting this traditional preference, at the end of 2015, the southeast part of the country – extending across Ho Chi Minh City, Dong Nai and Ba Ria-Vung Tau – accounted for 43.5% of the total accumulated FDI inflow. By comparison, the Red River Delta – including Hanoi, Bac Ninh and Hai Phong – accounted for just 25.6% of the cumulative total. More recently, nonetheless, the northern cities and provinces have started to attract a greater proportion of overall FDI. This is down to both a greater effort on the part of the government to promote the economy of the north and a marked improvement to the infrastructure across the region.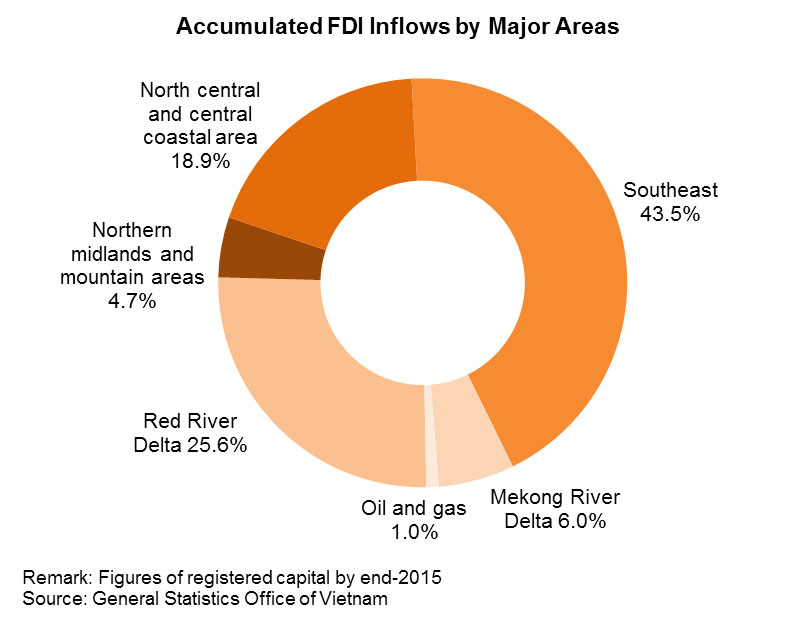 A sign of this change in emphasis is the city of Hai Phong, which attracted the second highest level of FDI in Vietnam in 2016, solely trailing Ho Chi Minh City. Hai Phong is set within the Hanoi-Hai Phong-Ha Long economic triangle. It is also the site of Northern Vietnam's largest seaport. Of late, sea freight connections between Hai Phong and the ASEAN, US and European markets have been bolstered by the increased availability of container liner services, the consequence of a shift in focus by the international shipping companies.
Cat Bi International Airport, Hai Phong's principal air transportation hub, has direct links to several other Vietnamese regions, including Ho Chi Minh and Da Nang, as well as offering flights to other Asian countries. The completion of a new highway connecting the city to Hanoi, the country's capital, has also provided a boost to business and industrial activities in the Hai Phong region. The highway also extends to Ha Long, capital city of the resource-rich Quảng Ninh province. Additionally, Hai Phong's access to the markets and supply chains of southwest China have been further improved by the completion of highway connections to Mong Cai and Lang Son, the two Vietnamese cities that respectively border the Chinese townships of Tongxing and Pingxiang of Guangxi region.
Hai Phong: The Cost Benefits
Overall, the improvements to its infrastructure have made Hai Phong far more attractive to a range of business and industrial investors, with the success of the VSIP Hai Phong Industrial Park being an example of this. Jointly established in 2008 by a Singapore consortium and a Vietnamese state-owned enterprise, it has a total area of 1,600 hectares, of which 500 hectares are reserved for industrial development. The remaining space has been given over to a range of commercial and residential projects.
As well as benefitting from improvements to the local transportation network, VSIP Hai Phong also owes much to its success to its access to all the required utilities, including reliable electricity, water supplies and optical fibre telecommunication services. This has seen it attract projects largely related to higher value-added industries. To date, these include companies specialising in:
Electrical and electronics
Precision engineering
Pharmaceuticals and healthcare
Supporting industries
Consumer goods
Building and specialty materials
Logistics and warehousing
In line with the latest government regulations, industrial investors in VSIP Hai Phong are entitled to claim a range of tax benefits, including preferential corporate income tax rates and exemption from certain import taxes (those related to export processing enterprises[1]). Employees working in the park also pay a lower level of personal import tax[2]. In addition to this, labour costs are relatively low in Hai Phong and its neighbouring regions, with the total monthly cost per worker – factoring in statutory contributions, such as insurance – starting at around US$200-250. This is a relatively low cost when compared to the current wage levels in China.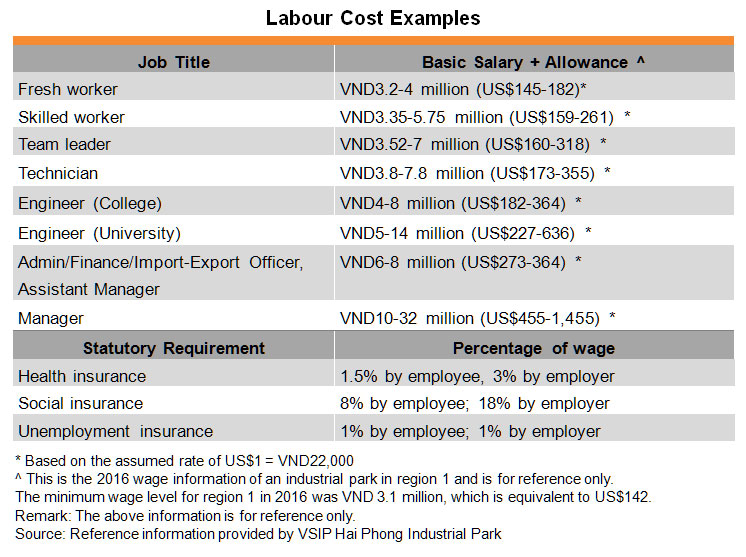 (Remark: For more information regarding labour costs, please see: Vietnam's Youthful Labour Force in Need of Production Services.)
Seeking Production Supports from China
According to VSIP Hai Phong, the park is currently home to some 35 industrial projects, with investments sourced from ASEAN, Japan, Korea, Taiwan and Hong Kong. An estimated 70% of its industrial areas have already been occupied by such projects. For the future, the park plans to attract more high-end investments, specifically those related to production of technology products and the supporting industries. Any such investments, of course, will be obliged to comply with all the statutory environmental regulations, although any potentially polluting industry that demonstrates it can meet the required emission standards may not be refused.
Many of the industrial projects based in the park are related to processing production, particularly with regard to textiles and clothing items, electronic products and packaging materials. Among the other investors are several companies engaged in the manufacture of intermediate goods, the majority of which are utilised as production inputs by downstream clients in Hai Phong and Northern Vietnam. Production of this kind, however, relies heavily on imported industrial goods and raw materials. One foreign-invested company, which undertakes the assembly production of electronic products and office machinery, for instance, has indicated that it is sourcing competitively-priced, high quality parts and components from elsewhere in Asia in order to support its Hai Phong production activities.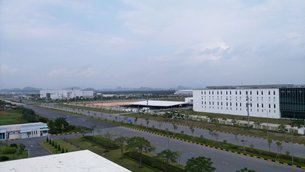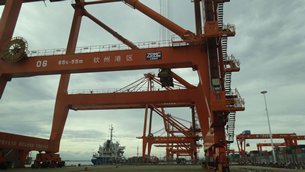 Several Hong Kong-invested companies are also operating in VSIP Hai Phong. One of them, which has a focus on plastic injection moulding, metal stamping and die-casting, told HKTDC Research that it had established a manufacturing operation in Vietnam in order to follow in the footsteps of one its downstream clients. Typically, the plastic and metal outputs of its Hai Phong factory are mainly used for the processing production of IT and other electronic products by its clients in Vietnam. As such, maintaining the Hai Phong factory saves the company money when it comes to logistics costs, while shortening the delivery lead time to its downstream clients. As another plus point, it also enjoys the accrued tax benefits of being based in Vietnam.
While acknowledging a number of clear advantages of being based in Vietnam, maintaining an operation in Hai Phong has not been without its challenges for the company. One of its particular problems is related to the relatively low skill levels of many local workers, with their productivity, consequently, a bit lower than that of their counterparts in southern China. While Vietnamese labour costs are lower, in productivity terms, the labour cost differential between Vietnam and China is far from substantial. In order to enhance its production efficiency, the company is now planning to further automate its operations, a development that will see it requiring lower staff levels. Labour costs, therefore, will ultimately become relatively insignificant when it comes to considering further investments at the site.
The fact that Vietnam lacks a number of the key supporting industries, such as precision tool-making and engineering support, has huge significance for the future industrial development of the country. This lack of technicians and engineers, for instance, has already deterred the aforementioned Hong Kong company from establishing an in-house manufacturing moulds and tooling facility in Hai Phong.
In order to tackle these problems, the company has to buy in various services and supplies from the Chinese mainland. For one thing, the company needs to orchestrate their in-house engineering talents and facilities like computer numeric control machines to make the moulds and tooling in south China, which would then be shipped to Hai Phong for use in processing production. As the plastics and metal raw materials are mainly sourced from China, as well as certain other Asian countries, the company is obliged to utilise efficient logistic services for the delivery of such materials to Hai Phong. The company, then, is making the best use of a variety of supports from China in order to facilitate its bid follow its client's downstream investments in Vietnam.
---
[1] For details of the preferential treatment, please see: Vietnam Utilises Preferential Zones as a Means of Offsetting Investment Costs.
[2] According to VSIP Hai Phong, all local and expatriate labours working in Dinh Vu-Cat Hai Economic Zone (including VSIP Hai Phong) enjoy 50% reduction of personal income tax.
Building & Construction
Logistics & Supply Chain
Hong Kong
Viet Nam
Mainland China
Hong Kong
ASEAN
Southeast Asia