As Hong Kong companies continue to face significant business challenges following the COVID-19 pandemic, they can look to government programmes set up specifically to help small and medium-sized enterprises (SMEs) expand their horizons.
The Hong Kong Trade and Industry Department (TID) earlier launched two support programmes, the Dedicated Fund on Branding, Upgrading and Domestic Sales (BUD Fund) and the SME Export Marketing Fund, to provide SMEs with resources to help them open up new markets.
A TID spokesman said the two funds are now being optimised to better support local enterprises, enhance their competitiveness and help them tap into new opportunities.
Funding cap increased
In his Policy Address last month, John Lee, Chief Executive of the Hong Kong Special Administrative Region (HKSAR), announced that, starting from this month, the cumulative funding limit for each enterprise under the BUD Fund would be increased from HK$6 million (US$776,000) to HK$7 million, while the cap on approved projects for each enterprise has been increased from 60 to 70.
The government launched the BUD Fund in June 2012 to help enterprises develop their business in Mainland China through brand development, upgrading and transformation, and expansion into the domestic market, helping them ride on the opportunities created by the country's Five-Year Plans.
In August 2018, the HKSAR Government expanded the geographic coverage of the BUD Fund to the Association of Southeast Asian Nations (ASEAN) market, and in January 2020 coverage was further expanded to include economies covered by free trade agreements (FTAs) signed with Hong Kong, all with the aim of helping businesses seize new opportunities.
The optimisation measures will continue to be rolled out in stages, including expanding the geographical scope of funding to cover all economies that have signed investment promotion and protection agreements with Hong Kong.
Exhibition subsidy
Recent optimisation measures include the Marketing Promotion Fund for enterprises, under which the cumulative funding ceiling for each company has been increased from HK$800,000 to HK$1 million. The fund has extended special measures to expand the scope of funding to 30 June 2026, covering exhibitions and online exhibitions targeting the local market, and relaxing the requirement that only SMEs can apply.
To subsidise 50% of the participation fee for exhibitors participating in HKTDC-organised exhibitions under the Convention and Exhibition Industry Subsidy Scheme, the fund allows enterprises to apply through the HKTDC Exhibition One-Stop process. Exhibitors can apply for funding at the same time as booking booth spaces.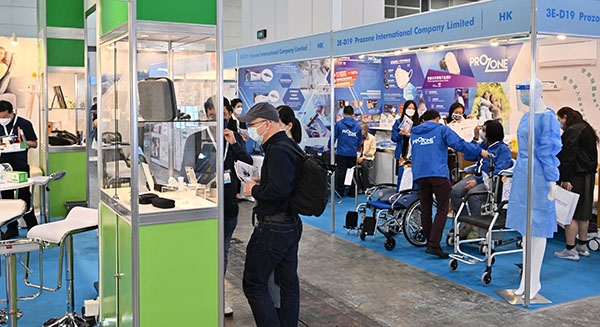 Related links
BUD Fund
SME Export Marketing Fund