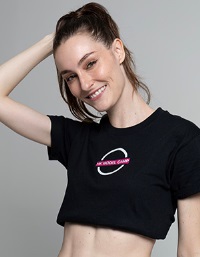 Noting that advertising campaigns often feature unrealistically shaped models, not always featuring a wide range of body shapes, Hong Kong Model Camp seeks to encourage clients to accept themselves for who they are. The local start-up's clients range from wannabe models to professionals keen to act more confidently in meetings.
The founder is working French model Lucie Petit, who has worked for the likes of Calvin Klein, Armani and Kate Spade. The 29-year-old, who moved to Hong Kong in 2013, founded Hong Kong Model Camp earlier this year. The company's workshops include a catwalk class that focuses on better posture and learning how to walk confidently in heels and flats, and photo and video shoots that help models to present themselves more confidently in front of the camera. Its current clients include aspiring models and professionals, and the firm hopes to attract more young clients as the business grows.
What do you offer and who have you worked with?
Hong Kong Model Camp is for anyone who wants the experience of being a model, with workshops including photo and video-shoot experiences. I held a workshop this summer for businesspeople covering better posture and presentation skills as well as a four day confidence experience for 15-year-old girls. Another client we worked with was a young girl with broad shoulders, who was quite muscular. She worried about that, as she didn't want to be seen as masculine. We encouraged her to accept herself for who she is and she decided to emphasise her muscles in the photoshoot.
To what extent does social media affect self-esteem by portraying unrealistic beauty standards?
Everyone shows their best self on Instagram but, nevertheless, it's still the first thing that some people do in the morning, just scroll through their feeds. They compare themselves with others – it's not reality but an ideal world, where people use filters on their faces. We should all be following accounts that make us happy, not feel inadequate.
You are still working as a model. Is the industry changing?
The industry has changed and keeps changing, as fashion is all about following trends and customers dictate the trends. The Black Lives Matter movement, for example, had a huge impact on how people view racism. Jean Paul Gaultier was one of the first to have a diverse range of people [on the catwalk]. He was criticised for that back in the 80s. Now, it's becoming a trend.
Is modelling more inclusive now?
Yes, we are seeing different shapes, colours and genders. Modelling is certainly more accessible these days – it's moving away from the typical only tall, skinny white model. Aspiring models don't need to have typical model looks, instead personality and uniqueness play a big part.
How can you help wannabe models?
I want to connect young creatives with the modelling industry and help build a community. I can help them with things like how to protect their image and finding out about rates, being aware of the standards in this industry, and the legal issues. Even if the client doesn't take it that far, I want to make sure they're not being taken advantage of. If you want to be an actor, or a dancer, you can take classes. With modelling, the only way to train was by working as a model, until now.
How is your client base evolving?
It's a good mix now, but when I first started, it was mostly aspiring models aged 14-25. There's more demand from businesspeople and children. The masterclasses and multi-day workshops were too ambitious for some, so I updated my services to make them more accessible. There's a wide range of people interested in my services, from businesswomen who want more confidence to parents who want kids to come out of their shells. We want to be accessible to everyone and bring different generations under one roof.
What affects Hongkongers' self-image the most?
Hong Kong is very competitive, and a lot of entrepreneurs and businesspeople here end up comparing themselves to others. When they see people succeed, it can be triggering.
What do you like about doing business in Hong Kong?
Hong Kong is so convenient, and there's a real mix of East and West. People come here from all over the world and you can learn about different cultures. Having a business is a new challenge. As a model, I was already self-employed, and used to not getting a salary every month. Being a model is entrepreneurial in a way, although there are more challenges that come with being an entrepreneur.
What are your long-term goals for Hong Kong Model Camp?
I'd like to have multiple locations across Hong Kong and establish partnerships with clubhouses and schools and other business partners.
What do you like best about being an entrepreneur?
The freedom! Being a model, you're flexible up to a point, but ultimately clients and agencies are running your schedule.
Related link
HK Model Camp