https://hkmb.hktdc.com/en/1X0ABTOX
E-commerce Market Developments in India and the Opportunities for Hong Kong (2)
E-commerce is set for rapid growth in India
The first part of this article discussed the policy push of the Modi government and the disruption in the telecommunications sector that has driven rapid e-commerce growth in India. This part is focused on the change in the e-commerce market landscape.
New Battle Ground for International Players
India's e-commerce landscape has undergone rapid changes in the last two years. Flipkart and Snapdeal are the two largest e-commerce platforms in India and are among the world's top unicorns by valuation.
Until recently, India's retail sector was rather restricted in terms of foreign direct investment (FDI), but it has gradually been opening since 2011, after the then Congress-led government attempted to step up economic reforms. In May 2016, e-commerce was further liberalised under the Modi government. Full FDI has now been made legal for online marketplaces (platforms between multiple buyers and sellers) with no more than 25% sales generated from one single vendor. Since that step was taken, India's e-commerce sector has attracted a great deal of international interest.
Given the strong reliance on local expertise to drive businesses forward in India, many international tech giants have participated in India's e-commerce market through investment. Flipkart, India's largest online marketplace, raised US$1.4 billion from Microsoft, eBay and Tencent in April 2017. Japanese telecom company Softbank Group injected a further US$1.5 billion in August 2017. International companies' involvement in Flipkart primarily took the form of capital infusion, rather than active engagement in business management.
China's e-commerce giant Alibaba set foot in India by acquiring stakes in existing platforms. Alibaba has invested in India's second largest home-grown online market places, Snapdeal, and owns a majority stake of Indian e-payment platform Paytm. In 2017, Paytm Mall was launched as an extension of the company to B2C retail, mirroring Alibaba's Tmall. Alibaba's success and experience could help these companies build up the e-commerce ecosystem in India, integrating mobile payments, mobile platforms and B2C retail.
In contrast, Amazon has tried to directly set up its own company in the country. The company has committed a combined investment of US$5 billion in India since it entered the country in 2014. Amazon is keen to take up market leadership and is currently the third-largest e-commerce brand in India after Snapdeal.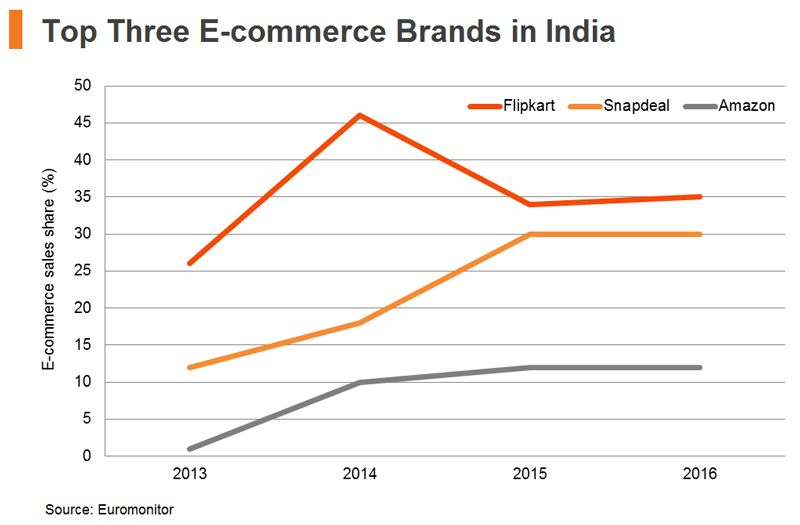 All major players are eager to take up market leadership in this huge and promising market. They are already in keen competition via price and service offerings. As the e-commerce sector in India is dynamic and far from mature, the major players are looking for ways to navigate in this unique environment. For example, Flipkart has launched the Lite app which allows smooth navigation on the platform even under limited internet speed. Amazon is investing in logistics infrastructure to offer the Amazon Prime service with one or two-day guaranteed delivery in over 100 cities, a service that stands out in India given the country's generally unreliable logistics and delivery services. Cash on delivery was once the most popular payment method. However, all the major e-commerce operators have become technology-empowered in the transition to handling all transactions with electronic payments.
Apparel, Footwear and Electronics are Major Online Purchases
Apparel and footwear is the largest category of products bought online by Indian consumers in value terms. In 2016, apparel and footwear accounted for 25% of online retail sales, followed by consumer electronics (17%). According to Flipkart, 50-80% of the company's sales volume are items below US$8-10. Hong Kong companies should take note that the majority of Indian consumers are bargain hunters and Indian online marketplaces are known for being advocators of lower prices in competition with brick-and-mortar stores.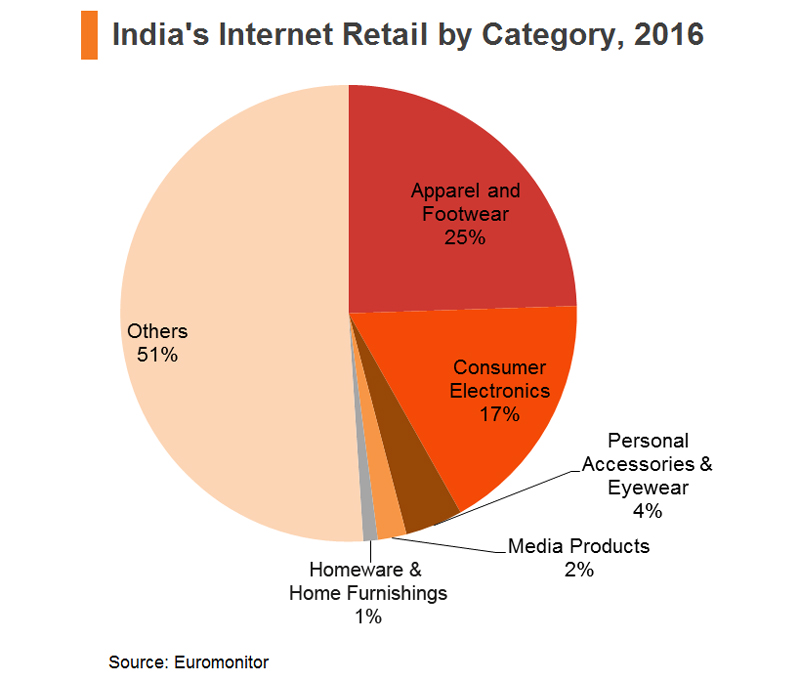 Indians are enthusiastic festival shoppers, and offers and promotions during major festival seasons from October to December are highly effective in enticing sales. Over the past three years, online platforms have been heavily engaged in promoting e-commerce sales through discount offers and above-the-line-advertisements, especially in newspapers. For online marketplaces, they adopt data analytics to devise sale strategies for their sellers.
Potential for Hong Kong Businesses in Selling Electronics
From Hong Kong businesses' perspective, apparel and footwear may not be the best category of products to sell to India, as India is somewhat protective of its garment and textile industry. Imports of apparel and footwear items face tariffs of around 30%. Local garment products are cheap and abundant in supply.
However, demand for electronic products in India constantly outpaces local production. India relies heavily on imports to satisfy such demand and bridge the supply deficit. Consumer electronics is expected to experience strong sales growth over the next few years, driven by rising incomes and the development of a huge digital economy (see Make in India: Production Relocation and Market Opportunities for Hong Kong Electronics Companies).
India's robust demand for electronic products can partially be seen in the surge in bilateral trade between India and Hong Kong. Bilateral trade between the two has grown rapidly in the past three years, especially in the first seven months of 2017. India has become Hong Kong's third-largest export market and the rate of growth in the amount it imports from Hong Kong is the fastest among all Hong Kong's major global trading partners. Telephone sets and other telecoms equipment are the products that form the biggest part of Hong Kong's exports to India. As Indian demand for electronics and telecoms products is still far from being sated, there is still room for strong growth in bilateral trade between Hong Kong and India.
A survey done earlier by HKTDC Research in New Delhi also found that electronics are a product that Indian businesses are most interested in sourcing, and Indian buyers expressed a very strong intention to source more from Hong Kong (see Indian Buyers: The New Delhi Survey). Given the difficulty in setting up a physical retail presence in India, e-commerce is a worthwhile platform for Hong Kong businesses, especially SMEs, to explore.
Ease of Doing Business to Be Improved
Foreign businesses have always been intimidated by the challenging business operation environment of India. In the World Bank's Ease of Doing Business ranking, India scored low, ranking 130th out of 190 economies. Although some progress was made in this field in the first two years of Modi's government, that progress is now stalling, albeit with a few exceptions (see below). Major challenges related to e-commerce include taxes, trading across borders and red tape.
The Modi government, along with India's state governments, is making concerted efforts to address a variety of economic problems, including the lack of a unified market. To this end, the national Goods and Services Tax (GST), a landmark reform that standardises the jumble of indirect tax regimes, was implemented in July 2017. Such reform considerably simplifies tax paying procedures for business and promotes the flow of goods across India (see Doing Business with India: Opportunities Arising from GST Reform). Meanwhile, the government is also working to tackle bureaucracy and red tape by introducing digital governance and automating the business approval process. Progressive states such as Maharashtra, Andhra Pradesh, Telangana and Gujarat have already made good progress on this.
Industry Making Effort to Overcome Logistic Challenges
India has also been notorious for its poor road network and logistics infrastructure. This poses a great challenge to e-commerce development as the industry is strongly reliant on logistics provision for widespread and timely delivery. The Indian government has launched national infrastructure projects, with port, freight and national roads capacity to be upgraded over the medium term.
Understandably, infrastructure development takes time to come to fruition. In the meantime, e-commerce players are working to adapt to the fast-changing operational environment in India. For example, Amazon has invested extensively in building backend infrastructure, such as warehouses, whilst upgrading the stock management practices. Similarly, Flipkart has developed its own logistics arm, Ekart, to provide tailor-made logistics services for its parent company. It is also working with small neighbourhood stores to strengthen drop-off and pick-up services, and enhance the coverage and services in smaller neighbourhoods. Continual enhancement of these online marketplaces would benefit sellers who leverage these platforms to reach Indian consumers.
Summary
India's e-commerce market has taken off, and there are projections of phenomenal growth in the future. Driven by government policies and smartphone usage, India's e-commerce sector, now undergoing rapid development, has already attracted a great deal of overseas interest. In spite of these bright prospects, various challenges remain in the operational environment of India's e-commerce sector. This is, however, expected to improve over the medium-term.
India
Other Asian Countries