https://hkmb.hktdc.com/en/1X0ABHUR
Changing Global Production Landscape and Asia's Flourishing Supply Chain
Shift of Global Supply Chain and Guangdong-Hong Kong Industrial Development (2)
Since joining the World Trade Organisation (WTO) in 2001, China has devoted great efforts to implementing policies on opening up to the outside world. As a result, it has successfully attracted enterprises in developed countries to relocate production and sourcing activities on a massive scale to the mainland. Meanwhile, a great number of emerging countries in Asia have also further liberalised their market, making use of their low-cost advantage to attract foreign investment to propel economic growth. At the same time, ongoing changes in the international trade regime, such as the elimination of textiles and clothing import quotas by WTO members[1], and the granting of a zero tariff concession to information technology products under the Information Technology Agreement [2], have prompted even more related production and sourcing activities to shift to Asia. This development has not only bolstered the growth of industrial activity in the region, but has also turned China into a "world factory" producing a wide range of consumer goods and industrial products. This has in turn directly changed the landscape of global industrial production.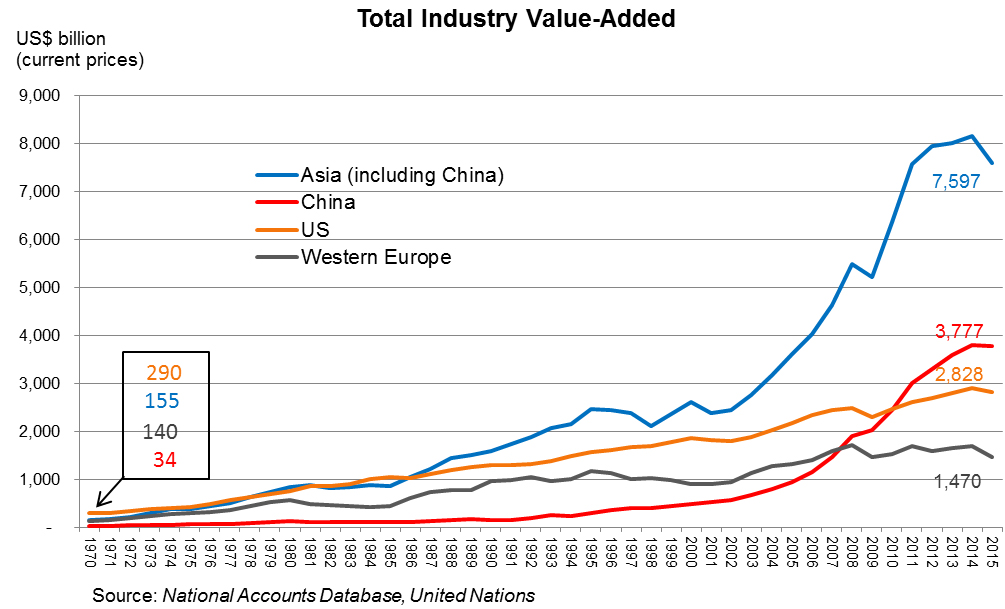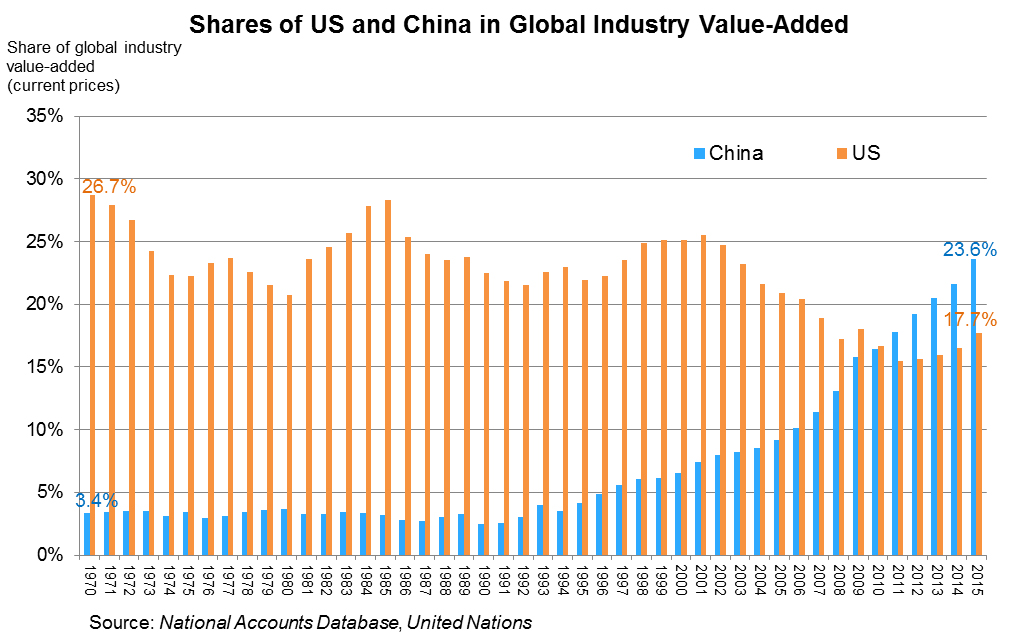 United Nations (UN) statistics show that Asia's industry value-added rose markedly from US$2.6 trillion in 2000 to US$7.6 trillion in 2015, at an average annual nominal growth of 7.4% (real growth 5.2%). During this period, the share of Asia's industry value-added in the global total climbed from 35.1% to 47.5%. In particular, China's share of the global total rocketed from 6.5% to 23.6%.
During the same period, the US, once the world's largest manufacturing powerhouse, saw its share of the global industry value-added drop from 25.1% to 17.7%, while Western Europe's share declined from 12.1% to 9.2%. In zero-sum terms, China has replaced the US as the largest manufacturing powerhouse in the world. Its industry value-added amounted to US$3.8 trillion in 2015, way ahead of the US on US$2.8 trillion. It is interesting to note that where the amount of value-added is concerned, either in terms of current prices or constant prices, industrial activities in the US and Western Europe actually maintained a growth, albeit at a slow pace. However, because of the rapid expansion of their service sectors and other economic sectors, their industrial sector accounted for lower shares of their GDP, dropping to 16% and 18% respectively in 2015.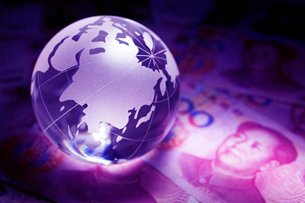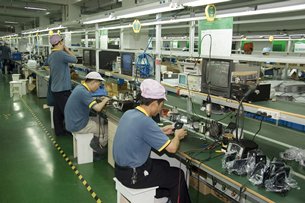 As for China, benefitting as it did from the inflow of foreign direct investment and large-scale relocation of industrial activities, the share of GDP accounted for by industry value-added was over 40% for large parts of the three decades preceding 2011. After 2011, although industrial production and export continued to expand, rising costs, labour shortages and industrial land constraints prompted many foreign-invested and domestic enterprises manufacturing in China to make changes. On the one hand, they have sought to transform and upgrade their production processes, while on the other they have relocated part of their production lines to lower-cost regions nearby or strengthened their sourcing of cheaper products and industrial materials abroad. This has dragged down the pace of industrial growth, while at the same time, China's service sector has been growing rapidly. This has led to a decline in the share of the industrial sector in China's GDP in recent years - in 2015, industry value-added accounted for just 34% of the country's economic activity.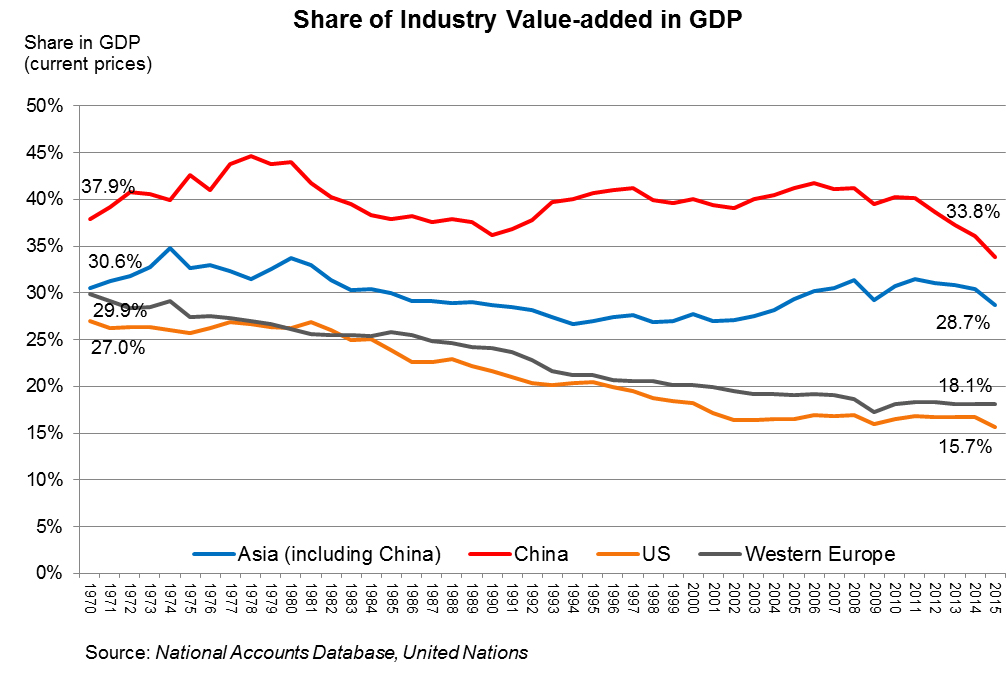 Global Trade Shifting towards Asia
The shift of global production and sourcing activities has propelled the growth of industries in Asia, driving companies in the region to engage in export-oriented production, and in turn, fuelling the expansion of international trade of Asia. Typically, manufacturers in lower-cost regions in China and Southeast Asia import machinery, equipment and key parts and components from Europe, US, Japan and other countries, while China's massive processing industries rely on the import of a wide range of raw materials and industrial goods, including industrial materials produced in Asia by foreign investors or local enterprises. Such reliance not only promotes trade between China and the rest of Asia, but also advances industrial development in Asia.
From 2001 to 2016, the total trade volume of Asia surged from US$3.2 trillion to US$11 trillion, an average annual increase of 8.5%. During this period, the total foreign trade of China posted an average yearly growth of 14.1%, whereas the annual trade growth of US and 28 EU countries registered a slower rate of 5.2% and 4.5% respectively. According to the statistics of World Trade Organisation (WTO), Asia's share of world trade has gradually increased from 25.5% in 2001 to 34.1% in 2016, while China's share has risen from 4.0% to 11.5%, making it jointly with the US the largest trading economy in the world.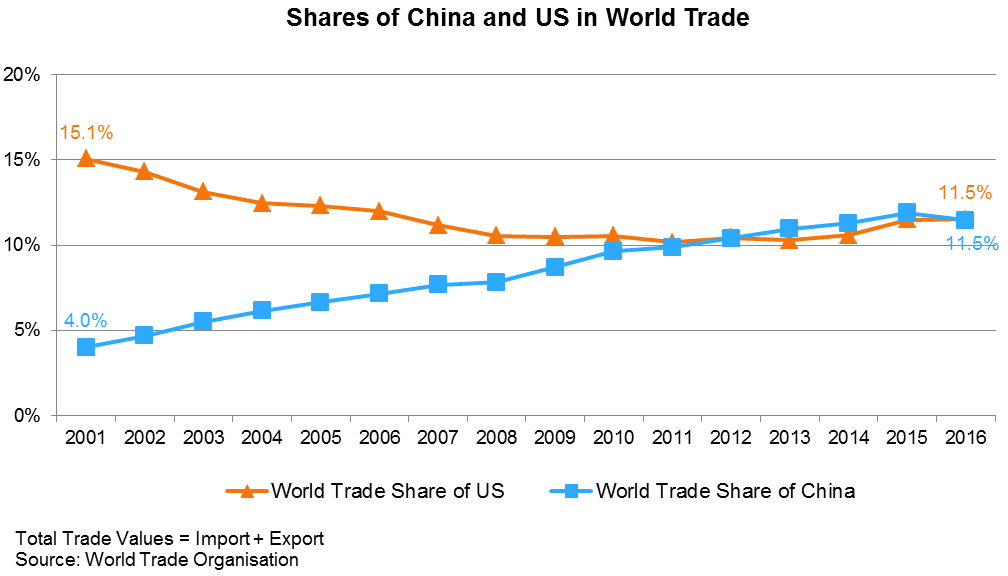 Surging Intra-Asia Trade
The ten ASEAN countries, the Chinese mainland, Hong Kong, Japan, Taiwan, Korea and India (hereinafter referred to as "Asia 16") are Asia's major trade players. Their total exports and imports in 2016 were valued at US$5.5 trillion and US$4.8 trillion respectively, constituting more than 90% of Asia's total trade volume.
Among the merchandise exports of the Asia 16, the share of the Chinese mainland rose from 17% in 2001 to 38.5% in 2016, making it Asia's largest source of exports. While the total value of exports from the ASEAN countries, particularly Singapore, Thailand, Malaysia, Indonesia and Vietnam, has also risen thanks to global relocation of production and sourcing activities, the bigger increase in China's exports has pushed down ASEAN's share of Asia 16 exports from 24.5% in 2001 to 21.5% in 2016.
As for Japan, the relocation of local production lines to lower-cost regions has reduced its export share significantly from 25.8% to 11.7% during this period. In contrast, Hong Kong – as an important Asian trade centre – benefits from the momentum of regional trade and maintains a stable export growth, though its share in the Asia 16's exports dropped to 9.4% in 2016.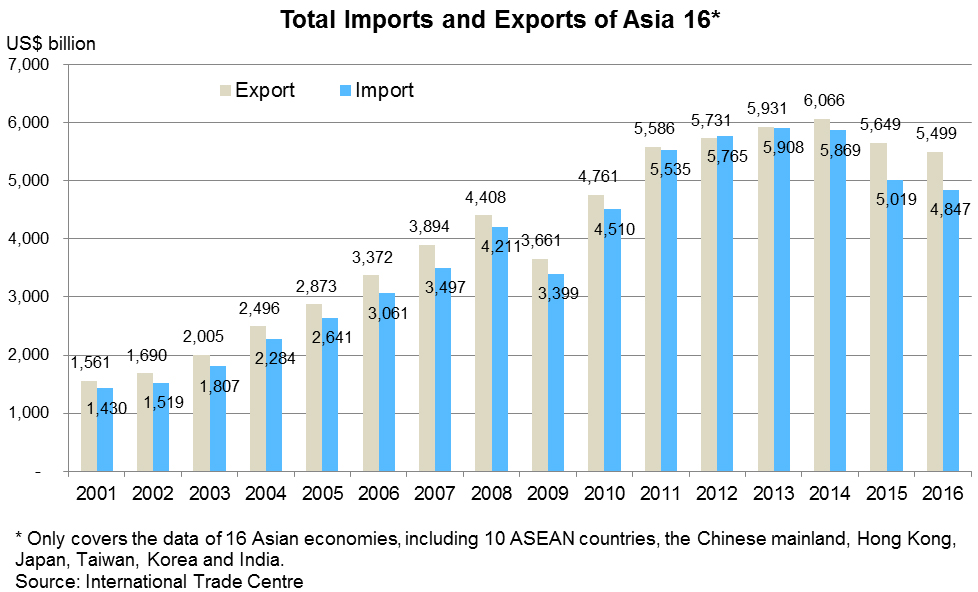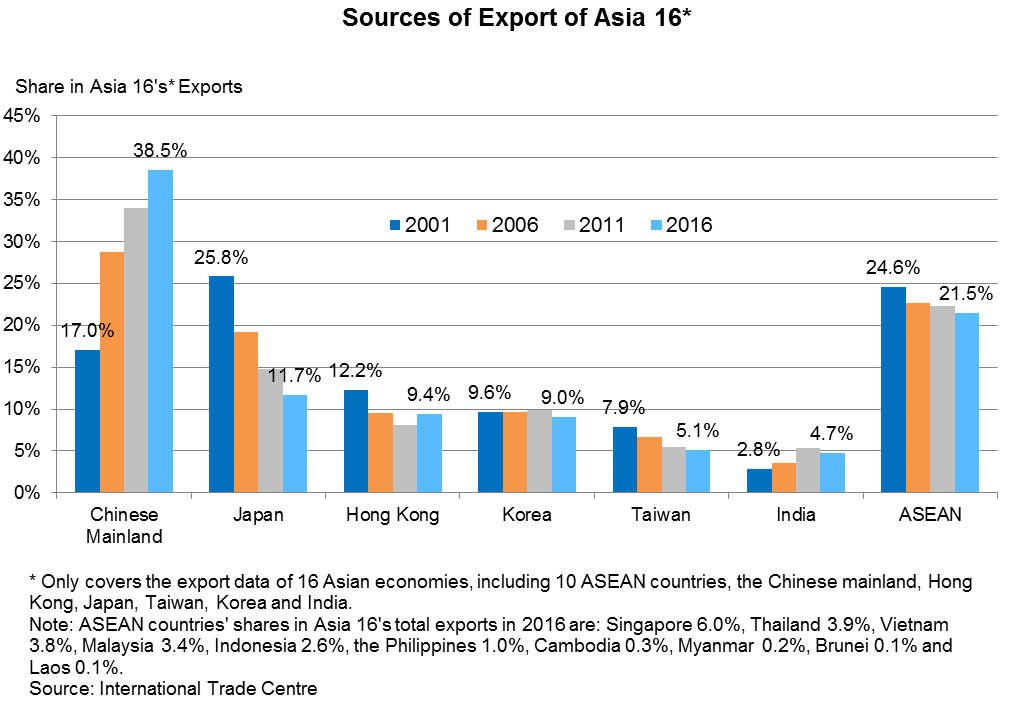 Following the expansion of export-oriented production activities, the value of Asia's exports to the US and EU markets is growing. But the ratios of the Asia 16's exports going to these markets have dropped from 22.8% and 16.0% in 2001 to 15.3% and 13.2% in 2016. This is because the supply chain relationship between upstream and downstream enterprises in a broad range of sectors in Asia has become increasingly close. The frequent trading activities among enterprises of different economies have also fuelled the rapid expansion of intra-Asia trade, which in turn has led to a contraction in the Asia 16's share of total exports to the EU, US and other markets outside Asia.
As division of labour in the industrial sector becomes more well-defined, local companies and foreign-funded enterprises in Asia are striving to strengthen their regional business plans. They join hands with their partners in the supply chain to invest and set up production plants in different locations, and at the same time, re-align their sourcing networks across Asia. The aim is to capitalise on local advantages to reduce production costs and enhance operational efficiency so as to meet the needs of their long-term development. The need for enterprises at different positions in the supply chain to transfer large quantities of industrial materials and semi-finished products to and from different production bases has led to the rapid growth of intra-Asia trade.
Statistics show that many of the goods exported from different economies of the Asia 16 are destined for "export markets" of the Asia 16 themselves. These intra-Asia trade flows currently account for more than 50% of the Asia 16's total exports. As the two largest sources of Asia's exports, the Chinese mainland and the ASEAN bloc are also the most important destinations for intra-Asia trade at the same time, drawing in 13.9% and 14.9% of the Asia 16's total exports in 2016. Hong Kong also accounted for 8.9% of these exports, with the products involved mostly being re-exported to other production bases.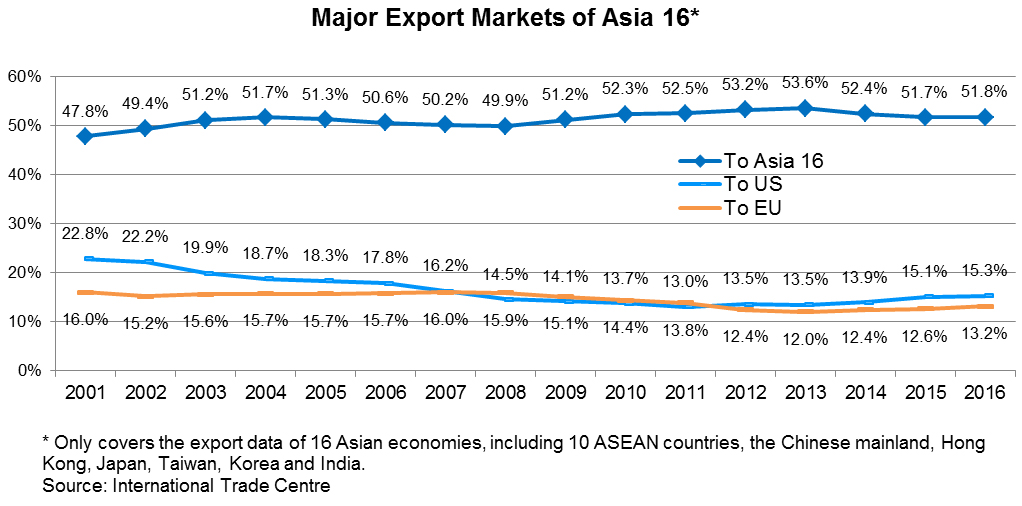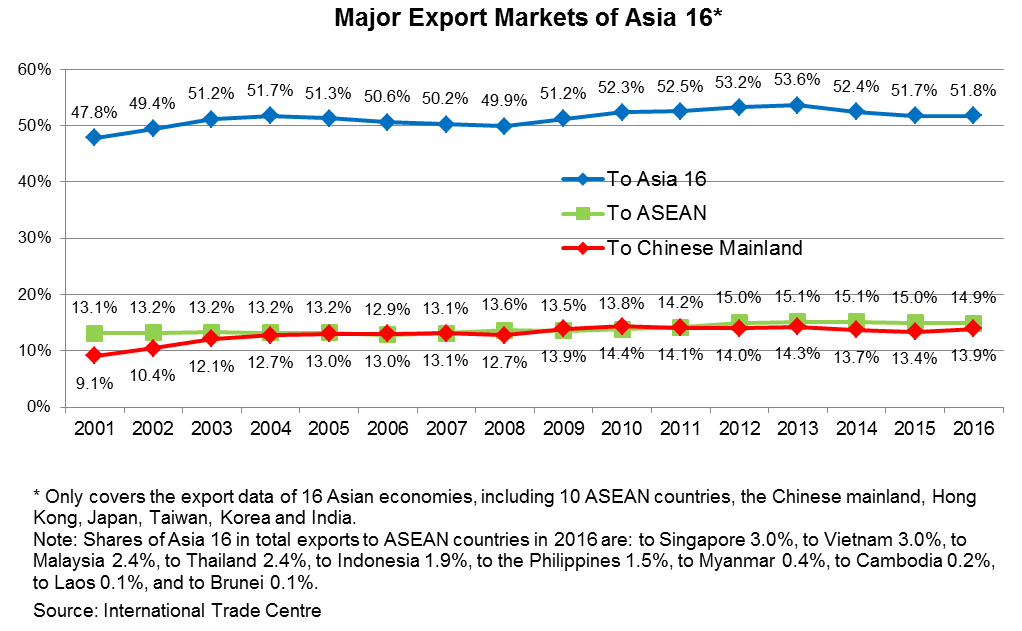 Regional Division of Labour Spurs Growth of Asia Supply Chain
While the Chinese mainland and some advanced Asian economies such as Japan and Korea have already built up mature industrial production systems, other Asian economies that had a late start only have relatively basic industrial foundations. Many of them also lack logistics and production support services. Yet most enjoy the relative advantages of ample labour supply and low production costs, and are therefore suitable for undertaking labour-intensive production. Some of these economies can also turn out industrial products that require more demanding inputs of technology and capital.
Against this backdrop, industrial bases located in different parts of Asia are relying on their relative advantages to engage in different upstream and downstream manufacturing operations while strengthening their business co-operation with foreign trading partners. The rapid expansion of intra-Asia trade is indeed a reflection of the increasingly close supply-chain relationship built up among various production bases in Asia. Agreements between some countries on certain trade facilitation arrangements can also help enterprises at different positions in the supply chain to engage in extensive intra-industry trade.
For example, since the formation of the China-ASEAN Free Trade Area (CAFTA) in 2010, China and the ASEAN bloc have gradually eliminated import tariffs on most products, which stimulate the trading activities among companies operating in CAFTA. Raw materials, including mineral products, energy and agricultural and forestry products, are exported by ASEAN suppliers to enterprises in China, while industrial products and production materials are exported from China to ASEAN countries, thereby increasing the mutual reliance between the two sides. Such inter-dependence not only stimulates intra-Asia trade, but also fosters the vigorous growth of inter-enterprise supply chain in the region.
Capitalising on regional trade, upstream and downstream enterprises along the supply chains of respective industrial sectors in different Asian regions have become specialised in their operations for division of labour. A wide range of raw materials, parts and components, and intermediate goods are thus produced, while certain materials and key parts and components are imported from abroad for the final assembly of various finished goods in Asia. These are then mostly exported to markets of consumer goods and end-products in the EU, US and other regions. As a result, global production and sourcing activities are shifting to Asia, which in turn promotes further exports from Asia to overseas markets, stimulates the sustainable development of supply chains in Asia, and fuels the rapid expansion of intra-Asia trade.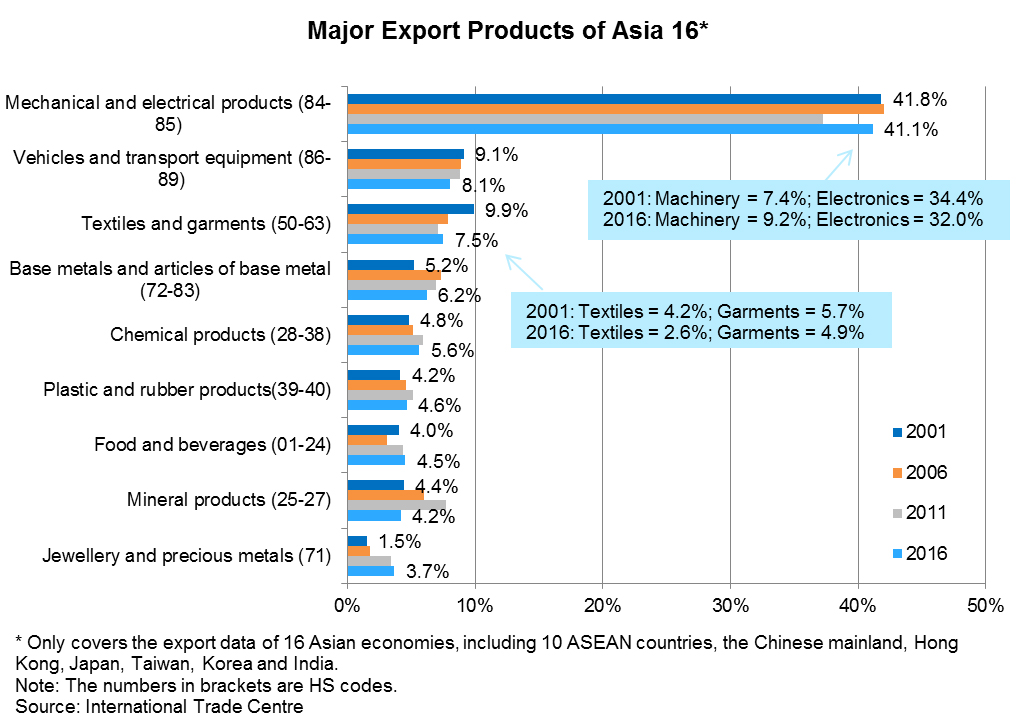 In 2016, 41.1% of the export products of the Asia 16 were mechanical and electrical products, which comprise numerous mechanical and electronic parts and components for production use. Other major export sectors were vehicles and transport equipment (8.1%), textiles and garments (7.5%), various metal products (6.2%), chemical products (5.6%), and plastic and rubber products (4.6%). These export products have the following characteristics:
More than half of the products exported from Asia are raw materials, parts and components, intermediate goods and production equipment for industrial use.
Industrial goods produced in Asia are mainly supplied to various production bases in the region, which is classified as intra-Asia trade.
Electronic end-products, garments and other consumer goods produced in Asia are mainly exported to consumer markets outside Asia, including those in the EU and US.
Nonetheless, the advanced supply chain system and range of production support services enjoyed by the PRD is, arguably, unmatched anywhere else in world. In view of this, when mapping out future business plans, the majority of Guangdong and Hong Kong enterprises have opted to retain and even expand their production activities in the PRD, Guangdong its neighbouring regions, often prioritising higher value-added and higher technology content. As mentioned above, however, as industrial activities in other low-cost regions across Asia have continued to thrive, the supply chain relationship between China and Asia has become increasingly close. This development in turn offers an expanded market and wider sourcing options for Guangdong and Hong Kong enterprises.
For further details, please refer to:
Shift of Global Supply Chain and Guangdong-Hong Kong Industrial Development (Executive Summary)
Changes in Asia's Textiles and Garments Supply Chain
Rapid Development of Asia's Electronics Supply Chain
Evolving Role of "Made in China"
Guangdong and Hong Kong to Adjust Regional Business Strategies
Shift of Global Supply Chain and Guangdong-Hong Kong Industrial Development (Conclusions and Recommendations)
---
[1] Under the Agreement on Textiles and Clothing (ATC), WTO members terminated quota limits on all textiles and clothing imports starting from 1 January 2005.
[2] The Information Technology Agreement was reached by the WTO in December 1996 whereby the signatories pledged to grant zero tariff concession to information technology products covered in the agreement. In 2015, the Agreement further expanded the coverage of products entitled to zero tariffs.
Garments, Textiles & Accessories
Electronics & Electrical Appliances
Mainland China
Mainland China
Hong Kong