Eyewear that talks, briefs agents on top-secret missions, shoots laser beams and more has long been a staple of science fiction, but now smart glasses are moving off the silver screen and on to the high street.
Smart glasses have become an integral part of life as well as fashion, visitors to the 31st HKTDC Hong Kong International Optical Fair found out.
Organised by the Hong Kong Trade Development Council (HKTDC) and co-organised by the Hong Kong Optical Manufacturers Association (HKOMA), last week's fair welcomed 700 exhibitors from 11 countries and regions and drew 12,000 buyers from 92 countries and regions,
The Smart Eyewear zone debuted this year, spotlighting a diverse range of eyewear and products using innovative technologies. Hong Kong eyewear brand Solos Technology Limited which specialises in smart-technology development, demonstrated AirGo 3 AI smart glasses that combine ChatGPT and wearable tech. The brand's General Manager Kenny Cheung said the firm had been busy introducing smart eyewear technology to new buyers, most of whom came from Asia and Europe. "We have found optical manufacturers from Hong Kong and Mainland China."
More than 20 buyers from all over the world bought Solos samples and the firm expected new orders to come in, after they had tested products. Separately, about four to five brand owners from Europe, Japan and Korea were in discussion to explore collaboration.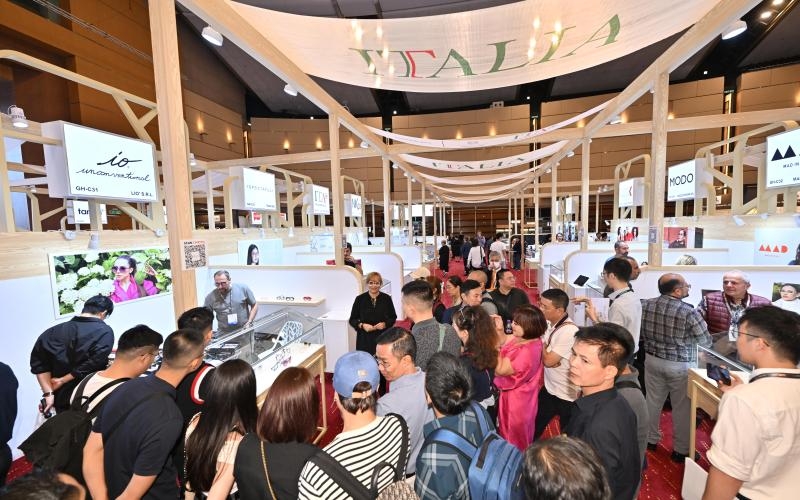 The optical industry has also embraced environmental protection, sustainable development and recycled material use. These factors represent long-term industry goals and serve as driving forces behind the optical industry's development.
First-time Hong Kong exhibitor Wingram Industrial Company Limited is dedicated to developing eco-friendly materials. It launched BioAcetate S70 – a biobased and biodegradable material used to produce sustainable eyewear products.
The company's Head of Operations May Ng noted that eyewear manufacturers and brand owners from different places, such as Hong Kong, India, Italy, Japan, Mainland China, Mauritius and Thailand have given positive feedback. "Five to six new buyers will place orders for our BioAcetate S70 material after the fair."
The event also showcased eyewear for children, accessories and optometric instruments. The atmosphere for on-site negotiations was exuberant.
Vista Import from Brazil visited the fair for the seventh year. Company Director Roberto Basile Neto identified a number of suppliers in Hong Kong and Mainland China through Click2Match – the AI-backed business-matching platform – and planned to buy 20,000 pairs of sports eyewear, 20,000 pairs of protective children's sports eyewear and 10,000 pairs of children's glasses, all from new suppliers.
He also said Click2Match helped him record more supplier information, so he could continue to negotiate with them after the fair. Van Dut Le, Managing Director of An Khang Phuc Co., Ltd, an eyewear distributor from Vietnam, said: "We also contacted suppliers in Hong Kong and Korea through business matching service, and placed orders worth more than US$130,000 for lens edge grinding machines and 20,000 pairs of contact lenses."
The 21st Hong Kong International Optometric Symposium was held concurrently, themed "Empowering Community Eye Care through Artificial Intelligence and Telemedicine in Optometry". Industry representatives from around the world discussed topics, such as the application of AI in optometry and impact of telemedicine in healthcare.