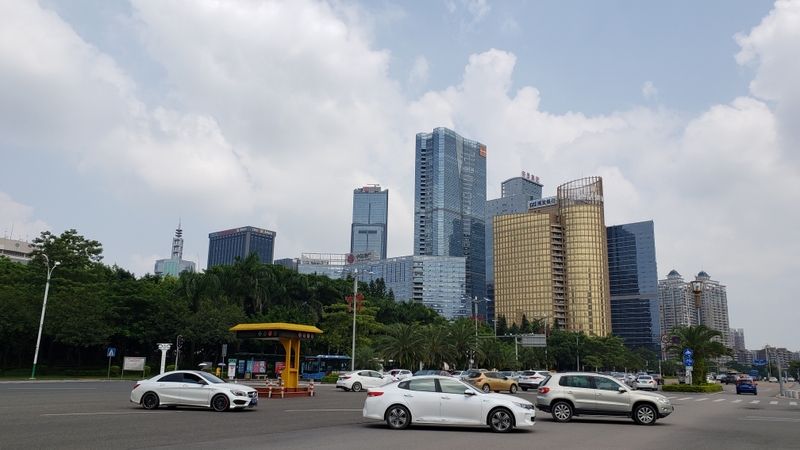 https://hkmb.hktdc.com/en/Mzg3MzAzMzcz
Huizhou: Consumer Market Profile
1.  Economic Overview and Development Planning
Huizhou is the second largest city by area in the Guangdong-Hong Kong-Macao Greater Bay Area (GBA) after Zhaoqing. Neighbouring Guangzhou, Dongguan and Shenzhen, it is an electronics manufacturing, petrochemicals and tourism centre within the GBA.
The Outline Development Plan for the Guangdong-Hong Kong-Macao Greater Bay Area calls for Huizhou's industrial sector to connect with the four major cities of Hong Kong, Macao, Guangzhou and Shenzhen in order to jointly raise the level of collaborative development across the GBA. The Opinions of the CPC Central Committee and the State Council on Supporting Shenzhen in Building a Pilot Demonstration Zone of Socialism with Chinese Characteristics, issued in August 2019, stated that Shenzhen will serve as the engine driving joint development in Dongguan and Huizhou to build the GBA.
Huizhou has recorded considerable economic growth in recent years. In 2018, the city's GDP reached RMB410.3 billion, up 6.0% over the preceding year. The value added of primary industry was RMB17.6 billion, up 3.6%; secondary industry value added was RMB216.2 billion, up 6.0%; and tertiary industry was RMB176.6 billion, up 6.2%. Primary, secondary and tertiary industries contributed 4.3%, 52.7% and 43.0% of value added respectively, making secondary industry by far the largest economic pillar in Huizhou. In 2018, the city's per capita GDP was RMB85,418, equivalent to US$12,908 according to the average exchange rate.
With an established electronics industry and supporting scientific research facilities, Huizhou has a solid foundation for the development of high-tech industries. The Huizhou Zhongkai High-tech Industrial Development Zone, a national-level new and high-tech development area located in southwestern Huizhou, was set up in 1992. The Zone has developed into a manufacturing hub for LED optoelectronics, mobile telecoms and electromechanical industries, as well as an important electronics industry base within the city.
Huizhou is actively pursuing industrial transformation, upgrade and R&D. In 2018, the city's R&D spending amounted to 2.3% of GDP.
Apart from electronics, other leading industries in Huizhou include petrochemicals, footwear and tourism. Each of the city's counties and districts has its own priority industries. The Daya Bay Economic and Technological Development Zone, established in 1993 and located in the coastal area south of Huizhou, is one of the key petrochemical industry bases in the country. Huidong county in the eastern part of Huizhou is a leading national women's shoes production base, with two national 5A tourist scenic spots – Luofu Mountain Scenic Area in Boluo county in northern Huizhou and Xihu (West Lake) Tourist Scenic Area in Huicheng district, central Huizhou.
In recent years, Huizhou has devoted great efforts to enhancing transport links with other cities. After the Dongguan-Huizhou inter-city railway opening in 2016, it now takes only one hour to travel from Dongguan city centre to downtown Huizhou. Huizhou South Station in Huiyang district and Huidong Station in Huidong county are two stops on the high-speed railway linking Xiamen in Fujian province and Shenzhen. The travel time between Hong Kong's West Kowloon station and Huizhou South Station is only one hour 15 minutes.
The Guangzhou-Shanwei Railway is scheduled for completion in 2021. When open, it will only take one hour to go from Guangzhou to Huicheng South Station in Huicheng district. The Ganzhou-Shenzhen Railway connecting Ganzhou in Jiangxi province with Shenzhen is also scheduled for operation in 2021, and Huizhou North Station (under construction), located in the northern part of Huicheng district, will be one of the stops on this line. The Huizhou city government is also improving and building highways connecting Dongguan, Qingyuan and Heyuan in a move to strengthen the transport networks between Huizhou and other cities in east Guangdong. As Huizhou develops into a transport hub linking cities within and outside the GBA, it can be expected that increasing numbers of people will come to the city to work, live and visit, creating greater room for economic growth.
2.  Huizhou's Consumer Market
2.1  Growth in Retail Sales
In 2018, Huizhou's total retail sales of consumer goods amounted to RMB147.9 billion, an increase of 9.5% over the preceding year. Growth in the city's urban and rural consumer markets is reasonably balanced. In 2018, total urban retail sales reached RMB118.9 billion, up 9.2%, while rural sales reached RMB29 billion, up 10.8%. Among the various counties and districts, Huicheng district and Huidong county registered the highest total retail sales, reaching RMB61.3 billion and RMB30.1 billion respectively, together accounting for 62% of Huizhou's total retail sales.
In 2018, retail sales of grain, oil and foodstuffs by the city's wholesale and retail enterprises above a designated scale were up 1.9%, household appliances and audio-video equipment grew 23.3%, Chinese and western medicine were up 11.2%, telecoms equipment increased 12.5%, and petrol and related products were up 27.9%. Meanwhile, retail sales of garments, footwear, hats and knitted textiles were down 7.5%, cosmetics declined 3.8%, jewellery dropped 0.1%, daily necessities decreased 2.3%, sports and recreational goods were down 16.2%, cultural goods and office appliances dropped 10.8%, and motor vehicles were down 2.6%.
2.2  Per Capita Disposable Income and Consumption Expenditure
In 2018, the per capita disposable income of Huizhou residents was RMB33,930, representing a nominal growth of 9.1% and real growth of 7.2%. Of this, the per capita disposable income of urban residents amounted to RMB39,574 (nominal growth 8.1% and real growth 6.2%); while that of rural residents reached RMB21,039 (nominal growth 9.1% and real growth 7.2%).
In 2018 the per capita consumption expenditure of Huizhou residents was RMB24,462, a nominal growth of 6.5%. Of this, the per capita consumption expenditure of urban residents was RMB27,773 (nominal growth 5.1%), and that of rural residents was RMB16,900 (up 8.5% nominally). These figures show that Huizhou rural residents' income and expenditure growth rates were higher than their urban counterparts.
Huizhou urban residents spent most of their money on food and beverages, spending an average of RMB9,569 in 2018, accounting for 34.5% of per capita consumption expenditure during the year. Residence came second, averaging 21.6% of urban residents' consumption expenditure. Urban residents also spent an average of RMB3,083 on education, culture and recreation, accounting for 11.1% of per capita consumption expenditure.
Huizhou Urban Residents' Per Capita Consumption Expenditure and Share, By Category, 2018 
| | | |
| --- | --- | --- |
|   | Per capita consumption expenditure (RMB) | Share (%) |
| Food, tobacco and liquor | 9,569 | 34.5 |
| Residence | 6,011 | 21.6 |
| Transportation and telecoms | 4,215 | 15.2 |
| Education, culture and recreation | 3,083 | 11.1 |
| Household facilities, articles and services | 1,636 | 5.9 |
| Clothing | 1,426 | 5.1 |
| Medical and healthcare services | 1,185 | 4.3 |
| Miscellaneous goods and services | 647 | 2.3 |
Source: Huizhou Statistical Yearbook 2019
3.  Characteristics of Huizhou's Consumer Market
3.1  Population Structure
Unlike neighbouring Shenzhen or Dongguan, the majority of Huizhou's population are permanent residents. As of the end of 2018, Huizhou had a resident population of 4.83 million, of which 3.81 million were permanent household registrations, accounting for 78.9% of the population. Among the various counties and districts, Huicheng district, Boluo county and Huiyang district had the largest numbers of permanent residents, amounting to 1.21 million, 1.07 million and 608,900 respectively.
3.2 Consumer Preferences
Low-key and Leisurely Lifestyle
The pace of living in Huizhou is more relaxing and local consumers in general take life easy. They tend to favour a low-key, nature-loving and leisurely lifestyle. During holidays, apart from going on out-of-town tours, many consumers also opt for visiting various scenic spots in the city. In the past, entertainment and recreation facilities in the city were few and far between, but in the last few years a diversity of leisure and recreation options has become available. Many popular concerts and art and cultural performances are held in Huizhou, offering locals a wider range of choices.Shopping malls in Huizhou have fewer high-end stores, the only exception being jewellery retail. Jewellery shops are normally found in prominent locations in many of the city's shopping malls. The likely explanation for jewellery's popularity is as a hedge against inflation.
High Demand for Daily Life Consumption
​​​​​​In recent years, as incomes have continued to rise, Huizhou consumers have become more willing to spend on improving their quality of life. The quality of products such as daily-use articles, electrical appliances and foodstuffs in local supermarkets, household goods stores and electrical appliances stores is rising. A full range of domestic first-line brands and imported goods is available, and daily life consumption is trending markedly upwards.
The market for children's products in Huizhou is also booming. In addition to early learning institutions, children's clothing stores and indoor children's playgrounds are gaining popularity with local residents. In many shopping malls and department stores the children's section usually occupies a whole floor, reflecting increasing demand from Huizhou consumers for children's goods and services.
Buying High-end Goods Online or Outside the City
Since leisure and daily life lead Huizhou's consumer market, locals typically either visit shopping malls and department stores, shop online or go to neighbouring cities if they want upmarket goods. Nowadays, online platforms offer a great diversity of products, as well as fast and efficient delivery, which can satisfy local consumers' demand for high-end goods. Shenzhen, Dongguan and Hong Kong are Huizhou residents' most favoured out-of-town shopping destinations. Cosmetics, skincare and food products are the leading items for Huizhou consumers coming to shop in Hong Kong.
Today, as the transport network linking Huizhou with other GBA cities continues to improve, Huizhou residents taking the high-speed train from Huizhou South Station can get to Shenzhen in half an hour and arrive in Hong Kong in about one hour 15 minutes. They can also reach downtown Dongguan in about an hour by taking the Dongguan-Huizhou inter-city rail from the city centre. The convenience offered by the increasingly advanced transport network has boosted Huizhou people's appetite for shopping trips to Shenzhen, Dongguan and Hong Kong.
4. Huizhou's Major Commercial Districts
4.1 Overall Trends in Retail Sector
Jiangbei: New Shopping District
Huizhou's traditional urban retail centre used to be on the southern bank of Dongjiang (or Dong River) – the eastern tributary of the Pearl River – in Huicheng district. However, in recent years, the city's retail centre has been shifting towards the northern bank of Dongjiang.
Although Dongjiang South (known as Jiangnan) has traditionally been Huizhou's retail centre, it also faces problems such as a cramped layout, insufficient parking space and traffic congestion. By comparison, Dongjiang North (known as Jiangbei) has a more spacious layout and is fast developing into an urban commercial centre housing the financial sector, convention and exhibition industry and other modern services. A large number of upmarket residential blocks have also been built in the area.
In view of Jiangbei's positioning, shopping malls in this area, such as Huamao Place and Kaisa Plaza, target medium to high-end consumers by offering a wide range of domestic and foreign brands. Jiangbei has now become a medium to high-end shopping area on a par with Jiangnan.
Pursuing Transformation and Upgrade through Differentiation
Huizhou's consumer market is currently undergoing transformation and upgrade. In the past, when there were fewer choices in the city, retail outlets could attract huge footfall as long as they offered a great variety of value-for-money products and were in a convenient location. But today, as online shopping flourishes, the spending power of Huizhou residents rises, and inter-city transport becomes more convenient, the Huizhou consumer market is facing great challenges. As a result, a number of well-known traditional retailers have been forced out of the market.
Meanwhile, shopping malls and shops that have manged to stay afloat are adopting differentiation strategies in order to maintain their position and retain local consumers. Strategies employed include extending opening hours to 24 hours a day, adding leisure facilities, developing online sales and online promotion channels, as well as offering discount sales. As Huizhou's retail sector continues to transform and upgrade, the local consumer market is full of vigour.
Developing Sub-city Retail Centres
The consumer market in the Huiyang district and Daya Bay area has been growing rapidly in recent years to become Huizhou's second retail centre. Benefitting from Huizhou South Station and the beautiful coastal location, Huiyang and Daya Bay are now developing into two of the most liveable and visitor-friendly areas in Huizhou, with many new residential blocks and shopping malls being built in recent years.
Apart from Huiyang and Daya Bay, the consumer markets in Huidong county and Boluo county are also expanding gradually. Although no large shopping malls have been built in these areas in recent years, leveraging on the overall rising income of Huizhou residents, in particular the higher growth in income and expenditure of rural residents, the consumer market in these areas has development potential in the near future.
4.2 ​​​​​​​​​​​​​​Huizhou's Major Commercial Districts
Jiangbei Commercial District
Jiangbei Commercial District on the northern bank of Dongjiang in Huicheng district is located in the vicinity of Yunshan Station on the Dongguan-Huicheng inter-city railway. As a newly developed area, Jiangbei district currently houses the Huizhou city government offices and is also a commercial centre frequented by white-collar workers. It is a medium to high-end commercial district, where modern shopping malls attract large numbers of consumers during holidays. Well-known shopping malls include Huamao Place, Kaisa Plaza and Liri Shopping Mall.
Huabianling Commercial District
Huabianling Commercial District, a traditional retail centre in Huizhou, is centred around Huabianling Square, Maidi Road and Yanda Road, south of Dongjiang in Huicheng district. This area boasts a great number of retailers, including shopping malls and department stores. There are also many small shops and eateries offering a wide range of products and services at various price points to suit both big spenders and the thrifty.
Huabianling Commercial District is a prime choice for window shopping, spending and nightlife. As people living in various districts in Huizhou come to this commercial district for shopping, it is always bustling with people and road traffic during shopping high seasons. The Ganghui Mall and Dreams-On Department Store are two of the most popular shopping malls here.
Xihu Commercial District
Xihu Commercial District is located in the Xihu scenic area on Huancheng West Road in Huicheng district. The commercial district's proximity to Xihu, a national 5A tourist scenic area, has made it one of the major tourist destinations in Huizhou. Transport is convenient via the Dongguan-Huicheng inter-city rail stop at Xihu East Station.
As a tourist area, leisure is the buzzword in shopping malls and retail outlets in this commercial district, with its spacious green belt areas lined with many family-style restaurants. Popular retail outlets here include Liri Shopping Mall (Xihu Branch) and Huizhou Commercial Shopping Precinct.
Huiyang Commercial District
Huiyang Commercial District, centred around Baiyun 5th Road and extending to Longhai 2nd Road in the Daya Bay Economic and Technological Development Zone, is a fast growing commercial district in Huizhou. In recent years, many new shopping malls have been opening in this commercial district, invigorating Huiyang's consumer market, which was once dominated by a township economy. Since Huiyang Commercial District is only 15 minutes by car from the high-speed railway Huizhou South Station, coupled with the fact that the city government is devoting great efforts to developing Huiyang district into a sub-centre of Huizhou city, many people have moved to live here.
Family consumption is the mainstay of Huiyang Commercial District. Well-known shopping malls here are Dayawan Wanda Plaza, Galaxy Coco Garden and C Plaza Shopping Mall.