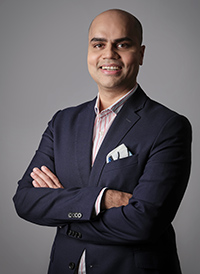 His relocation experiences as an expatriate led Indian-born Sachin Doshi to make a career leap from investment banking to entrepreneurship. He established Hong Kong rental accommodation firm Weave Living in 2017 and, in a space of just four years, the brand has grown from one property to a diversified portfolio of 579 units across five locations. Mr Doshi now actively seeks opportunities to meet diverse housing needs in other leading global cities.
What inspired you to launch Weave Living?
I've lived in four different cities and every time I've relocated, the hardest part has been figuring out where to live and how to meet new people. The solution, to me, was to build a respected brand focused on providing hassle-free city living for today's growing community of global citizens. Thus, I founded my first property, Weave Studios, in Kowloon in August 2017.
What has happened since?
Having ushered in a new and innovative model of hassle-free co-living, we now have three Weave Studios in prime locations in Kowloon — Prince Edward, Olympic and Hung Hom.
Noticing the enormous opportunities in the serviced-apartment and traditional multi-family residential space in Hong Kong, we launched Weave Suites in February 2021, offering 83 fully furnished and contemporary serviced suites in Sai Ying Pun, and on 1 August debuted Weave Residences with 48 self-contained furnished apartments in Mid-Levels.
What is Weave's value proposition?
Offering a flexible rental solution of well-designed homes in prime locations, we cater for the different needs of modern city dwellers, with options for different lifestyles.
How do you differentiate your three sub-brands?
Each Weave property is designed and positioned differently but all embrace the cultural nuances of their local communities. Weave Studios targets mainly younger individuals and career starters, plus those of any age who are new to the city and looking for quality, yet affordable rental accommodation boasting an energetic communal living style.
Weave Suites is an elevated hybrid of modern living and serviced apartments, perfect for young-at-heart professionals, couples, and business travellers who want an active social life in the vicinity of the central business district. Weave Residences is designed for professionals, young families and pet-lovers who seek a home with modern-chic design and professional property management in the hands of a trusted brand.
What have you learned since launching your company?
Most of the residential buildings in Hong Kong have no professional management that extends to individual units and their tenants. The frictional cost of buying or discarding furniture when one moves between apartments is another hassle for the tenants. As an integrated developer, owner and operator, Weave Living manages all aspects of the resident experience through centralised and on-site professional management. In addition to managing the overall maintenance and housekeeping of each property and the individual units within, we also create an ideal home incorporating custom-built, sustainably designed furniture with intelligent storage.
Do your three sub-brands cover all market gaps?
There is always scope to cater to more specific accommodation needs, but with these three product lines we believe we capture a large spectrum of the core demand in Hong Kong. One of the areas we are looking at is a dedicated student accommodation product line given the large number of international students, exchange students and Mainland China students who come to Hong Kong for their higher education in our top universities.
Do you see a need for more accommodation options in Hong Kong?
Definitely. Good quality, professionally managed rental accommodation is the key to attracting international talent and keeping the city competitive. After launching Weave Suites and Weave Residences this year, we have also just announced the acquisition of a new property in Kai Tak [the site of the city's former airport] … Weave Studios - Kai Tak will welcome residents in the first quarter of 2022 to respond to the rising demand for rental apartments in this fast-emerging district.
Is further expansion planned?
We will always maintain a strong position in Hong Kong as our home market. From here, we will continue to add new projects to the company's portfolio both in Hong Kong and in key regional markets across Asia and beyond.
Related link
Weave Living