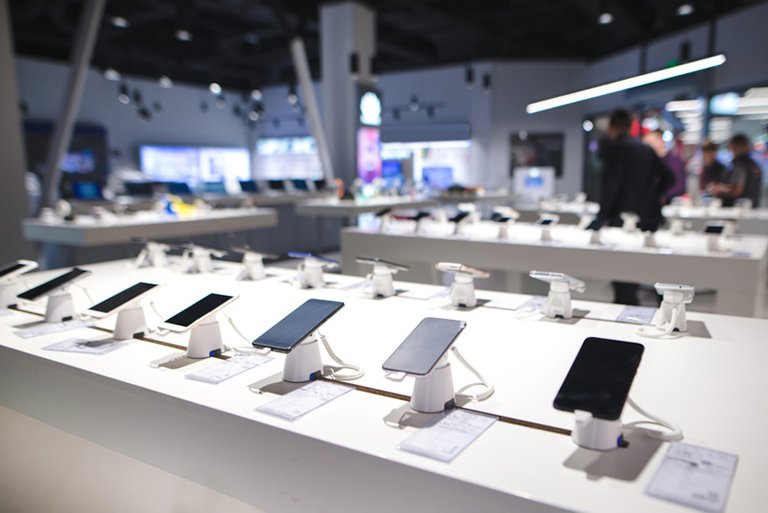 https://hkmb.hktdc.com/en/1X0AJMJN
Vietnam's Consumer Electronics Market: Online and Offline Sales Channels
The Vietnamese consumer electronics market has been underpinned by the country's healthy economic growth and its tech-savvy young population. In major cities such as Hanoi and Ho Chi Minh, each person has on average at least one mobile phone and one personal computer. During 2014-2018, retail sales of consumer electronics expanded by 13.8% annually. The sustained rise in disposable incomes is expected to support a steady growth in demand for electronics in the coming years. In view of the growing export potential in Vietnam, HKTDC has commissioned Euromonitor to conduct a study on the consumer market opportunities in six ASEAN countries. This article presents the study's key findings on the consumer electronics market in Vietnam.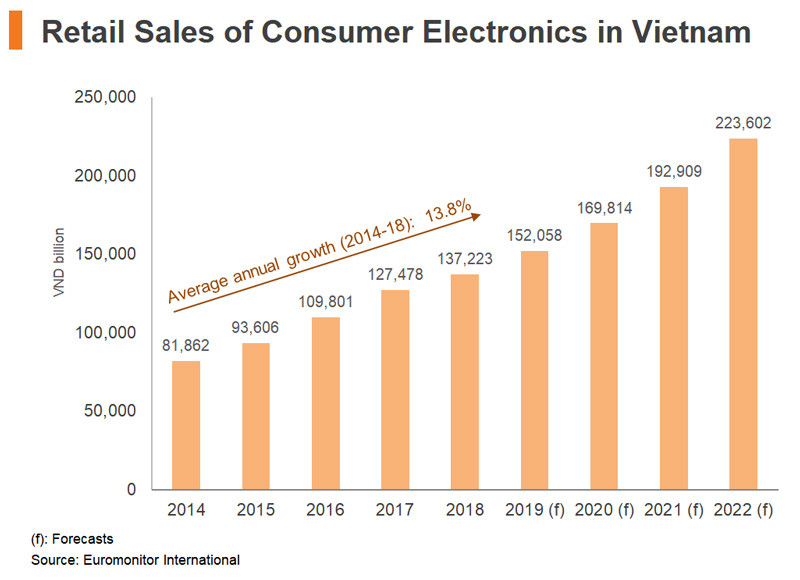 Electronics Specialist Retailers - the Key Sales Channel
Accounting for over 70% of the total retail volume, specialist electronics stores are the dominant distribution channels in the consumer electronics market. Specialist retailers offer a wide range of brands and product categories, frequent discount programmes, and technical and after-sales support for consumers. With extensive retail networks, specialist retailers are the preferred sales partner for foreign brands. Within the specialist electronics segment, several key players, including Dien May Xanh, Synnex FPT and Nguyễn Kim, occupy up to 80% of the market.
Large specialist retailers not only focus on brick-and-mortar stores, but also handle online orders. Orders through the retailers' official websites provide the majority of online sales, as some discounts are applicable only to online orders. Most of the retailers' marketing posts on social media such as Facebook link customers to their online order sites.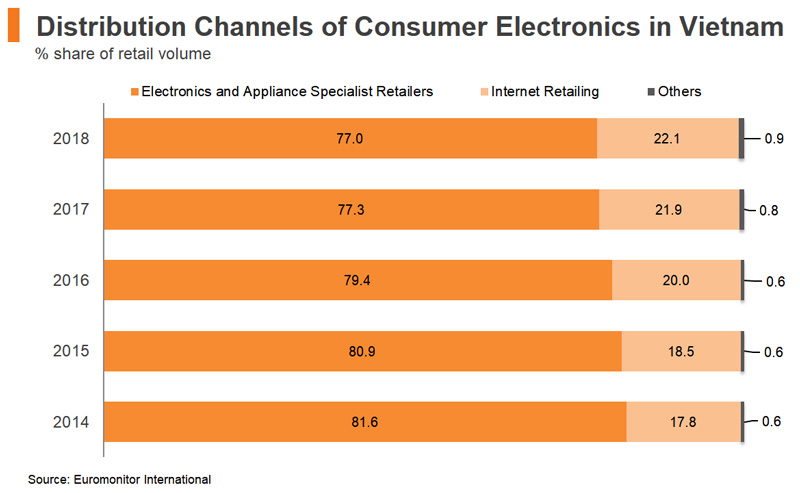 The online shops of authorised specialist retailers are often regarded as more reliable in terms of product quality and after-sale service, compared with other online channels such as e-commerce platforms or social networks. Consumers are more cautious towards sellers on e-commerce platforms such as Lazada and Shopee, as some of them are not authorised retailers.
Potential Partners for Local Sales and Distribution
Many foreign manufacturers and exporters, other than the big brands like Apple and Samsung, partner with Vietnamese distributors to sell their products across the country. At present, Synnex FPT (formerly FPT Trading) and Digiworld are two major distributors of consumer electronics. These distributors sell imported products through their own shops as well as those of other key retailers, such as Mobile World Group, Nguyễn Kim, and Thiên Hòa. In Vietnam, electronic specialist retailers and supermarkets typically expect discounts in wholesaling price or commission rates of 10% to 20%.
Examples of Key Distributors of Consumer Electronics in Vietnam
Digiworld
Established in 1997, Digiworld is one of the top distributors of consumer electronics in Vietnam. It has a distribution network of 16,000 points of sale nationwide and distributes more than 30 brands, including Xiaomi, FujiXerox, Philips and Logitech. (For more details, please visit Digiworld)
Synnex FPT
Synnex FPT is an authorised distributor and retailer for about 40 brands of electronics, including computers and peripherals (e.g. Asus, Apple and HP), software (e.g. Cisco, Microsoft and Oracle), accessories (e.g. Kingston, Logitech and Sandisk), portable consumer electronics (e.g. Apple (iPhone), Vertu and Xiaomi). In addition, the company has a technical centre providing after-sales services, such as repair and replacement. For more details, please visit Synnex FPT)
Market Entry Strategies
Apart from multinational manufacturers, such as Samsung and LG, which have production facilities in Vietnam, large and mid-sized foreign brands usually set up their own limited companies for importing and distributing products in Vietnam. This strategy enables the companies to better control their brand names and provide supporting services to customers.
Finding a distributor to represent them in Vietnam is also favoured by foreign brands, as this reduces initial investment costs for operation and marketing. However, for foreign exporters choosing to rely on a local distributor in Vietnam for sales, finding good and experienced distributors is a great challenge. Most brands work with reputed distributors in Vietnam, like Synnex FPT and Digiworld.
Hong Kong exporters who are new to the Vietnamese market can set up their wholly owned subsidiary in Vietnam in the form of a limited company or joint stock corporation. A limited company is a popular choice for foreign investors, as it is the simplest form of investment, quick to establish and allowing close control by the parent company. For example, Oppo, Asus, HP, Xiaomi and Samsung have their own limited companies in Vietnam, with the parent company as the only investor. From the operational perspective, a subsidiary is a legal representative of the exporter, and a brand owner in Vietnam. It is responsible for importing the products, as well as working with retailers or third-party e-commerce platforms to distribute products. To sell through online platforms like Lazada, Shopee and Tiki, sellers are required to provide legal import documents and product information, and certification for the authorized representative in Vietnam provided by the parent company.
Online Sales is Popular for Inexpensive Items and New Products
In recent years, online shopping platforms have become popular purchasing channels for electronics as customers can compare prices from various suppliers and contrast different technical specifications between models. Internet retail's market share of consumer electronics has increased from 18% in 2014 to 22% in 2018. For online purchase, consumers tend to choose popular brands and reputed retailers. According to industry sources, some products sold online are substandard, even though they are bought on large platforms. This is because there are numerous sellers on those platforms, and the listed products may not be fully checked by the platform operators.
Online channels are more popular in cities, while rural consumers are more accustomed to shopping in brick-and-mortar stores, with sales personnel helping to choose the most appropriate product. In general, consumers are more likely to buy online when the products, such as gadgets and accessories, are low cost; the products, especially newly introduced models, are not available at physical stores; and when big discounts are offered.
Hong Kong suppliers should note that there is a slight difference between online and offline retail prices of consumer electronics in Vietnam. Typically, online prices are 5-10% lower than offline prices, because many electronics retailers, like The Gioi Di Dong, offer discounts exclusively for online orders.
Online and Offline Marketing
Social media marketing is an effective way for electronic brands to keep connected with customers, as Vietnam has a high social media penetration rate of 80%[1]. In Vietnam, Facebook is the most popular social network with more than 43 million users, which explains why major brand names focus on Facebook marketing. For example, Asus, Oppo, Samsung and LG are active in Facebook marketing, with more than 70 posts per month, including mini games and lucky draw promotions.
Offline marketing plays a more important role for new market entrants. Traditional promotion channels, such as deploying promotional staff at key retail outlets, are effective in raising brand awareness among potential customers. In particular, sales personnel can distribute product leaflets or catalogues at key retail stores and interact with consumers, to create a good impression. Letting customers experience the products at the stores is also highly recommended.
---
[1] Monthly active users as a percentage of total population aged 13 or above. Source: Global Digital report 2019
Electronics & Electrical Appliances
Viet Nam
Southeast Asia
ASEAN