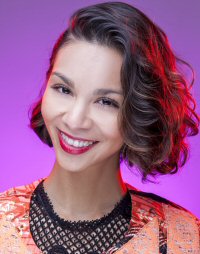 If you struggle to put your message across, then you may consider enlisting the help of a consultancy such as Louder, which encourages clients to speak from the heart and become masters of body language before they step up to make that big presentation. The start-up was founded by Hong Kong-based Mexican Yamilette Cano, a former professional ballet dancer with experience as an event producer and master of ceremonies host. Counting banks, charities and government bodies among its clients, Louder invokes dance, body language and song as it helps corporates and individuals hone their communication and presentation skills so they can take on public engagements with confidence. Why did you set up Louder and what are the start-up's aims?
Louder was created to give our clients the tools they need to create impressionable, assertive communication, and the brand is inspired by our love of language and being loud. Through bespoke training, coaching, event consultancy or speaking services, we want brands, corporates and individuals to be able to convey their messaging into a full-blown narrative and deliver impressive results. We fine-tune our clients' skills and empower them so they can shine in their field of choice. With this in mind, we have created a signature programme that shows our clients the path to a SMART outcome: one that's Specific, Measurable, Attainable, Relevant and Timely.When did you launch and what helped you?
Louder debuted in January 2019. I've been blessed to have the support of friends and previous clients from the events agency where I used to work. They've given me the chance to collaborate with them in this new adventure and to learn, grow and deliver better, stronger partnerships. What are the company's unique characteristics and how do you differentiate yourself from your peers?
We tailor our programmes with dancing techniques for the development of body language and use of space; singing and breathing for development on pitch, tones, rhyme and rhythm; cultural differences, languages and negotiation for leadership development, reading the audience and perspective; and emotional management, to create rapport with audiences.What is your background, and what major lessons did you learn before setting up on your own?
I was a professional ballet dancer for 20 years. After that, I studied international relations and learnt five languages along the way. I started my career working for the Canadian Consulate in Mexico, working on several NGO and trade projects in Mexico and Canada. I then moved to Hong Kong and worked as a partner in an events agency, Maya Events. I spent six years growing the company, then we were bought out. After finishing the acquisition contract, I started Louder.My major lesson has always been to not be afraid to follow what's good for me, what resonates and makes me feel passionate. It's also about being patient, having an open mind, and developing your craft and practice as much as you can.

How long have you been based in Hong Kong and what do you like about the city?
I've been based in Hong Kong for the past 12 years. I enjoy the convenience of the city, the culture and especially people's friendliness.

What events will you take part in this year?
In 2020 we will be present at several charity gala dinners, exhibitions and workshops. Being part of events is one of the most important marketing tools for a business like mine. It's about networking and putting the word out as much as possible. Do you notice any trends in the communications business and how are you seeking to address them?
People are looking to go back to the roots of communication and human connection. Bespoke, tailored programmes are becoming a trend. People want to relate to their coach and feel that they are heard. We focus on understanding what the clients need at both a professional and personal level. Are there advantages in setting up a business in Hong Kong?
Hong Kong is friendly towards entrepreneurs, and the government and private sector are very supportive of founders and start-ups. The process of setting up a business is very straightforward, and there are constant networking events. People are very keen to support you in any way they can. What are your 2020 expansion plans?
I'll be exploring the Southeast Asian market more and will also continue to grow Louder's presence at events in Europe and the US. What are your long-term plans for your company?
I want Louder to have a footprint in several countries and markets, and for the companies, teams, events and individuals that we work with to understand the importance of impactful 360-degree communication, which incorporates speech, movement, content, intention and emotion.
Related links
Louder Global
Yamilette Cano