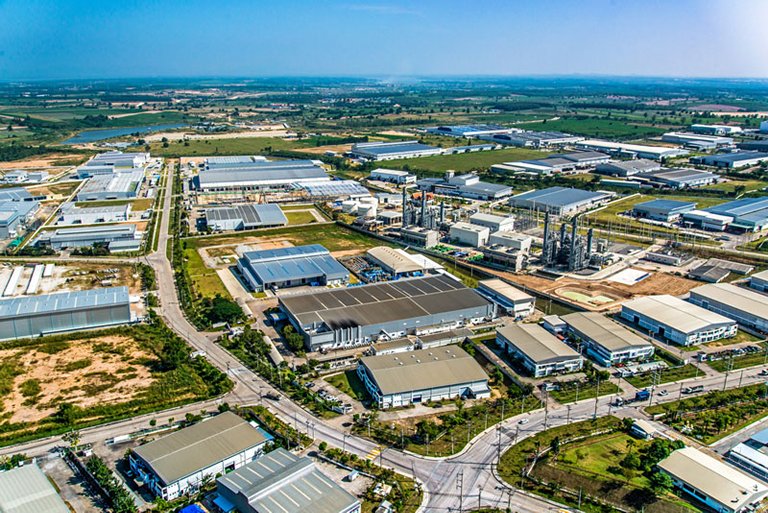 https://hkmb.hktdc.com/en/1X0AJHOX
Manufacturing in Thailand: New Developments and Thailand 4.0
As a result of the trade tensions between the US and China, many manufacturers are planning to diversify their production from China to Southeast Asia. With a better transport infrastructure and industrial supply chain than most of the region, Thailand has become an appealing choice for industries which require efficient logistic support and stringent quality control. For Hong Kong companies producing higher value-added products, in particular electronic and automotive parts and components, they may take advantage of the Thailand 4.0 initiative to explore manufacturing potentials in the country.
Unlike its neighbouring countries, such as Myanmar, which offer a large pool of low-cost labour, Thailand differentiates itself with well-developed logistic infrastructure. Manufacturers in Thailand find it much more cost effective to forward time-sensitive shipments of industrial inputs and finished goods. In the World Bank's Logistics Performance Index (LPI), Thailand ranked second among ASEAN countries, trailing only Singapore. For instance, for importing 15 metric tons of containerised auto parts via the Laem Chabang port, the largest deep-sea port of Thailand, it takes about 54 hours and costs US$320[1] for border compliance and documentary compliance, which are significantly lower than the regional average.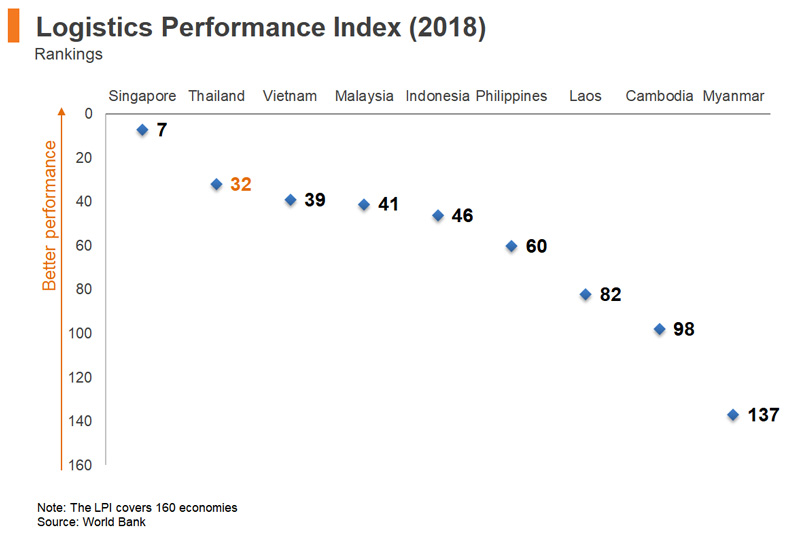 Industrial Estates and Free Zones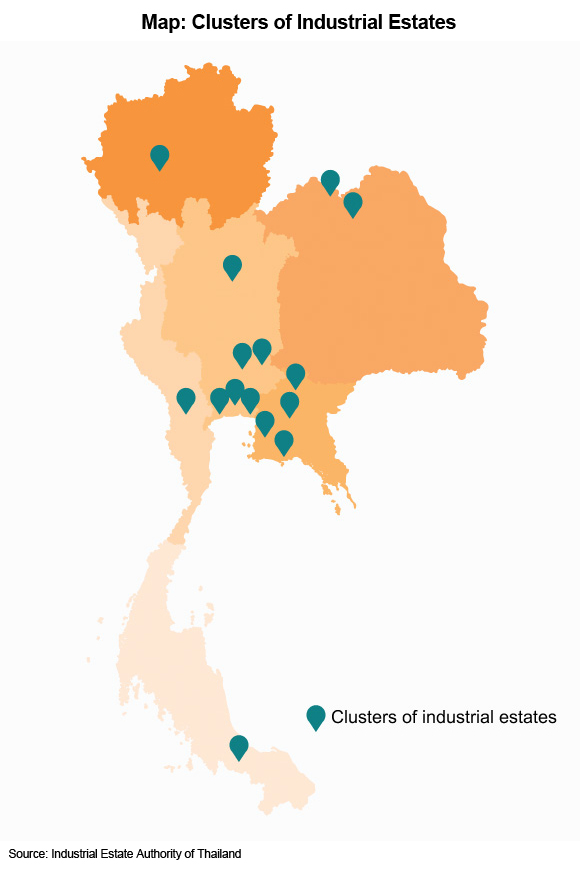 With well-established public utilities, industrial estates (IE) are often the first choice for foreign manufacturers. In Thailand, there are about 70 IEs, most of them concentrated in the Central and the Eastern provinces, which are home to the electronics and automotive industry clusters. With proximity to the deep-sea ports and international airports, as well as better telecommunication networks than other parts of the country, the IEs in these provinces are recommended options. However, potential manufacturers should expect higher land costs in these regions.
For export-oriented manufacturers, they may choose to set up in the Free Zone (FZ) within the IEs to achieve higher cost savings. Exports from the FZs are exempted from customs controls or permits. In addition, any raw materials, components and other supplies for manufacturing, assembling and packing, can be imported into a FZ without import permits or standard and quality control requirements. Goods produced in the FZs can be sold in Thailand with a zero or preferential import duty, subject to the 40% local content and essential production process requirements[2].
Drawbacks of Labour Cost and Skilled Workers Supply
Being an upper-middle income country, Thailand does not offer a low-wage competitive advantage for labour-intensive industries. As of September 2019, the national average wage in the manufacturing sector stood at THB12,910 (approximately US$430) per month[3], with large variations across different regions. For example, the wage level in the Central region, the key industrial area, is about 1.4 times of that in the Northern region. Despite the slow wage growth of about 3% each year, the average wage of manufacturing workers in Thailand is far higher than that in Vietnam, Myanmar and Cambodia.
To save labour costs, some manufacturers have started to increase automation in the production process. At present, it is estimated that about 30% of manufacturers in Thailand are adopting automation and this proportion is forecast to rise to 50% in 2022[4]. For example, Delta Electronics (Thailand), the Thai arm of a Taiwanese electronic component manufacturer with 10,000 staff in Thailand, has increased the use of robotics in some of its production lines. With a higher level of automation, the factory can expand its production capacity without a significant rise in headcount and labour cost. On the other hand, Hong Kong manufacturers should also be aware of the limited supply of skilled and technical workers. According to the Japanese electrical appliance manufacturer Mitsubishi in Chonburi, providing pre-employment vocational training and regular learning courses is essential to equip their workers with basic technical skills and updated knowledge of product information.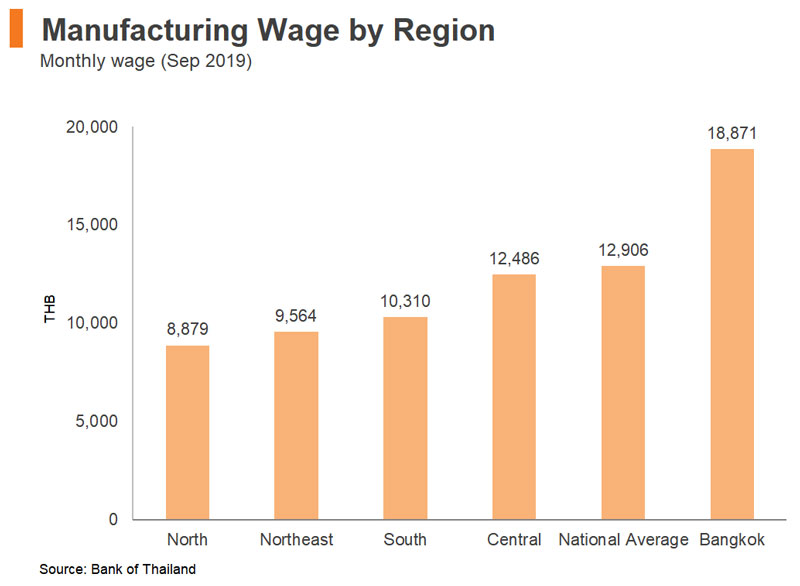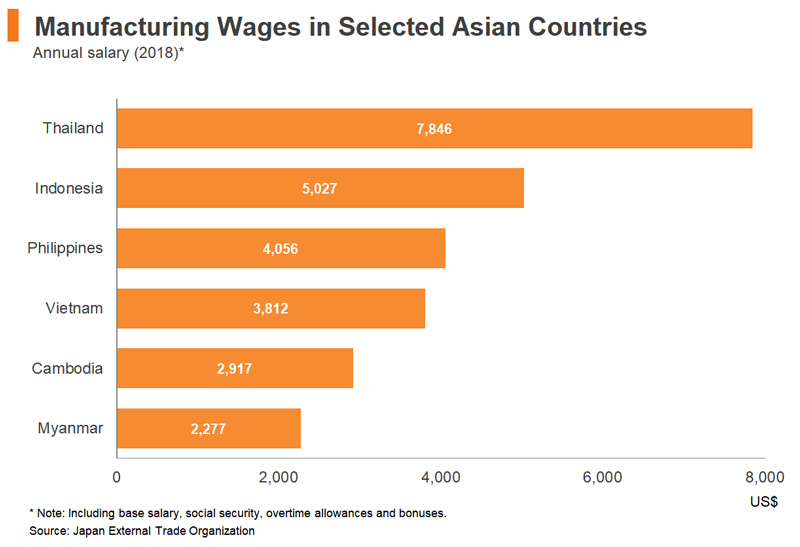 Thailand 4.0 Offers Favourable Environment for New Industries
In a bid to move the manufacturing sector further up the value chain, the Thai government unveiled the Thailand 4.0 initiative in 2016. This is a national plan to transform the Thai economy through promoting technology and innovation. Thailand 4.0 focuses on 10 targeted industries, which can be divided into two segments, 1) upgrading existing industrial sectors through advanced technologies; 2) developing new industries (see Table).

In response to the growing competition for foreign investment among the ASEAN countries, the Thai government offers generous tax incentives for investors in the targeted industries and is forging ahead with infrastructure projects in Eastern Economic Corridor (EEC). As the cornerstone of Thailand 4.0, the EEC covers the three Eastern Seaboard provinces, namely Rayong, Chonburi and Chachoengsao, which are key industrial areas for automobiles and electronics. EEC investors would enjoy additional privileges, such as foreign ownership of land, extended land leases and use of foreign currencies. For Hong Kong companies in the targeted industries, they can leverage the EEC investment benefits to capture the growing demand for advanced technologies in the Thai industrial sector. (For details on tax incentives and promoted zones for targeted industries in EEC, please refer to Thailand Board of Investment)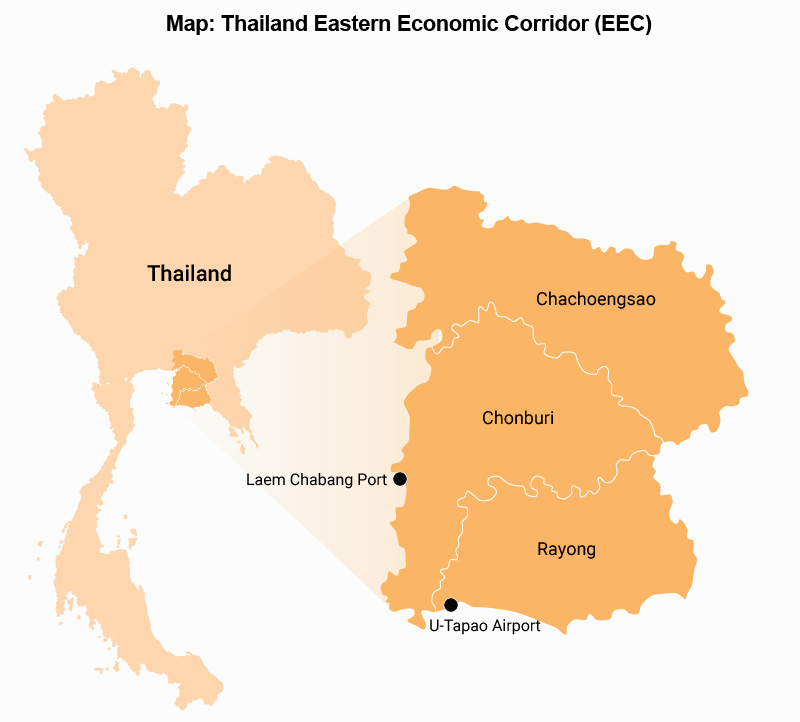 Looking forward, as traditional industries in Thailand continue to upgrade and transform, Hong Kong companies may find new opportunities in producing and supplying to the downstream manufacturers in the country. For example, in the automotive industry, a key pillar of the Thai economy, automakers like Toyota and BMW are rolling out plans to ramp up electric vehicle (EV) production in view of the rising EV demand. At the end of 2018, there were about 20,600 hybrid EVs and EVs registered in Thailand, compared with less than 8,000 registrations in 2015.
With over 40 years of development and the presence of the world's top automakers, the traditional automotive industry in Thailand has a complete supply chain. However, the Thai EV industry ecosystem is still in its infancy. In response to the automakers' EV plans, the Thai government is actively promoting R&D, production and local usage of EVs, by offering tax reductions on EV sales and incentives for EV-related sectors, such as charging solutions and energy storage. Besides the Thai market, the latent EV demand in the region also represents a potential market for Hong Kong manufacturers and services providers in the EV related businesses. According to a 2018 survey conducted by Frost & Sullivan, about 37% of respondents in Southeast Asia intended to buy an EV as the next purchase.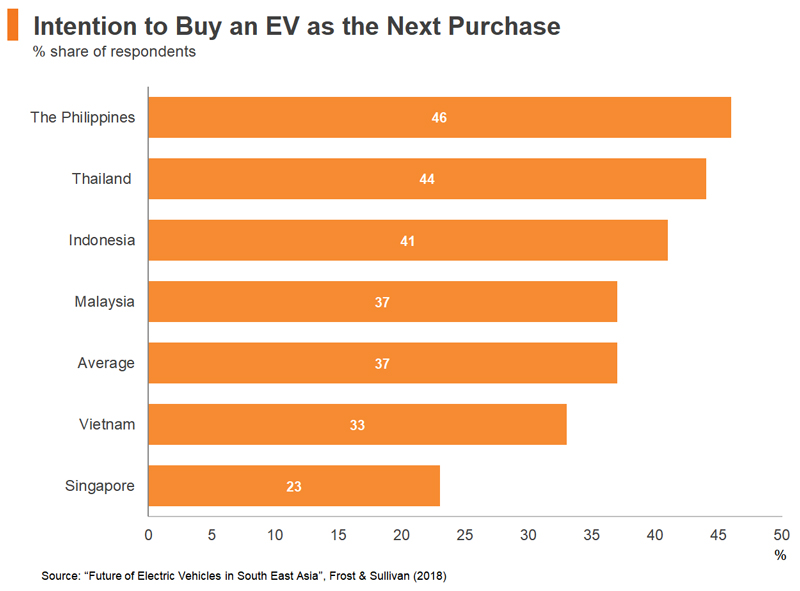 ---
[1] Including the costs for customs clearance, inspection procedures, obtaining, preparing and submitting required documents.
[2] For details, please refer to Local Content Requirement (Deloitte) and Essential Production Process Criteria (EY)
[3] Excluding payments for overtime, bonuses and other welfare payments.
[4] Source: Thailand Board of Investment
Thailand
Southeast Asia