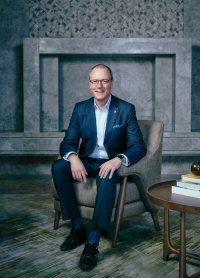 In a city like Hong Kong, where upscale hotels are ubiquitous, it can be difficult to stand out from the crowd. But the St Regis Hong Kong has upped the ante with bespoke afternoon teas, its daily champagne sabering ritual (opening the bottle using a sabre) – and by introducing the city to butler service round the clock, the hotel's General Manager, Derek Flint, said.Some may find it surprising that a hotel like the St Regis doesn't already have a presence in the city but Mr Flint said it was a case of finding the right location. "Ever since the first St Regis New York hotel opened in 1904 on 55th and Fifth, one of our core values has been to bring the vanguard spirit of 55th and Fifth to the best address in every destination. We've been scouting for the best address in Hong Kong, and this is why it's taken a long time for a St Regis Hong Kong. We are located in the heart of Wan Chai on Hong Kong Island, fronting the Victoria Harbour with the Hong Kong Convention and Exhibition Centre within walking distance.
What are the advantages of operating a hotel out of Hong Kong?
Hong Kong has always been one of the most attractive destinations for global luxury travellers, and long considered the point of convergence for East and West. The St Regis brand is synonymous with timeless luxury and impeccable standards of hospitality. We are very glad to add the St Regis Hong Kong to Marriott International's strong luxury portfolio in the market. With its distinctive design, exquisite fine dining and truly exceptional service. The St Regis Hong Kong represents the very best of the St Regis brand.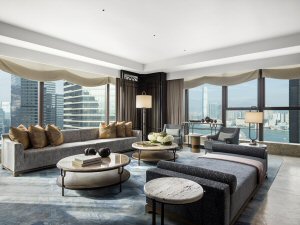 How does your Hong Kong property differ to St Regis properties elsewhere?
Our goal is to re-envision the St Regis legacy for the 21st century. Some of the St Regis signature rituals will be reinterpreted and in doing so set a new benchmark for the group's next generation of hotels and resorts globally. Moving forward, St Regis hotels will be on a smaller, more intimate scale allowing butlers to play a more crucial role. We will be doing 100% in-room check-ins, and the butlers will act as a one-stop service for guests. In addition, we have introduced an e-butler service, where guests can contact their butler via WhatsApp, or email them directly. Served every day at 2.30pm, our afternoon tea allows guests to select their choice of savouries and sweets based on their preference, instead of a ready-made set. We have also kept the St Regis tradition of sabering a bottle of champagne at 5:30pm daily to celebrate the transition of day to night. You worked with renowned local architect Andre Fu on the design – how would you define his designs?
We were excited to work with Andre Fu, one of the most renowned interior designers practising today. The St Regis Hong Kong has been conceived as a mansion with a specifically curated ambience inspired by St Regis' legacy and Hong Kong's distinctive architecture and culture. Andre also drew inspiration from St Regis New York's stately residential atmosphere to create a contemporary home-like haven designed for entertainment, and a place for society to gather. His design also reflects personal memories of Hong Kong, depicting the city's historical silhouettes and architectural details, and forms the bedrock of the entire guest experience. How would you define the Hong Kong guest – what are they looking for and what do they expect?
Aside from unique and exclusive experiences, access and highly personalised services now represent the pinnacle of luxury. And there is no better way to get a truly one-of-a-kind experience than through travel. Today's luxury consumer is also adding the notion of personal development and transformation to their repertoire of what they want to accomplish. So what we are seeing from guests is that they want bespoke and personalised service. We are moving towards this idea of transformative travel − travel that is motivated and defined by a shift in perspective, self-reflection and personal development, and a deeper connection with nature and culture. Could there be room for two St Regis properties in Hong Kong or are you happy to keep it at one?
There is definitely a demand for luxury hotels in Hong Kong but we don't have any plans to open up a second St Regis Hong Kong property yet. Tell us about any other St Regis openings planned for the next 12 months
There are currently 42 St Regis hotels and resorts in the world, Hong Kong being the 42nd property and also Marriott International's 7,000th hotel. Marriott International has planned 19 additional St Regis hotel openings and are on track to reach 50 St Regis hotels by 2020. In the second quarter of 2019, there are plans to open the St Regis Amman and Venice, while the St Regis Cairo will follow in the third quarter of this year.
Related link
stregishotels.com