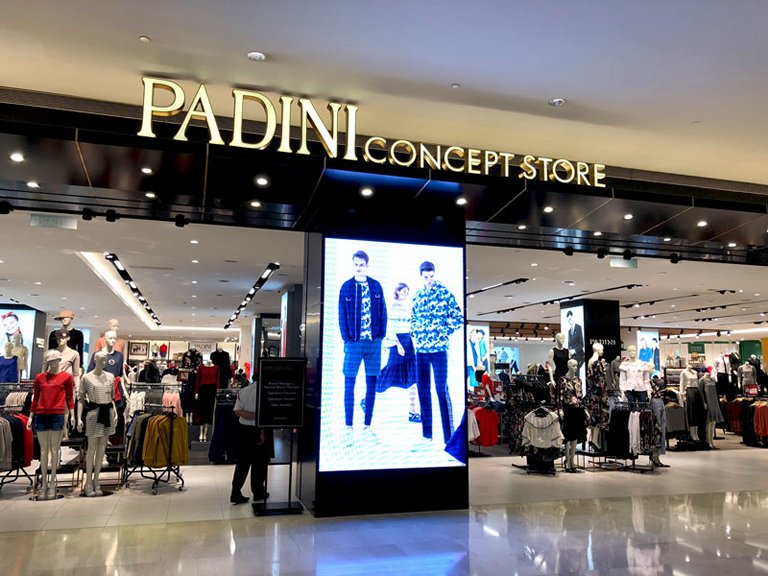 https://hkmb.hktdc.com/en/1X0AEZAT
Accessing the ASEAN Consumer Market: Fashion and Accessories (Distribution Channels 1)
Concept stores, multi-brand stores and department stores, are the dominant distribution channels for fashion and accessories in major cities of ASEAN. Hong Kong fashion brands, designers and exporters may find the right distribution channels which match their product positioning to tap the opportunities in the region.
Concept Stores
Unlike ordinary apparel shops, concept stores sell well-curated products that match the theme of the store. Handpicked products are pulled together from different brands and designers, and the shop décor is designed with different aesthetic approaches.
A concept store usually spans different lines, such as fashion, beauty and homewares, and the display mixes these lines and products together in an attractive manner. A concept store often evokes a lifestyle that appeals to a specific target audience.
The products and design of the store tend to change regularly to keep telling that story in new and interesting ways. Many of them offer extra experiential elements, such as a café or events space, which help build a community around the lifestyle they embody.
Notable Examples of Concept Stores in ASEAN
Indonesia
THE GOODS DEPT
THE GOODS DEPT is a curated concept store based in Jakarta, Indonesia. The unique and multidimensional retail environment quickly became the hub for alternative fashion and lifestyle products from young, independent Indonesian designers and a selection of international brands. The store houses The Goods Café that brings the relaxed ambiance of the American west coast to the table. The store also features events, such as art exhibitions and film screenings.
Project X
Project X aims to be a lifestyle destination for urban and digital savvy individuals. It showcases 22 brands from around the globe, including bags, apparel, shoes, and accessories including sunglasses, watches. Focusing on male and unisex segments, the concept store delivers selected products from South Korea, the US, Australia, and Japan, such as Buddy Happy and Kiruna from Japan, Mascolanza, Monofold and Lapiz+ from South Korea, Thread Etiquette and United by Blue from the US, and Kapten & Son from Australia, showcased in fun and creative surroundings.
Malaysia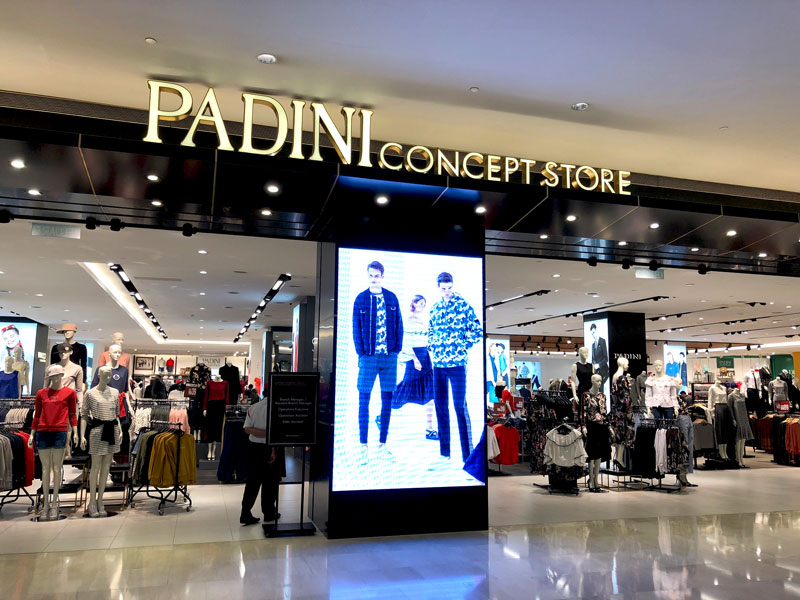 Padini Concept Store
Padini Concept Store houses all Padini brands under one roof. These brands include Padini, PDI, Padini Authentics, P&Co, and Vincci. There are different sections including the men's formal & casual, women's formal & casual, kids as well as the wide range of accessories. Currently, its stores are scattered all around the country including Pavilion Kuala Lumpur and Mid Valley Megamall.
Major Drop
Major Drop was one of the first outlets to stock independent local street wear. It also sources street wear brands from across the world, with a range that includes HUF, DSPTCH and Pestle & Mortar.
Fabspy
Fabspy stocks all things fashion – apparel, shoes, and accessories. The store has a wide selection of independent brands including Chiyo, Stoned & Co, Commodity, Good Pair by Medium Rare, Joe Chia, Line 32 and many more. It collects curated apparel inspired by alternative lifestyle, music, arts, fashion and everything in between.
Thailand
Jaspal
Jaspal Boutique is at the forefront of the Thai fashion industry, with the vision to deliver quality products to consumers at an affordable price. Started as an importer and distributor of apparel and footwear, Jaspal has established its own brands under the JASPAL, CPS CHAPS, CC DOUBLE O, LYN, LYN, MISTY MYNX and Royal Ivy Regatta labels.
Currently operating over 350 fashion outlets throughout Thailand and in ASEAN, Jaspal Boutique offers a wide range of dynamic prêt à porter fashion lines to the most discerning consumers. According to Visith Singhaschathet, Managing Director of Jaspal Group, 80% of its business is from locals and 20% from tourists, especially tourists from China. The company also entered the online shopping arena for the first time with its CPS brand in 2016.[1]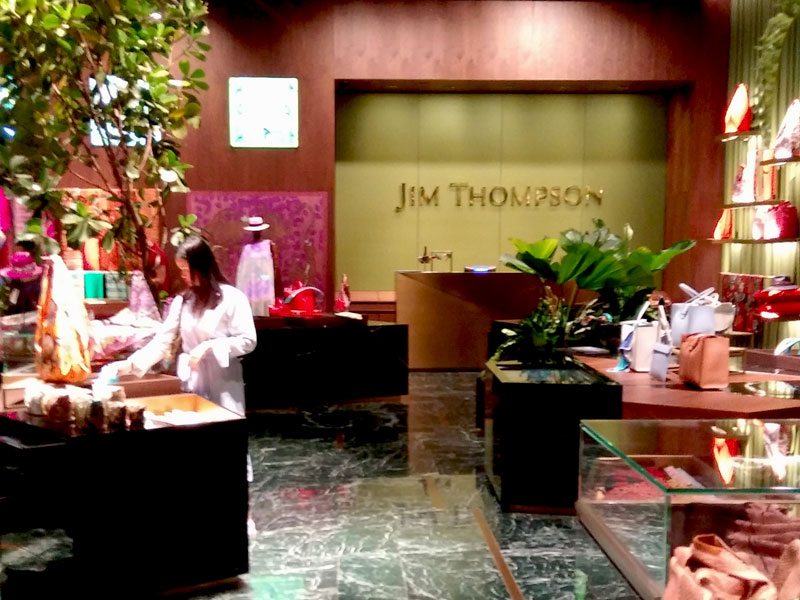 Jim Thompson
Jim Thompson positions itself as a brand of culture, drawing inspiration exclusively from elements of the rich and diverse South Asian cultures. The brand currently boasts a selection of retail outlets and fabric showrooms in major shopping malls in Bangkok.
Match Box
Matchbox, located in Siam Square, is a multi-label fashion store where cool items can be found at reasonable price. This all-pink three-story building is packed with varieties of items, from daily outfits to swimsuits and accessories from local and international designers. There is also an equally pink cafe on the third floor called Pinkplanter Cafe.
Opportunities Presented by Concept Stores
As more people are shopping online, the role of the bricks-and-mortar retail is evolving. The concept store is leading the way in re-imagining the physical shopping experience in the internet era. When brands find ways to express themselves in the physical world, they create great customer experience and stronger connections with people than through online interaction. Great concept stores draw inspiration from museums, theatres, and art galleries to exhibit curated items around a special theme. Limited edition, designer collaborations and crossover brand partnerships give concept stores an ever-changing and fresh perspective that attracts modern shoppers.
As concept stores are about discovery and experience, they constantly search for unique items, such as shoes, handbags, lingerie, hats, scarves, as well as fashion jewellery and watches, to add corresponding accessory labels to complete their product offerings.[2] As such, many foreign fashion designers and brands eyeing the ASEAN market have found homes in these concept stores. Some of these brands started out as an outsourced designer for a special project.
Concept stores come in many forms. Some have their own team of designers and produce apparel locally. Some focus on importing brands and fashion items from abroad that match their unique concepts. Some adopt licensing as a means of adding well-known brands to their product lines. Normally, the licensee will be fully responsible for local manufacturing, localisation, logistics and distribution.
Major sourcing channels of concept stores may vary from one to another. Some prefer attending fashion and trade shows, while some rely on referrals. Of course, there is no shortage of foreign suppliers and designers knocking at their doors with their latest collections.[3] Suppliers or designers who want to try their luck with concept stores must bear in mind that they are a curated platform and items that they are looking for are:
innovative and original; something a little different
stylish and quality products with range variety
from a brand that is built around a concept
from suppliers who can adequately prove their production capacity and quality control
Concept stores also present a great opportunity for Hong Kong manufacturers who have their production base on the Chinese mainland. Mr. Visith Singhaschathet, Managing Director Jaspal, said that Chinese embroidery is known for its intricacy and delicacy, it is different in character from Thai embroidery. For this reason, about 40% of Jaspal apparel is made in China, even though Thailand is a production centre for clothing. According to Mr Singhaschathet, 80% of Jaspal's mainland manufacturing partners are managed by Hong Kong companies.[4]
Multi-brand Fashion Stores
Multi-brand fashion stores are retailers that offer a variety of fashion brands, possibly including their own label, ranging from apparel to accessories. The benefits of multi-brand stores are that customers are presented with many options. In major ASEAN cities, there are plenty of multi-brand stores where diverse fashion items are readily accessible.
Notable Examples of Multi-brand Fashion Stores in ASEAN
Indonesia
ARA
The store focuses on both emerging and established Indonesian fashion designers. By celebrating the best up-and-coming Indonesian talent, this multi-label fashion store is the perfect place for curious modern shoppers looking for unique pieces, thus establishing itself as a must-visit retail destination in Jakarta.
Jade Boutique
Brands offered in Jade Boutique are a perfect blend, from wardrobe staples like Theory and 3.1 Philip Lim, to accessories and even glamorous gowns from both American and European labels.
Num8erEight
Num8erEight has an eclectic offering, including a selection of sunglasses in funky styles and costume jewellery from Mawi, Noir, and many more.
Malaysia
Topshop & Topman
The brand has a similar status to that of Zara with a broad portfolio. However, unlike Zara, Topshop, and its Topman offshoot, is still relatively small scale when it comes to international expansion. The store is known for its ability to replicate designs from the runway at the most affordable prices. Its team of buyers and designers keep searching and introducing elements that they feel are right for the brand. The store also carries up-and-coming designer collections on consignment.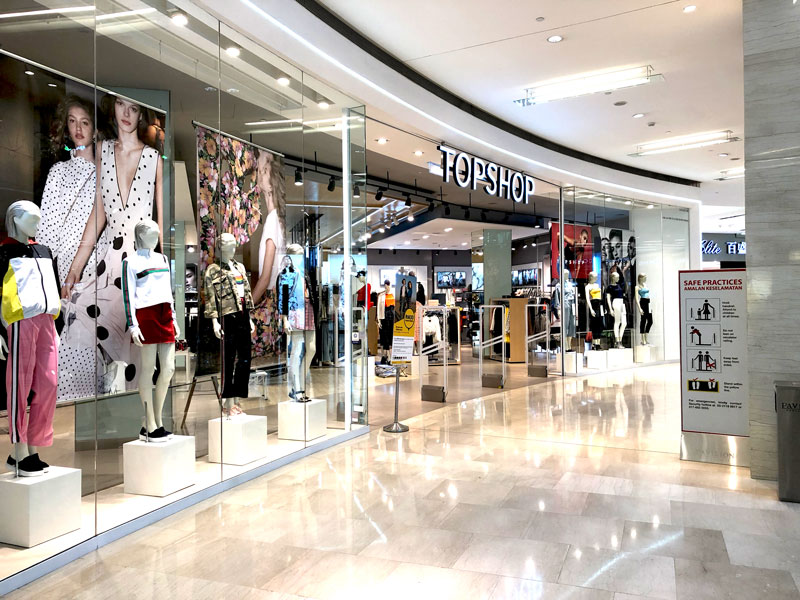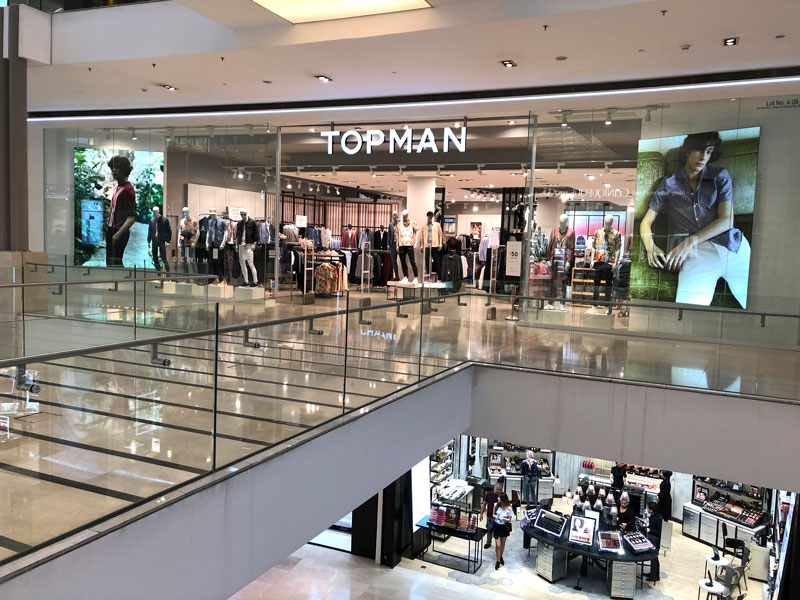 LAH'LAH'LAND
For alternative, stand-out fashion, LAH'LAH'LAND's extensive collection covers head-to-toe. As well as LAH'LAH'LAND branded clothing, Kittie Yiyi, and various other brands can be found in stores.
Thailand
ALAND
ALAND is a lifestyle and fashion store from South Korea, established in 2015 to bring together new designers to express themselves. Its first branch in Thailand is located at Siam Center with more than 70 brands, including clothing brands like ROCKET X LUNCH, Charm's, Fennec, OiOi and lifestyle items like notebooks, phone cases, glasses, cosmetics and many more.
Club 21
Headquartered in Singapore, Club 21 is a leading purveyor of luxury fashion, involved in market development, wholesale distribution, sourcing, and vertical retail. It has over 250 brands across nearly 400 stores across Asia. Club 21 manages the brands Donna Karan, Calvin Klein, Armani Exchange, Balenciaga, Mulberry, Lanvin, and many more. It also operates Calvin Klein and DKNY Jeans under license.
Next to Normal
A multi-label brand store located in Central World, sells clothes, bags, accessories and shoes from famous brands all over the world targeting both men and women with a keen eye for fashion.
Opportunities Presented by Multi-brand Fashion Stores
With retail goods becoming increasingly abundant in variety and easy to access, consumers are no longer satisfied with standard products, especially when it comes to fashion.
Established brands with a defined brand strategy and broad product range can build a strong brand identity and comprehensive shopping experience. However, developing a brand identity is not something that happens overnight, and customer loyalty is often something enjoyed only by the most established brands.
In order to stay relevant, multi-brand retailers are constantly in search of new brands and items that differ from the standard, in order to create a robust and immersive lifestyle experience. Multi-brand stores with carefully selected products can offer stronger shopping experiences than a poorly executed mono-brand store. Product design must be ahead of the curve in a contemporary and exciting way.
Multi-brand retailers are usually more receptive to non-brand products.[5] While most multi-brand stores prefer consignment arrangements, some do purchase wholesale. To test the market for a particular design concept, designers may collaborate with multi-brand retailers in special capsule collection projects. If it is well received by the market, short-term collaborations may eventually turn into a long-term relationship.
Many multi-brand stores normally identify the brands that best align with their positioning and contact them directly. Similarly, fashion brands or designers can also approach a multi-brand store to present their collections and their design concept.
---
[1] Primary research: in-depth interview with Visith Singhaschathet, Managing Director of Jaspal Group.
[2] Primary research: in-depth interviews with ASEAN trade
[3] ibid
[4] Primary research: in-depth interview with Managing Director of Jaspal Group.
[5] Primary research: in-depth interviews with ASEAN trade.
Please click here to purchase the full research report.
Garments, Textiles & Accessories
Indonesia
Malaysia
Thailand
Southeast Asia
ASEAN