https://hkmb.hktdc.com/en/1X0018JT
Air Transport and Express Cargo Industry in Hong Kong
Overview
As one of the regional hubs for Asia, Hong Kong is connected with most urban centres in Asia and half of the world's population within 5 hours of flight time. Currently, more than 100 airlines operate about 1,100 flights daily, linking the Hong Kong International Airport (HKIA) to about 190 destinations worldwide including about 40 destinations on the Chinese mainland.
HKIA's passenger and cargo throughput rose 2.9% and 3.2% to, respectively, 70.5 million passengers and 4.52 million tonnes in 2016. HKIA was the world's third busiest international passenger airport and continued to rank as the world's busiest airport in terms of international cargo throughput since 2006.
HKIA has been recognised as a leading airport in the world – inducted into the Travel Hall of Fame at the TTG Travel Awards since 2013 after being voted as the World's Best Airport for 10 times, and China's Best Airport by Business Traveller China since 2006.
As at October 2016, Hong Kong had signed air services agreements with 65 aviation partners.
Industry Data


Range of Services
The air transport industry can be divided into the cargo and passenger sectors. There are scheduled and non-scheduled carriers operating in both the cargo and passenger sectors. More than over half of Hong Kong's airfreight is carried in the holds of passenger aircraft rather than pure freighters. There are two major cargo types, namely, express cargo and heavy-lift cargo.
Typical express cargo services involve transport logistics of door-to-door deliveries with guaranteed time and traceable location. Thanks to Hong Kong's superior air connectivity, industry players are able to deliver goods to major Asian cities within the same day, and to Europe and America within the next day.
Competition, together with information technology advancement, has encouraged the express cargo industry to integrate specialised and customised logistic solutions into its typical service model. Major industry players can now offer many value-added services including: packaging, insurance, dangerous and bulky goods handling, customs clearance, and shipment-tracing.
Hong Kong International Airport
Hong Kong International Airport (HKIA) at Chek Lap Kok, which allows 24-hour operation, was opened with a single runway and facilities in July 1998, followed by the second runway and associated facilities in May 1999. For long-term growth, Airport Authority Hong Kong (AAHK) has undertaken to construct the third runway system (3RS), which will allow HKIA to handle 102 million passengers, 8.9 million tonnes of cargo and 607,000 aircraft movements per year by 2030. Following the Executive Council approval of the HK$141 billion 3RS project in March 2015, construction started in August 2016 with the new runway expected to be commissioned in 2022 and the entire 3RS project completed in 2024. In addition, enhancement of the airport's capacity through the Midfield Development project with a new concourse of 20 parking stands was completed in December 2015.
All air cargo terminals in the airport are privately-run. The largest one is known as the SuperTerminal 1 (ST1). With more than 390,000 sq metres of gross floor area, ST1 is one of the most advanced and largest air cargo facilities in the world. It can handle over 3.5 million tonnes of cargo. In 2016, Hong Kong Air Cargo Terminals Limited (Hactl), which operates ST1, received the Air Cargo Handling Agent of the Year award by Air Cargo Week. Asia Airfreight Terminal (AAT), another cargo handling terminal at HKIA, was added in 2007. Cathay Pacific's cargo terminal, the third at HKIA, has been put into full operation since 2013. It has an annual handling capacity of 2.6 million tonnes, increasing Hong Kong's air cargo handling capacity to 7.4 million tonnes.
To supplement the cargo terminals, there is an airfreight forwarding centre at HKIA, providing space for warehousing, loading platforms, truck parking bays and offices.

Air transport has become more important to Hong Kong trade over the years. 38% and 43% of Hong Kong's total exports and imports were done through air transport in 2016, compared with 26% and 19% in 1980 respectively. Hong Kong's efficiency in customs clearance and its status as a free port are among the main contributors to this increase. Simple customs clearance and 24-hour operation of HKIA makes it convenient for goods destined for the Chinese mainland to go through Hong Kong for the mainland.
In 2016, Hong Kong's exports by air reached HK$ 1,364 billion, up 0.8% from 2015. For imports by air in the same year, they reached HK$ 1,715 billion, up 2.9% from 2015.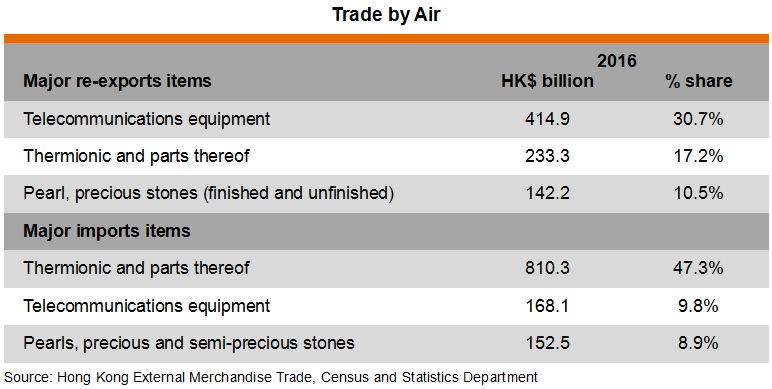 Trade by Air by Main Country / Region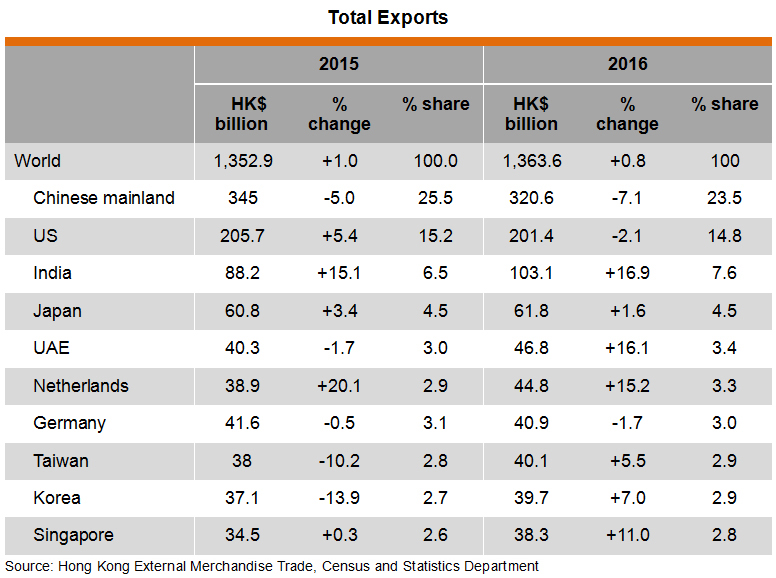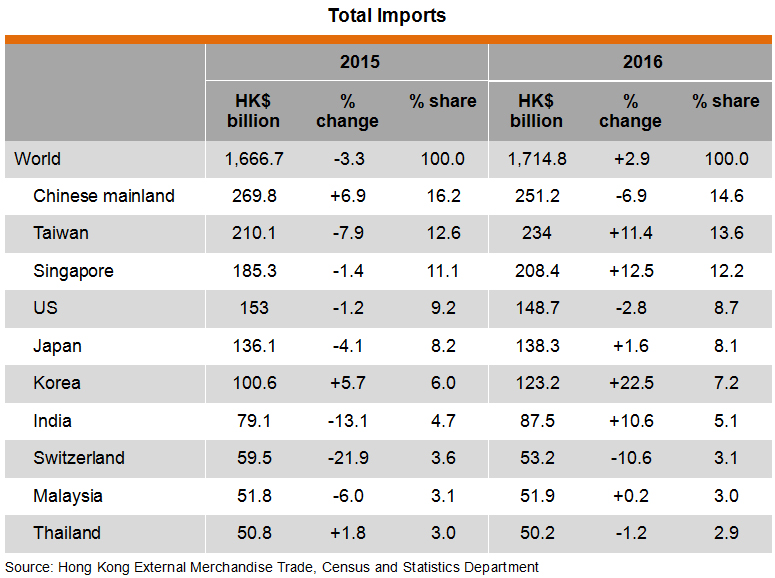 In terms of export by air, the Chinese mainland, the US and India were the largest markets in 2016, representing respectively 23.5%, 14.8% and 7.6% of Hong Kong's total exports for that year. On the import side, the Chinese mainland, Taiwan and Singapore were the largest markets in 2016. They represented, respectively, 14.6%, 13.6% and 12.2% of Hong Kong's total imports by air during the year.
Service Providers
There are more than 100 international airlines providing about 1,100 scheduled passenger and all-cargo flights each day between Hong Kong and about 190 destinations worldwide, including about 40 mainland cities. There are approximately 350 non-scheduled passenger and cargo flights each week on average.
Hong Kong's express cargo industry is dominated by some multinational players with wide-ranging global air and ground networks with clear hub strategies to fill up their freighter planes. To maximise freight loads, they tend to subcontract wholesale operators who have established routes and act as consolidators for other smaller operators. By contrast, smaller operators provide a faster and more flexible service focussed on niche markets and a stable customer base for regular income flows.
In addition, government-owned Hongkong Post (HKP) is also a major player in the courier market with its Speedpost service serving more than 210 country destinations and over 1,900 mainland cities. In 2016, HKP was awarded the "2016 Best SME's Partner Award" by the Hong Kong General Chamber of Small and Medium Business. HKP's Speedpost also won "The Best SME Partners 2016 - International Courier Service" organised by Economic Digest.
Service Exports
Based on the latest available statistics, Hong Kong's exports of air transport services increased by 1.4% to HK$ 93 billion in 2015, representing 40.3% of total transportation service exports for that year.

Besides air cargo handling business, another area of potential for Hong Kong's export of air transport-related services is airport management services, especially in the operation of air cargo terminal. This can be done either by investing in air cargo terminals overseas, or by providing consultant services. Hong Kong is well positioned to tap into this market, as more and more airports around the world, particularly the Chinese mainland, are to be privatised or operated on a commercial basis.
A success story is the joint venture between AAHK and Hangzhou Xiaoshan International Airport (HXIA), under which HKIA has an equity share of 35% while the rest of ownership is retained by the Hangzhou government. Besides HXIA, AAHK has also entered into different cooperation pacts with various mainland airports, namely Zhuhai Airport, Shanghai Hongqiao International Airport and Beijing Capital International Airport.
As for the express cargo industry, its services tend to mirror trade routes. While North America and Europe remain the major markets, trading activity is also expanding within Asia. The size of the mainland market provides good business opportunities for Hong Kong's express cargo sector. Larger operators have already established a presence in major mainland cities via joint-venture arrangements. Smaller players tend to grow their customer base through referrals and city visits to identify potential clients.

Industry Development and Market Outlook
World

According to the International Air and Transport Association (IATA), the global air transport industry is expected to gain a profit of US$29.8 billion in 2017, less than US$35.6 billion in 2016, amid rising oil prices. Passenger demand is expected to gain by 5.1% in 2017, while cargo demand is projected to increase by 5.6%.
Asia-Pacific


IATA expects profits of the Asia-Pacific airlines to decrease to US$6.3 billion in 2017 from US$7.3 billion in 2016 amid intensified regional competition.

E-commerce is expected to bolster cargo growth, as Asia's overall manufacturing capability improves and production of high-value goods continues to shift to Asia. Goods such as telecom equipment and electronic devices and parts are always transported by air, as product life cycles shorten.

Hong Kong

Commissioned by DHL Express (HK) and compiled by the Hong Kong Productivity Council, the 'DHL Hong Kong Air Trade Leading Index' (DTI) provides a forward looking perspective on Hong Kong's overall air trade sector based on a survey of 600 Hong Kong companies focusing on international air trading.

For Q1 2017, air traders were more conservative about the sector's outlook, with the DTI overall index dropping to 41.8 from 43.3 in Q4 2016 amid uncertainty about US economic policies under the Trump administration. An index below 50 represents a negative outlook for the surveyed quarter against the year-earlier period.
Hong Kong as an Air Transport Hub
In DHL's Global Connectedness Index (GCI) released in 2016, Hong Kong's ranking in terms of the depth of global connectedness in 2015 was second best in the world. GCI measures cross-border flows of trade, capital, information and people, relative to the size of the domestic economy.
As at October 2016, Hong Kong had signed air services agreements with 65 aviation partners.
Besides extensive air connectivity, Hong Kong also has an excellent logistics infrastructure in place. In the World Bank's 2016 Logistics Performance Index, Hong Kong ranked 9th among 160 regions and second in Asia. In 2016, HKIA was awarded the Air Cargo Award of Excellence by Air Cargo World and was named the "Best Global Airport" by Asia Cargo News.
Hong Kong has a pool of international and highly experienced logistics companies that enables smooth logistic flows. Many of them are represented in the Hong Kong Association of Freight Forwarding and Logistics (HAFFA), with members including DHL, UPS, Expeditors, Panalpina, Kerry Logistics and Schenker.
In 2016, DHL announced plans to expand its Hong Kong distribution centre to support the growing demand from Chinese online retailers. Upon completion, the distribution centre will be able to handle 71 million shipments per year.
The Mainland-Hong Kong Closer Economic Partnership Arrangement (CEPA)
Under CEPA, Hong Kong services suppliers (HKSS) are allowed to establish contractual joint venture, equity joint venture or wholly-owned operations to provide airport operation services, computer reservation system services, sales and marketing services for air transport and other supporting services for air transport. Moreover, HKSS are granted national treatment to provide courier services, except for express delivery of letters within the mainland and delivery of official documents of state organs.
After ten annual Supplements to keep widening and broadening the liberalisation measures in favour of HKSS, Hong Kong and the mainland entered into a subsidiary agreement under CEPA in 2014 to achieve basic liberalisation of trade in services in Guangdong ("Guangdong Agreement"). This was then followed by the Agreement on Trade in Services ("ATIS") to extend the coverage of the 2014 agreement from Guangdong to the rest of the mainland from June 2016. Unlike the previous Supplements which adopted a positive-list approach to introducing liberalisation measures, the two latest CEPA agreements adopt a hybrid approach to granting preferential access to Hong Kong using both positive and negative lists.
Please click to view the details of the preferential access concerning the air transport and courier sectors.