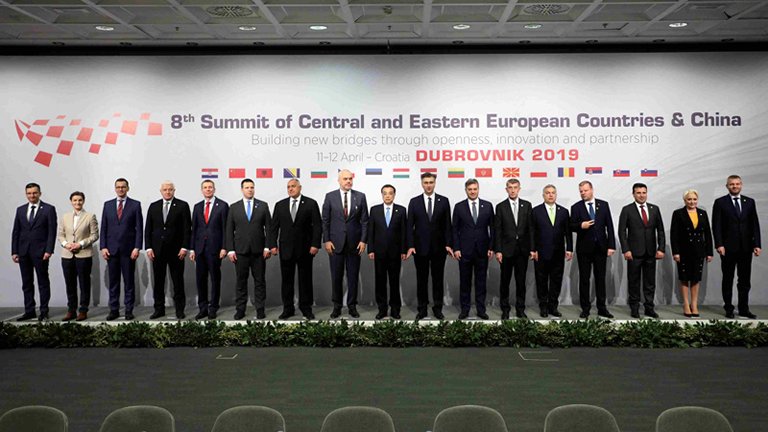 https://hkmb.hktdc.com/en/1X0AJYOI
Central and Eastern Europe: From 16+1 to 17+1
Riding on the Belt and Road Initiative (BRI) and the Cooperation Between China and Central and Eastern European Countries (China-CEEC or often called "16+1"), the Central and Eastern European Countries (CEECs) are evolving as mainland China and Hong Kong's strategic investment and trade partners. With Greece officially becoming the 17th member of the China-CEEC in 2019, the 21st Century Maritime Silk Road will be revived to further Europe-Asia trade. The participation of Greece, a Western European country and a China-CEEC observer since 2016, will be key to demonstrating the compatibility of Chinese-led initiatives with western systems, and hence paving the way to a more integrated Eurasia economy.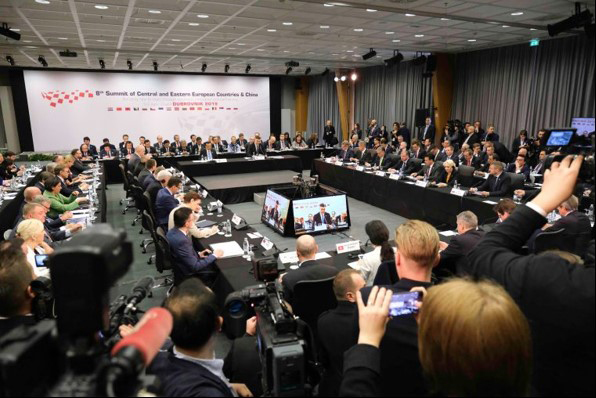 On Investment
A complement to the Chinese national campaign on BRI, the China-CEEC has been an important vehicle to promote government and business collaborations specifically between mainland China and CEECs. From the annual government leaders' meetings to the customs collaboration and sectoral forums such as the Civil Aviation Forum, several levels of meetings and collaboration mechanisms are in place to promote collaboration at the practical level.

These frequent government and business meetings are helping Chinese investors to gain a better knowledge of and access to investment opportunities in CEECs. Overall, mainland China's outward foreign direct investment (FDI) in 17 CEECs has increased in the five years ending 2018, with the total FDI stock reaching US$2.5 billion in 2018.
Among the 17 CEECs, Poland, Hungary and Romania accounted for 46% of mainland China's outward FDI to CEECs in 2018. Apart from the promising forerunners, Chinese investors are also aggressively venturing into uncharted waters, for example in Serbia, Croatia, and Montenegro, where they received 814%, 482% and 19,544%, respectively, more Chinese FDI stock in 2018 than in 2014.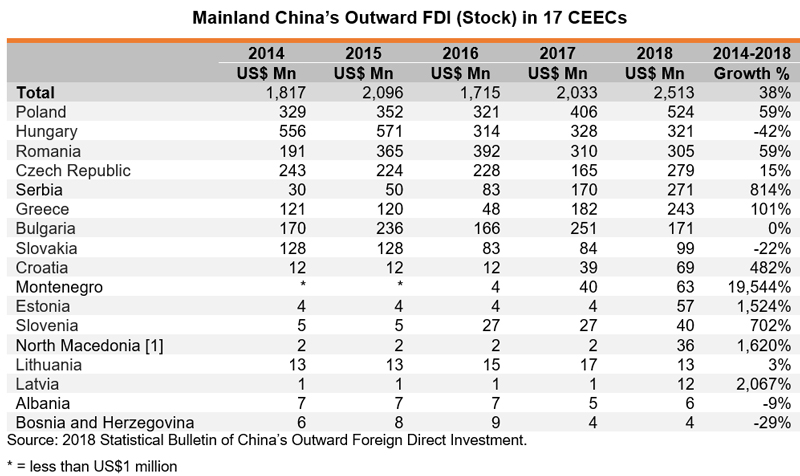 Apart from company investments, public and private funds were key drivers of the growing Chinese investment into CEECs. As part of the official China-CEEC initiative, the China-Central and Eastern Europe Investment Cooperation Fund (China-CEE Fund) was set up in 2013 to support infrastructure, telecommunications, energy, manufacturing, education, and medical projects in CEECs. To keep up the momentum, the China-CEE Fund stepped up its commitment from US$425 million in 2013 to US$1 billion in 2017.
Following in the footsteps of the China-CEE Fund, a consortium composed of the Industrial and Commercial Bank of China (ICBC), China Life, Fosun Group and the Royal Eagle Group established the SINO-CEEF Capital in 2016. Headquartered in Hong Kong, the SINO-CEEF Capital partners not only with large investors, but also selected European companies, including those in CEECs.
Hong Kong as mainland China's outward FDI hub has seen impressive growth in investment in CEECs. In 2017, Hong Kong invested a total of €2.1 billion in CEECs, slightly higher than that of mainland China, with Greece, Hungary, Lithuania and Poland altogether receiving 87% of the FDI from Hong Kong. Among CEECs, Greece alone had an FDI stock of €1.9 billion in Hong Kong (97% of the CEECs' total). The stock is comparable to the amount Hong Kong has invested in CEECs and is almost 9 times bigger than its investment in mainland China. As Greece's strategic investment partner, Hong Kong is notably the first port of call when the country looks at the opportunities stemming from 17+1 cooperation.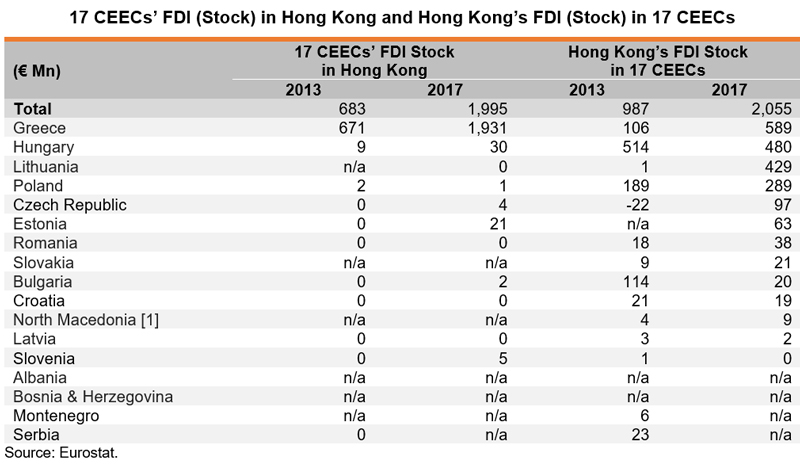 On Trade
Over the past 5 years, while the total trade between mainland China and the 17 CEECs has increased by 38%, the trade imbalance has also been slowly converging. In 2018, mainland China imported US$24 billion of goods from the 17 CEECs, 40% more than in 2014. Major imports in 2018 included automotive parts and accessories (30%), electronics, electrical appliances and parts (20%), nuclear reactors, machinery and parts (14%), copper (7%), and precision or medical instruments and apparatus (6%).
On the other hand, mainland China's export to the 17 CEECs recorded 37% growth, reaching US$66 billion in 2018. Major exports included electronics, electrical appliances and parts (28%), nuclear reactors, machinery and parts (21%), precision or medical instruments and apparatus (6%), articles of clothing accessories (4%), as well as furniture (4%).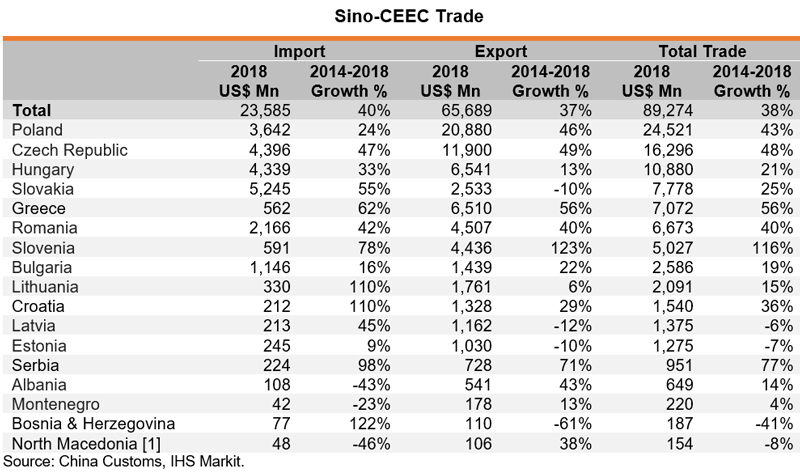 Much in line with the Sino-CEEC trade pattern, Hungary, the Czech Republic and Poland are Hong Kong's major export markets in CEECs, accounting for more than 70% of Hong Kong's exports to CEECs in 2018. Overall, Hong Kong had about US$6 billion trade surplus with CEECs.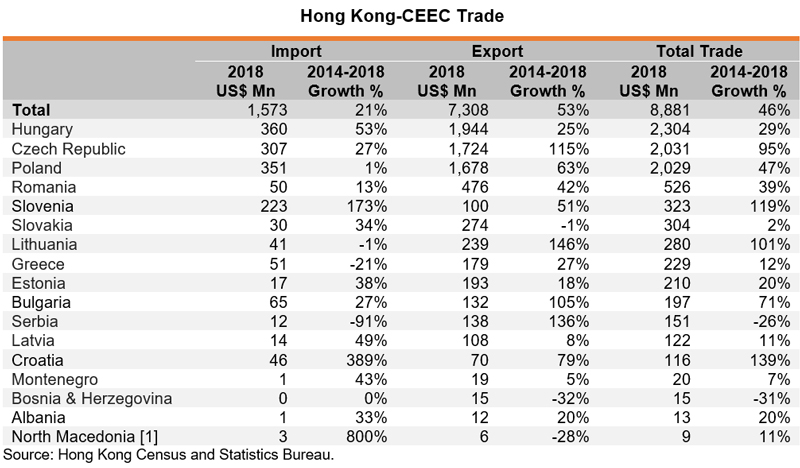 To narrow the trade imbalance between CEECs and mainland China, some CEE countries, including Albania, Bulgaria, Czech Republic, Greece, Hungary, Poland and Serbia, participated in the China International Import Expo (CIIE) 2019. In its second year, the CIIE 2019 reportedly brought together over 500,000 buyers and 3800 exhibitors, including some 200 companies from Hong Kong. As a global trading and services centre, Hong Kong is ready to help CEECs promote their goods and services in mainland China and other Asia markets.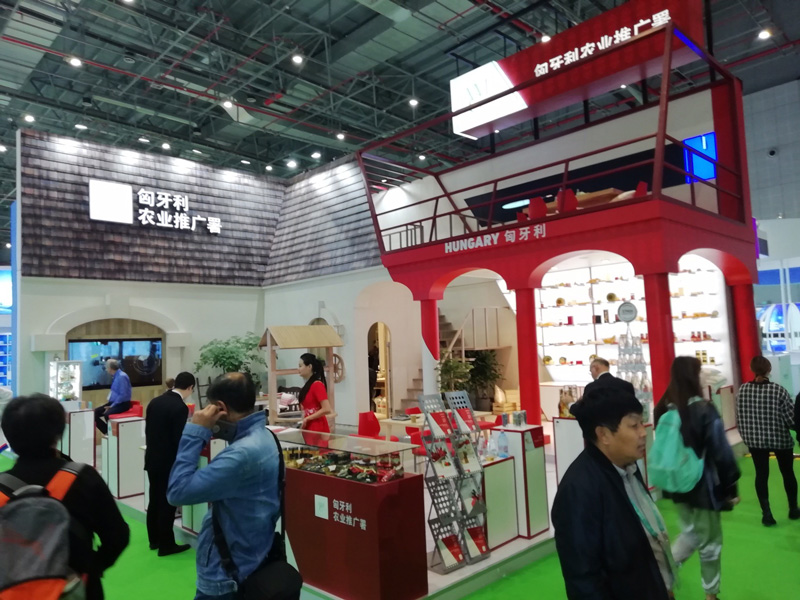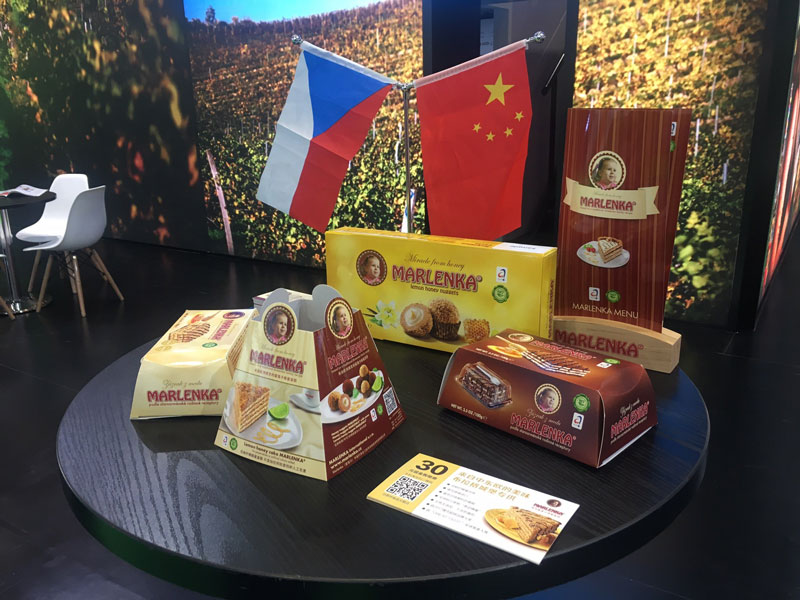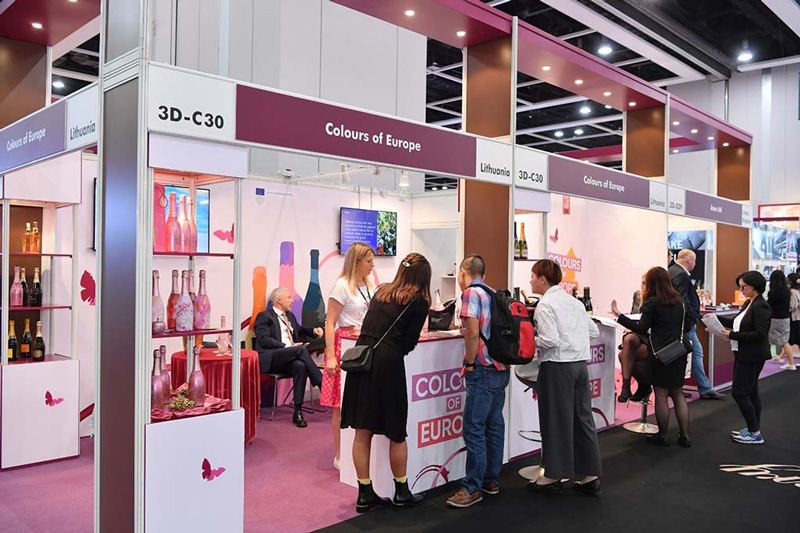 For example, with zero import tariffs and minimum administrative controls for wine, Hong Kong is well-positioned to help many CEE wineries, particularly in Bulgaria, Croatia, the Czech Republic, Hungary, Latvia, Lithuania, Slovakia, Serbia and Greece, to tap into the lucrative Asian wine market through platforms such as the Hong Kong International Wine & Spirits Fair 2019. This event received 15,000 buyers from 70 countries and regions, including old friends from the Czech Republic and Greece as well as newcomers from Latvia and Lithuania.
Greece: An Integral Part of the Maritime Silk Road
The incorporation of Greece in both the China-CEEC and BRI initiatives has emphasized the significance of the 21st century Maritime Silk Road, which is likely to become an increasingly strategic conduit for Eurasia trade.
In 2018, sea transport accounted for the lion's share of Sino-Europe trade. While mainland China has been actively developing the second Eurasia land bridge – a landmark project under BRI – the value of goods shipped by sea and air between mainland China and Europe has continued to grow. But both the rising demand for multimodal transportation and the enhanced connectivity have without doubt contributed to the emergence of another viable option for Eurasian trade – overland transportation.

While western European ports such as Rotterdam, Antwerp and Hamburg remain the key logistics hubs for Eurasian trade, rail connectivity to and from these ports is increasingly sought-after as the demand for quicker delivery within Europe grows. It currently makes sense for Sino-European cargo vessels to travel that extra mile to the bigger ports in Western Europe, in order to gain the advantage of faster intra-Europe delivery.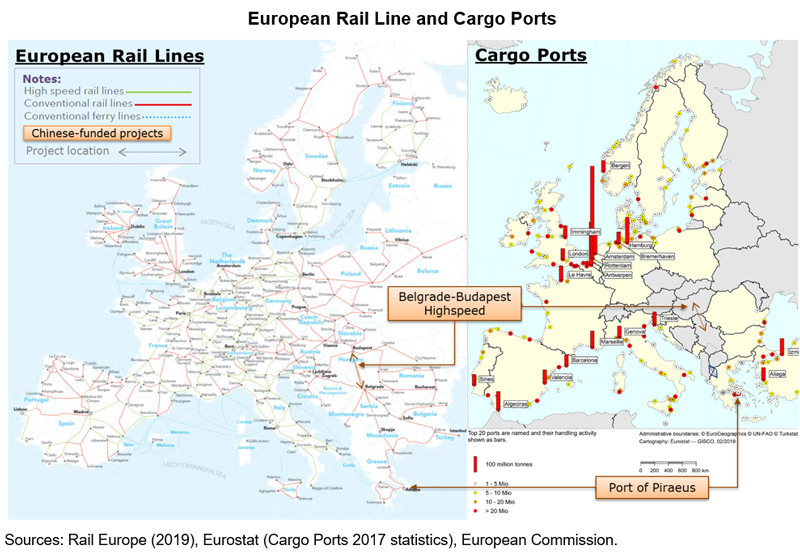 Both mainland China and the EU are trying to expand trade and logistics capacities within the CEECs. In 2016, when Greece joined China-CEEC as an observer, the Chinese company COSCO Shipping acquired a majority share and became the primary operator of the Port of Piraeus in Greece. Recording the world's second-highest container throughput growth in 2018, the Port of Piraeus is a leading port in the Mediterranean Sea and a global maritime hub, handling maritime shipments to and from Asia, the Middle East, and North America.

The incorporation of Greece into the China-CEEC has been seen as a boost to Sino-Greek economic ties which synergise with the Sino-CEEC economic cooperation. For example, the Port of Piraeus has been energised by its railway connections to North Macedonia [1], Hungary and Romania among others, as well as by Chinese-supported projects such as the construction of the Belgrade-Budapest high speed rail link. The success of this landmark Chinese high speed rail link could make a strong case for the upgrade of other existing railways in CEECs with the financial and engineering support from mainland China.
Such infrastructure investment could also take Sino-CEEC trade and investment to new heights. In the case of the Belgrade-Budapest high speed rail project, for example, the first direct freight train between mainland China and Serbia delivered more than 500 tonnes of construction equipment for the Belgrade-Budapest project.
CEECs Link Mainland China with Europe
The participation of Greece in the China-CEEC initiative marks a new era of Sino-Europe collaboration. Released in September 2018, the EU Strategy for Connecting Europe and Asia shares the same objective as the 2019 Dubrovnik Guidelines for Co-operation between China and the 17 CEECs and the BRI with respect to the improvement of cross-border transportation and people-to-people connectivity between Asia and Europe. To achieve this, the EU is prepared to strengthen bilateral, regional and international partnerships, which could include the possibility of working closer with mainland China under the umbrella of China-CEEC and BRI.
On a separate note, the China-CEEC logistics share much in common with the EU's trans-European transport development plans – the Trans-European Transport Network (TEN-T) and European Territorial Cooperation (ETC or Interreg).
Backed by the Connecting Europe Facility (CEF) grants, TEN-T aims to upgrade and extend the EU's core railways and roads infrastructure of nine multimodal corridors by 2030, as well as to remove bottlenecks and operational barriers to the logistics flow among EU members. The TEN-T Orient/East-Med Corridor, for instance, encompasses both railways and roads running between Port of Piraeus and German ports through Bulgaria, Romania, Hungary, Austria, Slovakia and the Czech Republic.
To further the reach of TEN-T, Interreg-Pre-Accession Assistance Cross-border Co-operations (Interreg IPA CBC), such as Interreg IPA CBC Greece-Albania and Interreg IPA CBC Hungary-Serbia, provide funding for cross-border railway projects between EU members and (potential) candidate countries.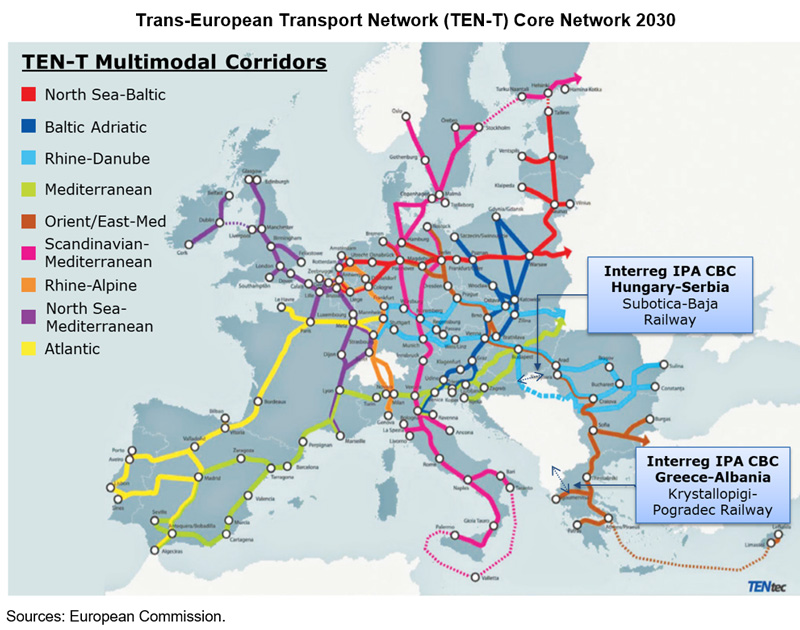 The European transport network is estimated to require an infrastructure investment of €1.5 trillion by 2030, of which the TEN-T 2030 vision alone accounts for one-third of the total. For the 2014-2020 period, the EU has budgeted a total of €100 billion funding via CEF, CF or ERDF, and hopes to attract another €2 trillion investment from the private sector.
As Europe's transport and logistics development plans fall squarely in place with the China-CEEC and BRI visions, Chinese investors are expected to become more active in investing in Europe's logistics infrastructure projects. A case in point is Alibaba's 2018 announcement to build an AliExpress logistics centre in Poland – a key entry port for rail freight from mainland China.
The transition from 16+1 to 17+1 or Greece's switch from an observer to an official member of China-CEEC also sets the scene for further expansion of China-CEEC. Currently on the China-CEEC observer list are Austria, the EU, the European Bank for Reconstruction and Development (EBRD), as well as two non-EU countries, namely Belarus and Switzerland.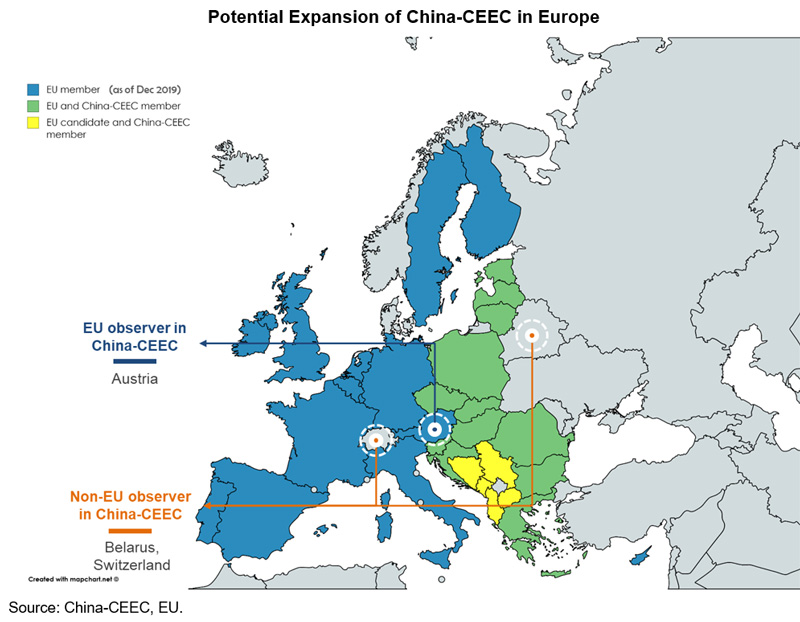 Strategically located at the junction of the Silk Road Economic Belt and the 21st Century Maritime Silk Road, Hong Kong's trade and investment with CEECs had been increasing over the five-year period of 2014-2018. Against the backdrop of 16+1 to 17+1 transition, there will be more opportunities for Hong Kong and the Guangdong-Hong Kong-Macao Greater Bay Area as BRI progresses.
---
[1] The former "Republic of Macedonia" was renamed Republic of North Macedonia on 12 February 2019.
[2] The 56 broadly-defined European countries include Albania, Andorra, Armenia, Austria, Azerbaijan, Belarus, Belgium, Bosnia & Herzegovina, Bulgaria, Croatia, Cyprus, Czech Republic, Denmark, Estonia, Faroe Islands, Finland, France, Georgia, Germany, Gibraltar, Greece, Hungary, Iceland, Ireland, Italy, Kazakhstan, Kyrgyzstan, Latvia, Liechtenstein, Lithuania, Luxembourg, North Macedonia, Malta, Moldova, Monaco, Montenegro, Netherlands, Norway, Poland, Portugal, Romania, Russia, San Marino, Serbia, Slovakia, Slovenia, Spain, Sweden, Switzerland, Tajikistan, Turkey, Turkmenistan, Ukraine, United Kingdom, Uzbekistan, and the Vatican City State.
Finance & Investment
Logistics & Supply Chain
Greece
Poland
Hungary
Romania
Czech Republic
Serbia
Bulgaria
Slovakia
Croatia
Montenegro
Estonia
Slovenia
Lithuania
Latvia
Albania
Bosnia and Herzegovina
Western Europe
Eastern Europe
Hong Kong
Mainland China