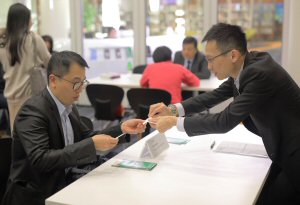 Small and medium-sized enterprises (SMEs) in Hong Kong face unprecedented challenges, but revolutionary progress in technology and China's keystone projects – the Belt and Road Initiative and Guangdong Hong Kong Macao Greater Bay Area – present many equally unprecedented opportunities.To help businesses take advantage of these opportunities and overcome the challenges, the Government of the Hong Kong Special Administrative Region (HKSAR) recently launched a new round of measures to support SMEs. These including optimising the Dedicated Fund on Branding, Upgrading and Domestic Sales (BUD Fund) and SME Marketing Fund to boost support measures.The government has increased capital injection into both funds, under which the overall funding ceiling and the first-funding allocation for each enterprise have been raised. The BUD Fund's remit will be expanded to economies that have signed free trade agreements (FTAs) with Hong Kong. It helps to enhance the competitiveness of enterprises and expand markets in Mainland China and overseas.
BUD Fund corporate limit rises
The new round of optimisation measures for the BUD Special Fund includes expanding the scope of the fund's funding to cover all economies that have signed FTAs with Hong Kong, and raising the funding limit for each enterprise to HK$4 million (including HK$2 million [US$256,000] for implementation of projects in Mainland China, HK$2 million for the implementation of projects in the Association of Southeast Asian Nations [ASEAN] region and other FTA economies), increase the proportion of initial funding supplied from 25% to 75% of the project's budget, relax individual expenditure budget caps, and adding more projects that can be funded. At present, Hong Kong has signed FTAs with the mainland, New Zealand, the Member States of the European Free Trade Association (Iceland, Liechtenstein, Norway and Switzerland), Chile, Macao, 10 ASEAN members, Georgia and Australia. All but one of these agreements has entered into force, and the FTA between Hong Kong and Australia will come into force on 17 January (Friday).
BUD Fund
| | | |
| --- | --- | --- |
| | Before optimisation | After optimisation |
| Area covered | Mainland China, ASEAN | All FTA economies |
| Funding cap | Mainland China: HK$1m | Mainland China: HK$2m |
| | ASEAN: HK$1m | ASEAN and FTA economies: HK$2m |
| Project no cap | Mainland China: 10 | Mainland China: 20 |
| | ASEAN: 10 | ASEAN and FTA economies: 20 |
| Fund ratio | 25% | 75% |
For the Market Promotion Fund, optimisation measures include increasing the cumulative funding limit for each SME to HK$800,000 (US$102,600), and adding an option to apply for the initial payment of up to 75% of the total approved government funding. The latest application guidelines and application forms have been uploaded to the BUD Special Fund and Marketing Fund websites.
SME Marketing Fund
| | | |
| --- | --- | --- |
| | Before optimisation | After optimisation |
| Cumulative funding cap | HK$400,000 | HK$800,000 |
| Maximum per application | HK$100,000 | HK$100,000 |
| Ratio | Not applicable | 75% |
| | | |
Optimising fund use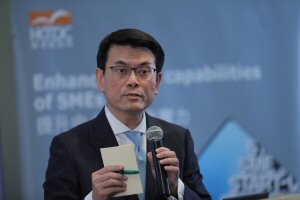 To strengthen SMEs' awareness of the HKSAR Government's funding programmes and encourage them to make good use of support facilities, the government has established an SME Funding Team, which has been in service since 1 January. Team members meet directly with SMEs and answer questions about applying for funding programmes.Announcing the new measures, HKSAR Secretary for Commerce and Economic Development Edward Yau said the new round of measures are expected to be even more effective than previously launched initiatives in supporting enterprises, which are facing challenges from the external economic environment and the pressure amid the current economic downturn.
Challenging environment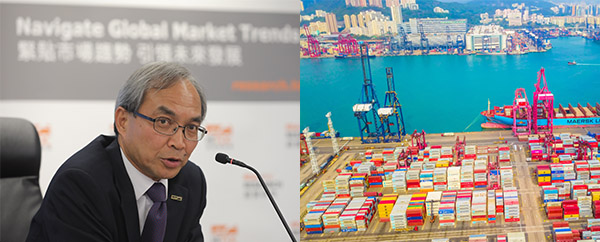 The slowdown in the global economy and trade friction between the mainland and United States have affected Hong Kong's export performance. HKTDC Research Director Nicholas Kwan earlier predicted the value of Hong Kong's overall exports would shrink 2% year-on-year in 2020, and announced that the HKTDC Export Index for the final quarter of 2019 hit a record low of 18.8, down 8.6 points from the previous quarter, indicating that Hong Kong exports are expected to remain sluggish in the coming months. He pointed out that the expansion of protectionism into the broader economic and geopolitical fields is increasing the risk of continued weakness in the global economy, and that these uncertainties are bringing unprecedented pressure on Hong Kong exporters. Mr Kwan suggested Hong Kong companies make short-, medium- and long-term response strategies, and draw on the HKTDC's resources to diversify production lines and markets to reduce operating risks.
Related link
HKTDC SME Centre