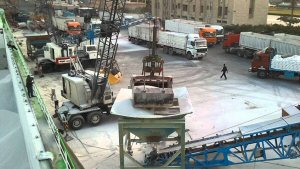 The Egyptian government signed a memorandum of understanding (MoU) with Hutchison Ports – a subsidiary of CK Hutchison, the Hong Kong-listed conglomerate – in August relating to the construction of a container terminal in the port of Abu Qir on the country's Mediterranean coast. This is just the most recent example of the increasingly close ties between Mainland China and Egypt, a relationship that blossomed following the launch of the Belt and Road Initiative – the mainland's ambitious international infrastructure development and trade facilitation programme – in 2013.As a sign of the significance of this latest deal, Egyptian President Abdel-Fattah al-Sisi attended the signing of the MoU, along with a number of other senior government officials and Eric Ip, Group Managing Director of Hutchison Ports. Indeed, since Mr Sisi took office in June 2014, the level of Chinese investment in Egypt has grown steadily, as has bilateral trade.
Strong ties
Egypt's president has made six state visits to the mainland and met with Chinese President Xi Jinping seven times. During his first official visit, in December 2014, he signed 25 bilateral agreements, primarily related to energy and transport issues. Since then, he has formally pledged to cooperate on Belt and Road implementation and, during a September 2018 visit to Beijing, signed deals worth about US$18 billion with a number of mainland companies regarding a range of projects, including railways, real estate, energy and oil-refinery developments.As a result, according to fDi Intelligence, the Financial Times' research division, cumulative mainland foreign direct investment in Egypt was about US$24.3 billion as of late last year. A considerable proportion of this was related to two high profile Belt and Road-backed projects – the construction of the country's new administrative capital and the expansion of the Suez Canal Economic Zone.In the case of the former, a US$20 billion investment was announced by Shanghai-listed China Fortune Land Development, while the China State Construction Engineering Corporation has been contracted to build 20 towers in the new city, with mainland banks expected to finance about 85% of the US$13 billion construction cost. The new city, which is yet to be officially named, is being developed on a 700-square-kilometre site 45 kilometres east of Cairo and is expected to ultimately be home to about seven million people.Regarding the Suez Canal Economic Zone, Tianjin Economic-Technological Development Area Holdings has committed to spending about US$5 billion on expanding the facility. It is envisaged that, once completed, the zone will function as one of the region's primary logistics hubs and be fully integrated with various existing Belt and Road projects.
Port giant
For the Abu Qir project, Hutchison Ports can draw on its considerable experience when it comes to running marine freight-handling terminals in Egypt. One of the giants of the global industry, the company operates 51 ports in 27 jurisdictions and has an 11% share of the global marine cargo trade. In Egypt, it currently has overall responsibility for two ports – Alexandria and El Dekheila.Alexandria is a large port, with a history dating back 2,000 years, that extends across 16 sq km and handles almost 60% of Egypt's foreign trade. At just 3.5 sq km, the nearby El Dekheila terminal is much smaller. Both ports, however, are on the Mediterranean Sea and will benefit from access to the proposed new Abu Qir terminal, which will be able to handle up to one million containers a year while also providing employment for about 1,500 local workers.The key driver of port throughput growth, of course, is expanding trade – another area where the mainland is taking a lead. In 2017, Egyptian container volume rose 20% year-on-year to 7.9 million TEUs (Twenty Foot Equivalent Unit). The following year, Egypt-China trade climbed 27.6% to US$13.8 billion. Egyptian exports to the mainland have also enjoyed significant growth – rising 60% to US$408 million in 2017 compared with US$255 million the previous year.
Related link
HKTDC Research