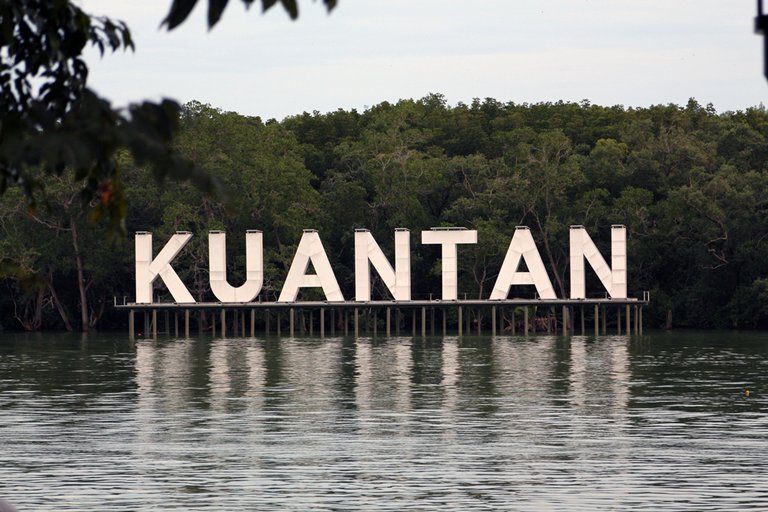 https://hkmb.hktdc.com/en/1X0AA0CO
Prospects for the Malaysia-China Kuantan Industrial Park and Kuantan Port
Industrial Co-operation under the Belt and Road Initiative
In line with the Belt and Road Initiative (BRI), trade co-operation between Malaysia and China has been strengthened by the countries jointly establishing two industrial parks – one in Kuantan in Malaysia, the other in Qinzhou in the Chinese region of Guangxi. Under the context of 'Two Countries, Twin Parks' [1], these industrial parks are intended to enhance the regional supply chain management and optimise the flow of trade and investment which runs between Malaysia and China.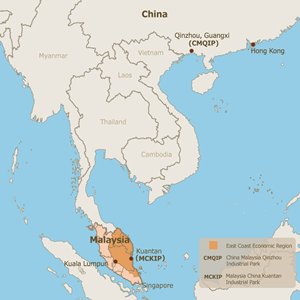 One of the chief aims of the BRI is to encourage countries along the BRI to improve investment and the ease of trade facilitation. To this end, the BRI attempts to improve the capability of customs clearances and the coordination of cross-border supervision.
Malaysia is an important gateway for trade along the 21st Century Maritime Silk Road. At present, China and Malaysia are in the process of forming a cooperative 'port alliance', which seeks to fast-track trade flows by raising customs efficiency. It has been reported that, in addition to their contribution to trade cooperation, the new industrial parks could also serve as a testing ground for joint customs clearances between the two countries. Such a development might contribute to the advancement of the strategic direction of regional trade facilitation under the BRI.
The Malaysia-China Kuantan Industrial Park (MCKIP) is the first industrial park in Malaysia jointly developed by Malaysia and China, as well as the first to be accorded 'National Park' status. Its sister park in Guangxi, China is the Malaysia Qinzhou Industrial Park (CMQIP). Together, the two parks have been identified by both governments as an 'Iconic Project for Bilateral Investment Co-operation', which will drive the development of industrial clusters in both countries.
Kuantan Port will be an important gateway for logistics services for MCKIP, which is located just 10 kilometres away. At present, Kuantan Port mainly handles bulk cargoes for nearby industrial areas. In order to meet increased demand in the future, Kuantan Port is currently expanding its bulk cargo terminal. It is developing a new deep-water terminal (NDWT) which aims to become a container port for trans-shipment cargoes.
In June 2016, Kuantan Port received approval from The Ministry of Finance in Malaysia to establish a Free Zone port, so that it can provide value-added services for trans-shipment cargoes. Kuantan Port will act as the catalyst for MCKIP, with the synergy between the port and the industrial park forming a dynamic platform for investors expanding their business in the ASEAN region.
MCKIP: A Government-to-government Collaboration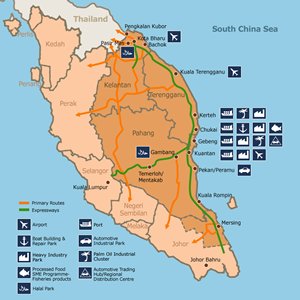 In 2008, the Malaysian government established the East Coast Economic Region Development Council (ECERDC) in order to develop and stimulate growth on the east coast of Peninsular Malaysia. It is a statutory body designed to spearhead the socio-economic development of the East Coast Economic Region (ECER) [2]. The five key economic sectors here are manufacturing, oil, gas and petrochemicals, tourism, agriculture and human capital development. The launch of MCKIP in 2013 has been one of the key milestones for the ECER.
By collaborating with Malaysia on the development of MCKIP, China can further enhance the flow of its trade and investment with Malaysia. At the same time, MCKIP provides a 'going out' platform where Chinese companies can expand their production capacities along the Belt and Road countries, in order to get closer to their final markets, in particular within the ASEAN.
MCKIP is a bilateral Malaysia-China government-to-government collaboration. MCKIP Sdn. Bhd. (MCKIPSB) is a 51:49 joint venture between a Malaysian consortium and a Chinese consortium. IJM Land holds a 40% equity interest in the Malaysian consortium; together, Kuantan Pahang Holding Sdn. Bhd. and Sime Darby Property hold 30% and the Pahang State Government holds the remaining 30%. The 49% stake of the Chinese consortium is held between the state-owned conglomerate Guangxi Beibu Gulf International Port Group (with a 95% equity interest) and Qinzhou Investment Company (the remaining 5% interest).
Positioning of MCKIP
MCKIP targets heavy industry and high-end/high technology industry. These include energy saving and environment friendly technologies, alternative and renewable energy, high-end equipment manufacturing and the manufacture of advanced materials. There are three distinct phases within the industrial park, namely MCKIP 1 (which consists of 1,200 acres of land), MCKIP 2 (1,000 acres) and MCKIP 3 (800 acres).
The construction of MCKIP 2 and MCKIP 3 should take place concurrently. While MCKIP 2 is designated for high-end and high technology industry development, MCKIP 3 is designated for multi-purpose development (including light industry, commercial property, residential areas and tourism parks). The entire MCKIP building project is expected to be completed in 2020. Since MCKIP 3 is intended for an assortment of different business opportunities, it is believed that it will attract foreign investment from a wide variety of countries for various purposes.
MCKIP 1 is designated for high technology industries and heavy industries. The first investor to be established there is Alliance Steel (M) Sdn. Bhd. [3] (Alliance Steel), which has been granted approval to invest RM5.6 billion in its facility in 2016. Its production site, which will cover 710 acres of land, is currently under construction. The steel mill is expected to be operation by the end of 2017. Once it is in full service, Alliance Steel expects to generate more than 3,500 job opportunities.
Alliance Steel (M) Sdn. Bhd.
It's estimated that the annual local demand for steel in Malaysia is over 10 million tonnes. However, the existing production facilities of some local steel mills are lagging behind in terms of productivity and technology innovation. Bringing in a new investor in the form of MCKIP will enhance the productivity and quality of steel production in Malaysia.
Inspired by the Belt and Road Initiative, there are many infrastructure and construction developments now in progress along the 21st Century Maritime Silk Road. With its current production facilities in Guangxi, Alliance Steel is expanding its production facilities in MCKIP in order to meet the rising demand for steel in the ASEAN and international markets. Alliance Steel aims to upgrade levels of production technology and increase the degree of production automation in Malaysia's new production sites. Its integrated modern steel mill will apply China's most technologically advanced manufacturing process to produce the best quality high carbon steel rods, wires and H-shaped steel. Within its enclosed integrated steel mill, conveyor belts will be used to ensure the smooth flow of material and thereby streamline the operation. All waste water will be recycled and reused in the production process in order to minimise the impact on the environment.
According to Alliance Steel, it will source raw materials from Malaysia as much as possible. Yet, some raw materials may still need to be imported. Maritime transport from China's Qinzhou Port (in Guangxi) to Malaysia's Kuantan Port takes just three days. In the early stages of its new operation, Alliance Steel may recruit some technicians from China before training up local talent in Malaysia. Alliance Steel is also co-operating with Malaysia's institutions to establish a training programmes for local people, in order to enhance their metallurgy operation techniques. In this way, it will further strengthen the social and economic ties between two countries.
Besides Alliance Steel, many China-based companies are planning to expand their production bases to MCKIP in order to extend their supply chain coverage within the region. For example, Guangxi Zhongli Enterprise Group Co. Ltd. will invest RM2 billion for the development of manufacturing of clay porcelain and ceramic in MCKIP 1. Meanwhile, ZKenergy (Yiyang) New Resources Science and Technology Co. Ltd. will invest RM200 million for the development of an engineering and production-based centre that will produce renewable energy for MCKIP's own consumption. This will help MCKIP to position itself as a leading 'green' environmental-friendly industrial park.
In addition to the aforementioned projects in MCKIP, other investment projects led by China and Malaysia companies are already in the pipeline. The new investors include China's Guangxi Investment Group Co. Ltd., which will invest RM580 million on an aluminum component manufacturing facility. Another is Malaysia's LJ Hightech Material Sdn. Bhd., which will invest RM1 billion in a high-technology production-based plant to produce concrete panels and activated rubber powder for the construction industry. The construction works for these projects in MCKIP are expected to begin in the first quarter of 2017. Once completed, they will create more than 3,000 job opportunities.
Investment Environment in MCKIP
MCKIP not only welcomes investors from China and Malaysia, but also from ASEAN region and beyond. In addition to the current ECER incentives package [4], the Ministry of International Trade and Industry (MITI), together with the ECERDC, has offered special incentives packages for investors in MCKIP (subject to Terms and Conditions). Below are some highlights of the fiscal incentives in MCKIP:
Fifteen years of 100% corporate tax exemption from the year of statutory incomes derived, or 100% Investment Tax Allowance on qualifying capital expenditure incurred for five years.

15% of income tax rate for qualified knowledge workers [5] in MCKIP until 31 December 2020.

Import duty and sales tax exemption for raw materials, parts and components, plants and machinery and equipment.

Stamp duty exemption on transfer or lease of land or building used for development.

Investors can apply for Unit Kerjasama Awam-Swasta (UKAS) facilitation fund up to 10% of project cost or RM 200 million (whichever is lower), to finance the development of basic infrastructure.
Apart from fiscal incentives, MCKIP also offers other competitive incentives [6] and support in order to encourage both local and overseas investment. These include competitive land prices, flexibility in the employment of expatriates and the facilitation of human capital development. At present, MCKIP is still at the early stages of development. By implementing incentives and measures such as these, MCKIP aims to attract a range of investors from various industry sectors.
Synergistic Development of Kuantan Port
Located just 10 kilometres away from MCKIP, Kuantan Port currently handles mainly break bulk cargoes (such as steel pipes, sawn timber and plywood), dry bulk cargoes (such as iron ore, coal and fertilisers), liquid bulk cargoes (such as palm oil, vegetable oil, mineral oil and petrochemical products) and container cargoes. Kuantan Port is an all-weather port with 11.2 meter draft and the capacity to handle vessels up to 40,000 DWT (Dead Weight Tonnage). There are 22 berths at Kuantan Port with bulk cargoes accounting for 95% of throughput. At present, container business is relatively small and mainly handles automotive components for Pekan Automotive Industrial Park.
Kuantan Port is operated by Kuantan Port Consortium Sdn. Bhd. (KPC) [7]. It can offer well-developed port facilities and services, and a strong network of global shipping connections. As such, the port is set to be a catalyst for the development of the industrial and manufacturing activities in MCKIP, as well as those in Kuantan Port Industrial Area [8] and Gebeng Industrial Estate [9].
At present, major shipping lines which operate at Kuantan Port include Evergreen Marine Corporation Ltd, Jardine Shipping Services, Malaysia International Shipping Corporation Bhd. and Pacific International Lines.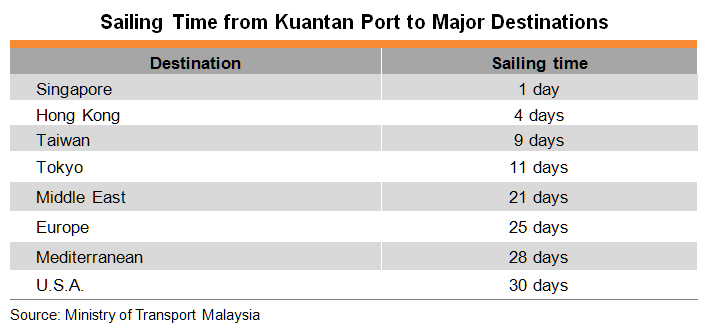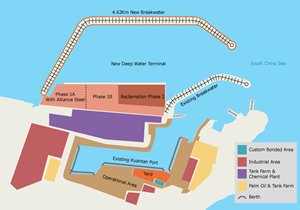 As it stands, Kuantan Port provides port services for the nearby high-end and high technology industries and heavy industries, such as those based at the Kuantan Port Industrial Area, Gebeng Industrial Estate and Pekan Automotive Industrial Park. In order to meet the extra port service demand now being created by MCKIP, Kuantan Port is currently under expansion. There will be three phases in the port expansion. Phases 1A and 1B will cover the import and export of bulk cargoes. In Phase 2, a new deep water terminal will be developed, which will be able to handle up to 200,000 DWT or 18,000 TEUs container vessels.
Construction of Phase A1 is now underway and is expected to be completed by the end of 2017. Phase 1A will be able to handle ships up to 150,000 DWT. The expected completion time of Phase 1A is in line with the completion time of Alliance Steel production sites at MCKIP 1. This will enable Alliance Steel to import raw materials from overseas markets and then export its final products to the international markets via Kuantan Port. The construction of Phase 1B is also underway and it should commence operation in late 2018. Both Phase 1A and Phase 1B will target the handling of bulk cargoes. Presently, a new 4.7 kilometres breakwater is under construction, which will create a sheltered harbor. This sheltered basin will allow for berths to operate safely and efficiently throughout the year, even during the monsoon season.
Strategic Partnerships along the New Silk Road
In terms of their potential growth, Kuantan Port and MCKIP go hand in hand. Although Kuantan Port currently handles mainly bulk cargoes, the Phase 2 development is intended to be a container port, in order to handle the import and export of light industry cargoes for MCKIP 3. The new deep-water terminal will become a major trans-shipment hub on the east coast of Malaysia. By the time of completion, it is estimated that Kuantan Port will be able to handle 52 million freight weight tonnes of bulk and container cargoes.
In light of China's 21st Century Maritime Silk Road development, Kuantan Port will become a key trading gateway. China and Malaysia are forming a 'port alliance' to fast-track trade by reducing customs bottlenecks at both ends. Under the port alliance, 10 Chinese ports (including Dalian, Shanghai, Ningbo, Qinzhou, Guangzhou, Fuzhou, Xiamen, Shenzhen, Hainan and Taicang) will collaborate with six Malaysian ports (including Port Klang, Malacca, Penang, Johor, Kuantan and Bintulu). The final details are still being worked out, but the development is geared towards improved trade facilitation and integration within the region. It has been reported that the strategic imperative is to set up joint customs clearance facilities between ports of China and Malaysia, in order to reduce the overall time and cost of moving goods across the borders.
Kuantan Port to Perform Re-distribution Function
In June 2016, Kuantan Port received approval from The Ministry of Finance in Malaysia to establish a free zone port [10]. This will strengthen Kuantan Port's plans to develop into a trans-shipment hub. A Free Zone is defined as a place outside Malaysia where there is no required payment of customs duty, excise duty, sales tax or service tax. According to KPC, the Free Zone in Kuantan Port may cater for commercial activities including trans-shipment, trading, regional distribution, inspection/sampling and related value-added services (such as repackaging, relabelling and break bulking).
By way of example, international distributors who have established their own sales network in the region can consolidate their products destined for Malaysia and other ASEAN and south Asian countries. They can then save costs by shipping them, in the first instance, to Kuantan Port free zone warehouse in the form of FCL (full container load). There, the importer may arrange re-packing or re-labeling for their products before redistributing the products in LCL (less than a container load) to their final market destinations in the region.
Evolving Business Potentials
Most of the current investments in MCKIP come from China-based companies, mainly involving heavy industry and high-end/high technology industry. In fact, MCKIP not only targets investors from China and Malaysia, but also other ASEAN countries and beyond. In particular, with the upcoming development in MCKIP 3 as a multi-purpose zone, new business opportunities may arise in areas such as commercial property development, residential management and hotel management.
MCKIP is the engine for new growth at Kuantan Port. Expecting a sharp increase in demand for bulk cargo services driven by the high-end/high technology industries and heavy industries establishing themselves in MCKIP 1 and MCKIP 2, Kuantan Port's expansion plans are under way. With the port set to evolve into a trans-shipment hub for the ASEAN, it will become a free zone in order to provide value-added services for the container cargoes. Many investment opportunities exist in the construction of port facilities and other value-added logistics services.
Together, MCKIP and Kuantan Port are being developed into an industrial hub and an integrated logistics centre in Malaysia. These developments have created a new trade platform for companies which are interested in exploring the range of business opportunities in the ASEAN along the 21st Century Maritime Silk Road.
---
[1] In 'Two Countries, Twin Parks', 'Two Countries' represents Malaysia and China; 'Twin Parks' represents Malaysia-China Kuantan Industrial Park (MCKIP) and China-Malaysia Qinzhou Industrial Park (CMQIP).
[2] The ECER covers Kelantan, Terengganu, Pahang and the district of Mersing in Johor. It occupies an area of 66,000 square kilometres or 51% of the total area of Peninsular Malaysia.
[3] Alliance Steel (M) Sdn. Bhd. is a state owned joint-stock enterprise by Guangxi Beibu Gulf Port International Group Co. Ltd. and Guangxi Sheng Long Metallurgical Co. Ltd.
[4] For details, please refer to ECER investment opportunities.
[5] A non-resident is subject to income tax in Malaysia for his income which only comes from Malaysian sources, at a uniform rate of 28% unless he works less than 61 days in the year or his country of residence has concluded a double taxation agreement with Malaysia.
[6] For details, please refer to Malaysia-China Kuantan Industrial Park.
[7] Kuantan Port Consortium Sdn. Bhd. (KPC) is jointly owned by IJM Corporation Berhad and Beibu Gulf Holding (Hong Kong) Co. Ltd. on a 60:40 equity holdings with the Government of Malaysia having a special rights share.
[8] Kuantan Port Industrial Area is located within the vicinity of the port.
[9] Gebeng Industrial Estate is a world-class petrochemical zone covering 8,600 hectares.
[10] Source: Kuantan Port Consortium Sdn. Bhd.
Malaysia
Mainland China
Southeast Asia
Mainland China
ASEAN