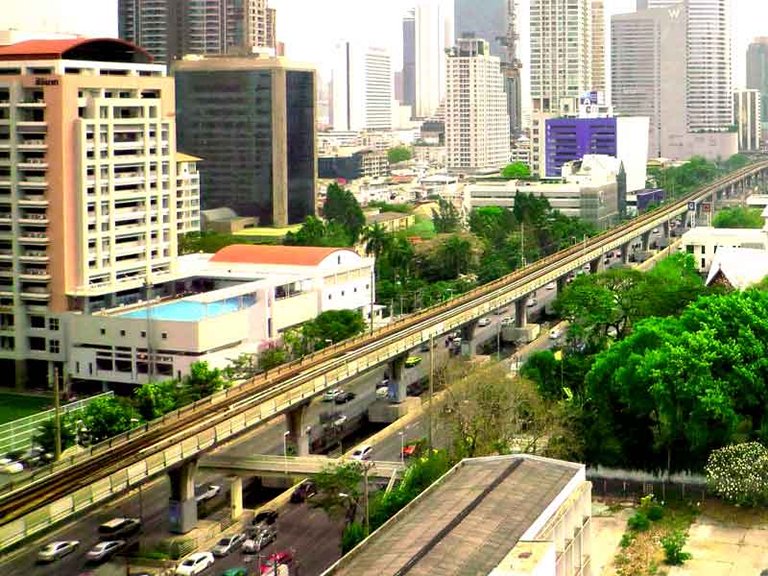 https://hkmb.hktdc.com/en/1X0A2GPZ
Thailand: Infrastructure and Construction Services Opportunities
Advanced project management and expertise is in keen demand for the country's infrastructure development.
With the country's political environment starting to stabilise since mid-2014, the Thai government has wasted no time in reviving the prospects of economic growth. In light of the stalled disbursement on infrastructure projects, the government has made it a top policy priority to boost public investment in infrastructure and encourage foreign investment. In July 2014, it approved the Infrastructure Development Plan 2015-2022 with a budget of US$75 billion (THB 2.4 trillion). More than 70% of the plan's budget is devoted to overhauling and restructuring Thailand's transportation system. The government hopes that, by expanding the railway system, there will be a reduction in the country's reliance on road transportation.
It should be noted that Thailand is a key manufacturing centre in the Greater Mekong Sub-region, with its supply chains closely linked to intraregional and international trade. Road transport, however, accounts for more than 80% of Thailand's total freight volume, with only 2% carried by rail. A stronger rail system would not only help in the movement of passengers, but also boost freight transportation. With their considerable expertise in building and construction services, Hong Kong companies are well positioned to play a useful role in Thailand's infrastructure development. In particular, the management techniques and know-how required for the practical application of new technologies are in keen demand in Thailand.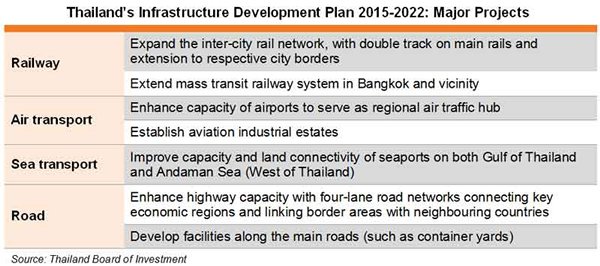 Advanced Management and Know-how Required for Rail System Development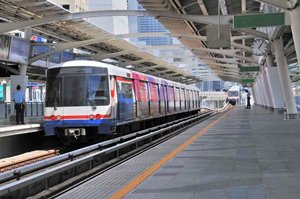 Expanding and upgrading the railway network is a priority of the Thai government when it comes to boosting the efficiency of the country's transportation system. With the aim of bringing in advanced technologies and management expertise, Thailand's infrastructure sector is being opened up to foreign investment. Since late 2014, Thailand has signed bilateral agreements with Japan and China to build high-speed trains and double-track railways in the country, while several European countries are also showing interest in participating in railway projects.
In addition to the technical assistance needed to operate the new equipment and related facilities from different countries, it will take sophisticated management and engineering expertise to integrate the new railway system with the existing networks, including upgrades to signalling and electric systems. Professional technical advice and system modifications will also be required for the application of overseas technologies. In this regard, Thailand's rail expansion projects represent real business opportunities for those Hong Kong engineering and consulting services providers with expertise in urban transport development and who can provide customised solutions and project management services.
Airports Upgrade to Enhance Capacity and Form Regional Air Transport Hubs
In recent years, Bangkok's Suvarnabhumi Airport and Don Mueang Airport have seen significant growth in air traffic volume. To cope with increasing passenger and cargo throughput, the government intends to enhance several new airports, as outlined in its Infrastructure Development Plan. Suvarnabhumi Airport, also known as Bangkok International Airport, is the country's largest and busiest airport. It handled an annual average of 50 million passengers during 2011-2014, exceeding its designed annual capacity of 45 million passengers. Don Mueang Airport, the country's second largest airport, has been designated to accommodate low-cost carriers (LCC). With the rapid expansion of budget airlines in Asia, the airport has seen double-digit growth in passenger traffic since 2010, with a surge of 31% in 2014.
In October 2014, the government announced a US$1.9 billion (THB 62 billion) expansion plan for Suvarnabhumi Airport, which includes a third runway, a new passenger terminal and a connecting tunnel to the main terminal. This is designed to increase its annual capacity to 60 million passengers.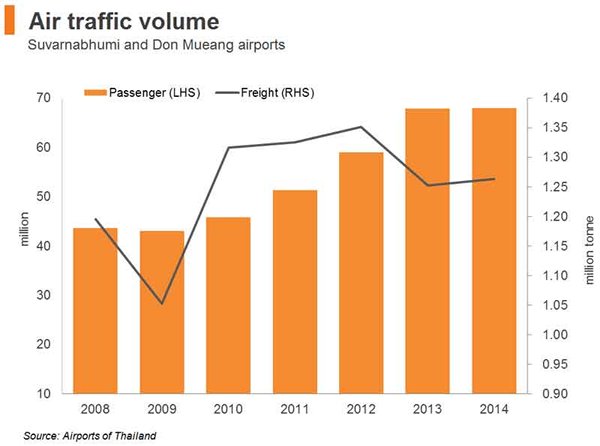 In addition to airport facilities, the government is also planning to upgrade airport traffic systems to enhance Thailand's role as a regional hub for air transportation. To accommodate the high growth in air traffic, Thailand has launched a number of air traffic management infrastructure projects. These include an upgrade to the air traffic control automation system and the establishment of the Air Traffic Management Network Management Centre, with the aim of improving operational efficiency in airspace management, air traffic control and capacity control.
In light of the expansion of the airport and its related facilities, foreign construction and aviation services providers may look to collaborate with Thai airports and operators in the supply of related engineering and aviation technologies, equipment and technical advice. UK-based Thales, for example, entered into a contract with Aerothai (a Thai air navigation service provider) in February 2014 to upgrade the nationwide air traffic management system, which will include replacing the operating system in the control facilities and airport towers.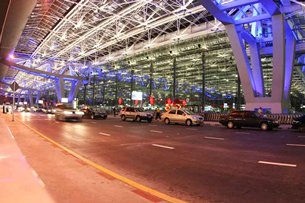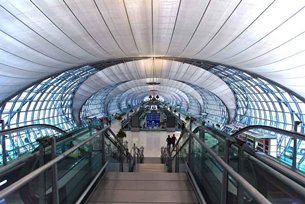 Stronger Emphasis on Public-private Partnership (PPP) to Boost Efficiency
Currently, many of the infrastructure projects in Thailand are primarily financed by local private investors or public funds. In view of the inefficiency of some of these transportation projects, the government has been encouraging local operators to co-operate with foreign construction and engineering companies in a move that could help enhance operational efficiency via an improved business model. In recent years, the Thai government has placed a stronger emphasis on the role of PPP to encourage private sector participation and accelerate the development of infrastructure. With strong expertise in project management and a wealth of overseas experience, Hong Kong building and construction services providers, including architecture, engineering and project consultancy companies, may find many opportunities to collaborate with their Thai counterparts in the development of the country's infrastructure projects, including providing customised, integrated solutions.
Thailand's new PPP legislation took effect in April 2013, and the draft PPP Strategic Plan was approved in February 2015. With the aim of boosting private investment in the infrastructure sector, the legislation is designed to streamline and increase the transparency of the PPP process. Under this new legal framework, the processing time from an initial feasibility study to construction commencement could be cut by more than half, providing an increasingly attractive investment environment for private investors. This essentially reflects the Thai government's commitment to taking on board advanced construction techniques and consultation on technology applications under its revamped PPP regime.
Partnering with Local Companies to Enter the Thai construction Sector
In 2007, Hip Hing Construction, a Hong Kong contractor, formed a joint venture - Hip Hing Construction (Thailand) Ltd - with Thailand's BTS Group, the operator of the Bangkok Mass Transit System. This joint venture provides construction management and interior decoration services for the BTS Group, which is also a property developer of residential and commercial projects. Hip Hing (Thailand) also participates in the construction of residential buildings, as well as the upgrade and renovation of hotels, resorts and golf club facilities.

Understanding the Investment Environment and Business Culture
As a member of the World Trade Organization (WTO) since 1995, Thailand has made some progress in the liberalisation of foreign market access to some of its service sectors. Despite this, there remain several restrictions on foreign ownership in the construction and related services sectors. According to Thailand's WTO services commitments schedule, foreign investment in architectural, engineering, urban planning, as well as construction and related installation services is subject to an equity stake limit of 49%. Due to this foreign ownership restriction, one of the common practices for foreign companies looking to enter the Thai market is to collaborate with a local partner or secure an agent with a local business network and market knowledge.
There are several industry associations and chambers that may also provide practical assistance for foreign firms seeking updated information and looking to invest or do business in Thailand. The Thai-Hong Kong Trade Association and the Federation of Thai Industries, for example, both have extensive local business and government contacts and organise networking activities which are hugely useful for foreign companies. When doing business in Thailand, especially with regard to construction and engineering projects, many of which involve a lot of negotiating and execution of programmes, it is advisable to pay close attention to the Thai cultural traits of respect for hierarchy and conflict avoidance, with more than 90% of the Thai population being Buddhist.
Useful contacts
Building Materials
Machinery
Architecture & Planning
Building & Construction
Engineering
Real Estate Services
Real Estate Services
Thailand
Southeast Asia
ASEAN