Standard Chartered and the Hong Kong Trade Development Council (HKTDC) this week released the Standard Chartered GBA Business Confidence Index (GBAI) for the second quarter of this year.
Noting reports of extensive supply-chain reworking, the survey asked manufacturers if they intended to move any production out of the region and 91% said they had not moved any capacity overseas, while 87% reported no plans to do so for now. The survey found the biggest hurdles and concerns for relocating production capacity overseas were "cost of production higher than expected" topping the list at 34.6%, followed by "poor labour quality and productivity" at 29.9%, and "lack of good suppliers / proximity to suppliers" at 22.8%.
Business confidence current performance eased to the 50 neutral mark while the expectations index remained in expansionary territory (58.7), the second-highest reading in two years. The headline expectations index for credit also remained expansionary at 51.6, reflecting sanguine underlying growth expectations among companies in the region. Both expectations and credit indices point to further recovery in the third quarter.
Resilient investment appetite
The softer April-June GBAI readings were expected considering the strong first-quarter GBAI performance brought by Mainland China's swift post-COVID sentiment rebound. The performance of underlying sub-indices was more diverse this quarter after a relatively uniform first-quarter rise. Fixed Asset Investment had the highest score of 52.9 among components, suggesting respondents remained optimistic towards the longer-term GBA business outlook, by acknowledging the need to invest in capacity expansion, anticipating demand returning to normal.
Sub-indices vary
The current performance index for Professional Services rose 4.0 points to an industry-best 56.1. The sector's expectations index was the only one above 60 (at 61.9). The current performance and expectations index of Financial Services and Innovation and Technology saw the largest quarter-to-quarter drops. Financial respondents' sentiment was driven by margin pressures and credit worries amid an easing recovery momentum while the tech sector continues to face many headwinds, led by the ongoing global semiconductor downcycle.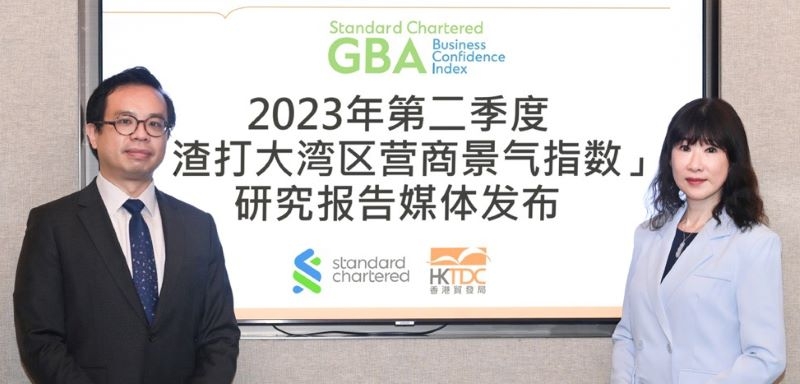 Modest recovery path
"The dip in the index in Q2 reflects the normalisation of base effects, softening of nationwide macro data quarter-to-date, and the novelty of reopening was bound to wear off. However, the index did not fall back into contractionary territory, suggesting only a softening of the recovery momentum. Given that GBA is a microcosm of Mainland China's diverse economic drivers making it a bellwether for overall growth, we see the mainland managing to stay on a modest recovery path," said Mr Kelvin Lau, Senior Economist, Greater China, Standard Chartered.
Diverse performance
There was a more diverse city performance among the current performance sub-indices. Most notably, Shenzhen (from 51.5 to 51.9) and Dongguan (from 53.5 to 56.4) showed their second consecutive improvement while other city sub-indices fell. Shenzhen weathered weaker responses from its tech respondents by posting the highest manufacturing and trading score among all city sub-indices. Guangzhou and Hong Kong, the other two GBA core cities, outperformed Shenzhen across the other four industry sub-indices.
Sustained recovery momentum
Ms Irina Fan, Director of Research at the HKTDC, said: "We continue to take comfort from the fact that all city expectations indices stood comfortably in the 50+ expansionary territory, consistent with our view of a sustained recovery momentum in the coming quarters. That includes Hong Kong, which, despite returning to the lowest score of the pack, still managed to record a solid 54.7 expectations print (led by retail and professional services), making it two straight quarters of expansion."
Related links
Standard Chartered GBAI