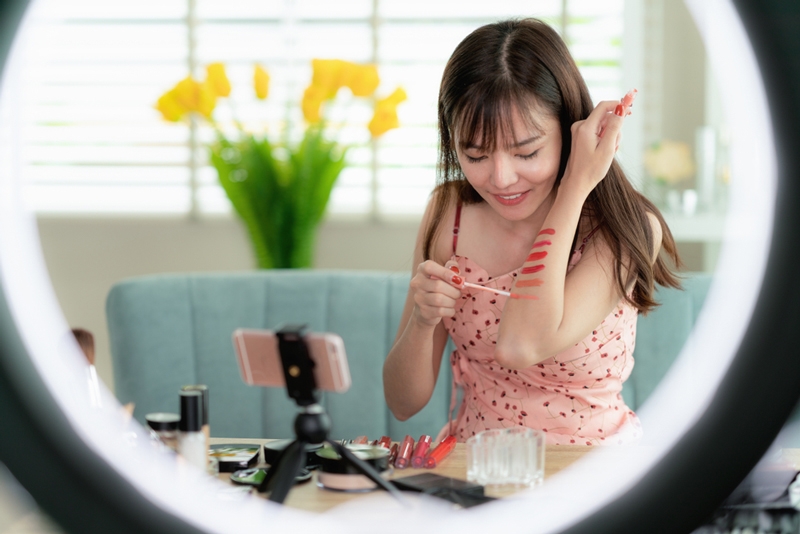 https://hkmb.hktdc.com/en/NjI4MjQ4NDYy
Thai Consumer Preferences: Skin Care and Cosmetics
A recent HKTDC Research study found that 81% of the Thai consumers surveyed planned to spend more or about the same as they do now on skin care and cosmetics in the next three years. The affluent Thai middle class has an insatiable appetite for fresh new beauty products. 
The study also discovered a few trends in Thailand's beauty and personal care products market. The growth of the market is being driven by the ubiquitous social media usage, bringing a whole host of new opportunities and challenges with it. The most obvious change is that social media has provided a new way to target more refined target segments of consumers. Focus group respondents indicated that they usually discover new brands or products via social media, and are more likely to give products a try if user reviews are positive.
Thai Consumers' Expected Changes in Spending Pattern in the Next Three Years (Products)
Categories

Spend More

Unchanged

Spend Less

Net
(Spend More - Spend Less)

Packaged Food and Beverages

54%

36%

9%

45%

Consumer Electronics
e.g. smartphone accessories and smart home devices

50%

38%

11%

39%

Home and Living
e.g. small home appliances and houseware items

43%

43%

15%

28%

Skin Care and Cosmetics

41%

40%

18%

23%

Fashion Apparel
e.g. bags and shoes, streetwear, and athleisure

34%

41%

25%

9%

Toys and Collectibles
e.g. traditional and digital toys, collectible figures

18%

37%

46%

-28%
Source: HKTDC survey
Holistic approach to beauty 
The survey findings reflect a shift in consumers' priorities towards a holistic approach to health and the environment. Demand for specialist and natural skin care and cosmetics is on the rise. Brands can command higher prices if they target the premium and speciality sector, offering natural and organic skincare, make-up and haircare. 
Asia Herb Thailand is known for its organic skin and hair care products based on traditional Thai medicine. Describing the company's strategy, Asia Herb's CEO Kato said: "Our vision is to create products that are safe for both the health and the environment. To achieve that, we try to grow the best herbs in our own organic farms. With this passion in mind, we cultivate our farm every day. Our customers are willing to pay more for our organic products as the products are applied directly to their skin." 
Better information 
One of the biggest-selling skin care products in the Thai beauty industry has traditionally been skin whiteners. However, a backlash against this market segment is starting to grow, spurred by a change in mainstream attitudes as well as by concerns about the harmful ingredients used in such products. Brands that aim to sell skincare products to today's more discerning Thai shoppers should be careful that those products are made of safe and natural ingredients and provide detailed explanations about the ingredients they are using. 
In response to the increasing demand from upper middle-class Thais for better information about the products they buy and use, the online store of Lush, a global personal care brand, is taking a more transparent approach. It now shows photos, videos, and product descriptions, as well as a list of all the ingredients used in their products. Customers can click through to pages that explain a particular ingredient's uses, components and benefits. This information has been welcomed by increasingly health-conscious Thai middle-class consumers. 
Dermatologist and doctor brands for skin care products have also become more in demand. These brands capitalise on the advanced technology used in their manufacture and are often able to charge higher prices than mass brands. This has led to the rise of the 'masstige', or mass prestige, derma brand. 
Men's personal care  
Another emerging trend in Thailand is the growth in men's personal care products. Although the mainstream media has historically targeted women when it comes to beauty and grooming products, personal care and pharmaceutical companies have been selling male-focused products such as cleansers, deodorants and hair loss prevention shampoos for some time. Now, many brands are employing direct-to-consumer distribution models and redesigned packaging to attract a new generation of male consumers. 
Men's grooming products, especially skincare and haircare items, are expected to be the next boom category — at least in urban areas. Most male respondents in the focus groups stated that they use facial cleanser every day and moisturiser regularly. They are particularly willing to invest in the right products, such as shampoo and styling wax, to take care of their hair. 
The International Trade Administration notes that increasing social acceptance of men's grooming will continue to drive this trend, fostering a more dynamic men's grooming market within the next few years. 
New and lesser known brands 
During the focus group discussions, respondents revealed a shift in attitude regarding brands. While established beauty brands are often top in most people's minds, younger consumers are increasingly interested in smaller, unknown brands. They look to explore new brands and products, especially those that are less available in their own cities. 
Respondents hinted that they are quite receptive to social media advertising. Most female respondents have bought cosmetics from new brands on social media channels. When they discover something interesting that is reasonably priced and has positive user reviews, they will give it a try. 
Ageing population 
Some skin care brands are looking for a more defined niche such as anti-ageing skincare products. Demand in this sector is growing due to Thailand's rapidly ageing society. The elderly make up 10% of the population — a number that will increase to 20% by 2031 and 30% by 2050. 
Thai consumers believe that regular usage of anti-ageing products, such as night cream and eye cream, can help stimulate collagen production and repair skin damage. This is especially the case regarding products that contain retinoids, Peptides, antioxidants, and hyaluronic acid. 
---
[1] The HKTDC conducted a consumer survey and four focus groups in the cities of Bangkok and Chiang Mai in April-September 2020. A total of 1,004 Thai consumers aged between 18 and 60, with a monthly household income of THB30,000 (US$930) or above, responded to the survey. The participants in the focus groups, as well as fulfilling the same age and income requirements as the survey respondents, had to be internet and mobile phone users, and to have travelled abroad at least once in the past year.
ASEAN
Southeast Asia
Thailand