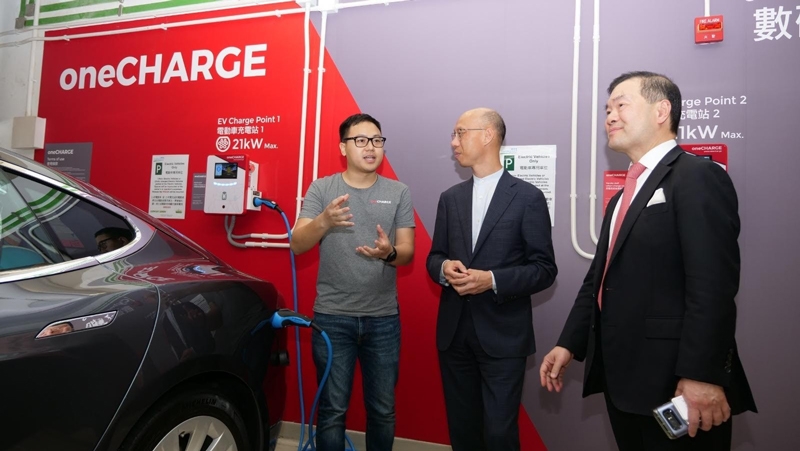 https://hkmb.hktdc.com/en/NTQ5NjA5OTQ3
Smart City Facilitators: Leading the Charge for Electric Vehicles
Despite the introduction of electric vehicles (EVs) about a decade ago, inadequate supporting facilities and complicated charging procedures have been hindering the popularisation of EVs in Hong Kong. According to the Environmental Protection Department, there were about 15,200 EVs on the road in Hong Kong at the end of June this year. However, there were only 3,125 charging stations available, meaning one charger for almost five EVs in the city. As EVs usually take a few hours to charge, their owners often encounter long queues and sometimes getting frustrated by the complexity of the charging stations.
Looking to provide a hassle-free EV charging experience, Cyrus Chow and his friend founded oneCHARGE three years ago with a vision to accelerate the development of EV infrastructure and promote a more sustainable mode of transport in Hong Kong.
Streamlining the Charging Process
Chow shared his observations of difficulties encountered by EV owners in Hong Kong, saying: "A lot of the existing EV chargers require users to input car plate numbers and then select charging speed and time. Many users know how to connect the physical charger but find it difficult to activate the charging system due to its complexity. The whole set up before charging might take up to 10 minutes and it is especially intolerable for EV users during summer months inside the scorching hot car parks."
Looking to address these stumbling blocks, Chow strives to simplify it by launching a mobile app along with its EV charging system. Explaining how the mobile app works, Chow said: "Users can activate our system simply by scanning the QR code at the physical charger to start charging. They can then make payment via credit card or e-wallets such as Apple Pay, Google Pay and TNG Wallet. The whole process can be completed within 15 seconds." The mobile app also enables users to check real-time charging status, receive notifications when the vehicle is fully charged, and locate nearby oneCHARGE charging stations.
As an incubatee of Cyberport, oneCHARGE first set up its charging station in the Cyberport car park and later expanded to other parts of the city. There are about 18 oneCHARGE charging stations in Hong Kong, including residential car parks in Sha Tin and Tseung Kwan O.
Integrated Solution to Promote Usage
OneCHARGE not only provides charging hardware for the convenience of vehicle owners, but also offers an integrated solution for monitoring and managing EV usage in commercial settings. Chow is convinced that this is particularly useful for shopping malls to create customer value, saying: "Through our cloud management system and data analytics, shopping mall operators can easily learn about usage patterns such as popular time slots for charging stations and average charging time per vehicle. They can then develop strategies to attract or manage customer traffic, for example, by installing charging stations closer to the elevator or introducing promotional campaigns targeting EV drivers."
OneCHARGE's physical charger is also equipped with a camera which can capture information such as vehicle license plate number, brand and model of vehicles. Chow believes that such information is valuable to help car park and shopping mall operators understand the dynamics of their visitors and build closer connections with them. However, Chow pointed out the difficulties in rolling out such function in Hong Kong, saying: "We have disabled the camera function as users are concerned about privacy and fear the information collected would be used to track their whereabouts."
Slow Transition Towards Electric Vehicles
To promote the use of private electric cars, the government has implemented several measures including waiving the first registration tax for such cars for up to HK$97,500 and introducing a "One-for-One Replacement" Scheme. The annual vehicle licence fees for private electric cars (starting from HK$400 for vehicles not exceeding one tonne unladen weight) are also far lower than those for conventional private cars, which range from HK$3,929 to HK$12,789.[1]
Despite pro-EV policies, the city is lagging behind in private EV ownership, with less than 3% of total registered vehicles are EVs. Apart from inadequacies in ancillary facilities, Chow drew attention to another constraint that hinders the adoption of EVs in Hong Kong: "A key barrier we're seeing is the limited range of EVs available on the market, which is holding back the growth of the EV market." Chow believes that introducing a greater variety of electric cars, particularly stylish models at an affordable price, will encourage more vehicle owners to switch from conventional cars to EVs.
Experiences in South Korea
Given the relatively small market in Hong Kong, oneCHARGE is seeking to expand its services to other Asian countries. In late 2018, oneCHARGE participated in the K-Startup Grand Challenge, a start-up accelerator programme organised by the South Korean government, which provides networking opportunities and exposure to investors in South Korea, mainly in the capital city Seoul.
"The local government has set high goals for EV adoption," said Chow. "They have strengthened their efforts in recent years to support the industry, such as subsidies for EV purchase and a government-supported car-sharing programme using electric cars. These are some favourable factors for our business expansion to South Korea. Comparatively speaking, Seoul is a more proactive player in the industry and Hong Kong could learn from their actions to incentivise EV usage."
Chow pointed out that despite its slow progress towards e-mobility, Hong Kong has an advantage in its technical standards for EV charging facilities. "South Korea applies local technical and safety standards for charging facilities so we need to take additional time and effort to go through the application and compliance process before we can operate in the country," he explained. "Hong Kong follows international standards from the International Electrotechnical Commission (IEC) and Society of Automotive Engineers (SAE) of United States. This makes it much easier for us to launch our existing charging facilities in other countries which also follow these standards."
Chow aims to focus on growing his business in Hong Kong and South Korea for the near future, but he is also keen to tap into the ASEAN markets in a few years' time. "Southeast Asian countries are known for their congested roads filled with vehicles, contributing to the worsening air pollution. Despite a slow uptake of EVs in the region, there's significant latent demand across markets," Chow explained.
Paths to A Smarter City
Chow urged for more conducive policies to support the growth of EV infrastructure in Hong Kong, saying: "The government hasn't set any achievable targets for installing charging facilities in the car parks they manage, such as those of the Hong Kong Housing Authority. For private buildings, owners are generally not motivated to install chargers given the lack of statutory requirements or financial incentives. It is hoped that government could strengthen efforts in such aspect to accelerate the industry development."
To optimise Hong Kong's development as a smart city, Chow also believes that it is important to enhance public trust on how and what data to be collected, used and shared. "Users have raised privacy concerns about the cameras on our physical chargers. The recent controversy of the smart lamppost project in Hong Kong also highlights the public disquiet over potential invasions of privacy. Without trust, people will view IoT devices and sensor platforms as a method of surveillance rather than an enabler for a more connected city," Chow explained.
---
[1] Hong Kong Transport Department
Technology
Technology
Technology
Technology
Technology
Technology
Technology
Technology
Technology
Hong Kong
Korea
Hong Kong
Korea, Republic Of
Hong Kong
Korea
Hong Kong
Korea, Republic Of
Hong Kong
Korea
Hong Kong
Korea, Republic Of
Hong Kong
Korea
Hong Kong
Korea, Republic Of
Hong Kong
Korea
Hong Kong
Korea, Republic Of
Hong Kong
Korea
Hong Kong
Korea, Republic Of
Hong Kong
Korea
Hong Kong
Korea, Republic Of
Hong Kong
Korea
Hong Kong
Korea, Republic Of
Hong Kong
Korea
Hong Kong
Korea, Republic Of