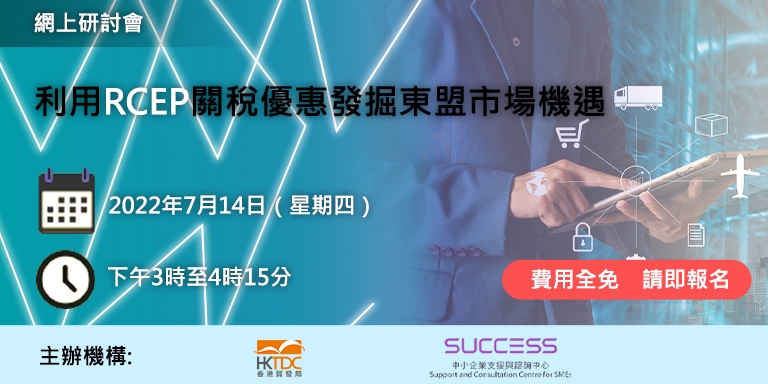 Webinar on Leveraging RCEP Preferential Tariffs to Explore ASEAN Market Opportunities
Date
14 July 2022 (Thursday), 3:00 pm - 4:15 pm
Country / Region
Hong Kong
Format
Seminar & Workshop
Language
Cantonese (No simultaneous interpretation)
Event Details
Formally adopted as of January this year, the Regional Comprehensive Economic Partnership (RCEP) agreement is set to create the largest free trade bloc in the world. It's expected that many businesses will not only benefit directly from the agreement, but will also be able to use it to turbo charge their own efforts to go global. In light of this, this seminar will explore the challenges and opportunities businesses are likely to face from the greater integration of the region's economies. During the session, representatives of the Hong Kong Trade Development Council (HKTDC) and the Hong Kong Customs and Excise Department (HK Customs) will provide an insight into the preferential tariffs treatments allowed under the HK Customs's FTA Scheme in terms of the RCEP, while delegate from the Hong Kong Productivity Council will introduce the FTA and IPPA Programme, which fall within the remit of the Dedicated Fund on Branding, Upgrading and Domestic Sales (The BUD Fund) (including FTA/ASEAN Programme).

"Watch Replay"
Speaker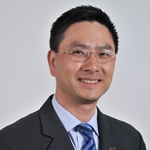 Mr. Wing Chu, Head of Business Advisory Section, Research Department, HKTDC
Topic: Impacts of RCEP on the Regional Supply Chains
RCEP: overview and impacts on the regional supply chain
Origin rules & preferential tariffs
Mr. Chu heads up the HKTDC Research Department's Business Advisory Section. The Section, supported by business advisors seconded to the HKTDC from government departments of mainland China, partners with a number of institutions in Hong Kong and on the mainland to provide information services to the public on trade-related issues via different formats, such as seminars and practical workshops. It also works with a number of external parties to undertake joint research programmes and provide research intelligence for public reference, including the latest information on the Belt and Road Initiative and the mainland's business laws and regulations.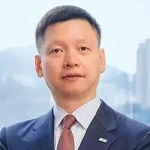 Mr. Caesar Wong, Managing Director of China Business Services, RSM Hong Kong
Topic: Cross-border tax risk mitigation by adequate use of tax preferences
Caesar is a Certified Public Accountant ("CPA") in Hong Kong and Chartered Tax Adviser ("CTA"). Before joining RSM, he was with Andersen, PwC, EY and Deloitte. Caesar has provided professional tax services for about 30 years. He is experienced in delivering practical solutions to China and cross-border tax and business projects. His specialties include tax risk management, tax controversy solutions, direct investment advisory, tax expert witness, transfer pricing, government services, restructuring and IPO tax advisory services.
Mr. Peter Wan, Inspector, Ports and Maritime Command, Customs and Excise Department
Topic: Free Trade Agreement Transhipment Facilitation Scheme
Peter Wan is the Inspector of the Free Trade Agreement Transhipment Facilitation Unit (the FTA Scheme) of the Hong Kong Customs and Excise Department. He is responsible for overseeing the operation and promotion of the FTA Scheme. The scheme facilitates transhipment cargo via Hong Kong to enjoy preferential tariff offered by the concerned countries/ regions under the provision of Customs supervision services and issuance of Certificate of Non-manipulation.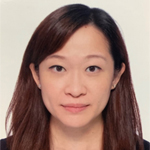 Ms Carol Yim, Manager (BUD), Hong Kong Productivity Council
Topic: Introduction of the BUD Fund
Ms. Carol Yim has more than 10 years of experience in public sectors, including diverse strategic and project management roles. Ms Yim is the Manager from Hong Kong Productivity Council which has been acting as the BUD implementation organisation of the funding scheme, supporting the operation and examination of BUD Fund, assisting Hong Kong enterprises in exploring and developing the Mainland, FTA and IPPA market through developing brands, upgrading and restructuring operations, and promoting domestic sales.
Industry
Advertising Services,Building & Construction Services,Banking Services,Books & Printed Items,Building Materials,Computer & Peripherals,Design Services,Baby Products,Auto Parts & Accessories,Business Management & Consultancy Services,Catering Services...
Organiser
Hong Kong Trade Development Council, Support and Consultation Centre for SMEs of the Trade and Industry Department (SUCCESS)