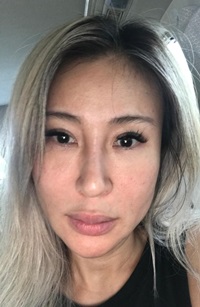 A green beauty revolution is making itself felt in Hong Kong's shopping malls as several smaller companies make the case for sustainable beauty. These include Harlow, a Canadian organic skincare brand brought to Hong Kong in 2017 by Flora Yiu, founder of local beauty distributor Veratec. The entrepreneur has a solid background in the skincare business, having founded Veratec in 1999. She has helped some of the city's most prestigious retailers, including Joyce and Harvey Nichols, launch brands including Cowshed, Girlactik, Patyka and Julie Hewett Los Angeles in Hong Kong and is committed to bringing clean beauty brands to the city.
From facial elixirs to lip tints, no Harlow product contains more than 12 ingredients, all sourced from ethical suppliers and packaged in recycled paper and refillable glass bottles. "We wanted to make everything in the ingredient list understandable … there's no compounds, stabilisers or preservatives," Ms Yiu said. All Harlow products are crafted in Vancouver. "It's a very small group of seven and everything is hand-made and hand-whipped. We don't want to send it out to other manufacturers, as we don't want anyone else to tamper with our ingredients."
Available to purchase online at the brand's website, Harlow is also stocked in Four Seasons Hong Kong. "The hotel group focuses on whole, natural, organic products and we share the same vision to provide only the best, clean skincare," Ms Yiu said.
Harlow has already built up a loyal customer base across Hong Kong and Taiwan and has turned its attention to Mainland China. Most customers buy a cleanser, toner and moisturiser.
Natural beauty boost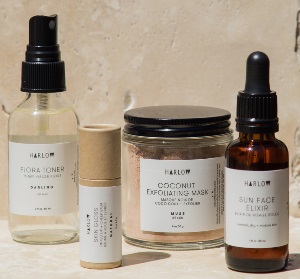 Ms Yiu said international beauty brands are still in demand but there is a growing interest in natural beauty products in Hong Kong. "Natural and whole ingredients are becoming more popular, but we are taking it one step at a time and nurturing the business, as this is going to be our future." Misapprehensions around organic beauty products still remain, however. "There's this misconception that organic products don't really work and give you results, but we're getting the best out of the ingredients."
The most popular products include Skin Snack, a facial cleanser/exfoliant, and the eye elixir, which contains coffee and sesame oil to boost blood circulation. The original facial elixir is a good basic and can be used on the face, neck and lips, while the flora toner is another bestseller. The products use the power of natural flower and plant extracts to deliver results, she said.
Ms Yiu is pragmatic about the Hong Kong and the mainland market and recognises that consumers have strong loyalties to chemical-based skin care. She hopes consumers can manoeuvre some natural skincare into their daily regimen, however. "Clients may use our face elixir before applying the stronger biological stuff and harsher items, for example," she said.
As with many small beauty brands, expansion will be key to survival, and Harlow is focused on growing its facial-product range, as Asian consumers prefer this to body care. One new product in development is cold process vegan soaps. "These soaps are a little like cold pressed olive oil as nothing has been warmed, heated or processed, and they've been handled as little as possible," Ms Yiu said.
Skincare is its main focus but Harlow's other products include candles. Following customer feedback, Harlow will also add larger candles to the range, including centrepieces for dinner tables. Travel essentials is another avenue the brand is exploring, Ms Yiu said.
Hassle-free Hong Kong
Ms Yiu, who set up Veratec in 1999, said the advantages of setting up a business in Hong Kong are numerous. Above all, she believes it's an easy, hassle-free process to establish a business here. Hong Kong is also an international city and acts as a springboard to the mainland market, she notes. "In Vancouver, there's a lot more back and forth, while in Hong Kong, it's a lot easier, and less processing [to do]."
As for long-term plans for Harlow, Ms Yiu said there are plans afoot to open a boutique in 2021 following the store within a store concepts with major department stores across the city. "Education is important, and stores will provide direct contact with customers. We would love to be in Sogo and we're already looking into it," she confirmed. Further retail outlets are a possibility, she added.
In addition to Harlow products, stores will stock sustainable fashion accessories, and homeware items to present the full sustainable lifestyle experience within a store.
Find out more about green products and technologies at the Eco Tech section, part of the Hong Kong Trade Development Council's Autumn Sourcing Week | Online.
Related link
Harlow