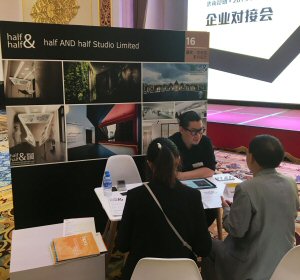 Building a network of customers and participating in large-scale projects are some of the greatest challenges new architectural design companies face. Just ask Hong Kong's "half AND half Studio".The firm, however, has find a solution. Since 2017, it has consistently taken part in "Hong Kong Creativity in Business", a programme of missions offered by the Hong Kong Trade Development Council (HKTDC) for the local creative industry. Through the scheme, half AND half has visited numerous cities in Mainland China, including Xi'an, Changsha and Kunming, where the firm successfully expanded its business. According to founder and architectural designer Charles Kwan, 90% of projects of the 2016-established company used to come from Hong Kong, including residential interior design and real-estate developers' show-flat sales hall. This changed after his visit to Xi'an with the Hong Kong Creativity in Business mission in 2017. Today, projects in the mainland city accounts for 75% of half AND half Studio's endeavours.Activities offered by the mission included visits to Xi'an enterprises, such as real-estate developers, retailers and catering industries. Prior to the one-day business matching event, the HKTDC asked Mr Kwan about his plans for the business, including the types of companies he would be interested in working with. This was followed by a one-to-one, tailor-made matching session in the morning, and a casual matching session in the afternoon with opportunities to talk to representatives of various companies. For the entrepreneur, the biggest gain from the mission was the chance to meet Hong Kong businessman Rex Chan, who would become an important partner in the Xi'an market. "Mr Chan is one of the friends that I made on the day – he is from Hong Kong who, for many years, has been working in Xi'an, where he also opened an interior-design company," Mr Kwan said. "The HKTDC often invites experienced locals like himself to share their experiences with us, and we hit it off immediately."After that trip, Mr Kwan received a WeChat message from Mr Chan inviting him to collaborate on a large-scale development project in Xi'an, where Mr Chan acted as the consultant of the developer. Mr Kwan thought "why not?", and this was the beginning of his involvement in several projects of various scales in Xi'an.
Designer breakthrough in Xi'an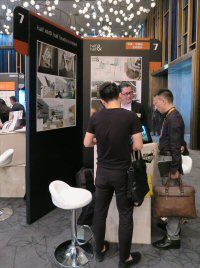 The first project Mr Kwan took on in Xi'an was a 240,000-square-metre development covering hotels, residences, offices and a shopping mall. Given Xi'an's hot climate, Mr Kwan took an original approach, dividing the building into multiple sections and placing each floor at a different angle. This increased outdoor space for greenery and other activities and shaded lower floors. Careful siting of entrances improved the flow of people in the mall. After the project was completed, the Xi'an Municipal Government embarked on the integration of the airport into a transit hub for international flights. The initiative created another opportunity for Mr Kwan and Mr Chan to collaborate, this time on a large-scale development with an area of 320,000 square metres near the airport, featuring three hotels, shopping malls, offices, and more."The project is only a 10-minute drive from the airport. Considering visitors' fatigue from long-distance flights and the height constraints of the airport, I decided to construct a hybrid set of public spaces of all sizes, allowing people to rest as well as interact. The style of the residential area is inspired by the structure of terraces, and residents can enjoy an open yet private garden in each uniquely built flat."Mr Kwan said such large-scale projects are very rare in Hong Kong and newer companies like his can hardly compete in the local market. The mainland, in contrast, is an enormous market with abundant natural wealth, especially as the expansion of urban spaces generates more opportunities for large-scale developments. Hong Kong companies could truly explore and develop in second and third-tier cities such as Xi'an, analysed Mr Kwan. "The strength of design companies in Mainland China is that they understand the needs and customs of the local communities; yet in terms of designs of international standards, I believe Hong Kong designers have an advantage," he said. The third project of half AND half Studio in Xi'an involved upgrading the existing facilities of the mall. For instance, Mr Kwan recreated the bridge of the open mall with frosted glass, addressing the problems of sunlight blocking and obstruction. Additionally, improvements to public ceiling feature design, visual signage and navigation aids are in progress.
HKTDC support
Following his trip to Xi'an, Mr Kwan also took part in the Hong Kong Creativity in Business missions of 2018 and 2019, held in Changsha and Kunming respectively. "When I first explored the mainland market, I encountered many operational issues related to setting up the company, handling invoices, etc, which I believe many in our industry struggle with as well," said Mr Kwan. "The support provided by HKTDC's SME Centre has helped me get through many barriers. When I face other difficulties in the future, I know where to go for help."The HKTDC also facilitated his regular communication with other overseas markets. "A recent interior design project requires high-quality plywood from a Japanese company, but I struggled to get in touch with them. After asking an HKTDC office in Japan for help, they used the local network and language efficiencies to help connect us," he said. Hong Kong design companies have always faced difficulties in entering the Japanese market and Mr Kwan gained valuable insights about making forays into overseas markets at DesignInspire, another event organised by HKTDC, where Japanese firms and Hong Kong companies experienced in the Japanese market shared their expertise at the 2019 edition.
Related link
half AND half Studio