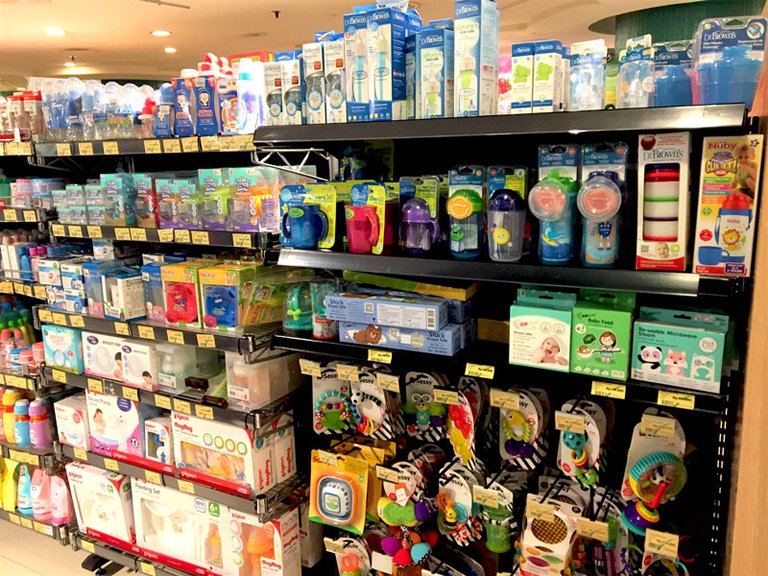 https://hkmb.hktdc.com/en/1X0AJSDB
Indonesia: Finding Success in the Baby and Maternity Products Market
Indonesia, with a large number of small children in its population – 24 million in the 0-4 age range – and a growing awareness of health and hygiene among parents, has great market potential for imported baby products. During the period 2014-2018, the retail sales of baby and maternity products increased by 8% annually. With rising purchasing power, Indonesia's baby and maternity market is expected to flourish in the coming years. In view of the growing export potential, HKTDC commissioned Euromonitor to conduct a study on the consumer market opportunities in six ASEAN countries. This article presents the study's key findings on the baby and maternity market in Indonesia.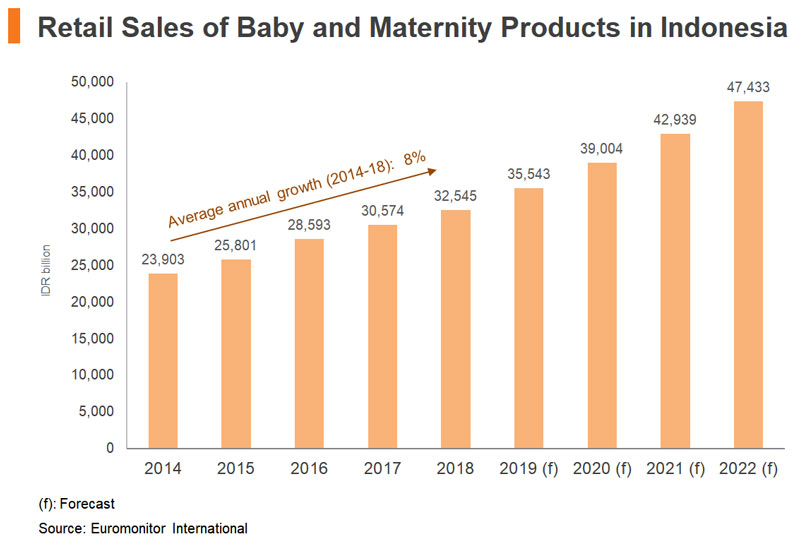 Targetting Millennial Parents with Product Quality and Innovation
With better education, middle-class, Millennial parents are increasingly aware of baby health and hygiene, which has led to changes in consumption patterns and higher spending on baby products. For instance, it is now common for parents to change babies' nappies or diapers up to six times a day, up from only once or twice a day previously. Hong Kong baby product suppliers are thus advised to offer differentiated products with clear brand positioning in the Indonesian market.
Apart from product safety and price, Indonesian parents look at two main factors when choosing baby and maternity products. Firstly, consumers tend to consider the product material, especially in terms of comfort, after-use effects or any allergies. Secondly, consumers are attracted by innovative product features, such as a nappy/diaper indicator that shows whether it is full. This represents an opportunity for Hong Kong exporters with new and innovative products.
The Impact of Social Media on Purchasing Decisions
It is also common for young mothers to research products on social media with their purchase decisions are often affected by their online browsing, particularly with regard to Instagram. This type of consumer will also consider a product based on whether it is visually appealing enough to be "Instagramable." This phenomenon can be applied to baby apparel products, such as matching family outfits, baby and toddler costumes. Hong Kong baby product exporters should take this into account in their product design or selection for the Indonesian market.
In addition, young parents seldom hesitate to try a new product after reading a review (known as a "celebgram") from their favourite celebrities or social media influencers. This offers a great opportunity for overseas and lesser-known brands to enter the market, as they can use Facebook, Instagram or social media influencer endorsements to raise brand awareness among the target consumers.
Today, news and issues regarding health are spread quickly via WhatsApp and other social media. Keeping up with the latest health trends is seen as an important way for mothers to ensure their babies are well nurtured and can affect their product and brand preferences. For example, a recent flurry of social media activity on the part of local parents revolved around news that a baby had developed eczema after being taken to a party where he was touched by many people, one of whom was suspected to have been carrying a certain kind of bacterial infection. These health concerns can be capitalised upon by companies looking to introduce such products as antibacterial creams or anti-mosquito lotions.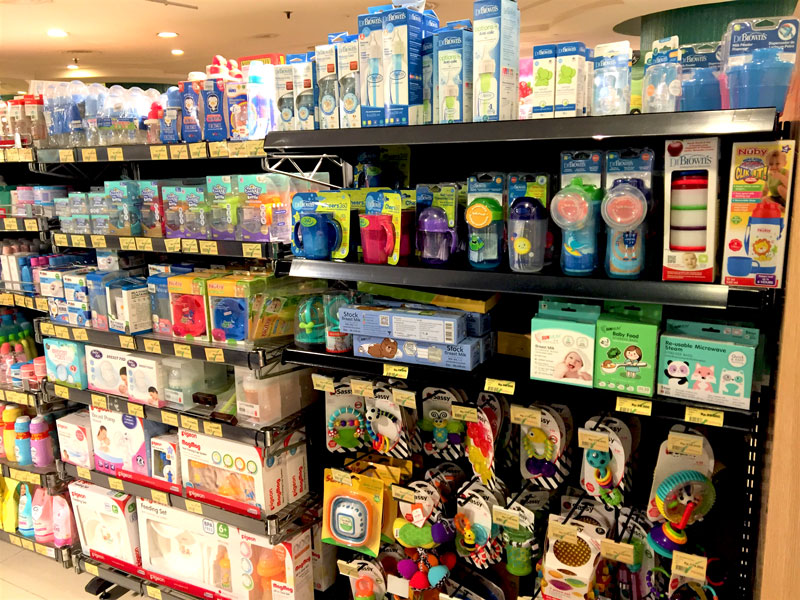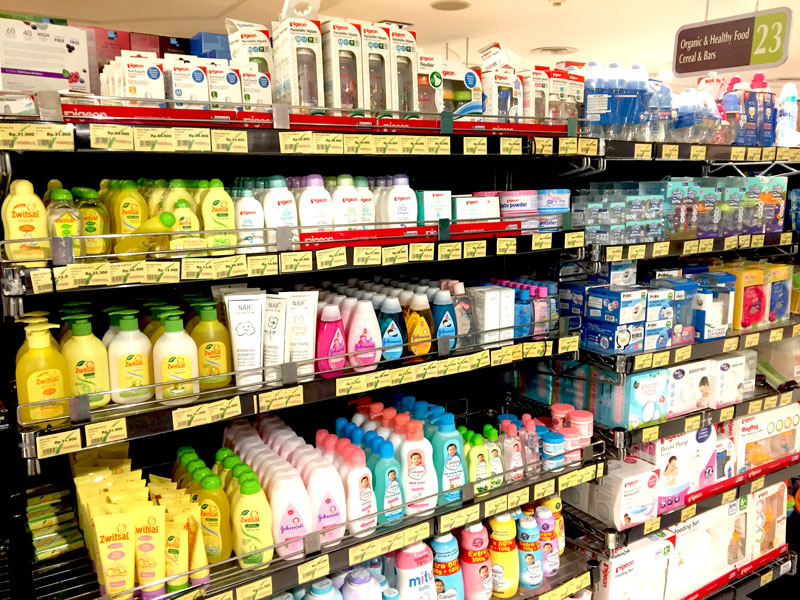 Complying with Indonesian National Standards
When exporting baby products to Indonesia, brand owners need to be aware of the country's national standards as they apply to medicated baby care products, feeding products, strollers and gears, baby toys and clothing. In most cases, it is necessary to ensure that products comply with the Indonesian National Standard (SNI) and, where necessary, have been approved by the National Agency of Certification (BSN) and National Agency of Drug and Food Control (BPOM).
Indonesia has the world's largest Muslim population, with many such consumers actively seeking out products with halal certification, including fast-moving consumer goods (FMCG). While this may affect baby hygiene and feeding products, it is not yet a widespread phenomenon. Exporters, though, should be aware of this preference and can find further details of how to obtain halal certification in Indonesia, by contacting the Food and Drug Research Institute of the Indonesian Ulema Council.
Online and Offline Market Entry Strategy
In Indonesia, more than 60% of consumers purchase baby and maternity products online. For the period 2014-2018, ecommerce sales in the baby and maternity market increased by an average annual growth rate of 32.8%. Apart from selling through key online marketplaces, such as Lazada, Tokopedia and Bukalapak, Hong Kong baby product suppliers may consider partnering with one or more of the country's specialist baby product platforms, notably Orami, Babyzania, Tororo or IniBayiku.com, in order to access online shoppers through a range of flash sales and joint promotional activities. Success here, though, is seen as heavily reliant on providing a convenient shopping experience, including flexible delivery options, as the primary purchasers of imported baby products tend to be working mothers.
Case Study: Mid-Market and Premium Products
Founded in 2014, BaaBaaSheepZ is a Singapore-based company that provides baby, toddler, children's sleepwear and nursery products. Upon entering the Indonesian market in 2019, the company appointed PT Diamulia Internusa as its exclusive distributor. With its minimalist design and multifunctional features, it has been primarily targetting the middle and premium market segments. With super soft bamboo cotton its material of choice, customers tend to be attracted by the comfortable feeling of its products. In order to capitalise on this, BaaBaaSheepZ actively participates in B2C exhibitions, which give consumers the opportunity to physically touch its products. Endorsed by high-profile influencers and enjoying positive word-of-mouth from existing customers, the brand's soft pillow came to be regarded as a comfortable and aspirational sleeping aid within a year of being launched.
Examples of Potential Partners for Exporting to Indonesia
Importir.org
Importir.org is an Indonesian company that provides fourth-party logistics, while also offering trade facilitation services for any Indonesian business looking to import goods from China. The company also serves as a platform for overseas exporters to meet Indonesian industry players and enables overseas suppliers to enter the Indonesian market without having to deal with the legal and administrative procedures typically required to secure import authorisation.
Orami Indonesia
Orami Indonesia is an online marketplace specialising in baby and maternity products. It not only provides a platform for third-party merchants to sell their products, it also guarantees the quality of the products listed on its platform. Enjoying a solid reputation among Indonesian mothers, especially in first- and second-tier cities, it is seen as a trusted marketplace for baby and maternity products. In addition, it hosts a popular mothers' discussion forum, while also providing product information to customers via social media.
Product Features and Pricing
Today, the most successful baby and maternity products in Indonesia are innovative or have unique features. For example, the soft bamboo cotton material of BaaBaaSheepz' products, the Upang UV steriliser and the safe material playmat by Ggumbi have all found a ready welcome among millennial mothers. Accordingly, Hong Kong baby product suppliers may find lucrative opportunities in the baby wear and toddler toys subcategories. In Indonesia, imported baby clothing is perceived as more fashionable than local products, as well as being seen as superior in terms of quality and design. With regard to baby and infant toys, there is currently a growing demand for certain functions and features, such as language learning toys, as well as science, technology, engineering and mathematics (STEM) toys.
It is typical for young middle-class Indonesian parents to compare prices on the internet. Typically, they compare those offered on the local online marketplaces as well as on many of the international platforms, including Amazon, eBay and Ali Express. To capture this market segment, baby product suppliers should, therefore, not offer overly expensive products. The usual price range for baby clothing is around IDR100,000 (US$7) to IDR500,000 (US$37) per item, while prices for baby and infant toys should start from about IDR150,000 (US$11).
Indonesia
Southeast Asia