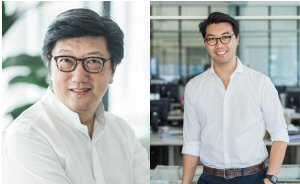 T.H.E Design – "Technology, Humanity, Environment" – was co-founded by father and son architects Winston Shu – Principal of Integrated Design Associates (IDA) – and Alex Shu. They aim to provide an environment and culture that supports and nurtures young designers. "Our vision," said Alex Shu, "was to provide opportunities for members through project collaboration, guidance, and open forums." Aggregating like-minded creatives creates a community talent pool, he added, and for knowledge to be shared through practical workshops focused on the business of design.Winston Shu's architecture practice was already very busy and highly successful when the pair decided to start this venture. Sustainability-driven IDA, founded in 1999, specialises in airports – its latest being the multi award-winning Mactan Cebu International Airport, opened in 2018 – but other notable projects include Parkview Green in Beijing, the first commercial building in Mainland China to be awarded a LEED (Leadership in Energy and Environmental Design) Platinum certification, and the first in Asia to achieve LEED Dynamic.
Nurturing design community
Alex Shu said that through T.H.E Design, his father saw an opportunity to "give back" to the architecture and design community he has worked in for so long."He and I had lots of conversations about the challenges young architects and designers face: a competitive job market, access to affordable space, and the talent and support to be successful. "As father and son designers, we felt we could offer a lot of useful tools to the design community. Winston would provide mentorship, experience and an eye for design; and I who can empathise with this generation of designers – and having done my MBA in Design Strategy – can teach design thinking to young companies. Between us, we have a well-rounded skillset."The architects chose to site the 25,000 square foot premises in Sha Tin as it is the geographic centre of Hong Kong. "This location offers the design industry convenient access to Hong Kong Island and Kowloon for any local needs, and Shenzhen for manufacturing or prototyping," Winston Shu said.T.H.E Design has hot desks, dedicated desks, semi-enclosed and enclosed offices to meet the needs of up and coming designers who may rent space by the day or month. Large windows and 4.5-metre-high ceilings bathe the building in natural light. The MTR is nearby, and a riverside cycling path links to nearby malls and eateries.
Feted design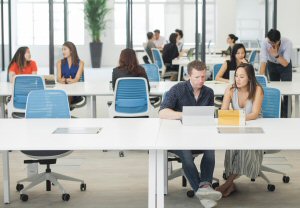 Prior to its November 2019 opening, T.H.E Design had already won silver in the Hong Kong Design Awards 2019, organised by DRIVENxDESIGN, under the category Interior Design – Corporate and Commercial. Features such as larger desks for design work, up-lighting to avoid shadows when drawing and review spaces for creatives to display their work were all taken into account.Occupants enjoy environmentally friendly, zoned air conditioning, an abundance of indoor plants, access to an organic lunch service, a nursing room, and more. Regular martial arts and yoga classes provide stress-relief and focus to members together with weekly design talks about how to run a successful design business, which will be featured on a members' app. Future plans include developing an urban farm on the rooftop, composting facilities and solar panels. IDA has relocated to the premises so both co-founders are on site to support members. Alex Shu said: "Ultimately, we want the community to flourish by providing a supportive, inclusive and holistic environment for young creatives to lead with curiosity, collaborate, inspire and be inspired." Related link
T.H.E. Design