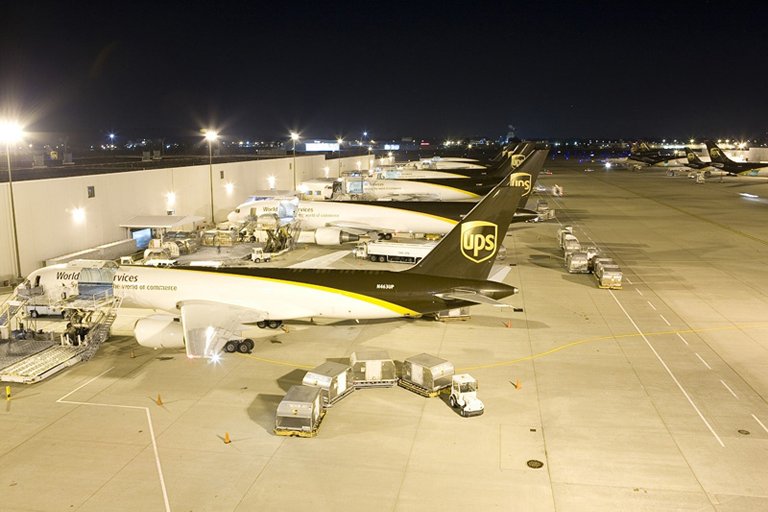 https://hkmb.hktdc.com/en/1X0AI909
The Greater Bay Area: A New Route for Shipping and Logistics Success
Connectivity is a major component of co-operation among cities in the Guangdong-Hong Kong-Macao Greater Bay Area (GBA). The official release of the Outline Development Plan for the Guangdong-Hong Kong-Macao Greater Bay Area (the GBA Development Plan) in early 2019 will not only lead to more frequent commercial and trading exchanges among cities in the region, but will also further promote commercial and trading activities on a global basis.
With an operating history of more than a century, UPS is one of the largest express courier and parcel delivery companies in the world. It is also a leading operator in specialised transportation, logistics support, financial commodities and e-commerce. Its Asia-Pacific regional headquarters was established in Singapore as early as 1986, and a number of Asia-Pacific air freight centres have been set up in China, in the cities of Shanghai, Shenzhen and Hong Kong, serving more than 40 countries and territories in the Asia-Pacific. A total of 183 UPS flights travel within the Asia-Pacific region and 142 to international destinations.
In light of the rapid economic development of the mainland market, the Belt and Road Initiative as well as the opportunities unleashed by the GBA to the shipping and logistics industries, Lauren Zhao, Managing Director of UPS Hong Kong and Macao shared her insights about the future development of the GBA, as well as the impact of its development on the logistics industry of Hong Kong.
Greater Bay Area Concept Promotes Cross-Border Logistics
Zhao explained that for UPS' operations in the GBA, saying: "Hong Kong acts as an Asia hub, mainly for connecting with the US and Europe, whereas Shenzhen serves as an intra-Asia hub for connecting with Asian destinations such as Thailand, Malaysia and Singapore. As well as the basic express parcel courier service, UPS' operations also include freight forwarding, shipping, air freight and rail transportation, basically covering all areas of logistics services.
"Although UPS has not set up operation centres in each of the cities covered by the GBA Development Plan, we have been in Hong Kong, Macao and many other GBA cities for a long time, with services covering all 11 cities in the Area."
According to Zhao, UPS takes market feedback and government projections into account when drawing up its annual business plans. In recent years, it has designated mainland China as an emerging market, with a faster pace of economic growth than other countries or territories. In particular, the GBA initiative is seen as playing a significant role in fuelling China's economic growth.
As the GBA concept gains momentum it will fuel demand for logistics services. Zhao said: "It seems certain that the Greater Bay Area will further promote and create a boom for cross-border logistics services."
Zhao emphasised that business transactions in the GBA, whether in the form of B2C or B2B, are mostly conducted through e-commerce platforms. The most important mission for logistics service providers is to accommodate clients' orders and provide suitable solutions. That is why the top priority for the design and coverage of their entire supply chain network is to meet cross-border logistics needs.
In order to satisfy the increasing demand for cross-border logistics, service providers need to upgrade their networks on an ongoing basis to offer a smoother and speedier integrated network. Zhao said: "All major infrastructure design, including the Hong Kong-Zhuhai-Macao Bridge, have followed this principle."
A Magnet for Talent
Zhao said she gained a better understanding of the GBA's potential by talking to local clients, post-secondary students and young people. In her opinion, the GBA has attracted the largest pool of young talent. Taking Shenzhen as an example, she said: "The creativity and passion for innovation and entrepreneurship shown by young people is unprecedented, and an increasing number of innovative products will emerge as a result."
A young Shenzhen client in the technology sector told Zhao that most members of staff in his company came from overseas, because Shenzhen offered them the chance to convert their creativity into practical products in the shortest possible time. It is this 'Shenzhen speed' that attracts them to cluster here. Creative cutting-edge products turned out by innovative, tech-focused companies helps to spur development in various industries.
Zhao sees Shenzhen as having a fully-fledged, diversified industrial ecology chain, which in turn has created a growing consumer base. She said: "This business environment, coupled with the rapid development of various industries, attracts an increasing number of middle-class and affluent people to gather in this region. This group of people tend to purchase high-end foreign products from e-commerce platforms, such as overseas shopping websites and Amazon.com, which promotes imports, boosts consumption and drives the development of e-commerce.
"For logistics providers, the ideal scenario is to have a full load for every inbound and outbound flight. This way, the operation will achieve the highest efficiency at the lowest cost with reduced operating expenses, thus maximising the benefits to clients."
UPS responds to changing market demands by offering appropriate solutions and adjusting its service scope. For instance, it will only ship medicine or other cold-chain products with the support of specialists and the availability of licences. With the ongoing development of high-tech products in the GBA and the change in demand due to the growing number of affluent consumers, demand for high-end products looks set to increase.
UPS will take into account market development and demands and apply for the necessary licences with proper supporting arrangements so as to provide the services required when the time comes.
Deploying New Aircraft to Increase Capacity
In Zhao's opinion, the GBA is a very promising region for economic growth, where Hong Kong, as UPS' Asia hub, will bring its strengths into fuller play. The company has built a well-established network as its business expanded over the years, with Hong Kong as its extra-Asian hub and Shenzhen the intra-Asian hub.
From a wider perspective, the design of UPS' network as a global logistics company depends on serving countries across different continents. Its international network covers more than 220 countries and territories, with its network based on regional freight volume. No piecemeal alterations are made merely to accommodate policy changes in any particular emerging region.
Zhao predicted that the GBA will follow in the footsteps of Tokyo Bay Area and San Francisco Bay Area in creating new economic development benefits. Logistics service providers usually strive to meet regional economic needs through the expansion of their regional freight capacity. That is why, starting from two years ago, UPS has deployed 40 new aeroplanes to gradually replace older models for various routes, with 28 of these new models being Boeing 747-800 cargo planes. With this new fleet the freight capacity of UPS' global network will increase by 10%.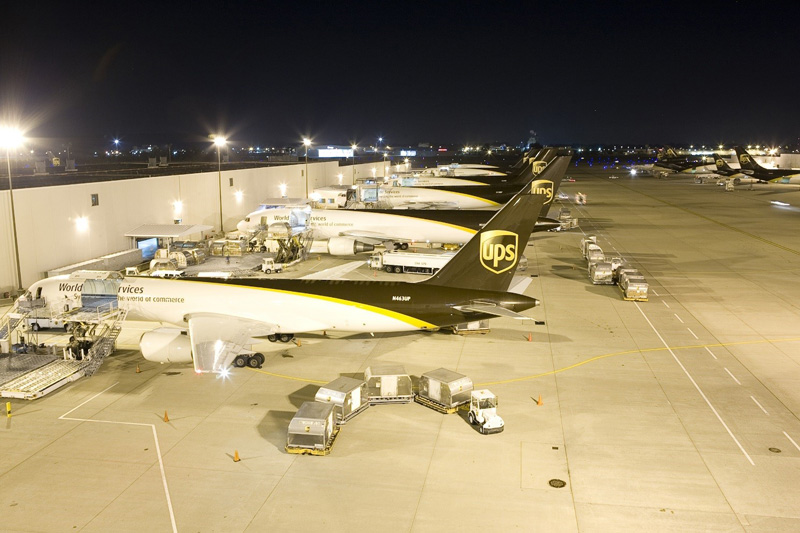 At present, seven 747-800s have been deployed to the inter-continental long-haul routes between Asia and the US. In August 2019, the route from Hong Kong to Cologne will start using new aircraft, replacing the existing 747-400 models.
According to Zhao, the most significant resources of global logistics companies are devoted to aircraft. UPS' plan of deploying 40 new aircraft to inter-continental long-haul routes and the air transport hubs of Hong Kong and Shenzhen reflects its expectation of business growth in the GBA and the importance of this region to the company.
However, as a global company, UPS will not only focus on the freight volume and business performance of a single route between two ends. When there is an economic growth in the region, airlines, freight forwarders and logistics service providers will strive to meet the demands arising from regional economic growth through upgrading the overall freight capacity in their networks.
Connectivity Maximises Mutual Benefit
With her many years' experience of working in China, Zhao appreciates the differences between the mainland and Hong Kong in industrial development. In her opinion, the highly efficient systems built up in Hong Kong over the years will not be replaced by those of any mainland cities. She also recognises that in the GBA, Hong Kong focuses on playing the 'super connector' role and is not in competition with the leading cities in the area, but rather in connectivity with them, so as to maximise mutual economic benefits throughout.
The first moves Zhao saw after the promulgation of the GBA Development Plan included the start of related infrastructure projects construction, such as those on Hong Kong-Zhuhai-Macao Bridge and various airports in GBA cities. While such moves may appear to be competition for business, local governments have all acted with a clear head and started to engage in talks on how to step up co-operation.
An example is airport expansion in Guangzhou and Shenzhen, which are both close to Hong Kong. Zhao said: "The airport expansion designs in Shenzhen and Guangzhou are more for the benefits of passengers. As for freight service, particularly those for high-end products, wouldn't Hong Kong be in a better position to contribute?"
Zhao thinks that local authorities in the GBA should consider how to maximise the development benefits of their respective cities, just like the case of UPS Hong Kong and UPS China. She said: "The development that UPS Hong Kong is interested in may not be possible in mainland cities. Likewise, what the mainland is working on may not attract interest in Hong Kong. In terms of regional connectivity, the airports of Hong Kong, Zhuhai and Macao should work on mutual co-operation, based on their respective geographic and industrial strengths so as to maximise their collaborative benefits."
In Zhao's view, apart from air transport, as an important entrepot Hong Kong continues to offer advantages not yet available in a number of mainland ports. Zhao reckons it is a natural development that many mainland ports' throughputs have surpassed that of Hong Kong for many years. She said: "This has to do with the infrastructure development and the formation of industrial chains. Sea transport can satisfy the import and export needs for a large quantity of goods.
"With the gradual maturity of the industrial chains in various mainland ports and their hinterlands along with the improving port infrastructures in the vicinity, clients will naturally choose the closest ports instead of shipping goods via Hong Kong. This is in fact not the area that Hong Kong needs to compete."
In her opinion, since Hong Kong is positioned to be an entrepot, cross-border logistics is the main area to bring its strengths into full play, and this is where Hong Kong is still playing an active role.
Opportunities and Challenges
Zhao sees both opportunities and challenges in the GBA. Taking Hong Kong as an example, she said: "The short supply of human resources will restrain development in various industries. Industry players are most concerned about the shortage of human resources, from frontline staff to skilled specialists with logistics expertise, or those skilled in designing overall solutions and loops.
"There are at present some 180,000 people working in the Hong Kong logistics industry. Its demand for human resources increased by 40% from 2016 to 2018, while the actual growth of staff numbers was less than 8% during this period, reflecting the acute shortage of human resources in various sectors of the industry."
According to Zhao, apart from tackling the shortage of human resources, Hong Kong industry players should further upgrade systems efficiency if they are to keep the role of 'super connector' for the GBA.
Hong Kong's logistics industry has long been proud of its speed and efficiency, but Shenzhen has greatly enhanced its logistics efficiency through innovative technology, which poses challenges to Hong Kong's status. Zhao cited the payment system as an example, saying: "When will Hong Kong's payment system be improved to have the same convenience and speed offered by the mainland?"
Zhao regards efficient payment system as a critical component in upgrading logistics systems' efficiency. In mainland China, both C2C and B2C transactions can be completed in real time through online platforms.
Zhao thinks that the third issue is airport capacity. According to the Airports Council International World Report 2018, with only two runways, Hong Kong International Airport is the eighth busiest in the world.
In Zhao's opinion, development across the GBA is generating increasing logistics demand, which requires more flight slots from Hong Kong International Airport. For instance, there are presently three UPS flights from Hong Kong to the US and two to Europe on a daily basis, which will be increased to four and three respectively during peak seasons, making a total of seven flights per day from Hong Kong.
To tie in with GBA development, UPS might need to add one more flight every day. Yet it is doubtful as to whether Hong Kong International Airport can accommodate industry demand for more flights. She said: "There might be additional capacity on the completion of the third runway and the related infrastructure. As for now, it is very difficult to increase the flights or apply for additional flight slots on an ad hoc basis."
Macau
Hong Kong
Hong Kong
Mainland China