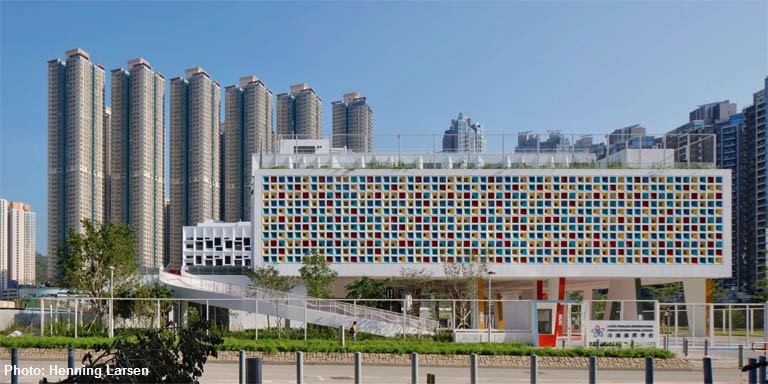 https://hkmb.hktdc.com/en/1X0AG07T
Top Marks for Greener Schools
Educational institutions walk the walk and talk the talk on sustainable development.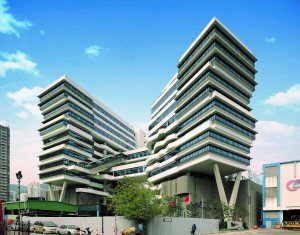 At the newest campus of the French International School of Hong Kong in Tseung Kwan O, trees shade outdoor areas and natural light filters into classrooms. Everyone is comfortable; the building form and facade designs are optimised to respond to the local climate, decreasing energy consumption by passive means.

Elsewhere, the new Vocational Training Council (VTC) campus in Chai Wan adopts a principle of "skyrise greening", with plantings on various terraces and pocket spaces throughout. Designed by Ronald Lu & Partners for the Technological and Higher Education Institute (THEi), the new campus fulfils a number of Global Sustainable Development Goals, and has been recognised by local and international organisations as a role model for the green built environment.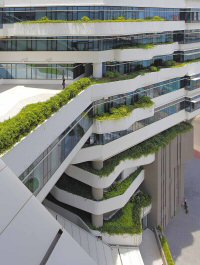 And at the Independent Schools Foundation (ISF) Academy in Pok Fu Lam, classes include student-led research on a wide range of environmental issues.

All are examples of Hong Kong schools moving ever greener. This is in line with global research linking better health and even improved academic performance among students in schools with a sustainability agenda.

The Green School Alliance said sustainable schools create an environment where teachers and faculty can cultivate a positive and progressive school culture. "Teachers have more opportunities to devise unique learning opportunities, and students benefit through increased participation and productivity and improved problem-solving and critical-thinking skills," the organisation stated.
At the Forefront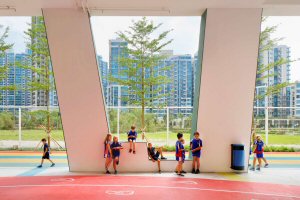 The architect of the new French International School, completed in September 2018, believes its design places the school at the forefront of educational innovation in Hong Kong. "The campus also sets an example in sustainability," said Claude Godefroy, Design Director and partner at Henning Larsen Hong Kong.

"The buildings are designed to reduce energy consumption by passive means," he said. "The orientation of all windows avoids solar heating and glare, while the deeply carved facades – called brise-soleils or 'sun-breakers' – prevent any direct sun to heat up the interiors."

Other measures include cross-ventilation, which avoids the need for air conditioning during much of the year.

"The school is also very green with 24 large trees, botanical and educational gardens, hanging gardens, and green walls and fences surrounding the campus," Mr Godefroy said. "This density of greenery is rare in Hong Kong. It helps to clean the air, absorbs solar heating and creates a healthier environment."

As society becomes ever more aware of pollution and climate change, evident in everyday life, "teachers, parents and even more so, the children, want to see concrete action taken," he said.

"A school building is a perfect canvas to draw this greener future. The design of a school can showcase an impressive range of sustainable measures, and pupils can experience and learn about the benefits of sustainable design."
Nurturing Green Leaders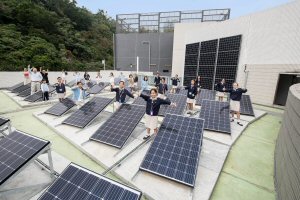 Diana Ibarra, Director of Shuyuan at the ISF Academy, agrees that sustainability is something schools "must do for our students and for the community we live in".

"The ISF Academy sustainability strategy is to enhance environmental awareness, develop an environment-friendly attitude and promote green practices," she said. "Hong Kong needs future leaders that can help to solve some the problems they will face around these issues."

Key initiatives at the academy have centred on waste management, energy monitoring, air pollution monitoring, energy generation and biodiversity. "All projects are designed for student engagement, implementation into the curriculum, and student-led research," Ms Ibarra said.

"On each of the projects we have partners that include universities, corporations, NGOs [non-government organisations] and parents."

Working with NGO Teng Hoi, all food waste is composted and reused in organic farming. "Currently, we are working with NGO Redress to collect and recycle textile waste," Ms Ibarra said.
"We also recycle plastic, metal, glass and paper on campus. This has been quite successful. In just nine months of actively working with a social impact company, HK Recycles, we have recycled more than 15,000 kilograms of cardboard and paper."

Energy partner Energybox has installed more than 4,000 sensors in the school and in 2019, all secondary students will have an app installed on their phones to show their energy use at ISF in real time.

Other student projects look at indoor air pollution monitoring (in partnership with NGO The Nature Conservancy) and various solar energy projects are ongoing.

"The curriculum at ISF Academy throughout the school strongly supports the sustainability development goals, climate change understanding and environmental education," Ms Ibarra said. "The projects that have been implemented allow students to learn about the importance of these issues by interacting with active hands on learning across the curriculum."

Behaviour change does not happen with book learning, she added. "It requires students being involved in the design, action and reflection of these projects."
Education Key to Supporting Business
Education is a key issue for businesses in Hong Kong – both as a drawcard for investors and professionals who want good schooling for their children and as a source of talent.

The Director-General of Investment Promotion at Invest Hong Kong (InvestHK), Stephen Phillips, said Hong Kong continues to attract and retain leading companies from Mainland China and overseas, as well as entrepreneurs from around the globe setting up leading-edge and innovative businesses.

"Hong Kong's start-up ecosystem has skyrocketed in the last few years. The results showed that as at November 2018, the number of start-ups grew by 18% year on year, and jobs created surged by 51%," Mr Phillips said.

According to the 2018 Annual Survey of Companies in Hong Kong with Parent Companies Located Outside Hong Kong, jointly conducted by InvestHK and the Census and Statistics Department, the number of business operations in Hong Kong with parent companies overseas and in the mainland climbed 6.4% to 8,754 in 2018, compared to 8,225 a year ago. The 8,754 respondent companies comprised 1,530 operating as regional headquarters (RHQs), 2,425 as regional offices and 4,799 as local offices. The number of RHQs showed a robust growth of 8.3% from 1,413 in 2017, revealing the important role Hong Kong plays for many businesses across Asia.

In terms of jobs, the number of people engaged by the companies reached an all-time high at 485,000, compared to 443,000 in 2017. Most of the firms originated from the mainland, with 1,591 companies, followed by Japan (1,393), the United States (1,351), the United Kingdom (712) and Singapore (427).

The presence of top-quality educational institutions is a key feature of start-up hubs such as San Francisco (with Stanford and Berkeley) or London with universities such as Imperial College and the nearby Cambridge and Oxford.

Related Links
French International School
ISF Academy
Technological and Higher Educational Institute of Hong Kong
Education & Training
Environmental Protection