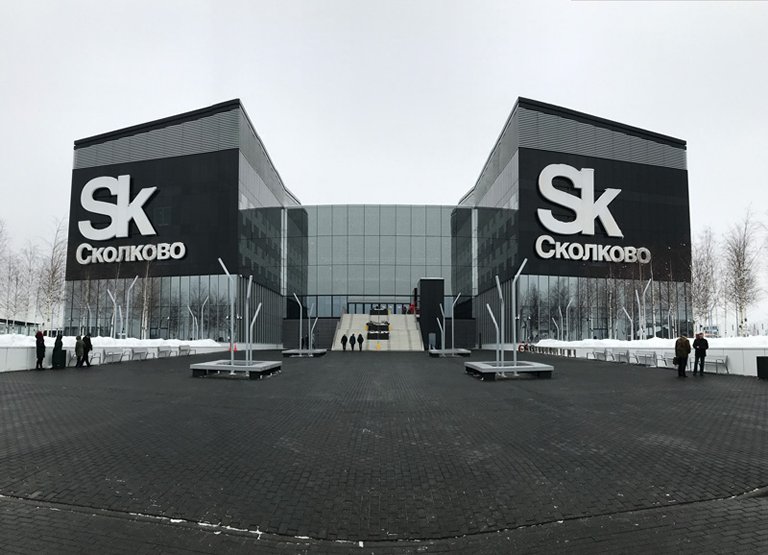 https://hkmb.hktdc.com/en/1X0AEOOC
Russia: A Rapidly Developing Belt and Road Technological Partner
To reduce its dependence on oil and gas and Western technology, Russia is rapidly developing its technology and innovation sector and positioning it as a key component in the process of economic diversification. The Russian government has introduced a wide array of incentives and a state-of-the-art infrastructure to support the sector, but it also needs foreign participation in terms of investment and know-how transfer in order to build the inclusive and sustainable growth which it considers the key to success. Coinciding as this does with the current Belt and Road Initiative (BRI) and Guangdong-Hong Kong-Macau Bay Area development, Russia's technology drive gives Hong Kong the opportunity to develop a closer and broader technology co-operation partnership with the country. This in turn could help pave Hong Kong's path towards becoming a global technology and innovation hub.
Russia's New Growth Engine
Russia sees technology and innovation as a new engine of economic growth and a key component in its attempt to cut the country's reliance on the energy sector which accounted for more than half of the country's exports and nearly 40% of the federal budget revenues in 2017. The Western-led sanctions on Russia, which followed the country's annexation of Crimea in 2014, included bans on selling technologies, especially in the military and energy sectors. In response, the Kremlin has encouraged Russian companies to develop home-grown technological solutions.
More than 15 billion rubles (US$250 million) were made available from the state budget to develop alternatives to Western technologies. The Ministry of Economic Development created the Federal Targeted Programme for Research and Development in Priority Areas of Development of the Russian Scientific and Technological Complex for 2014-2020 (The 2014-2020 Programme), which was designed to incentivise research institutes and private companies to develop homemade equivalents to imported tech. The aim was to make Russia a world-class R&D leader with a competitive R&D ecosystem.
In December 2014, the country's president Vladimir Putin launched the National Technology Initiative (NTI) setting out the need for innovation solutions to protect Russia's national security and quality of life. He heralded the advent of a new technological order in the next 10 to 15 years and called for the creation of an environment which would make Russia a global technological leader by 2035.
The NTI indicates new sectors and markets for Russian tech companies to target, and looks at the main demand factors, key market niches and possible types of products and services to fill these niches. It also identifies a number of key technologies which will lead to the creation of new products and services, and set out measures, including institutional, financial and research tools, which will stimulate and support the development of domestic and global champions in these new sectors.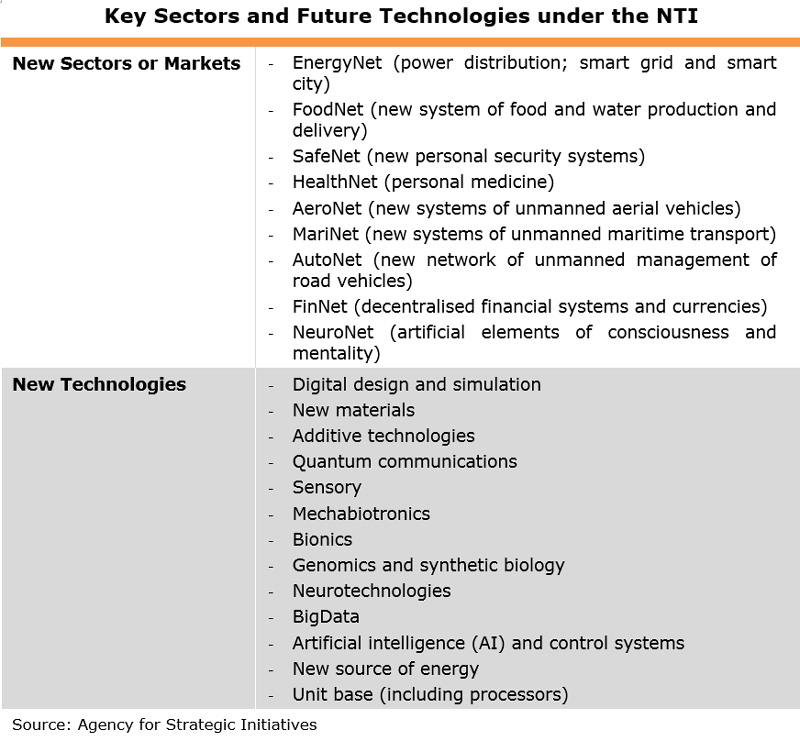 One of the aims of the NTI is to create the conditions in which private investment in such forms as joint investment, mutual funds, crowd-funding and crowd-investing can begin to take over the funding of Russia's innovation and technology sector from pubic finance. A key tool in the attempt to achieve this is the Russian Venture Company (RVC) – a publicly-owned fund of funds [1] set up in 2006 to develop Russia's venture capital industry and provide support to the country's high-tech sector. As of 2018, there are 26 RVC-backed funds with a total valuation of 36 billion rubles (US$0.6 billion) in operation, supporting 225 approved investment projects across a variety of priority sectors, including: (i) biotechnology, medical equipment and pharmaceuticals; (ii) IT such as computer technologies and software development; (iii) energy efficiency; and (iv) space and telecommunications.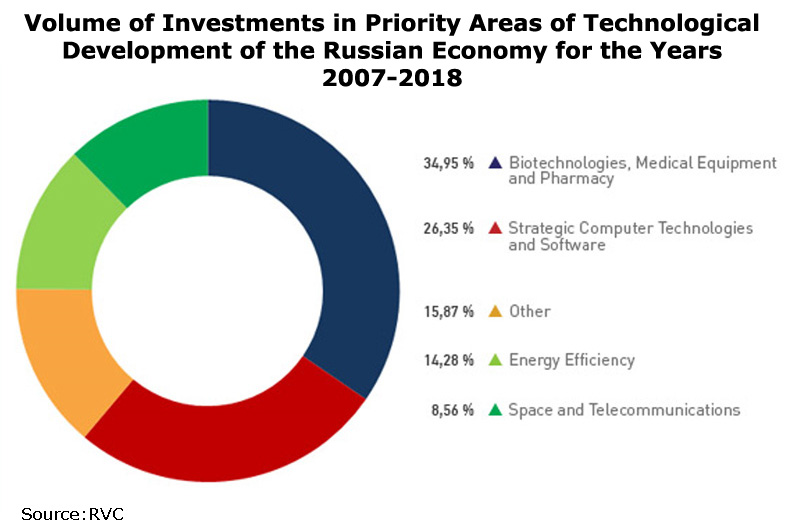 The Russian government further set out its blueprint for sustained technology-driven economic growth in its Strategy for the Scientific and Technological Development of the Russian Federation, published in 2016. This policy document pointed to the need for Russia to import strategic technologies to strengthen the nation's technological capacity and to increase the share of GDP on R&D.
In recent years, increases in federal spending on R&D have become even more vital for technological innovation in Russia as the country's venture capital industry has been crippled by the effect of international economic sanctions. Between 2010 and 2016, federal expenditure on R&D rose by nearly 70%. At the same time, FDI inflows into Russia have begun to grow as private investors regain confidence in the Russia economy. Last year, foreign investors poured US$11.5 billion into professional, scientific and technical activities, making it Russia's fifth-largest FDI category with 7.7% of the total FDI inflows. That was up from just US$205 million in 2012.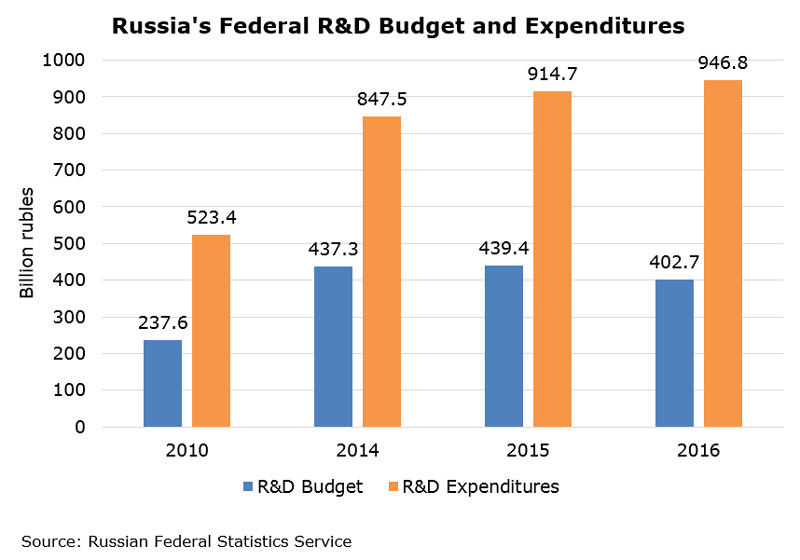 With technology and innovation increasingly becoming a new engine of economic growth, the Russian Ministry of Economic Development expects the country's high-tech exports to grow to about 3.5 times their current level by 2020, reaching 240-330 billion rubles (US$4-6 billion), and then to rise further to 400-670 billion rubles (or US$7-11 billion) by 2025. Only time will tell if these goals could be realised. However, the recent growth of Russia's technology exports (especially software, which reached a record high in 2017, and telecommunication, computer and IT services, which surpassed their pre-crisis levels last year) is widely regarded as the first fruit of the boost the country has given to its technology sector.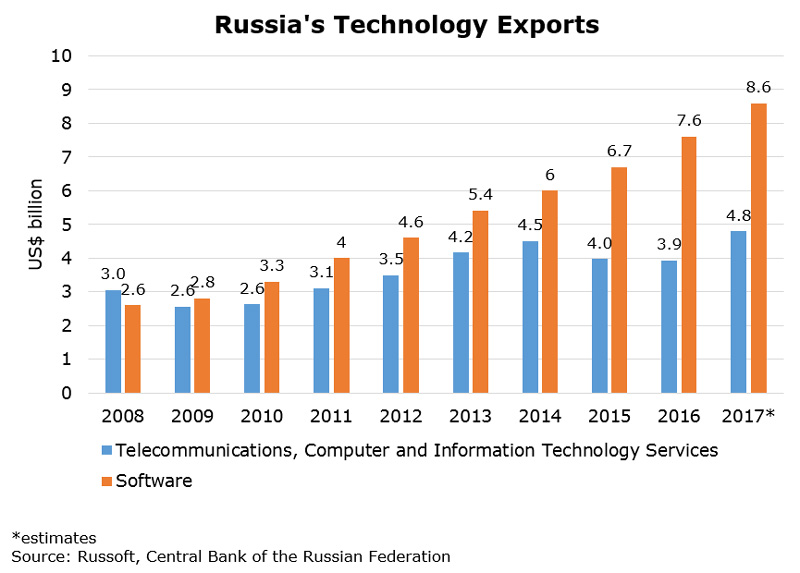 A Vibrant Start-up Scene
There has been a dearth in venture funding available to Russian start-ups in recent years, due in part to international economic sanctions. In 2017, there were no listed US investors at all in Russian start-ups – a stark change from 2012, when US$400 million was put in by US investors. Despite that, Russia has maintained a vibrant start-up scene, laying a solid foundation for its technology and innovation ecosystem to thrive. As the 2018 Inc. 5000 Europe [2] list, which tracks the three-year revenue growth of private companies, shows, Russia is one of the best European destinations for fast-growing companies. Moscow was named the second-best European city overall with St. Petersburg in ninth place, the two cities accounting respectively for 171 and 70 of the companies on the list.
Examples of fast-growing private companies in Russia include Moscow-based manufacturer Varmega and food and beverage firm Kompaniya Optima, which both saw their revenues increase by about 2,000% between 2013 and 2016.
Some local Russian tech companies have already begun to take on their foreign rivals in terms of market share. The homegrown internet behemoth Yandex reported a 24% growth in sales to 94 billion rubles (US$1.6 billion) in 2017 and is estimated to have been responsible for more than half of the country's online searches, overtaking all foreign search engines.
To help create a technology and innovation ecosystem filled with vibrant start-ups, the Russian government has been strengthening the country's tech-related infrastructure. This has included the establishment of more than 50 operating science and technology parks throughout the country, aimed at encouraging local and foreign high-tech companies to localise the R&D, production and application of their cutting-edge technologies.
Among the most active are Technopolis Moscow – the flagship project of innovation infrastructures in the Russian capital and home to some 80 high-tech companies including the Dutch micro-electro-mechanical systems (MEMs) producer Mapper Lithography and the European energy management giant Schneider Electric – and the Science Park of St. Petersburg, which has become one of the city's key tools for the development of its innovation policy, implementing projects along the whole chain of innovation development from start-ups to industry and business incubation to cluster development.

As well as providing physical infrastructures and favourable tax incentives for high-tech companies, some of these science and technology parks have also implemented their own incubators. One example of this is the Ingria Business Incubator of the Science Park of St. Petersburg, first launched in 2008 as a pilot project and now one of the country's most famous and successful business incubators.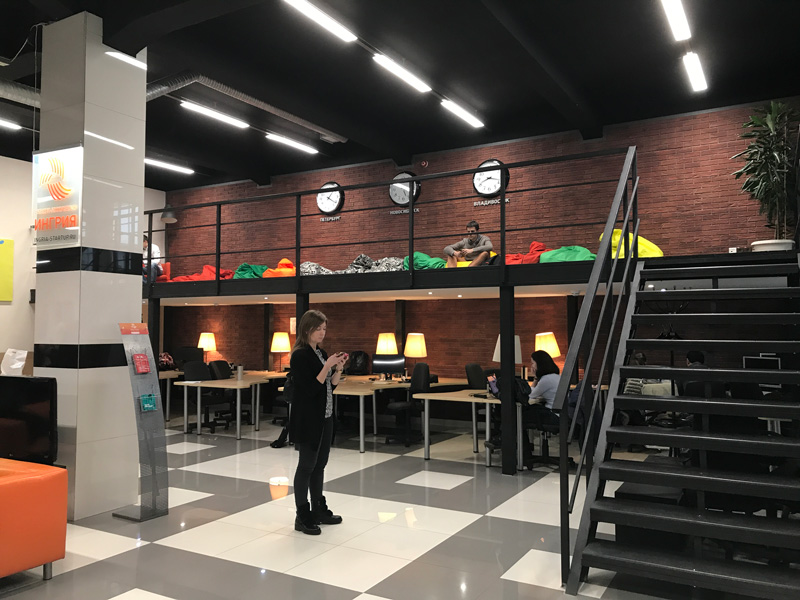 Ingria has attracted investment worth some 1.5 billion rubles (US$24 million). Riding on the back of its success, the Science Park of St. Petersburg has also created a Cluster Development Centre, an Engineering Centre (API) and a Prototype Development Centre to support and service its residents along the whole chain of development. Some of its successful exits, such as the cloud-based business management solutions provider FreshOffice, have successfully entered the international market by opening offices, for example, in ASEAN countries.
The Russian government has also spent a great deal of time and money upgrading and expanding the Moscow-based Skolkovo Innovation Centre. One of the largest technoparks in Eastern Europe and home to more than 1,800 start-ups, Skolkovo is a state-of-the-art high-tech hub which is increasingly becoming a hotspot for venture capitalists focusing on fields like bio-medicine, energy efficiency and strategic computer, nuclear and space technologies.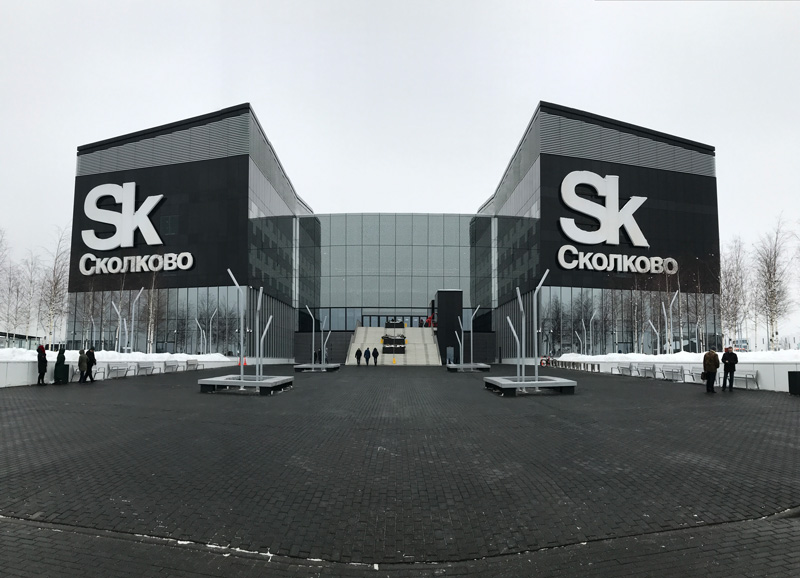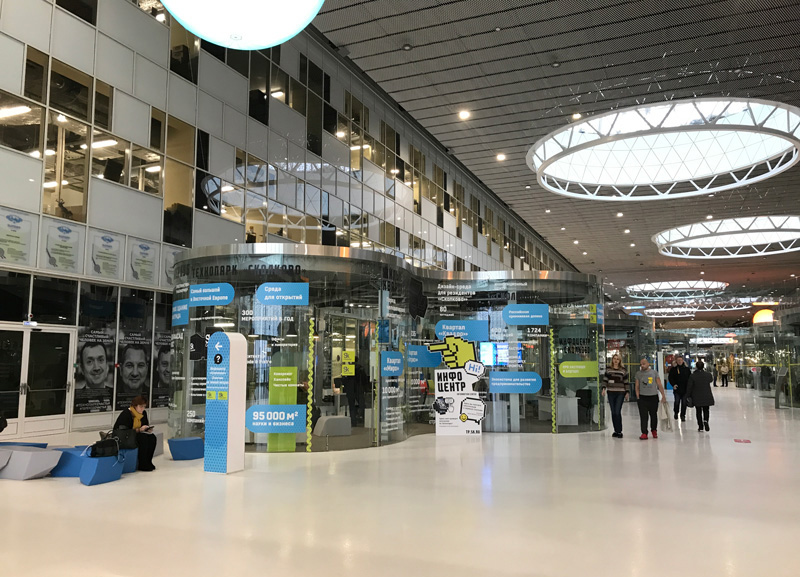 In line with the NTI and other tech-related initiatives, Skolkovo not only helps start-ups to accelerate and scale up in the local Russian market, but encourage them to make inroads into the international marketplace. In collaboration with an extensive partner network of more than 60 organisations in 17 countries and well-known international accelerators such as Y Combinator, Plug and Play Tech Center, 500 Startups and SOSV, more than 200 Skolkovo residents have so far gained market access in more than 70 countries worldwide, reporting international sales of over 4.2 billion rubles (US$66 million).
Skolkovo orgainises Startup Village, the largest start-up conference for technology entrepreneurs in Russia and the Commonwealth of Independent States (CIS), and the annual Open Innovations forum to bolster the development and commercialisation of advanced technologies, promotion of global technology brands and creation of new tools for international co-operation in the field of innovation. It has also been active in forging partnerships with foreign counterparts to help its earlier-stage start-ups with investment, incubators and accelerators, and market access.
One recent successful example of this is the joint venture between Skolkovo and China's Cybernaut Investment Group to create a joint Sino-Russian business incubator in Skolkovo, a robotics center in mainland China, a US$200 million venture fund and a joint acceleration program to invest in Skolkovo resident companies that specialise in IT, robotics, space and telecommunication technologies to enter the Chinese mainland market.
A number of Skolkovo residents have already successfully launched products and projects on the Chinese mainland with their counterparts there. One example of this is Optogard Nanotech which is, in co-operation with Shandong Trustpipe Industry, developing a laser-plasma technology for metals and alloys in pipe production in the Shandong province. Another is the content delivery service provider CDNvideo, which has had great success helping its Chinese clients to deliver their internet and video content across the globe and recently sold a controlling stake to the Shenzhen-listed Wangsu Science & Technology.
President Putin has described China's BRI as "innovative" and is keen to step up efforts to align the BRI with the development programs of the Russia-led Eurasian Economic Union (EAEU). Given this policy approach, it is unsurprising that the two economies are not only making progress in promoting co-operation in traditional areas such as energy, logistics, manufacturing production and agriculture, but also in new areas such as the digital economy and technology and innovation.
A Growing Role for Hong Kong
Skolkovo is already making good use of Hong Kong as a premier convention and exhibition centre in Asia. It is reaching out to prospective counterparts in Asia and beyond, by attending and showcasing its offerings in the city's flagship events such the Asian Financial Forum (AFF) and the HKTDC International ICT Expo. Some companies such as the Estonia-based digital security solution provider DigiFlak, have reportedly started production in the region, while others have found franchising partners or opened offices in Hong Kong.
Taking note of Hong Kong's pivotal role as a technology marketplace in Asia and its vision to become a global technology and innovation hub, the Moscow School of Management Skolkovo, a new graduate business school and research institution of Skolkovo, has teamed up with the Hong Kong University of Science and Technology (HKUST) to roll out the world's first Executive MBA (EMBA) Programme devoted to the development of Belt and Road in Eurasia with a focus on innovation. With Hong Kong keen to move from being a renowned technology marketplace to a global technology and innovation hub, it is rolling out the red carpet for Russian technology and innovation companies. The city has ample opportunities for tech-related firms including start-ups, technology owners, patent holders and venture capitalists to exploit, under the umbrellas of the BRI and the Guangdong-Hong Kong-Macau Bay Area initiatives.
The Hong Kong/Shenzhen Innovation and Technology Park, set within the 87-hectare Lok Ma Chau Loop is a good example of the opportunities available. Occupying a strategic location in Hong Kong bordering Shenzhen, the Park offers four times as much land area as Hong Kong Science Park. This not only gives Hong Kong's innovation and technology ecosystem much more space to welcome Russian technology and innovation companies, but also allows the city to offer Russian R&D companies the opportunity to leverage the competitive advantages of both Hong Kong and Shenzhen in innovation and technology and accelerate their access to the mainland market.
Russian technology companies can use the Park to tap the supply chain, manufacturing capabilities and talent pool across the border in Shenzhen, while at the same time enjoying the advantages of being in Hong Kong – a professionally managed superstructure, proximity to world-class universities and research institutions, and a top-notch business support service ecosystem and financial infrastructure.
The city's robust IP protection regime, arbitration capabilities and professional licensing, franchising and IP registration services also make it an ideal launchpad for Russian start-ups looking to exploit the ever-growing markets for cutting-edge technologies in Asia.
As a renowned international financial centre in which about half of the top 100 global financial technology (FinTech) companies currently operate, Hong Kong is a useful partner for Russia companies specialising in this fast-growing field. Hong Kong can act as a landing pad for Russian FinTechs eyeing regional opportunities, a market for Russian FinTechs providing business-to-business (B2B) services and a platform for Russian FinTechs seeking Asian expansion.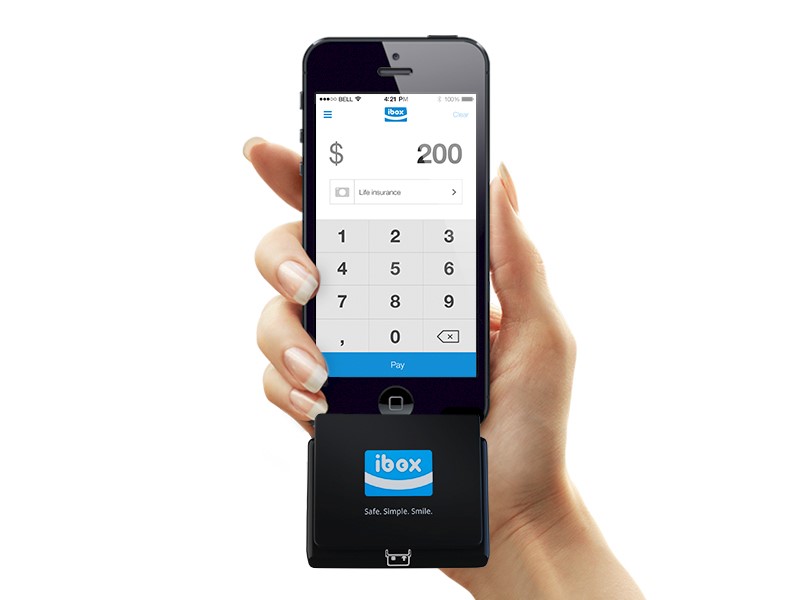 A good case in point is the Russian FinTech start-up ibox which has been pushing its mobile point of sales (mPoS) solutions hard to become a force in Southeast Asia with a holding company situated in Hong Kong.
Hong Kong's ability to act as a capital-raising and business platform for Russian companies was strengthened in 2016 when the Hong Kong Stock Exchange (HKEx) approved Russia as an acceptable jurisdiction of incorporation for listing applicants and the Hong Kong-Russian Comprehensive Double Taxation Agreement (CDTA) came into force.
In the near future, it is expected that the far-reaching Guangdong-Hong Kong-Macau Bay Area development will see Hong Kong grow into a global innovation hub, attracting more tech-savvy companies from Guangdong and abroad to capitalise on the city's advantages such as free flow of information and capital, extensive international market networks, and sound corporate management.
As the largest and most advanced economy in the 11-city innovation-driven economic cluster in Southern China, Hong Kong is an ideal bridgehead for Russia companies looking to gain access to this new center of innovation and technology in Asia.
---
[1] The RVC capital fund portfolio includes funds for the early stages, and seed funds, special-purpose, capital funds and supporting funds for the infrastructure and service projects of the technological entrepreneurship market.
[2] The Inc. 5000 Europe list of the fastest-growing companies recognises the innovative achievements of European companies in generating sustainable growth and jobs.