https://hkmb.hktdc.com/en/1X0ACF6L
ASEAN Consumer Survey: Hong Kong Awareness and Enjoyment
Nowadays, taking time off from work to travel aboard is becoming a key social marker of the ASEAN middle class, one of the key findings revealed by the targeted, face-to-face consumer survey (the Survey) carried out by HKTDC Research in the first half of 2017. The Survey interviewed more than 1,400 consumers with a minimum monthly household income of US$1,000 in five ASEAN countries, namely Malaysia, Thailand, Indonesia, the Philippines and Vietnam, covering seven cities including Bangkok, Kuala Lumpur, Manila, Jakarta, Surabaya, Ho Chi Minh City (HCMC) and Hanoi.
To better understand the consumer behaviour of the ASEAN middle class and their receptiveness of Hong Kong's brand products and services, this Survey's targeted respondents were aged 21-60, and it turned out 80% of them were below 41 years of age.
As one of Asia's most cosmopolitan and dynamic cities, Hong Kong is seen as a desirable short-break getaway destination for these ASEAN travellers. The city is renowned for its fusion of Eastern and Western culture, as well as a wide range of lifestyle products and services. The world's most famous brand products are collected and distributed in Hong Kong, making it a shopping paradise in Asia for regional as well as international tourists.
Moreover, Hong Kong is also one of culinary capitals in Asia with a great selection of restaurants providing a wide range of food choices to cater to all kinds of taste buds. The city's increasing variety of halal dining options also adds an extra appeal to the large Muslim community in ASEAN countries such as Indonesia and Malaysia.
Hong Kong – A Leisure Travel Destination for ASEAN Tourists
Hong Kong is conveniently located within five hours of flight time from major cities in Asia. In recent years, a number of cities in the region have been actively developing air connectivity with overseas markets, resulting in a significant growth in the number of direct flights connecting Hong Kong and these cities.
In 2016, Hong Kong visitor arrivals from Indonesia, Malaysia, the Philippines, Thailand and Vietnam reached 2.44 million, up 8.6% from the previous year, according to data from the Hong Kong Tourism Board. The number of arrivals from three of these countries – Indonesia, the Philippines and Vietnam – saw double-digit growth of more than 12%.

Among Survey respondents, 79% had visited Hong Kong one to three times in the past two years, while 15% had visited the city four to six times, and 6% were frequent travellers, having visited Hong Kong at least seven times over the past two years. Specifically, all Malaysian and Filipino respondents and more than 80% of Thailand respondents had been to Hong Kong in the past two years before the Survey was conducted, demonstrating the city's popularity as a travel destination for ASEAN travellers.
With a flight time of about five hours to Hong Kong, 77% and 60% of respondents from Jakarta and Surabaya respectively had also visited the city one to three times in the past two years. In contrast, the number of Vietnamese respondents who had visited Hong Kong over the same period was notably lower than those from the other ASEAN countries in the survey, reflecting their lower incomes and the reported difficulty in getting travel visas. Only one-third of the respondents from Hanoi and 70% of those in HCMC had visited Hong Kong.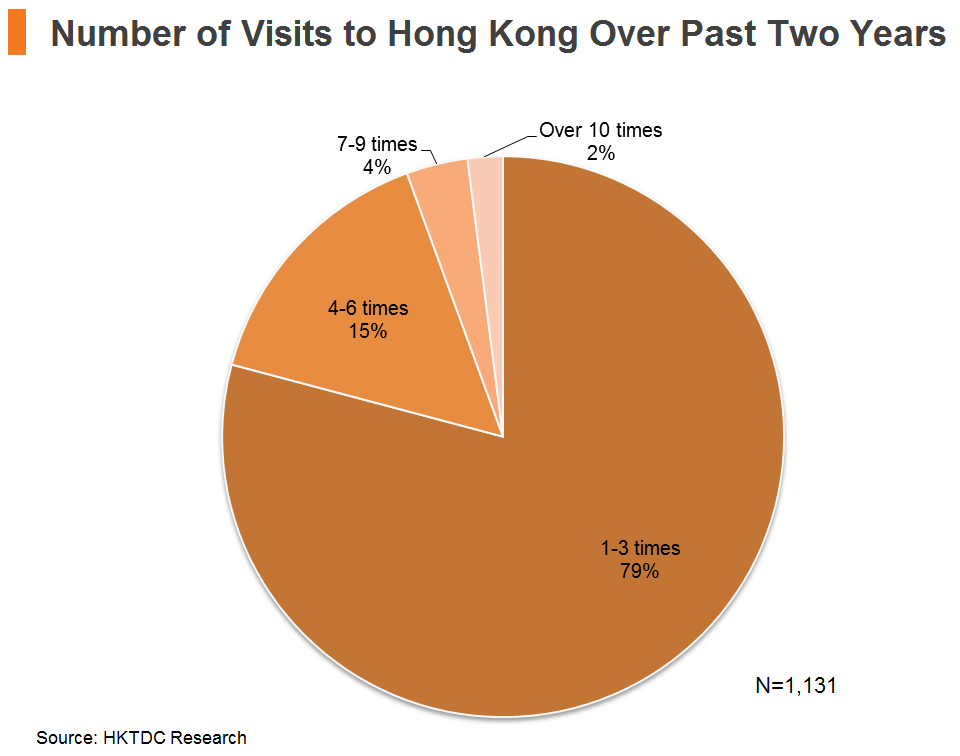 Survey results revealed that ASEAN travellers are more likely to travel to Hong Kong for a holiday than for business. 85% of respondents reported that sightseeing was their main purpose for visiting Hong Kong. Shopping was another key activity for ASEAN visitors, with half of respondents stating this as their main reason.
Apart from being a vacation destination, Hong Kong is also considered Asia's leading business hub and has attracted a large number of international as well as mainland companies to set up their local and regional business operations. Therefore, it is not a surprise to find that 40% of Survey respondents travelled to Hong Kong for business. In comparison, a relatively small proportion of ASEAN visitors (22%) came to Hong Kong to visit friends or relatives.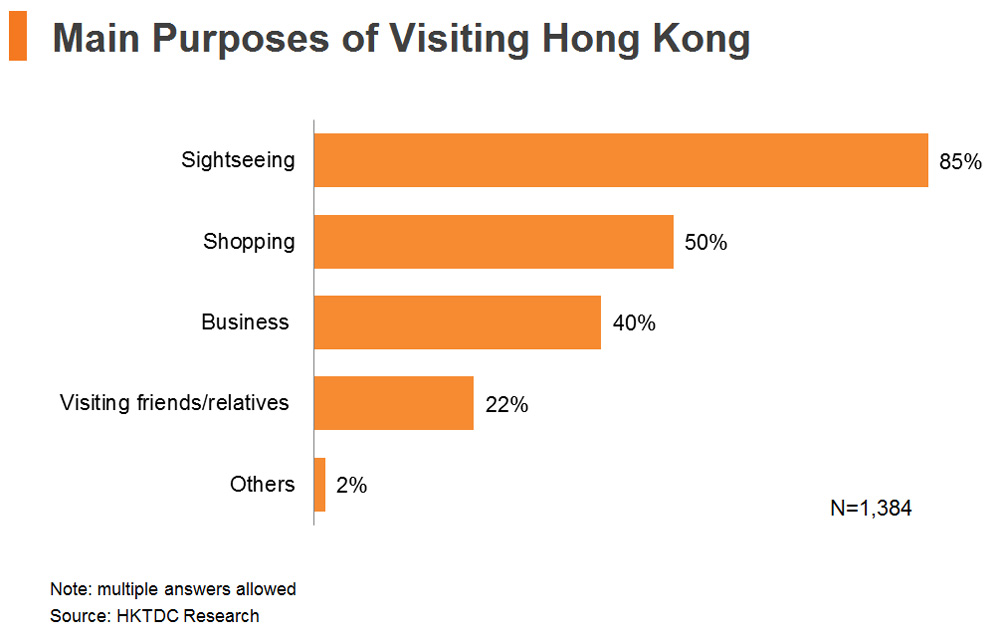 More Chinese Speakers among Malaysian and Indonesian Respondents
In terms of Cantonese and Putonghua proficiency, while slightly less than one quarter of the Malaysian population is Chinese, there was a high proportion of Chinese Malaysians among those interviewed in Kuala Lumpur – 63% of them can speak in Cantonese and 42% in Putonghua. At the same time, despite the strong perceptions that many Thai people have Chinese ancestry and are thus likely to have some command of Chinese dialects, there was a surprisingly small proportion of respondents able to speak either Cantonese or Putonghua (between 4% and 6%).
For Vietnam, contrary to the common perception that Hanoi enjoys a Chinese cultural influence due to its geographical proximity to China, only 7% of the middle class respondents from the city could communicate in Putonghua. Slightly more Vietnamese respondents were able to speak Cantonese, but the percentage of respondents who could speak either was lower than in Indonesia (see Appendix for respondent profiles).
Moreover, the high English proficiency in the Philippines was vividly reflected in this Survey. All respondents in the Philippines could communicate in English, surpassing the 88% in Malaysia, 87% in Vietnam, nearly 80% in Indonesia, and 70% in Thailand.
Fashion Items – The Popular Choice for ASEAN Shoppers in Hong Kong
Of the array of products and services that Hong Kong offers, respondents were mostly attracted to spending on categories such as Fashion, Travel and Leisure, Health, Beauty and Wellness, Cuisine and Catering and Consumer Electronics.
Hong Kong companies have established a number of proprietary brands, particularly in the fashion sector. Apart from its home-grown fashion brands, Hong Kong's reputation as a premium shopping destination has attracted a number of international fashion brands, in areas from casual wear and accessories to jewellery and watches. Survey results showed that ASEAN visitors most commonly purchased Fashion items, with respondents from five out of seven cities picking this category as their top choice.
Transport, accommodation and entrance Ticket expenses were also among the top spending items of ASEAN visitors. Health, Beauty and Wellness was a popular choice for respondents from Bangkok, Kuala Lumpur, Manila and Hanoi. Interestingly, Home and Living, which covers spending on furniture, home decoration, kitchenware, etc., was ranked the third most popular category for respondents from Jakarta. Survey results also revealed that respondents coming from HCMC were the most likely to be foodies – it was the only city that chose Cuisine and Catering among their top three consumer goods or services categories.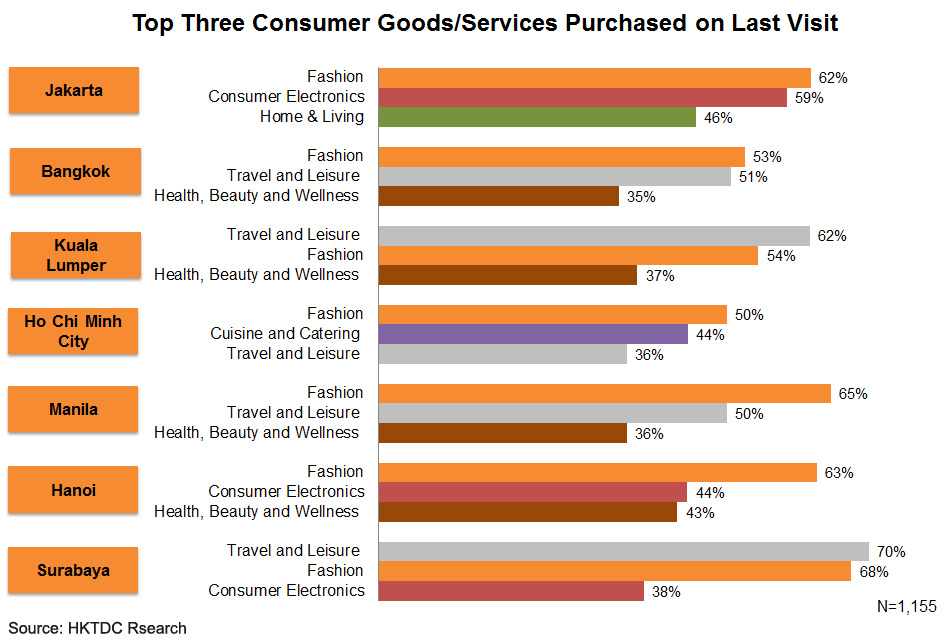 Survey results also showed that average spending on the main consumer product or service categories varies greatly between cities. Visitors from Jakarta, for example, spent on average US$857 on Consumer Electronics during their last visit to Hong Kong, more than double the US$422 spent by respondents from Surabaya. A wide range of spending on Health, Beauty and Wellness, from US$196 (Kuala Lumpur) to US$502 (Bangkok), was also observed, while spending on Fashion clustered around a narrow range between US$243 and US$451.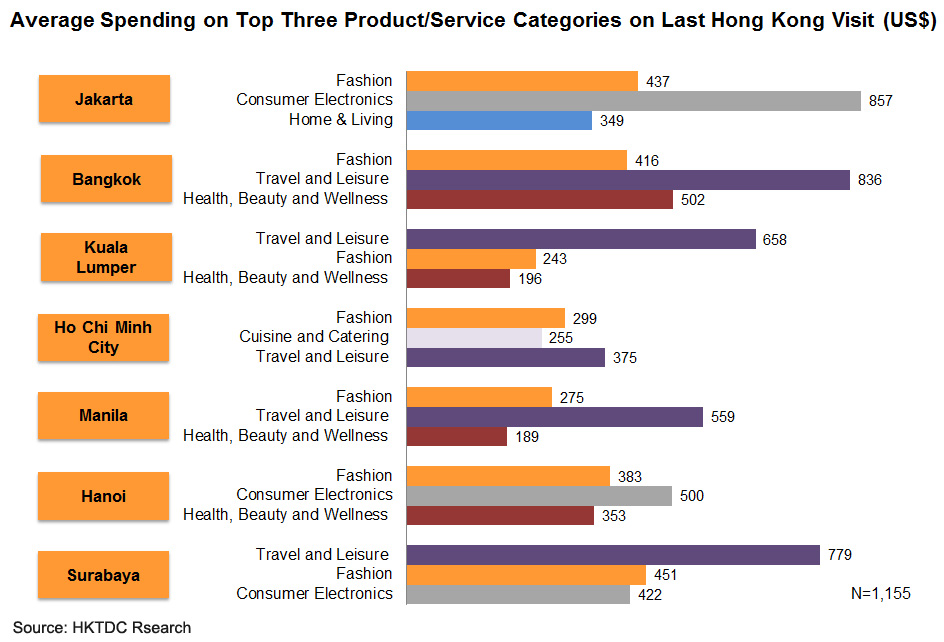 Hong Kong Brands are Well Known to ASEAN Consumers
The Survey results revealed that many Hong Kong brands are well known to ASEAN middle class consumers. Watsons, SaSa, Wellcome, Cathay Pacific, Shangri-La Hotels and Resorts, Bossini and Giordano are the best known Hong Kong brands, each enjoying a response rate of over 50%.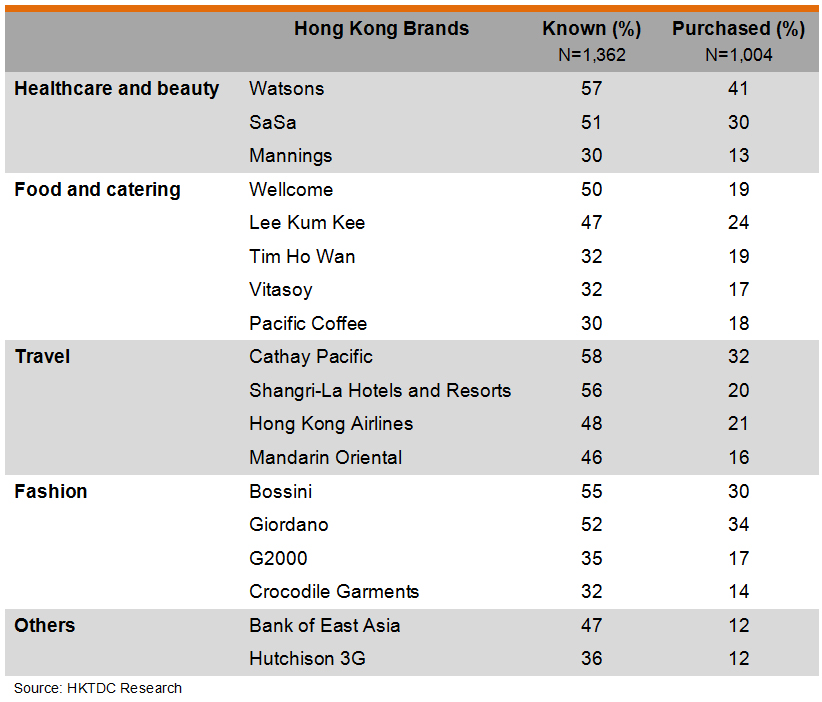 Watsons, with its enormous retail market coverage in Asia including Malaysia, Singapore, Thailand and the Philippines, was the most recognised healthcare and beauty brand among the ASEAN middle class. Another popular brand of health and beauty products from Hong Kong is SaSa. According to the company website, it has over 280 retail stores and counters in Asia selling brands of skincare, fragrance, make-up, body care products, health and beauty supplements including own-brands and exclusive products.
Looking at the food and catering segment, Lee Kum Kee, a Hong Kong-based food company specialising in the manufacture of a wide range of sauces and condiments (such as oyster sauce and soy sauce), was known to nearly half of the respondents. 32% of respondents also indicated that they were aware of Tim Ho Wan, the famous Hong Kong Dim Sum chain with restaurants in nine countries, including Singapore, Philippines, Thailand, Indonesia, and Malaysia.
For Hong Kong companies wishing to penetrate the ASEAN middle class market, it is encouraging to know that many of the respondents indicated that they would like to see more Hong Kong brands introduced to their home countries. These include health and beauty retailers (SaSa and Mannings) and fashion brands (Bossini and Crocodile Garment), food and beverage companies (Pacific Coffee and Lee Kum Kee) and hotel groups (Shangri-La Hotel and Mandarin Oriental).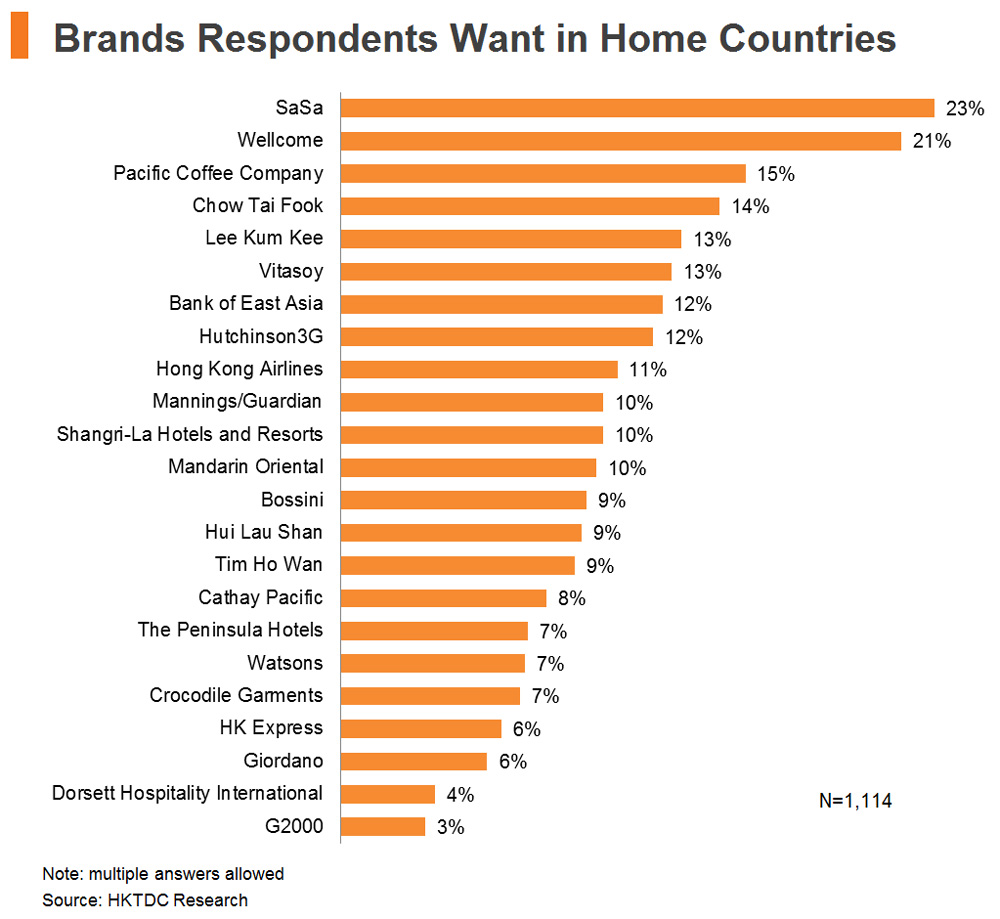 Hong Kong Perceptions
In the Survey, respondents were asked to rate the extent to which they agreed or disagreed with a given statement pertaining to their perceptions of Hong Kong.
According to Survey results, the ASEAN middle class overwhelmingly agreed that they enjoy visiting Hong Kong for shopping and sightseeing. Hong Kong's unique "East meets West" environment is hugely important when it comes to reinforcing the city's leading position as a lifestyle trendsetter. Overall, respondents agreed that Hong Kong is an Asian centre/hub for trendy brands and found their lifestyle influenced by Hong Kong.
The Survey also showed that Hong Kong is the ideal place for trendy local and international brands to showcase their products or services targeting the ASEAN middle class, as respondents perceived Hong Kong products as mid-high end to high-end. For instance, international lifestyle brands such as Tom Dixon and Skagen Designs have established their first Asia flagship stores in Hong Kong.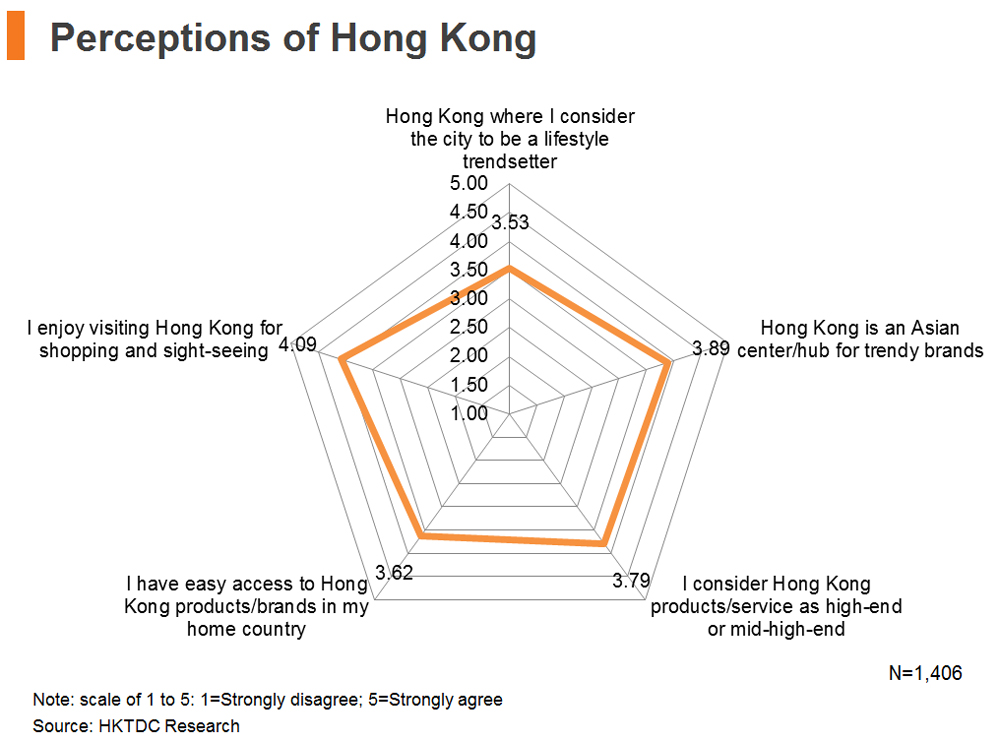 Appendix: Respondents Profile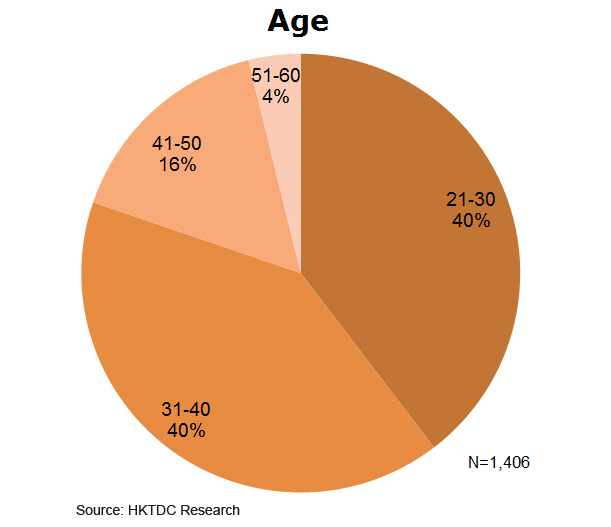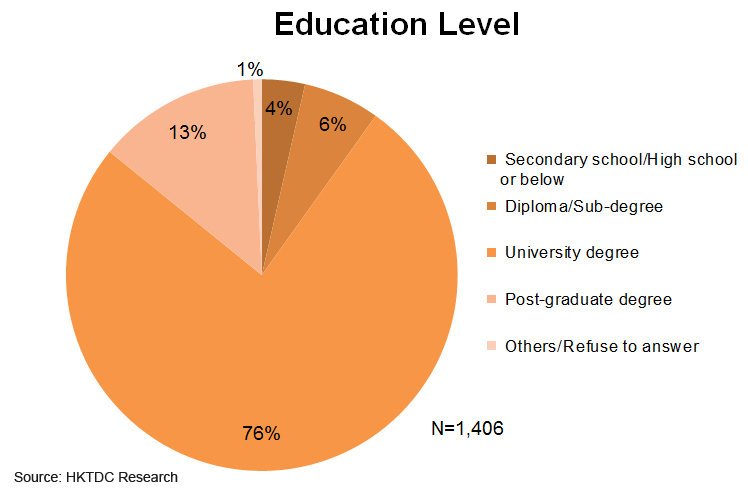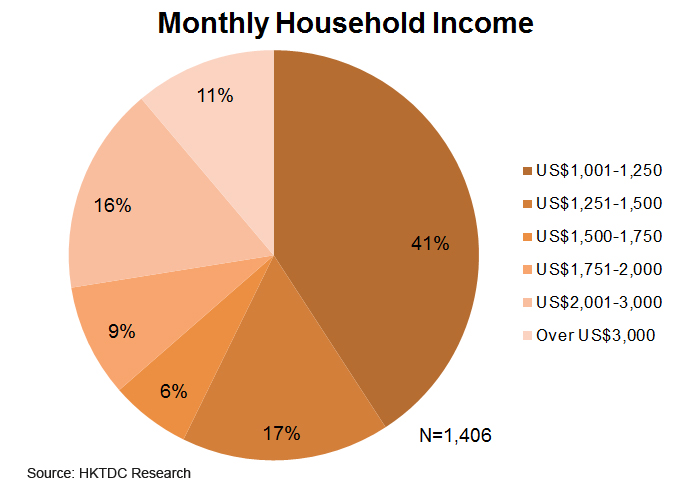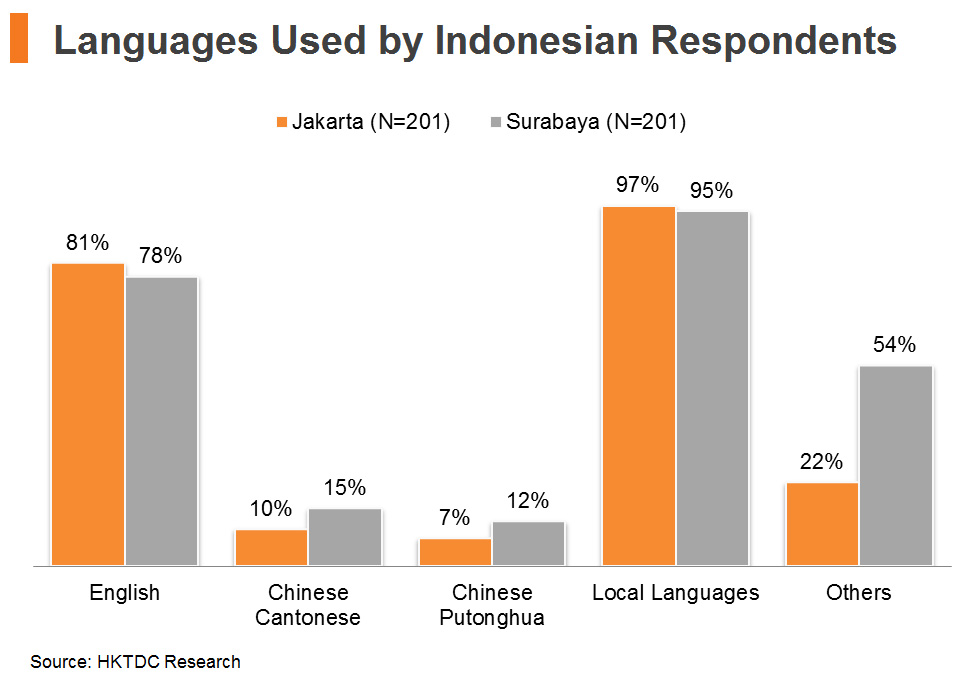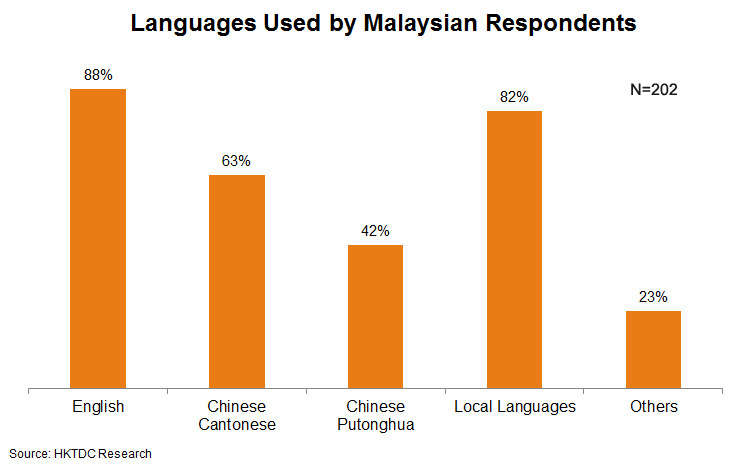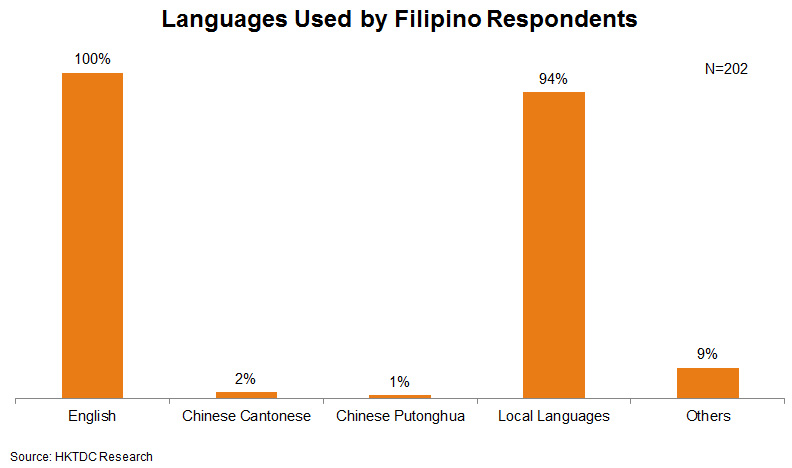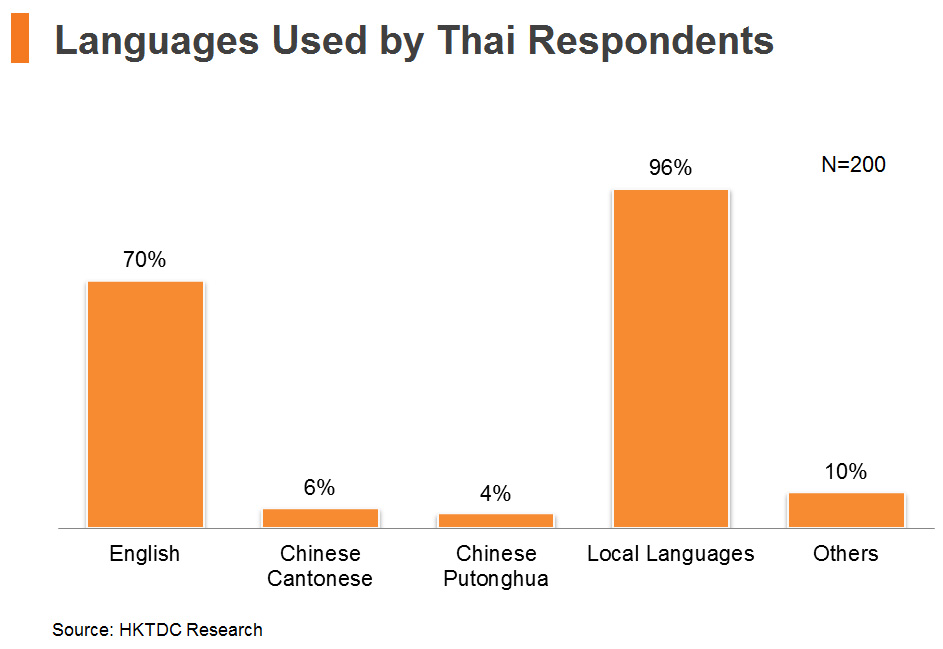 Philippines
Thailand
Viet Nam
Indonesia
Malaysia
Southeast Asia
Hong Kong
ASEAN