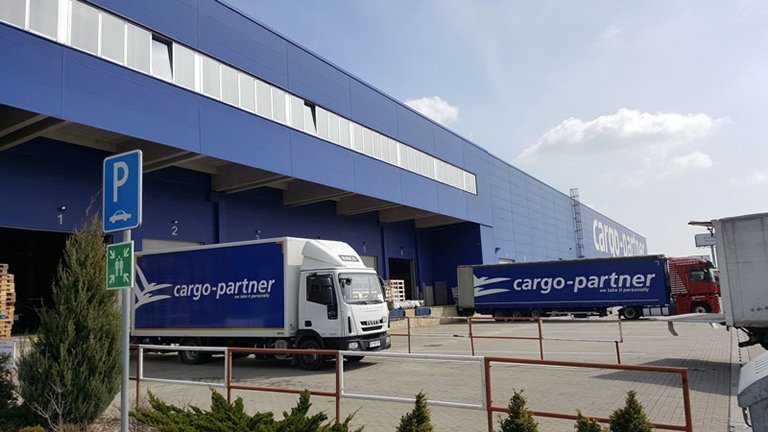 https://hkmb.hktdc.com/en/1X0AAJSN
Slovakia: An Emerging Hub on the New Silk Road
Competitiveness in Production, BPO and Eurasian Cargo Transit
Boasting the highest per-capita car production in the world, Slovakia has become a magnet for export-oriented manufacturing industries such as automotive and electronics, and a hotspot for shared services centres (SSCs) and business process outsourcing centres (BPOs).
As a transit hub on the New Silk Road, Slovakia is actively developing and upgrading its infrastructure to prepare for the expected increase in cargo traffic between Europe and Asia. It also benefits from its favourable location between the seaports of southern and northern Europe.
The Slovakian government is also keen on adopting and promoting the use of new technology to facilitate cross-border cargo movement. And it is continuing to stretch its wings to Asia, with initiatives such as a plan to start a double tax treaty negotiation with Hong Kong. The private sector is also keen to develop its services for clients who are looking for a reliable business accelerator to tap the European market.
The Troika underlying the Slovak Economy
After its "velvet divorce" from the Czech Republic on 1 January 1993, Slovakia embarked on a number of ambitious structural reforms with a vision of becoming one of the best business locations in Europe. Joining the EU in 2004, becoming part of the Schengen area in 2007 and adopting the euro on 1 January 2009, together with fiscal reforms such as the abolition of dividend tax, profit transfer tax and real estate transfer tax, have helped the country develop into the darling of investors both from the former Soviet bloc and western Europe.
With its strong industrial base, Slovakia's economy has become one of the fastest-growing in the Eurozone. It has an average annual GDP growth of 1.9% since its adoption of the euro in 2009, and is the best-performing Eurozone member in the 16+1 format (co-operation between 16 CEE countries and China). And thanks to its concentration on export-led development, it has become a magnet for export-oriented manufacturing, especially in the automotive and electronics industries, and a hotspot for SSCs and BPOs.
1. Automotive Industry
Slovakia prides itself on its heritage in mechanical engineering, which is closely connected to the country's vibrant automotive industry. Since 2007, Slovakia has been the world's biggest per-capita carmaker, producing 192 vehicles per 1,000 inhabitants in 2016 (which compares to a global average of 10 vehicles per 1,000 inhabitants).
The automotive industry accounts for more than 40% of Slovakia's industrial production and one-third of its total exports. The country's annual car production exceeded one million vehicles for the first time in 2015. Last year, that figure edged up to 1.04mn, and the sector is expecting an annual output of up to 1.35mn vehicles by 2020.
The driving force behind this impressive growth are three established carmakers – Volkswagen (VW), Peugeot Citroën (PSA) and Kia, which have been manufacturing cars in Slovakia since 1991, 2003 and 2004 respectively – and their tier 1 and tier 2 suppliers which have been constantly expanding their manufacturing plants across the country.
Jaguar Land Rover (JLR), a relative newcomer to Slovakia, has invested in a new 300,000 sq m manufacturing facility which is set to provide further impetus to the industry. Aimed at a yearly capacity of 300,000 vehicles and an initial annual production of 150,000 vehicles planned for 2019, the upcoming JLR plant is forecast to boost the country's car production by 15% to 30% upon completion in October 2018.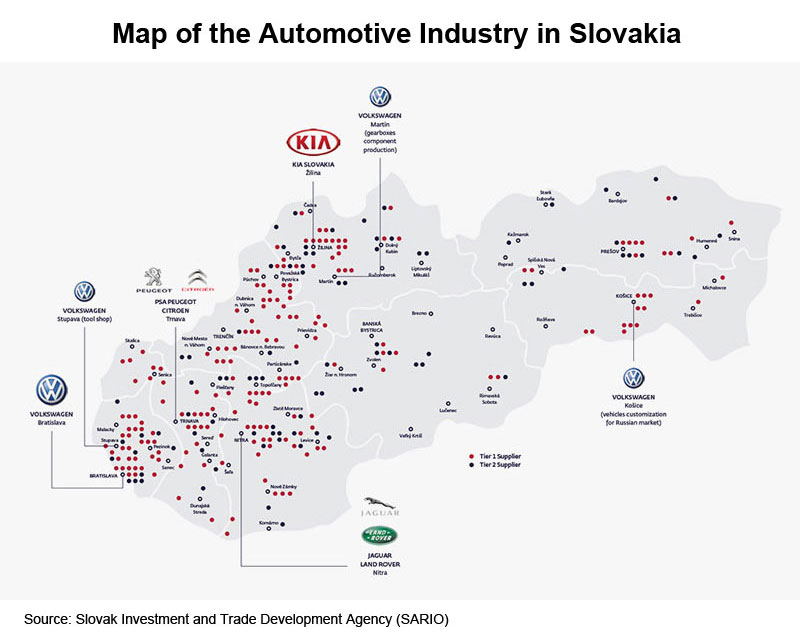 Automotive R&D in Slovakia has flourished hand in hand with the rise in car production, especially for e-mobility products and initiatives such as wireless chargers for e-cars, electrical race cars and testing for driverless cars. Other early fruits of successful auto-related R&D projects include seat systems by American company Johnson Controls, lighting systems by Austria's ZKW, brake calipers by Continental Automotive of Germany, transport automation by their compatriots Siemens, and twinspin gearboxes and automatic logistics systems created by two domestic businesses, Spinea and CEIT.
2. Electronics
With electronics and electrical systems now accounting for some 30% of a passenger car's overall production cost, it's clear that the electronic industry is actually shaping the future of the automobile industry.
Against this backdrop, Slovakia has developed the electronics industry into its second largest pillar industry, accounting for about 11% of the country's total industrial production. The production plants of such global electronics giants as Foxconn, Samsung, Panasonic and Whirlpool, have made Slovakia the biggest LCD TVs supplier for the European market and a major manufacturing base of home appliances in CEE.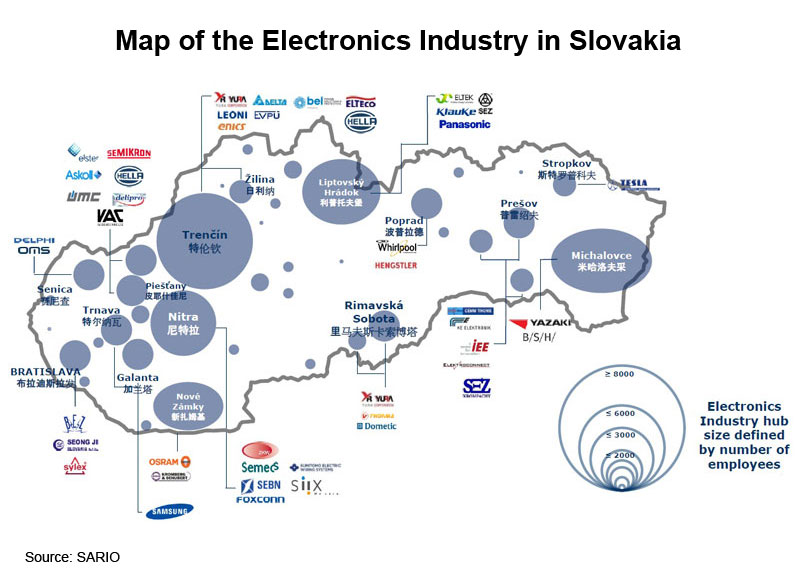 Even though Slovakia does not have its own automotive or many homegrown electronics brands and mainly produces products on an OEM (Original Equipment Manufacturer) basis for international names, the success of the automotive and electronics industries in Slovakia has played an important part in kick-starting a handful of homegrown innovations. These include the creation of the world's most advanced flying car by AeroMobil; popular antivirus software developed by ESET to counter the notorious computer virus "Vienna"; and the production by Sygic of one of the most installed offline navigation applications worldwide.
3. SSCs and BPOs
Slovakia has developed a leading reputation for quality and high-value services over the past decade. The country's combination of highly-qualified, multilingual personnel, reasonable wage levels, competitive prices for office space and investment incentives of up to 35% of total investment costs, have attracted more than 60 SSCs and BPOs to the country.
They provide a multi-functional scope of operations, including accounting and finance, IT, customer service, HR, procurement, purchasing and order processing, and sales and marketing, or execute specific outsourced business processes for companies from abroad.
Most of the SSCs & BPOs in Slovakia are from the US and Western Europe, with only about 3% coming from Asia. Chinese companies active in Slovakia include Lenovo and Yanfeng Automotive Interiors (YFAI).
Foreign companies in Slovakia tend to be drawn to the capital Bratislava and the country's second largest city Košice, thanks to their more modern infrastructure and favourable location to and connections with other major CEE cities. But new hubs such as Banská Bystrica, Nitra, Prešov, Trenčín, Trnava and Žilina are gradually developing by offering a more flexible combination of business conditions.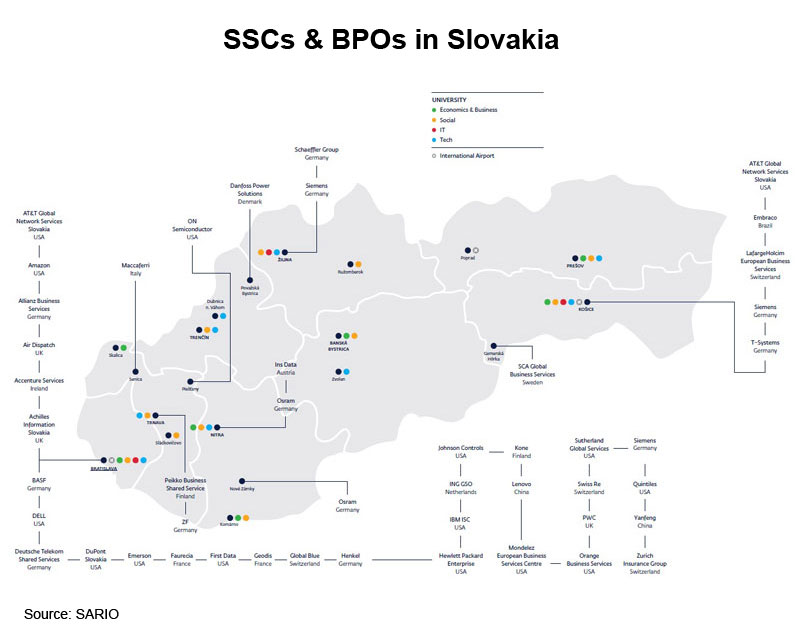 Lenovo has based its EMEA Support Centre in Bratislava since 2006, serving clients and customers from Europe, the Middle East and Africa following its acquisition of IBM's PC business in 2005. YFAI has located its Automotive Business Center in Bratislava since 2007, delivering core business process capabilities in purchasing, finance, quality, customer business unit management, and human resources for the European and South African markets, and working complementarily with its Slovakian-based production plant and engineering centre.
Jockeying for a Position as a Transit Hub on the New Silk Road
The choice of Slovakia by the Chinese companies goes beyond production cost considerations. The country's strategic location as an inland hub connecting Europe with China over three transit corridors – the Tran-Siberian transit (Slovakia-Manchuria), the Kazakh transit (Slovakia-Alashankou) and the Trans-Caspian transit (Slovakia-Alashankou via Azerbaijan and Georgia) – has enabled Chinese manufacturers to ship parts and components directly by rail in about 12 days to factories in Slovakia for processing near to their final European market. This allows the companies to enjoy both the more agile supply chain response capabilities and the tariff-free status of being made in the EU.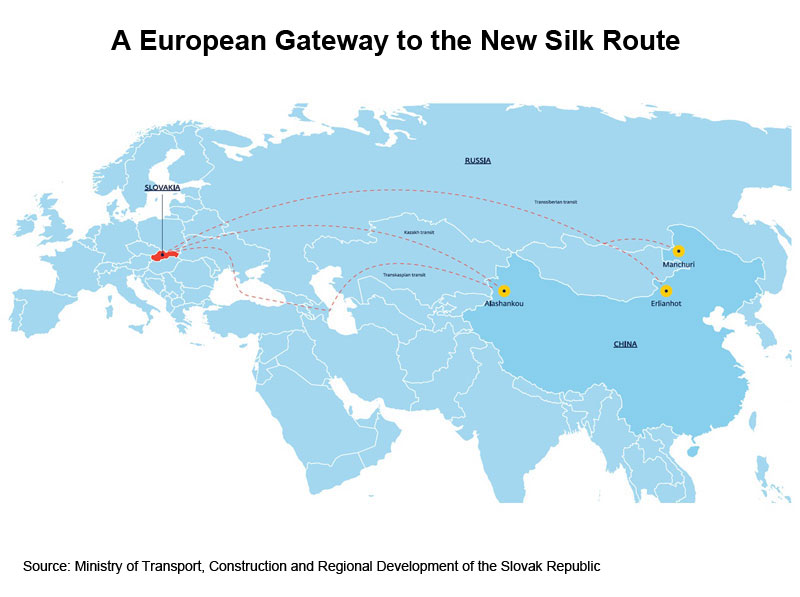 As a case in point, the ongoing acquisition of the country's largest steel mill US Steel Košice (USSK) by He-Steel Group of China not only helps the Chinese steelmaker gain a foothold in the European industry and avoid prohibitive EU anti-dumping duties on steel imports, it also highlights Slovakia's strategic location close to non-EU European suppliers of raw materials for its automotive and electronics industries, such as Ukraine.
While bulk cargos and non-containerised goods such as raw materials for steel production remain the major products carried by the railways, the Slovak government is actively investing on railway infrastructure to make it more competitive for higher-value container traffic. It is enhancing the trans-loading capacity for the movement of containers between the broad-gauge (1,520mm) trains used in former Soviet countries, such as Russia, Kazakhstan and Belarus, and the standard-gauge (1,435mm) trains used in China and the EU.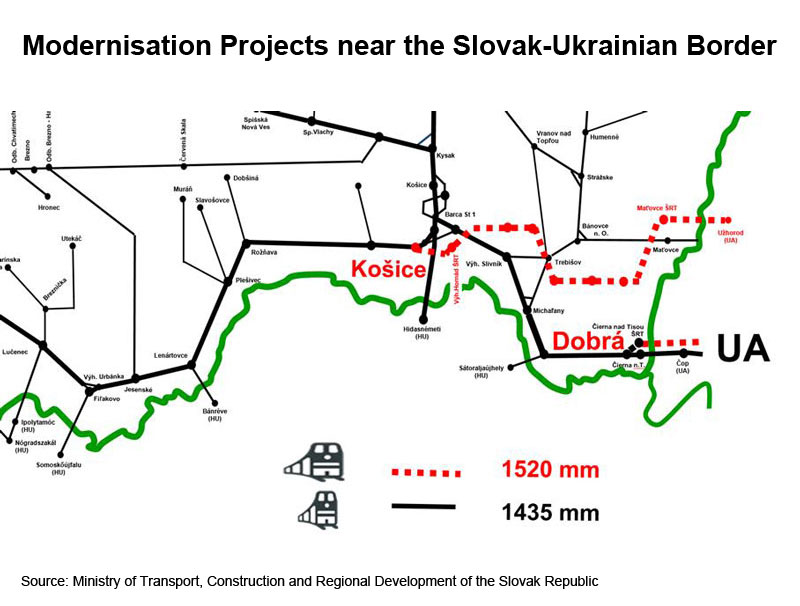 Priority projects include the modernisation of the broad-gauge railway between Maťovce and Košice along the Uzhhorod-Košice line (used mainly for transporting iron ore from Ukraine to the steel industry near Košice) and the expansion of the intermodal terminal at Dobrá, the European end of the rail link with Yingkou (the port city of China's north-east Liaoning province).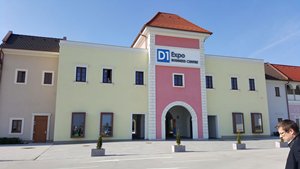 In order to prepare for the expected increase in Eurasia rail cargo traffic and make itself more attractive to international manufacturing and logistics companies, Slovakia has also been developing and upgrading its intermodal logistics infrastructure. By doing this, it also hopes to maximize the benefit of its advantageous location between seaports in southern Europe, such as Koper in Slovenia and Trieste in Italy, and those in northern Europe, like Hamburg in Germany.
Key projects include an intermodal terminal and a global logistics and industrial park (GLIP) at Košice, a tri-modal (rail, road and river) terminal close to the international airport at Bratislava and new intermodal terminals at Žilina and Leopoldov.
The Slovakian government, especially the Ministry of Finance and Ministry of Transport, is also keen on adopting and promoting the use of new technology such as electronic locks and electronic customs clearance systems to make tracking or tracing cross-border cargo movement more effective. To achieve this, the Slovakian government is working closely with Russia, Ukraine and Kazakhstan.
An early sign of the likely success of these joint negotiations has been the resumption of Eurasian freight rail services from Changsha, the capital of central China's Hunan province, to Budapest, the Hungarian capital. The service, which runs through Slovakia and trans-loads at the Dobrá terminal near the Slovak-Ukrainian border, returned into service on 14 June 2017.
Following the Memorandum of Understanding between Slovakia and China for Common Support of the Silk Road Economic Belt and 21st Century Maritime Silk Road Initiatives in the field of transport and logistics, which was signed on 26 November 2015 in Beijing, Slovakia is also looking to expand its activities to Asia. One example of this includes the possibility to start negotiations on a double tax treaty with Hong Kong.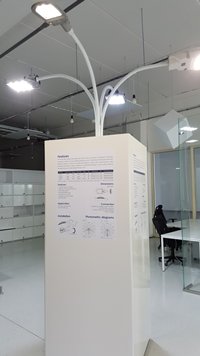 Aside from projects initiated by the public sector, private enterprises, such as the Bratislava-based business consultant D1 Solution and the Austrian-based integrated logistics partner Cargo-Partner, have been investing extensively to try to attract clients who are looking for a reliable CEE business accelerator.
By offering tailor-made services from end-to-end supply chain set-up to sales and account management, D1 Solution has positioned itself as a business enabler for local and overseas companies looking to make inroads into the EU market. Its Expo Business Centre, strategically located at the intersection of the country's main thoroughfare, the D1 highway, and the busy state road 503, has already attracted a handful of Chinese producers of lighting technologies, including the Weledu Group and members/partners such as BestLumi, CEC/SED, EFG and MCOB, since opening in June 2016.
Cargo-Partner, riding on its strong market position in the CEE region and its logistics centres in Bratislava and Dunajská Streda (next to the Slovakia's largest rail terminal), is also expanding its trans-loading and warehousing capacity in Slovakia to further enhance the country's inter-modality across the CEE hinterland.
Cargo-Partner already has a substantial presence in the Asia-Pacific region, with offices in the Chinese mainland, Hong Kong, Taiwan, South Korea and five of the ASEAN countries (Malaysia, Myanmar, Singapore, Thailand and Vietnam). It increased its turnover in the Asia-Pacific region from €23mn to €180mn in the decade ending 2016, and hopes to raise that figure to €300mn by 2020.
In order to achieve this, the company opened a new bonded customs warehouse in Shanghai in October 2016 and has made plans for the continual development of its services, especially in information technology, e-commerce solutions and vertical market expertise in food and beverage, healthcare, textiles and fashion products.
The company's managing director in Slovakia, Tibor Majzún, says Slovakia's competitive cost-effectiveness, together with its ready inter-modal connectivity, is increasingly welcomed by Asian companies looking for a regional distribution base in Europe.
He also believes the successful implementation of the BRI, especially the strengthened Eurasian connectivity, would help to benefit enterprises beyond industry heavyweights like Foxconn, IKEA, Samsung and the four carmakers. He says Cargo-Partner, with its Asia-Pacific Head Office in Hong Kong, can serve as a conduit for sea-land cargo moving between Europe and Asia.
Logistics & Supply Chain
Electronics & Electrical Appliances
Auto Parts
Slovakia
Eastern Europe