https://hkmb.hktdc.com/en/1X09UM33
RDC Hong Kong: prevailing market conditions
With its world-class sea and airport, and modern logistics facilities, Hong Kong has long been a hugely successful trading and logistics hub in the Asia Pacific region. Yet, Hong Kong's role has changed gradually over time. While it remains a key gateway to South China, facilitating the continual development of the Pearl River Delta (PRD), it has also assumed a stronger role as an inventory management and regional distribution centre (RDC) for high-value goods. It is worth noting that Hong Kong's function as an RDC is incorporated in the Chinese mainland government's 12th Five-year Plan (FYP).
Hong Kong as Asia's preferred RDC
Against the broad backdrop of Hong Kong as a transportation and logistics hub, we decided to acquire a better understanding of the RDC sector in Hong Kong, especially Hong Kong's strengths and weaknesses as an RDC in Asia, how it fares against perceived competitors in the region, as well as the challenges now facing the city.
Approach and methodology
Last year, we undertook a combination of desktop research and consultation with stakeholders in Hong Kong. From these results, we designed the content of a questionnaire survey, covering respondents from Hong Kong, Shanghai, Shenzhen and Singapore. Prior to the survey, interviews with concerned RDC parties in Guangzhou, Seoul and Taiwan were also completed. The whole exercise was completed in the first half of 2013.
Throughout the process, our focus has been on a review of the current conditions of Hong Kong as an RDC, including RDC users and products served, the nature of any value-added services (VAS) provided in Hong Kong RDCs, and the key RDC proprietors in Hong Kong. Beneficial factors, which underscore Hong Kong as an RDC, together with other factors critical for the selection of RDC locations, and the results of the questionnaire survey are contained in subsequent articles.
Definition of RDC, stakeholders and user types
Not surprisingly, many local logistics players involved in the transportation of goods within the region consider themselves RDC operators. However, we believed that it was imperative that RDCs should be clearly defined for the purpose of this study. For example, handling transhipment cargo does not fall within the remit of this study.
A distribution centre is a location for receiving and distributing products, and differs from a warehouse (frequently called a godown in Hong Kong) designed primarily to store inventory to replenish shop stocks to avoid the need for large inventory at retail sites. By comparison, a distribution centre functions as a depot to facilitate movement of goods rather than storage. It is common to see very little inventory at a distribution centre when compared to a warehouse.
In terms of this this study, an RDC is defined as a facility that distributes finished goods or parts to more than one country or economy in Asia, with VAS frequently being provided in order to prepare goods for distribution. Common forms of VAS include storagei, packaging and repacking, labelling and re-labelling, quality checking, documentation and customs clearance, compliance and modifications.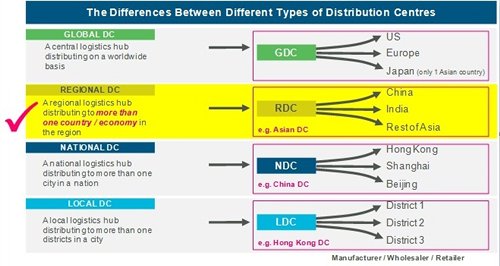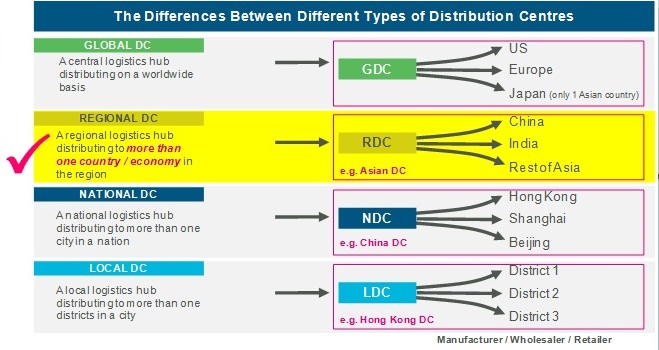 Types of distribution centre
Source: HKTDC Research
This study identified a large number of stakeholders as being involved in Hong Kong's RDC business, including, first and foremost, the service suppliers who arrange or take care of the operations within an RDC and provide customised VAS for users, typically cargo owners with their goods stored at an RDC prior to despatch to factories or buyers. Other stakeholders include transportation service providers who support the movement of goods to and from an RDC; landlords who own and rent out RDC facilities to service providers; industry associations, which promote the development of the RDC industry; and any relevant government departments.
Two service bodies are actively involved in delivering RDC services - freight forwarders and warehousing service providers. While freight forwarders arrange cargo movements with the required logistics services in terms of cargo handling and delivery from shippers to consignees, warehouse service providers offer warehousing and storage services. These days, it is not uncommon to find freight forwarders actively involved in consignment arrangements for warehousing, storage and other VAS at RDCs.
In Hong Kong, RDCs form part of the manufacturing logistics supply chains, which often supports manufacturing activities on the Chinese mainland, and distributes goods both regionally and internationally. These goods typically include electronics components and spare parts. As regards wholesale and retail logistics, a wider spectrum of cargo is handled, including cosmetics, food and kitchenware, and higher value items, such as designer apparel and accessories, luxury brand items, consumer electronics, medical and pharmaceutical products and wine.
Most products have unique characteristics and therefore differ in their logistical requirements. For example, hi-tech electronic products are often high-value goods with short product lifecycles. Therefore, RDC users of these products may demand seamless inventory turnover.
Mismanagement of inventory may lead to substantial inventory holding costs and increase the risk of product obsolescence. Wine, by contrast, is less time-sensitive, yet susceptible to temperature change. Sometimes wine has to be shipped and stored under refrigerated conditions (known as a "cold chain").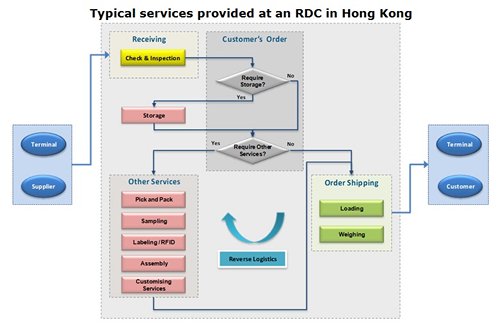 Typical services provided at an RDC in Hong Kong
Source: HKTDC Research
Private storage space and major RDC landlords in Hong Kong
It is estimated that there is around 38 million sqft or 3.5 million sqm of gross floor area (GFA) of private storage space in Hong Kong (which is an area equal to about 18 Victoria Parks, the largest park in urban Hong Kong). Around 80% of storage space is located within or around the New Territories, concentrated particularly in Kwai Tsing, Tsuen Wan and Shatin. Despite the addition of a number of new storage facilities in 2011, demand clearly outstrips supply, with the vacancy rate reported as only 3.8% at the end of 2011.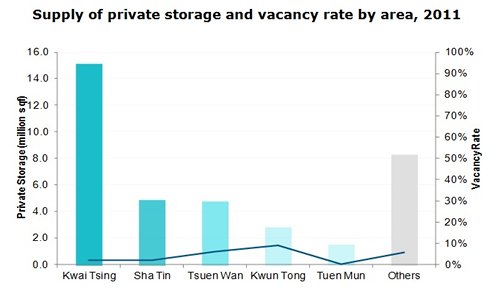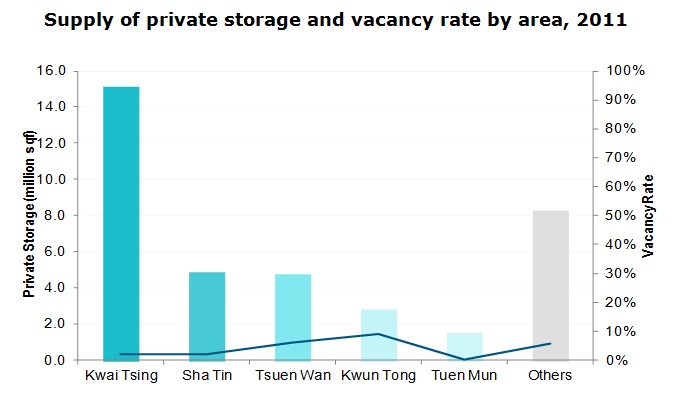 Hong Kong's supply of private storage and vacancy by area in 2011
Source: "Hong Kong Property Review 2012", Rating and Valuation Department, HKSAR government
Based on consultations with key RDC facility providers, it is estimated that about 70% of warehousing space in Hong Kong is offered by a handful of major landlords. However, the size of buildings used for RDC activities varies significantly. Some warehouse operators focus on regional distribution, while others have a large proportion of space set aside for local use. However, it was identified that RDC services tend to generate higher profit margins than other warehousing activities.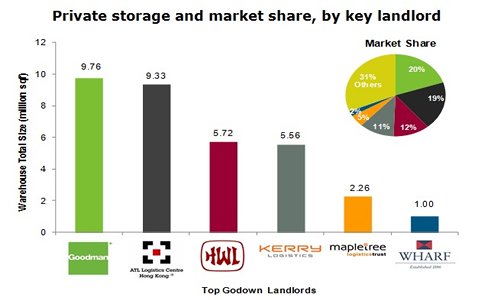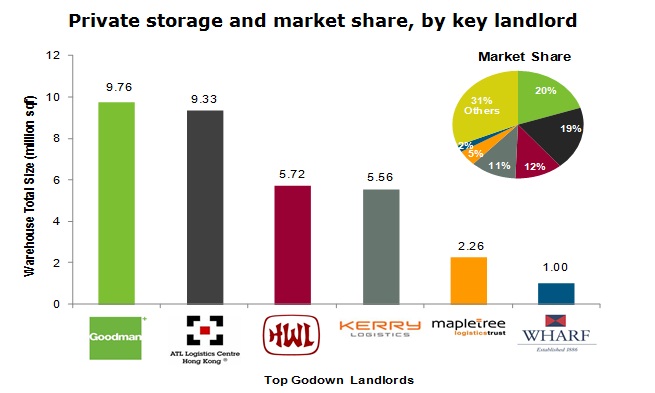 Private storage and market share, by key landlord
Source: HKTDC Research
The low warehouse vacancy rate in Hong Kong in recent years is due to a combination of demand and supply factors. A strong local retail sector, in part fuelled by the Individual Visitors Scheme under CEPA, has taken up space for inventory management. The housing of a rapidly increasing number of data centres has also contributed to greater competition for storage space. On the other hand, there has been a continual loss of space due to factory revitalisation and demolition, while the slow or limited supply of new warehouse space, as can be seen in the table below.
Private storage facilities to be demolished or revitalised
| | |
| --- | --- |
| Facilites | Location |
| Big Orange | Kwai Chung |
| Kowloon Godown | Kowloon Bay |
| Pioneer Industrial Building | Kwun Tong |
| Success Centre | Kwai Chung |
| Unimix | San Po Kong |
| Nan Sing | Kwai Chung |
Supply of key new private storage, 2000-15
| | | |
| --- | --- | --- |
| Facilites | Year of Completion | Space Offered (sqm) |
| Goodman Interlink | 2012 | 0.24 million |
| NWS Kwai Chung Logistics Centre | 2011 | 0.1 million |
| Goodear Tsing Yi | 2014E | ~0.11 million |
| China Merchants Tsing Yi | 2015E | ~0.1 million |
| Various | 2000-2010 | |
Source: HKTDC Research compilation from various public sources

The rental price of warehouse space is high due to this demand-supply imbalance. As of March 2013, space in warehouses with cargo-lift access rented out at an average monthly rate of about HK$8.9 per sqft (US$12.3 per sqm), while space in those with ramp access costs an even higher monthly rate of about HK$18 per sqft (US$24.8 per sqm).ii
When the warehouse property market is buoyant, landlords tend to want short leases, thus making it hard for logistics service providers to justify large investment in automated equipment. Some logistics service providers reported that landlords could also require a large down payment of up to six months rent at the time of lease. Not unsurprisingly, Hong Kong was among the three most expensive cities in terms of global prime warehouse rentals as of December 2011.
Global top five industrial prime warehouse rents, December 2011
City
Prime warehouse rentiii
(HK$/sq ft/month)
Six month change
(local currency, %)
Tokyo
15.0
-3.0%
London - Heathrow
13.6
3.8%
Hong Kong
13.3
8.1%
Singapore
12.2
6.8%
Zurich
11.6
0.0%
Source: Colliers International

Current RDC business models
Based on stakeholder consultations, the following are the most common business models that RDC users and operators adopt in Hong Kong.
(i) Ship-in-air-out model
This model places balanced emphasis on logistics costs and lead-time, in particular after the products have received any required VAS. Generally, products and parts are brought in by sea from factories around the world for consolidation in Hong Kong. After VAS are applied at the Hong Kong RDC, these "final" products are rapidly delivered to their Asian destinations by air, thereby minimising the overall lead-time for the value-added products.
(ii) Feeder-distribution model
This approach is aimed at reducing logistics costs and delivery time by delivering multiple products in small quantities directly to each of the end destinations outside Hong Kong by utilising the well-established network of feeder vessel sailings centred on Hong Kong. To serve logistics needs in Southern China, trucking from distribution centres in Hong Kong costs more and has negative impacts, such as pollution and traffic congestion, which the use of feeder vessels can avoid. However, this model is only viable if and where there is sufficient coverage and frequency of feeder vessel sailings.
(iii) Distribution cost reduction through packaging in large quantities
This model uses economies of scale to lower costs. Typically, high-value products such as perfumes and wines are shipped in large quantities from Europe to Hong Kong. In Hong Kong they are subject to VAS, such as mixed loading, sophisticated packaging and labelling, before distribution to customers in Asia. In this way, the long-haul journey is done in bulk when products are initially stored in a more homogenous state, with customisation then taking place close to market.
(iv) Market entry and expansion model
This model is used by companies seeking entry to new markets or wishing to expand their existing product ranges in Asia, particularly on the Chinese mainland. For example, companies keenly aware of the potential language, cultural and administrative barriers to the Chinese mainland may first use the Hong Kong market as a testing ground for marketing their products and also as a distribution centre. After gaining increased knowledge of the mainland market, they may seek to move their distribution centres there to take advantage of lower costs and greater proximity to their target markets.
---
i Storage refers to the holding of goods for distribution purposes, and temporary holding of transhipment cargo is not regarded as a VAS for the purpose of this study.
ii Hong Kong Industrial Market Q1 2013, by Colliers International
iii Prime warehouse space is defined as warehouse space measuring 20,000 square feet (about 1,860 sqm) or more, with up to 15% of office space.
Logistics & Supply Chain
Logistics & Supply Chain