https://hkmb.hktdc.com/en/1X09U6YK
Innovation and Technology Industry in Hong Kong
Overview
Hong Kong's innovation and technology sector together with that of Shenzhen – the Shenzhen-Hong Kong technology cluster – ranked the world's second largest based on the Global Innovation Index 2019.
Hong Kong's start-up ecosystem is thriving. In 2019, the number of start-ups in Hong Kong grew by 21% to 3,184, with the total employment expanded by 31% to over 12,000 employees.
Biotechnology, artificial intelligence, smart city and financial technologies were identified as the four areas of strength for development in Hong Kong, and the expenditure on research and development as a percentage of the gross domestic product is expected to be doubled in five years from 2017.
Industry Data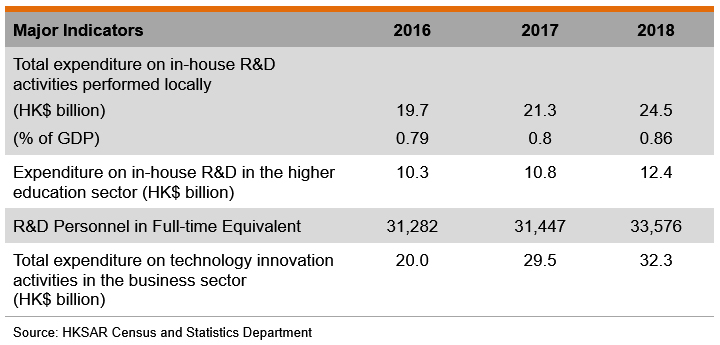 Industry Development
Being a strategic business platform and technology marketplace in Asia, plus a growing local research cluster, Hong Kong's innovation and technology (I&T) sector together with that of Shenzhen – the Shenzhen-Hong Kong technology cluster -- ranked the world's second largest based on the Global Innovation Index 2019.
With opportunities brought by the Guangdong-Hong Kong-Macao Bay Area development, Hong Kong will further capitalise on its advantages in R&D capabilities, technological infrastructure, legal system and intellectual property to spearhead the I&T industry, and act as a business platform for innovative companies looking to access the Asia market (China in particular), or mainland innovative companies to go international.
Hong Kong's start-up ecosystem has gained traction in recent years on the back of increased investment in the necessary infrastructure required and funding supports. In 2019, Hong Kong continued to see a steady upward trend in the number of start-ups (+21%) and the number of staff employed in these start-ups (+31%) from a year ago according to the survey by InvestHK.
Major research focus of Hong Kong start-ups includes information and communication technologies (ICT), software as a service (SaaS), Internet of things (IoT), data analytics, biotech, artificial intelligence (AI), robotics, virtual reality (VR) and augmented reality (AR), as well as new material. In terms of applications, fintech (financial technology), smart city and smart home, healthcare and big data applications are among the most popular sectors.
With rising corporate engagement in incubation and accelerators programmes, new initiatives to promote start-ups springing from universities, Cyberport and Hong Kong Science Park, and a string of notable funding rounds for start-ups, particularly the emergence of start-ups with "unicorn" status, it is anticipated that Hong Kong's technology sector may soon reach a tipping point and will be propelled into much faster growth.
R&D Capabilities
Human capital is one of the essentials in I&T. While universities in Hong Kong occupy respectable positions in the QS University Ranking and the Times Higher Education Ranking, particularly in science and engineering subjects, they have played an important role in Hong Kong's I&T capacity building. In terms of research, universities have seen a rising trend in in-house R&D expenditure and the number of R&D personnel. A rising number of these research has been successfully converted into commercialised products, industry research collaborations or other forms of contribution to the society and economy.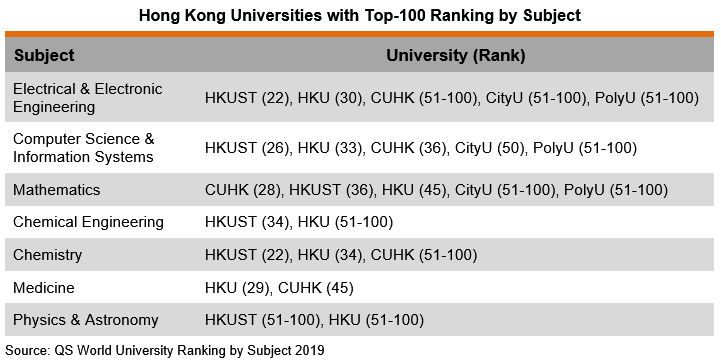 Besides local grooming, Hong Kong's openness to foreign talents has also contributed to the growth of its R&D activities. According to the 2019 start-up survey by InvestHK, around 34% of the responded start-ups was not founded by locals. Besides, some multinational companies attracted by the Chinese market also locate their R&D employees from overseas to Hong Kong where foreign talents may find it easier to adapt to living and working than in the Mainland.
Technological Infrastructure
Hong Kong ranked fourth in infrastructure out of the 129 surveyed economies in the Global Innovation Index 2019. In pursuant to the blueprint for I&T development unveiled in 1998, the government has invested in necessary infrastructure required that include setting up the Innovation and Technology Fund (ITF) with an initial HK$5 billion capital injection, founding the publicly-funded Hong Kong Applied Science and Technology Research Institute (ASTRI), and establishing the Hong Kong Science Park, Cyberport and five Research and Development Centres.
The Hong Kong Science Park is home to more than 810 technology companies and approximately 8,700 R&D practitioners. The park houses five distinct clusters: (1) biomedical technology, (2) electronics, (3) green technology, (4) information and communications technology (ICT) and (5) material and precision engineering. Its current development focus is on three over-arching cross-disciplinary platforms – smart cities, healthy ageing and robotics. The Hong Kong Science and Technology Parks Corporation (HKSTP) has set up a subsidiary company – Hong Kong-Shenzhen Innovation and Technology Park Ltd – to develop Lok Ma Chau Loop into the Hong Kong-Shenzhen Innovation and Technology Park.
Cyberport, a wholly-owned Hong Kong government facility, is a creative digital workspace with more than 1,500 technology enterprises. With an avowed mission to establish itself as a leading global I&T hub, Cyberport is committed to boosting the local economy by nurturing digital industry start-ups and entrepreneurs, driving collaboration in terms of resources and the creation of business opportunities, while accelerating digital adoption through strategic initiatives and partnerships.
In 2006, under the government's Hong Kong R&D Centre Programme, five centres were established to drive and co-ordinate applied R&D in selected focus areas, as well as to promote the commercialisation of these R&D results and any subsequent technology transfer. They are:
The Hong Kong Productivity Council (HKPC), established by statute in 1967, is a multi-disciplinary organisation to enhance the productivity and international competitiveness of Hong Kong enterprises through the provision of market led applied R&D in smart products, smart manufacturing, automation, new materials, surface treatment, smart mobility, green transportation and environmental technology. HKPC also provides consultancy, technology transfer, training and other support services to enterprises in Hong Kong.
Latest Government's Initiatives
A new "Technology Start-up Support Scheme for Universities" (TSSSU) was launched by the Innovation and Technology Commission (ITC) in 2014. Under TSSSU, an annual funding of up to HK$8 million is provided to each of the six local universities to encourage technology start-ups. Each funded technology start-up may receive up to HK$1.5 million each year for no more than three years. Staff, students or alumni who set up a company with a significant focus on "knowledge" and "technology" are eligible to apply.
In 2016, the Hong Kong government announced a HK$2 billion Innovation and Technology Venture Fund for co-investing in local innovation and technology start-ups with private venture capital funds on a matching basis. In so doing, the government is expected to bring in "smart money" into Hong Kong to boost investment in local I&T start-ups.
The 2017 Policy Address stepped up investment in I&T development:
To double the expenditure on research and development as a percentage of the gross domestic product from 0.73% to 1.5% in five years.
To build a Data Technology Hub and an Advanced Manufacturing Centre in the Tseung Kwan O Industrial Estate in three and five years respectively.
Support HKSTP to build an InnoCell adjacent to the Science Park to provide residential units and shared working spaces for leasing to staff of incubatees and start-ups.
Earmarked HK$500 million for the Innovation and Technology Bureau (ITB) to help the government in applying technology to improve the quality of public services.
Promote establishment of a Common Spatial Data Infrastructure (CSDI) to enable sharing of geospatial data and support the smart city blueprint of ITB.
Introduced the Technology Voucher Programme to facilitate the adoption of technology by small-and-medium enterprises (SMEs) for upgrading and improving productivity.
In May 2018, the government introduced the Technology Talent Admission Scheme (TechTAS), which provide fast-tracks arrangements for overseas and Mainland research and development talent. In the same month, universities and research institutions in Hong Kong are allowed to apply for science and technology funding of the Central Government and use the funding for research in Hong Kong.
In the 2018-19 Budget, the government identified four areas of strength for development, namely biotechnology, artificial intelligence, smart city and financial technologies (Fintech). An additional HK$50 billion was allocated to promote I&T development, that include HK$10 billion additional injection to the ITF, establishment of two research clusters on healthcare technologies and on artificial intelligence and robotics technologies, as well as funding for Cyberport to enhance support for start-ups and promote development of a digital technology ecosystem.
Several new initiatives for I&T development have been introduced in the 2018 Policy Address and the 2019-20 Budget, which include:
Provide addition funding support for the technology transfer offices of designated universities, designated universities under the Technology Start-up Support Scheme for Universities, the State Key Laboratories and Hong Kong branches of Chinese National Engineering Research Centres.
Establish a Smart Government Innovation Lab (officially launched in May 2019) to provide a platform for encouraging innovative solutions and product suggestions from the IT sector, particularly local start-ups and small and medium enterprises (SMEs), to address public service delivery and operational needs.
Inject HK$2 billion into the ITF for launching a Re‑industrialisation Funding Scheme to subsidise manufacturers on a matching basis to help them set up smart production lines in Hong Kong.
In the 2020-21 Budget, the government has put forward the following measures to support the I&T sector:
Earmark HK$3 billion to take forward Phase 2 of the Science Park Expansion Programme.
Explore the establishment of a third InnoHK research cluster.
Increase the grant ceiling under the Technology Voucher Programme to HK$600,000 and raise the government's funding ratio to 75%.
Inject HK$345 million for a pilot subsidy scheme to encourage the logistics industry to enhance productivity through the application of technology.
FinTech
Being an international financial hub complemented by a highly developed ICT sector and an increasingly conducive start-up ecosystem, Hong Kong's Fintech industry has witnessed significant growth in recent years. The number of fintech start-ups in Hong Kong rose by more than double from 138 in 2016 to 456 in 2019.
Hong Kong ranked the world's sixth most significant Fintech hub in the "Connecting Global FinTech: Interim Hub Review 2017" published by Deloitte. Currently 48 of the world's top 100 Fintech companies are operating in the city. There are many factors that make Hong Kong ideal for Fintech companies, of which the most attractive advantages are:
Providing a base for new and established Fintechs which target Hong Kong and the Asia-Pacific region which, particularly given the large number of regional financial operations based in Hong Kong, constitutes the territory's natural catchment area;
Focusing on B2B Fintech, i.e. fintech firms and businesses that serve incumbent financial institutions, aiming to meet their regional needs;
Attracting Mainland Fintech, IT and e-commerce companies to set up in Hong Kong as a base for regional and international expansion.
Hong Kong would also be able to support incoming international Fintechs seeking expansion into the Mainland. While major Mainland banks and insurance companies have set up presence in Hong Kong, companies operating in Hong Kong can also have easy access to the Mainland's Fintech leaders.
As regards specific Fintech segments, Hong Kong's most significant technology development are seen in data analytics, robotics, big data, P2P technologies and natural language processing. In recent years, key disruptions by Fintech are already witnessed in financial services sectors including foreign exchange, cybersecurity, e-commerce, wealth management and robo advisory.
Dedicated Fintech platforms have been set up to facilitate communications and collaboration between the Fintech market participants and the public sector. These include the FinTech Facilitation Office set up by the Hong Kong Monetary Authority (HKMA), the Fintech Contact Point established by the Securities and Futures Commission (SFC) and the Insurtech Facilitation Team under the Insurance Authority (IA).
To encourage financial institutions to make use of Fintech, supervisory sandboxes are launched by HKMA, SFC and IA to allow financial institutions to gather real-life data and user feedback on their Fintech products/services in a controlled environment.
Biotech
Excellence in scientific frontiers with continuous research breakthroughs have fuelled development of a competitive biotech industry in Hong Kong. It is estimated that currently Hong Kong universities produce about 250 biomedical publications of high impact factor per annum. Hong Kong has also made a mark in its scientific contributions in international, large-scale genomic projects, and identification and characterization of emerging infectious diseases such as SARS and avian flu virus.
Hong Kong has two excellent medical schools rated among the top in the world in the field of clinical medicine by the ISI Essential Science Indicators. Some of the achievements of these two medical schools include research in molecular diagnostics using circulating cell free DNA in blood and prescription drug "Oral Arsenic Trioxide" to treat Acute Promyelocytic Leukemia (APL). Patents of the researches held by Hong Kong universities have been licensed and sublicensed globally, and resulted in start-ups in this field.
Hong Kong is also a major clinical trial centre for new drugs. Two Phase I Clinical Trial Centres that were established in Hong Kong in 2014 have established extensive collaborations with multi-national pharmaceutical companies. Apart from conducting clinical trials for the US new drug registration approval, the Hong Kong Eye Hospital, the University of Hong Kong and the Chinese University of Hong Kong are the first three institutions located outside Mainland China to gain approval from the China State Food and Drug Administration to carry out clinical trials in a number of disciplines for drug registration purpose in China.
Supported by various public funds and investment, several research institutes were established to advance the development of life science and biotechnology. These include the Hong Kong Institute of Biotechnology (HKIB) and the Biotechnology Research Institute (BRI). Founded in 1988, the HKIB provides R&D support, as well as facilitates technology transfer and product commercialisation for the biotechnology industry. It also established a Biotechnology Incubation Centre in 1996 for local start-ups and international biotechnology companies with equipment, technical and administrative support.
Hong Kong's biotech ecosystem is favoured by world-renowned research institutions. In 2015, Sweden's leading medicine university Karolinska Institutet established an overseas research branch in Hong Kong, focusing on disease areas in which Karolinska Institutet and some Hong Kong universities have unique expertise, including stem cell technology. In 2017, Guangzhou Institutes of Biomedicine and Health set up a stem cell and regenerative medicine research centre at Science Park.
With its strong linkage with the mainland biotech companies and research institutions, Hong Kong is positioned as a bridge between Mainland China and the international market. The Hong Kong-Shenzhen Innovation and Technology Park in Lok Ma Chau Loop is expected to further stimulate cross-border academia-industry collaboration and advancement of the biotech industry in Hong Kong.
Artificial Intelligence
Artificial Intelligence (AI) is the major driving force of the fourth Industrial Revolution which is characterised by automation and connectivity. In particular, with the wide adoption of internet-connected devise and advancement of cloud computing technologies, AI has become a mainstream technology today, and is an increasingly integral part of many industries, including finance, marketing, retail, and logistics.
According to an analysis of academic publications on AI by Times Higher Education in May 2017, Hong Kong ranks third worldwide in terms of field-weighted citation impact on AI.
Hong Kong also has a number of leading private AI technology companies such as SenseTime. SenseTime was co-founded by Professor Sean Tang who developed a novel facial recognition system with deep learning with an accuracy rate of over 99%, grew into a unicorn in 2017 in just three years' time. Other examples include WeLab, an online lending platform utilises AI to come up with personalised lending proposals for its clients.
In the Smart City Blueprint published in December 2017, the Government has committed to building the infrastructure to enable more application of AI in both the public and private sectors. Moreover, the Government will adopt more AI in its services in public and city management, including transport, customs inspection and cyber security.
In May 2018, Alibaba, SenseTime and HKSTP announced the launch of a not-for-profit AI lab in Hong Kong (HKAI Lab), a new initiative to support and promote Hong Kong to grow as a global hub for AI. Objective of the HKAI Lab is to advance the frontiers of AI which includes helping start-ups commercialise their technology, develop ideas and promote knowledge sharing in the AI field.
Smart City
As one of the most densely populated cities in the world with world-class ICT infrastructure and Internet connectivity, Hong Kong is an ideal testing ground for a lot of smart city applications. To catch up the global trend and build Hong Kong into a world-class smart city, the Government released the Hong Kong Smart City Blueprint in December 2017 that maps out development plans in the next five years.
Hong Kong's Smart City Blueprint embraces I&T for a smart Hong Kong under six major areas: (1) smart mobility – intelligent transport system and traffic management, (2) smart living – free public wi-fi access and eID for government and commercial services, (3) smart environment – green buildings and technology applications in energy efficiency, waste management and pollution monitoring, (4) smart people – I&T capacity building, (5) smart government – open data, smart city infrastructure and e-public service, and (6) smart economy – leverage I&T to strengthen existing and develop new economic pillars, and promote sharing economy.
In the 2017 Policy Address, three key smart city infrastructure projects were announced. The three projects are: "eID" for all Hong Kong residents, a pilot Multi-functional Smart Lampposts scheme at selected urban locations, and the Next Generation Government Cloud Infrastructure ("Next Generation GovCloud") with a Big Data Analytics Platform, which is scheduled to be launched by 2020. Under the Multi-functional Smart Lampposts pilot scheme, the Government will progressively install about 400 smart lampposts in the next three years in four urban locations. As of end-June 2019, the first 50 smart lampposts have been installed in Kwun Tong and the Kai Tak Development Area.
Besides, HKSTP and industrial manufacturing company Siemens have officially launched their joint Smart City Digital Hub at Science Park. The hub will be focused on accelerating the development of smart city applications designed specifically for the Hong Kong market.
Mainland and International Collaboration
Currently, there are 16 Partner State Key Labs (SKLs) approved by the Ministry of Science and Technology of China and six branches of the Chinese National Engineering Research Centres in Hong Kong. These research labs are managed by Hong Kong's publicly funded universities and research centres. Besides, the Guangzhou Institutes of Biomedicine and Health under the Chinese Academy of Sciences has set up a stem cell and regenerative medicine research centre at Science Park.
Some Hong Kong universities have set up branches in Shenzhen to enable faculty members to perform research work in the Mainland, and to expand into the Mainland market.
In January 2017, Hong Kong and Shenzhen signed a "Memorandum of Understanding on Jointly Developing the Lok Ma Chau Loop by Hong Kong and Shenzhen". Under the terms of this, the two cities will jointly develop the Hong Kong/Shenzhen Innovation and Technology Park within the 87-hectare loop. It is anticipated that the park will attract many of the leading businesses, research institutions and higher education establishments from both Hong Kong and Shenzhen, as well as those of other mainland regions and from abroad. In the long-term, it is seen as emerging as one of the key bases for co-operation in innovation and technology research.
Hong Kong is favoured by several world-renowned research institutions. Cornell University initiated in 2010 a collaboration with CityU to create the first veterinary medicine academic program, filling the need for veterinarians in Hong Kong. MIT set up its first overseas Innovation Node in Hong Kong in 2016 to take advantage of Hong Kong's "ready access to a unique manufacturing infrastructure that encourages prototyping and scaleup". These activities and international collaborations highlight Hong Kong's attractiveness.