https://hkmb.hktdc.com/en/1X09TQDH
Hong Kong the Marketplace to Tap Booming Technology Demand in Chinese Mainland
China's pressing need to upgrade its industry and its determination to develop the "seven new strategic industries" have sparked a tremendous demand for various technologies in the 12th Five-year Programme (FYP) period 2011-2015. In order to make up the technology gap with advanced countries, the Chinese mainland has introduced a number of incentives and import facilitation measures to encourage enterprises to source appropriate technology, equipment and key components from their foreign counterparts. The mainland has also advocated closer cooperation with Hong Kong, Macau and Taiwan in an attempt to integrate technological activities and businesses in the region.
Hong Kong is likely to cash in from such booming technology demand on the mainland, as the territory is a technology marketplace with a sizable cluster focusing on technological innovation and excelling in serving clients in the Greater China region. Aided by Hong Kong's sound protection on intellectual property rights (IPR) and professional services, Hong Kong's technology players have an upper hand in introducing home-grown and foreign technologies in areas such as environmental protection, new generation information technology, new energy applications and new energy/electric vehicles to the mainland market.
China moves towards a technology-driven economy
China's industrial output grew rapidly by some eight fold from Rmb 8.6 trillion in 2000 to reach Rmb 69.9 trillion in 2010, and become the world factory for a wide range of consumer, electrical and electronic products. However, most of the production remains labour-intensive and earns a low profit margin. High-tech production accounts for only a small share of the industrial output, standing at 10.7% in 2010. Also, a significant portion of the production is not efficient, with high energy and resources consumption.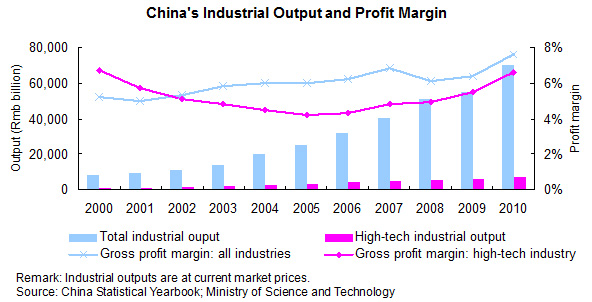 In consideration of sustainable development, the Chinese government is striving to change its economic development path from an extensive growth of industrial output volume to increase the competitiveness of its industries with higher added value, in which technology upgrade and innovation will be the key success elements.
In the 12th FYP, the Chinese government lists out a number of technology-related targets, including increases in R&D expenditure from the level of 1.8% of GDP in 2010 to 2.2% of GDP by 2015, and to develop the seven new strategic industries, with a view to making them the pillar industries of the economy. It is targeted that the combined output (added value) of the new strategic industries will account for 8% of GDP by 2015, and 15% of GDP by 2020[1].
Development of Seven New Strategic Industries
Industry
Focus
Energy-saving & environment protection

- LED lighting
- Efficient utilisation of clean coal & charcoal
- "Blue-sky project" to reduce air & water pollution
- Recycling and re-use of waste materials & resources

New generation information technology

- New display technology
- National broadband network
- Cloud-computing engineering projects

Biotechnology

- Biomedicine & biomedical materials
- Advanced medical equipment
- Biobreeding for animals & plants of new species
- Biomedicine for agriculture
- Advanced biology manufacturing
High-end equipment manufacturing
- High-speed trains
- Green manufacturing & smart manufacturing
- Service robots
- High-end marine engineering equipment
- Scientific equipment and apparatus
New energy
- Wind power generation
- High-efficiency solar energy
- Biomass energy
- Smart grid
New materials
- High-performance fibre & composite materials
- Advanced rare earth materials

New energy vehicles

- Key parts & components
- Hybrid vehicles
- New generation pure electric vehicles
Remark: Please refer to the corresponding five-year programme for details
Source: "National 12th Five-Year Science and Technology Development Programme"
(國家十二五科學和技術發展規劃), Ministry of Science and Technology, July 2011
To encourage manufacturing companies to engage in technological development, a number of tax and fiscal incentives have been introduced. For example, the Enterprise Income Tax Law has provided a number of tax incentives to enterprises that undertake environmental protection investment or technological activities. Recently, the National Development and Reform Commission issued an opinion[2], requesting local governments to adopt implementation measures to facilitate private enterprises to participate in the development of the new strategic industries. Accordingly, the Guangdong government, for instance, has started to offer various tax incentives, fiscal supports and administrative measures to enterprises that are engaged in the new strategic industry businesses[3].
Selected Tax Incentives to Foster Technological Development
| | |
| --- | --- |
| Item | Tax incentive |
| Environmental protection & energy/water saving projects | 3-year tax-free holiday and 3-year tax halved for enterprise income tax |
| Specialised equipment for environmental protection & energy/water conservation | The income tax amount can be reduced by 10% of the investment amount on specialised equipment |
| Technology transfer | Tax-free for the income of 1st RMB 5 million, and half of the tax for income above RMB 5 million |
| High-tech enterprises | Enterprise income subject to a reduced tax rate of 15% |
| R&D expenditure | Tax deduction by 150% of the actual expenditure |
| Certain integrated circuit players and software developers | Enterprise income subject to a reduced tax rate of 15%, and/or tax-free holiday for certain period of time and then half of the income tax rate thereafter up to specified period |
Source: Enterprise Income Tax Law of the PRC and the implementation regulation;
《國務院關於印發進一步鼓勵軟體產業和積體電路產業發展若干政策的通知》, February 2011
Keen demand for foreign technology
Industry upgrade and development of the strategic industries in China will certainly stimulate demand for various technological knowhow, equipment and services. It is noteworthy that in the past two decades, China has made substantial advancements in technological developments. For example, the number of applications for grant of patents surged from less than 0.1 million pieces in 1995 to 1.2 million pieces in 2010. Its R&D expenditure also rose strongly from Rmb 34.9 billion to Rmb 706.3 billion in the same period[4]. In certain areas, China has even surpassed advanced countries. However, China still lags behind when considering the overall technological level. Its R&D expenditure to GDP intensity still remains at a low level when compared with advanced countries like the US, Japan and Germany. Due also to the gap accumulated in the last few decades, in the near term China will continue to fall behind and therefore has to rely on imports of certain technologies to support further development of its industries.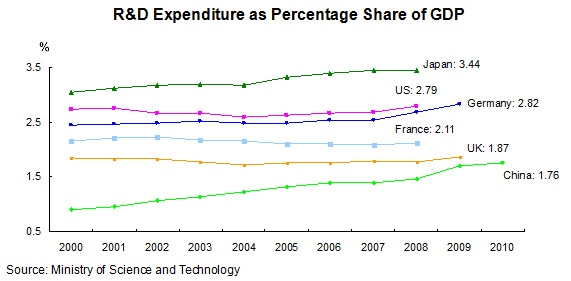 In the meantime, despite the surge in applications for and grants of patents on the mainland, they are mainly related to utility and design patents, which are largely production-related applications and cosmetic design of products respectively. As regards invention patents that are more often stemming from front-end technologies, China still lags behind in terms of the number of invention patents granted. Also, in terms of patents granted per thousand researchers, China stands at some 22, a level which is far below the US, Japan, South Korea, etc. This suggests that the efficiency of mainland researchers has yet to attain the standards achieved by advanced countries.

International Comparison of Domestic Invention Patents Granted
Domestic invention patents granted
(per 1,000 researchers)
Japan
145,040 (204.3)
South Korea
91,645 (412.9)
US
89,823 (63.0)
China
31,945 (22.4)
Russia
18,431 (39.3)
Germany
12,977 (45.6)
France
10,697 (50.7)
UK
2,058 (11.7)
Remark: 2006 figures for the US and France, and 2007 figures for the others
Source: UNESCO Science Report 2010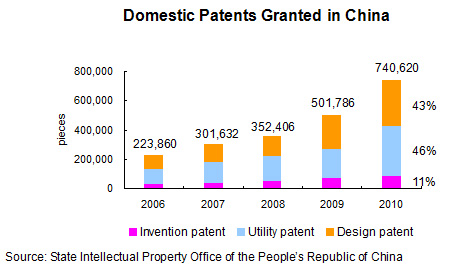 In specific areas like environmental protection, for example, advanced countries which have been engaged for years in R&D activities in environmental technologies now possess relatively mature technologies in such areas. According to a research report of the United Nations[5], if China is to meet its target of controlling pollution and saving energy in the coming decades, it will need to acquire 62 key technologies in the six sectors of (1) power generation; (2) transportation; (3) buildings; (4) steel; (5) cement; and (6) chemicals and petrochemicals. But up to now, the mainland has not yet mastered 43, i.e. about 70% of these key technologies are beyond the mainland's grasp.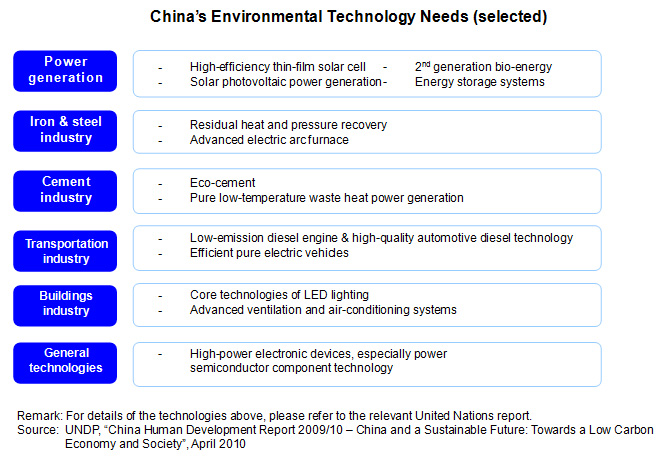 The above mentioned United Nations report also highlights that China is in a relatively backward position in application of renewable energy technologies. While China produces a substantial amount of new energy equipment/products like solar/wind energy apparatus and energy saving lamps, the technologies mastered are mainly focused on production that is largely meant for sales to the international market. These products, as well as the more advanced technologies that are currently beyond the grasp of China, have not been able to play a significant role in energy saving and resource conservation on the mainland. To facilitate the development of its new strategic industries like environmental protection and new energy, it is inevitable that China will increasingly seek technological support from abroad.
Even for China's high-tech industries[6], the overall R&D expenditure to gross industrial output intensity remains at the level of some 1.3% in 2010. Such intensity level is much lower than developed countries like the US and Japan. This is due mainly to the fact that high-tech enterprises in China are largely concentrated on processing activities or down-stream operation of the technology business, e.g. assembly processes which are of lower added value by nature. Therefore, some high-tech enterprises still have to rely on their foreign counterparts to render different technological support, especially those related to product design, supplies of key components and software for various technology products.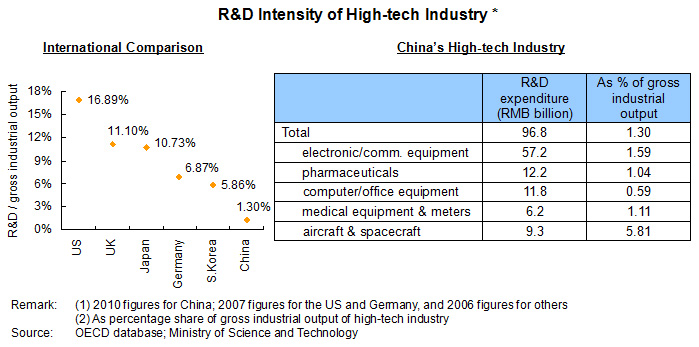 Government incentives and measures for technology imports
In view of the technology gap, China has to source appropriate technology from its foreign counterparts. In the "National 12th Five-year Science and Technology Development Programme", it has mentioned the strengthening of international cooperation on technology, while enhancing technological exchanges with foreign partners.
At the provincial level, the Guangdong government has issued an opinion to foster the development of new strategic industries via enhanced international cooperation on technology[7]. Apart from the strategy to attract technological investment from giant mainland and foreign technology players, Guangdong has also determined to strengthen cooperation with Hong Kong, Macau and Taiwan in the areas of optoelectronics, LED, new energy vehicles, biotechnology and new materials, with a view to integrating the activities of R&D, production and sales and marketing in the region. Such development direction is echoed by the "Guangdong 12th Five-year Science and Technology Development Programme"(廣東省科學和技術發展十二五規劃) released in December 2011, in which technological cooperation with Hong Kong, Macau and Taiwan is among Guangdong's initiatives to enhance the province's technological level.
Also, China has introduced an "Encouraged Import Catalogue for Technology and Technological Products", under which fiscal measures are in place to facilitate imports of advanced technology, core parts, components and equipment, and energy conservation/environmental protection apparatus. In line with this, Guangdong has set up a special fund to help qualified enterprises to import such technology and equipment by way of interest subsidies, fiscal supports, etc.[8] Technology and equipment appeared on the encouraged import catalogue[9] including those related to the following areas: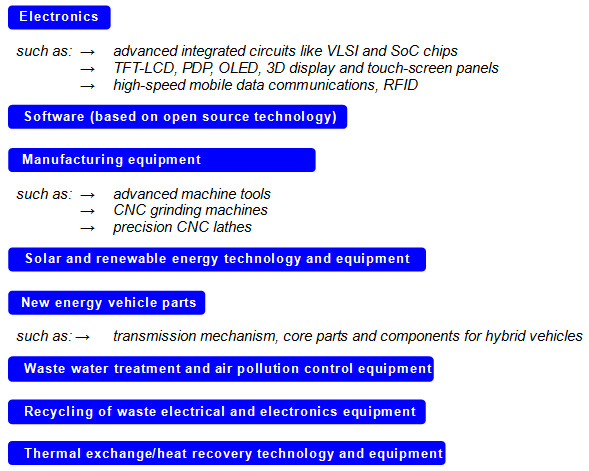 During a working conference held in early January 2012, the Ministry of Commerce indicated that it would strengthen its efforts to further enlarge imports, including those of energy materials, advanced equipment and key parts and components. This is in line with the fact that the mainland has already lowered customs tariffs on more than 730 import items for the year 2012. Such tariff reductions cover a number of technology items, materials, equipment and apparatus which are of importance to the development of the new strategic industries. Examples include some raw materials like polysilicon, coating materials for optical fibre and electrolysis aluminium, certain die casting equipment, engines and parts, electrical machinery, electronic products, parts and components, optoelectronic items, etc.[10]




Joint Efforts in PRD to Develop New Energy/Electric Vehicle Industries






Amid the announcement of the FYP, Hong Kong has already joined forces with Guangdong province and some Pearl River Delta (PRD) cities to foster technological cooperation in areas related to new strategic industries. Also, at the 14th Plenary of the Hong Kong/Guangdong Co-operation Joint Conference held in August 2011, Hong Kong and Guangdong agreed to set up a liaison group to co-ordinate measures and activities in, among others, promotion of scientific research and technology development of clean energy, renewable energy and new energy/electric vehicles.



- Solar Energy

As part of a strategic collaboration on technological innovation between Hong Kong and Shenzhen, the Solar Energy Technology Support Centre was opened in Hong Kong in 2009. DuPont, which is a leading material and technology supplier to the photovoltaic (PV) industry, is the first partner in this initiative. DuPont has established a Global Thin Film Photovoltaic Centre in Hong Kong, and a related production facility in Shenzhen, aimed at integrating Hong Kong's R&D and technology advantages with Shenzhen's edge in high-tech manufacturing. The company believes that such strategy can help shorten its lead time to the PV markets on the mainland and in Asia.

- Electric Vehicles

Hong Kong and Guangdong has agreed to cooperate on the introduction of electric cars to major greater PRD cities, and fostering of R&D, manufacturing, general application and development of the auto-parts industry for electric cars in the greater PRD region, following the signing of the "Framework Agreement on Hong Kong/Guangdong Co-operation" in April 2010. Recently, the mainland's BYD Company Limited has announced the setting up of a R&D office in Hong Kong, as well as its collaboration with the Hong Kong Automotive Parts and Accessory Systems R&D Centre to promote development of new generation zero-emission electric vehicles here.
Manufacturers are major importers of technology
China is already importing different technologies from its trading partners. The European Union is the largest technology provider, accounting for 31% of total technology imports in China in 2010. This is followed by the US (22%), Japan (18%), South Korea (8%), Russia (7%) and Hong Kong (4%).
Manufacturing industries, especially electronics, transport equipment and chemicals, are major importers of such foreign technologies, absorbing over half of the technology imports. Obviously, the mainland's technology imports are actually closely related to its manufacturing activities, as manufacturers are keen to apply different technologies in order to enhance their competitiveness amid intensifying competition in the global market.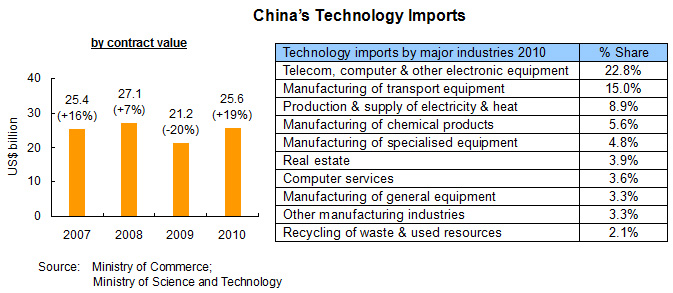 Though China's technology imports have been growing at a steady pace in recent years, the pace is relatively less robust than the growth of China's industrial activities. This is partly because some advanced countries are reluctant to supply certain front-end technologies and advanced equipment to China due to political considerations. Some technology players also fear the loss of commercial secrets to their Chinese counterparts.

Hong Kong Players to Tap Technology Demand from New Generation IT Industry
IT-related technology and equipment are among the largest technology imports of the mainland. Such imports are set to increase further, as new generation information technology is named as one of the mainland's seven new strategic industries.
Although the mainland's IT enterprises have enhanced their R&D spending and design capabilities, they have not shifted their focus away from production. R&D spending by high-tech industries of electronic/communications equipment and computer/office equipment accounted for only 1.59% and 0.59% of their gross outputs respectively in 2010. Sales related to integrated circuit design and embedded software for electronic products were equivalent to only 0.7% and 3.3% of the whole electronics industry sales respectively in the year. This is in contrast to leading multinationals' strategies, whose focus is on product, chip-set and software design, as well as after-sale value-added services, while contracting out low value-added assembly processes to sub-contractors.
Obviously, the less developed design capabilities of the mainland's IT enterprises have prompted them to look for technology supports from external parties. Already, Hong Kong's electronics players and semiconductor companies, one of the territory's largest technology clusters, are riding on their vast mainland connections to render different technical supports to their mainland counterparts, which are keen to develop businesses in relation to such technology areas as designated in the 12th FYP as below:
- new generation mobile communications - integrated circuits
- next generation internet - new displays
- convergence of three networks - high-end software
- Internet of things - high-end servers
- cloud computing - high-end information services
A prominent example is the Hong Kong Applied Science and Technology Research Institute, which is cooperating with a mainland partner to develop data processing IC modules and solutions for use in high-speed rail. Also, funding from Hong Kong has been channelled to help some mainland engineers returning from overseas to set up the IPGoal Microelectronics Company in Sichuan, engaging in turnkey IC design services about the USB, audio codec and mixed signal technology by employing Sichuan engineers of analogue design, while utilising expertise from Hong Kong in such technology as logic circuits to provide technology services to mainland clients.
Under the 12th FYP, China's demand of technologies will largely be meant for domestic applications rather than mere enhancement of export-processing production. For example, its development of strategic industries like environmental protection and new energy is primarily to serve the domestic market needs to control pollution and to conserve energy resources. Likewise, major buyers of its new energy vehicles are likely to be Chinese clients themselves in the near term, as China is now the largest automobile market in the world. In the circumstances, it is likely foreign countries would be willing to adopt a more positive approach to supply of advanced technologies and equipment to China as this would mean profit opportunities and penetration into China's domestic market, rather than enhancement of China's exporters' competitiveness that may threaten the industries of their home countries.
Hong Kong the technology marketplace serving Greater China
Given Chinese mainland's desire to enhance technology imports from abroad, Hong Kong has emerged as an important gateway to serve such import demand. Notably, many mainland companies are looking for technological cooperation opportunities with foreign partners via Hong Kong. This is thanks to the fact that Hong Kong has an edge in technological innovation, with activities well supported by a wide range of specialised services like technology marketing and applications, thereby making the territory an ideal platform to facilitate mainland/foreign technological cooperation.
Indeed, when tapping the mainland's technology market, foreign technologies have to be modified to adapt to the mainland's industrial and commercial environment. Apart from the difficulties in finding the right partners and customers, foreign players usually also have to face the challenges of IPR protection. Hong Kong's sound legal system and comprehensive professional services provide an ideal business environment to facilitate technology transfer with strict protection on IPR.

Tapping the Mainland Market via Hong Kong's Innovation Platform

Hong Kong's connections with the mainland, its comprehensive financial system and legal regime on IPR protection have enabled the territory to provide an ideal platform for foreign technology enterprises to enter the mainland market. This platform is particularly strengthened by its innovation capabilities that excel in adapting foreign technologies to the mainland environment in a cost-effective manner.

Dunwell Enviro-Tech (Holdings) Ltd is one Hong Kong example that transforms foreign technologies with its innovation efforts. Years ago, Dunwell acquired from its US partner the Vibrating Membrane Advanced Technology (VMAT) which was traditionally used for wastewater treatment, and applied it to the recycling of used oil. After years of efforts, Dunwell has successfully developed VMAT into the mainstream technology for oil recycling in Hong Kong and the mainland. This performance is honoured by the mainland's Ministry of Environmental Protection, which has granted the National Environmental Science and Technology Silver Award for Dunwell's proprietary VMAT used-oil recycling technology.

To further strengthen Hong Kong's innovation platform, the Hong Kong government has injected some HK$4.9 billion to construct Phase III of the Hong Kong Science Park. This development is among the government's initiatives to boost green technology development and high-tech investment by private companies in Hong Kong. Upon completion, Phase III will enhance Hong Kong's innovation platform in tapping the mainland's environmental market and beyond.



According to a survey recently conducted by the HKTDC at SmartHK Expo 2011exhibition held in Guangzhou, three quarters (75%) of the respondent mainland enterprises indicated that they were interested in cooperation with foreign enterprises in order to improve the technological level of their products. Hong Kong was rated by most of these mainland enterprises as the interested partners with which undertake such technological cooperation (50%), followed by Europe (22%) and the US (18%). This reveals that Hong Kong is among the popular gateways of mainland enterprises, especially those in the PRD region, to look for technology partners.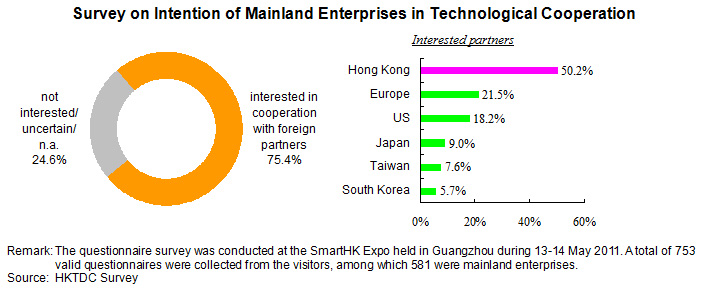 In another recent survey conducted by the HKTDC in Taiwan[11], more than half of the Taiwan companies indicated that they were going to set up or expand their business on the mainland following the implementation of the Cross-Straits Economic Cooperation Framework Agreement (ECFA). To deepen their penetration into the mainland market, 35% of the Taiwan respondents revealed that they were interested in further utilisation of the technology and product development services offered by Hong Kong. These included product design and development services, as well as technology transfer and safe keeping of sensitive/confidential information via Hong Kong. These have shown that Hong Kong is an ideal technology marketplace to facilitate foreign technology and Taiwan partners to tap into the mainland's technology market.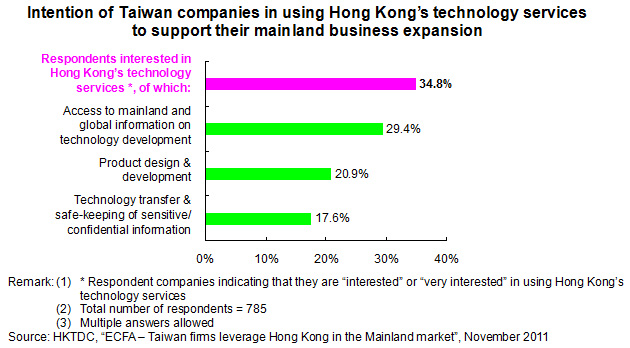 Hong Kong's advantages in technological innovation
Thanks to its vast connections to the world as well as on the mainland, Hong Kong has served as an effective gateway for the mainland to purchase technological products from the international market. In fact, many Hong Kong companies are now acting as a bridge for foreign technology enterprises to access the mainland market, given their edge in innovation activities. They are able to offer innovative and cost-effective solutions by integrating core imported equipment and technology with low-cost non-core parts and peripherals from the mainland. Through innovation efforts, they are able to make good use of advanced technologies from Europe and the US to compete in the Hong Kong and mainland markets in a cost-effective manner.

Hong Kong's Technology Links with Mainland and particularly Guangdong

Hong Kong is an international trading hub for consumer goods as well as high-tech products. In 2010, its high-tech exports amounted to US$174 billion, accounting for 44.7% of its total exports. The Chinese mainland is the largest market, absorbing 63.6% of such exports that largely originate from advanced economies.

Electronics, especially telecom equipment and computer items, is Hong Kong's major high-tech export category. This is in line with the fact that the electronics sector is the largest export earner of Hong Kong, accounting for 56% of its total exports. Those mainland-bound exports are largely industrial inputs with destinations particularly in Guangdong, and other major high-tech production sites on the mainland.
Indeed, demand for technology inputs from different provinces and cities on the mainland varies, depending on the exact activities undertaken there. Notably, Guangdong is the province with the largest high-tech production base, accounting for 28% of the total output on the mainland in 2010. In particular, the province has the lead in manufacturing of electronic/communication equipment (38% of the national total in 2009) and computer/office equipment (31% in 2009).
Not surprisingly, while there are about 4,400 Hong Kong companies undertaking R&D and more than 9,300 engaging in technology innovation (in 2010), a substantial portion of them engages in technological cooperation with mainland and other external partners outside Hong Kong, especially with technology enterprises/entities located in the PRD. Given the close relationship between Hong Kong and Guangdong, Hong Kong is in an advantageous position in tapping the demand from Guangdong's high-tech industry.
Moreover, Hong Kong has remained a design centre in certain technology areas, especially the electronics which accounts for over half of the merchandise exports of the territory. For example, many semiconductor companies are riding on Hong Kong advantages to carry out their design business in the form of "fab-less" operation here. This is echoed by strategic moves of a number of semiconductor giants from the US, Europe, Japan, Korea, Taiwan, etc., which have set up their design engineering teams here. Most companies here put their business focus on innovation and application aspects, while rendering technical support to their downstream customers particularly on the mainland and Asia at the same time.
Secure protection for technology transfer to Chinese mainland via Hong Kong
Foreign technology enterprises that sustain losses from IPR infringement in the process of technology transfer, licensing or cooperation with mainland partners may take their cases to the mainland courts directly. But they can also choose to use Hong Kong as a platform for such technology businesses and, in doing so, secure better protection of their IPR.
Hong Kong is well known internationally for its sound legal system and its adherence to international legal practices. It is part of the business tradition and ethics in Hong Kong to respect and attach importance to business and commercial secrets, like design and technology information as well as other IPR. Besides, Hong Kong has entered into various arrangements with the mainland for mutual recognition and enforcement of arbitral awards and court rulings on civil and commercial cases. Foreign enterprises can make use of Hong Kong's legal system to enforce arbitral awards and court rulings to protect their IPR, especially in respect of mainland companies with operations in Hong Kong.
Indeed, some foreign enterprises have set up subsidiary companies in Hong Kong for the purpose of owning specific IPR, managing related operations, and entering into contracts with mainland clients in order to enjoy the better protection of Hong Kong's legal system and arbitration services. Further, because Hong Kong and the mainland have signed the Arrangement for the Avoidance of Double Taxation and Prevention of Fiscal Evasion on Income, whereby the rate of withholding tax on royalties is reduced from the standard level of some 10% to a reduced 7%, foreign enterprises can make use of their Hong Kong-based subsidiary companies to enjoy the lower tax rate.

Hong Kong to Strengthen US/China Technology Ties
The US is likely to boost its technology exports to China in the next few years, following the US-China Joint Commission on Commerce and Trade held in Chengdu in November 2011. Notably, the two countries have agreed to implement a "US-China High Technology Trade Key Sectors Cooperation Action Plan", whose aim is to facilitate civilian high technology trade via export control process improvements. The US Trade & Development Agency and the National Energy Administration of China have also agreed to foster a deeper trade relationship of sectors like clean fuels, energy efficiency, power generation, renewable energy, smart grid and clean transportation.
These are in line with the National Export Initiative of the US, a plan unveiled by President Obama in 2010 to double American exports over the next five years. Already, many US companies have determined to deepen their penetration into the mainland to tap the booming technology market there. But the companies, especially the smaller ones, still need to face issues like lack of clientele in both the mainland's coastal and inland areas, insufficient financial/legal arrangements for technology deals, concerns on the mainland's IPR protection, etc. To tackle the problem, the US has encouraged the companies to capitalise on Hong Kong's platform. Prominent examples include:
- Pacific Bridge Initiative
The US has reached a trade agreement with the Hong Kong Trade Development Council to facilitate a US-Hong Kong partnership in exploring especially the mainland market. Promotion priority is given to areas like (1) renewable energy, environmental/water resources; (2) healthcare, medical and biotechnology; (3) information and communication technologies; (5) related financial services; etc.
- P2E2 Programme
The US has designated Hong Kong as the launching pad of the China-US Pollution Prevention and Energy Efficiency (P2E2) energy saving and emission reduction programme, specifically using Hong Kong's legal and financial systems to mobilise private sector capital, management resources and technology from the US and the mainland to provide solutions for growing energy conservation and air, water and land pollution problems on the mainland.
Distribution and financial supports provided by Hong Kong
Another point of interest is that foreign technology players have long been not only supporting Hong Kong's manufacturing activities, but also jointly exploring the mainland market with Hong Kong distributors and agents. For example, many electronics traders here are actually the agents for integrated circuits, semiconductors, electronic parts and components originated from the US, Europe and Japan, rendering engineering and consultancy solutions through their vast distribution network in Hong Kong and on the mainland.
Such distribution business for technology products is facilitated further by Hong Kong's efficient logistics and other professional services. A prominent example is that the technology giant Intel relocated its Shanghai production lines to Chengdu in Sichuan province a couple of years ago. Now half of its chips produced worldwide are tested and packaged in its Chengdu plant, which is located in western China and is distant from major sea ports. Nevertheless, Intel airfreights the wafers from its fabrication plants in the US, Israel, Ireland and Dalian on the mainland to Chengdu, and sends the packaged chips from Chengdu to global and mainland markets by air, predominantly through Hong Kong.
For foreign technology firms that want to explore the mainland's technology market, the feasibility of the project depends not only on technical factors but also on whether there are suitable financial arrangements. Indeed, foreign firms may choose to obtain finance for their mainland projects by using their internal resources or their existing credit facilities with the banks. But they can also consider seeking external financing for these mainland projects.
Hong Kong has a financial market with sufficient breadth and depth to provide diverse services to these firms. Needless to say, banks in Hong Kong are familiar with the mainland market and can provide various loans and financing services to these foreign firms for their mainland projects. At the same time, Hong Kong is the largest centre for venture capital management in Asia. Many world-class international funds have set up offices in Hong Kong, while others are using Hong Kong as their Asia Pacific headquarters for the purpose of exploring business opportunities on the mainland. These funds largely take the mainland as one of their major target markets and are ready to provide financing facilities for technology projects on the mainland. Hong Kong can therefore provide necessary financial support to facilitate foreign firms to enter the mainland's technology market.
---
[1] Source:《國務院關於加快培育和發展戰略性新興產業的決定》, State Council, October 2010
[2] 《關於鼓勵和引導民營企業發展戰略性新興產業的實施意見》National Development and Reform Commission, July 2011
[3] 《廣東省戰略性新興產業政銀企合作專項資金管理暫行辦法》, 廣東省財政廳, July 2011;
《關於貫徹落實國務院部署加快培育和發展戰略性新興產業的意見》, 廣東省人民政府, July 2011
[4] Source: China Statistical Yearbook; Ministry of Science and Technology
[5] UNDP, "China Human Development Report 2009/10 – China and a Sustainable Future: Towards a Low Carbon Economy and Society", April 2010
[6] The high-tech industries include (1) aircraft and spacecraft; (2) computers and office equipment; (3) electronic and communication equipment; (4) medical equipment and meters; and (5) pharmaceuticals.
[7] 《關於貫徹落實國務院部署加快培育和發展戰略性新興產業的意見》, 廣東省人民政府, July 2011
[8] 《關於發佈鼓勵進口技術和產品目錄(2011年版)的通知 - 發改產業[2011]937號 》,April 2011;
《關於印發促進進口專項資金使用管理辦法的通知 - 粵財外〔2011〕128號》,October 2011
[9] For details, please refer to 《鼓勵進口技術和產品目錄(2011年版)》,
國家發展改革委/財政部/商務部
[10] For details, please refer to the《國務院關稅稅則委員會關於2012年關稅實施方案的通知 - 稅委會[2011]27號》,December 2011
[11] For details, please refer to the research report "ECFA – Taiwan firms leverage Hong Kong in the Mainland market" (November 2011) published by the HKTDC.
Computer & Peripherals
Electronics & Electrical Appliances
Environmental Protection
Medical Supplies & Medicine
Telecommunications
Technology
Mainland China
Mainland China
Hong Kong