https://hkmb.hktdc.com/en/1X003VGZ
Surveying Industry in Hong Kong
Overview
Hong Kong is the region's leader in the surveying profession in terms of experience and technical expertise. The buoyant construction market over the last two decades has provided invaluable exposure for the local surveying profession to a wide range of projects.
In the past, many Hong Kong surveying firms partnered with international firms, mainly from the UK, to bid for large international projects. In recent years, key Hong Kong players are capable of providing services with international standards on their own. Many of them have set their sight on overseas markets, such as the Middle East countries.
The ten mega infrastructure projects, plans to develop East Kowloon, and the Hong Kong International Airport's third runway construction have created huge demand for construction-related services, including surveying. The number of surveyors practising in Hong Kong has been growing as a result of increasing opportunities in the local and surrounding markets. A number of leading international surveying firms have established their regional offices in Hong Kong.
Three divisions of Hong Kong surveying industry have gained mutual recognition of professional qualification with the Chinese mainland, namely general practice, quantity surveying and building surveying.
Industry Data
Range of Services
Services provided by the surveying profession can be classified into 4 major categories:
General practice surveyors are concerned with the measurement, management, development and valuation of land, property and building, with the negotiation of sales and lettings and with the financial aspects of investment in property. Services offered include:
valuation: valuations for purchase, sale, letting and mortgage for all types of properties; statutory valuations relating to resumption, rent control, rating, stamp duty, estate duty, etc.; valuations of company portfolios etc.
development consultancy: market studies and evaluation of development; negotiation with government on modification, surrender and re-grant of land leases; preparation of financial assessments, cash flow studies and expenditure control systems
negotiating on behalf of clients for purchase, sale or lease of all types of lands and buildings
property management: undertaking on behalf of owners, the management of all forms of property; advises on situations of refurbishment/renovation and redevelopment
Quantity surveyors are construction cost consultants. They possess expert knowledge of costs, values, labour and materials process, finance, contractual arrangements and legal matters in the construction field. Major employers of quantity surveyors are private developers, governments and related bodies, contractors, mining and petrochemical companies, and insurance companies. Principal services rendered are:
preliminary cost advice
cost planning
advise on fair contract prices for tenders
advise on the best kind of contract for the project
valuation of construction and recommendation for certified payment
preparing cash flow forecasts and exercising cost control
project management
Building surveyors advise clients on:
construction and economic of buildings: condition of buildings; analysis of capital and running costs; monitoring the effect of construction works on existing buildings; feasibility studies, covering plot ratio and site coverage, preparation of sketch plans, assessment of development potential as well as financial and economic considerations
law related to buildings: advice on building and town planning applications and on building legislation
building maintenance: planning and implementation of maintenance programmes; investigation of construction defects and design and supervision
project management: acting as project managers; control and supervision of building and fitting out works; coordination of specialist works such as building services; landscaping, security, etc.
Land surveyors are involved in the following activities:
cadastral surveying: concerns with the physical determination of boundaries and areas of land properties
engineering surveying: preparation of initial site survey plans; computation of construction alignment for civil engineering works; setting out pre-determined positions for construction; measurement of earthwork quantities and monitoring slopes
geodetic surveying: establishment and maintenance of horizontal and vertical reference point
topographic surveying and digital mapping: production of survey plans and maps at various scales
land information management
photogrammetric surveying: production of survey plans and maps from photographs
hydrographic surveying: determination of depth and topography of the sea bed
Core business aside, revenues generated from other related businesses such as real estate leasing, development, maintenance management, development consultancy and brokerage and agency can be substantially higher.
Services Providers
The Hong Kong Institute of Surveyors (HKIS) is a professional body established in 1984. As at 31 December 2015, the HKIS had a total corporate membership of 6,124.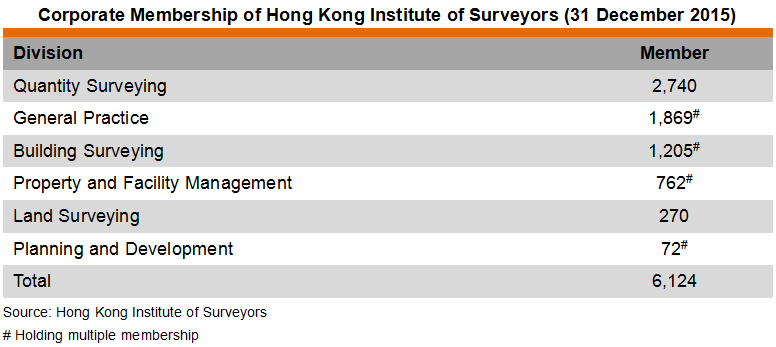 Exports
In recent years, the construction boom in the region has generated surging demand for surveyors. The opening up of the construction market in the region has created a growing export market for Hong Kong developers as well as the surveying profession. Nearly all the leading surveying companies have undertaken projects throughout East Asia. The Chinese mainland is by far the largest export market, accounting for the bulk of total export income for this profession. The Chinese mainland aside, Hong Kong-based surveying companies have also set their sight further afield. Thanks to the reliable and professional services, as well as proficiency in English, Hong Kong quantity surveyors are in increasing demand for construction work in overseas including Asia (e.g. India and ASEAN countries) and the Middle East region.
As the primary function of quantity surveyors is associated with costing and cost control, quantity surveying is probably the easiest to promote overseas. Over the last decade or so, Asian countries have increasingly adopted the use of quantity surveyors in construction and the demand for this service in Asia has grown rapidly. General practice surveying has a strong element of local market knowledge. The best services to export are feasibility studies and appraisals for development and investment projects.
Industry Development and Market Outlook
One-shop Approach
"One-shop" approach to surveying services has become increasingly popular. Most of the newly established surveying firms aim to provide comprehensive consultancy services to their clients. These range from development consultancy, project management, property consultancy to interior design and fitting out work. Horizontal diversification to services such as property management, building cleaning and security helps widen the revenue pool and lower risks due to the fluctuating real estate and construction market.
Increasing Local Needs of Surveying Service
As the Hong Kong government has advocated the private sector's active involvement in the provision of public facilities, surveying services providers play an increasingly active role in advising the best terms of arrangement for Public Private Partnership (PPP) projects.
The Policy Address is the yearly platform that the Hong Kong government unveils its major infrastructure plans. Back in 2007, ten mega infrastructure projects were announced, including the Hong Kong-Zhuhai-Macau Bridge, Guangzhou-Shenzhen-Hong Kong Express Rail Link and Kai Tak Development, and have since become the major driving force for local construction activities. In 2009, initiatives to better utilise vacant or under-utilised industrial buildings through redevelopment or wholesale conversion were announced, followed by the plan unveiled in 2011 to develop another core business district in East Kowloon. In 2015, the Hong Kong International Airport's third runway expansion plan along with funding schemes were approved in 2015, with construction expected to be completed in 2024. The development of Hung Shui Kiu New Development Area, with planning and engineering study completed in 2016, will create 60,000 new flats to the market. These construction initiatives, along with the continual stream of small-scale infrastructure projects, have generated unprecedented business opportunities for the local construction industry generally, while creating genuine demand for local surveying services.
Export of Surveyors
In the past few years, the Middle East's construction boom led to an outflow of Hong Kong surveyors. Some of them joined surveying firms in the Middle East, with others transferred to the Middle East branches by the international surveying firms. Despite the Dubai financial crisis of 2009 and the Arab Spring of 2011, resources-rich markets in the region, such as Saudi Arabia, Qatar and the UAE, have been relatively less affected, even in the face of the uncertainty of the global economy. In April 2016 Saudi Arabia rolled out its Vision 2030, a grandiose scheme on economic diversification including massive infrastructure projects. Abu Dhabi, the UAE capital that has embarked on a diversification drive with accelerated industrialisation and infrastructure development, is seen as a growing market in the region.
Hong Kong surveyors are also popular on the Chinese mainland. Under the CEPA framework, agreements on mutual recognition of qualification are signed between the Hong Kong Institute of Surveyors and industry associations on the mainland, thus enhancing the access of Hong Kong surveyors to the mainland market. Apart from that, senior Hong Kong surveyors are also hired by international surveying firms to work in their mainland operations, thanks to their solid experience and knowledge on the mainland market. In recent years, some experienced general practice surveyors have started to provide independent valuation services of enterprises in connection with mergers and acquisitions activities in Hong Kong and on the Chinese mainland.
In view of the rapid economic development in ASEAN countries like Indonesia, Vietnam and Myanmar, there will be huge demand for construction activities in those countries, thus generating more business opportunities to Hong Kong surveyors in the future.
China's Real Estate Development and Construction Market
The housing market has been more open to foreign investors since the housing reform and WTO accession in 2001. Furthermore, ongoing urbanisation on the Chinese mainland continues to generate huge demand for infrastructure. Despite various administrative measures introduced in recent years to regulate the mainland's property market, the market continues to look promising on the whole, especially in some second-tier mainland cities. Increasing investments from the Hong Kong, mainland and foreign investors in the mainland's real estate projects provides business opportunities for Hong Kong contractors and surveyors, thanks to their professionalism and recognised service standard. There is also a growing demand for management services from Hong Kong surveyors on non-financial assets, such as factories, mixed-use housing and commercial projects. To provide better surveying and valuation services for their mainland clients, some of Hong Kong's surveying companies have established offices in major locations such as Shanghai and Guangzhou.
Quantity surveying services will continue to grow along with the increase in property projects and a growing understanding of mainland developers on the advantages of coordinating tendering, contractual arrangements and budgeting by quantity surveyors.
Infrastructure Projects in the Region
To help sustain economic growth, many Asian countries (e.g. India and Indonesia) have urgent needs to upgrade their basic infrastructure, road networks, port and airport facilities, housing and city planning. According to the Asian Development Bank, Asia will require US$8.2 trillion on infrastructure investment in 2010-2020, meaning an annual average demand of US$820 billion. Private participation is on the rise. Foreign firms are increasingly allowed to participate as investors in owning as well as managing these projects. An increasing number of infrastructure projects, higher involvement of foreign developers and a shortage of local professionals will create good opportunities for Hong Kong firms in exporting surveying services. In view of the growing markets in Asia, Hong Kong has been chosen by a number of leading international surveying and property consultancy firms, such as Leighton, to establish their regional offices.
Apart from infrastructure, more shopping malls are being built or renovated in many Asian countries, including China, India, Indonesia, Thailand and Malaysia. The rise of Asian consumerism has prompted much investment in modernising retail distribution channels. It also leads to an increasing demand for professional shopping mall management services in those countries. Hong Kong surveying firms which aim at opening or diversifying into new markets can tap into this fast-growing sector.
The Belt and Road Opportunities
In March 2015, China's National Development and Reform Commission issued The Vision and Actions on Jointly Building the Silk Road Economic Belt and the 21st Century Maritime Silk Road, outlining the framework of the Belt and Road Initiative (BRI), co-operation priorities and mechanisms. With excellent professional expertise, strong management skills and integrated services with international standard quality, the BRI Initiative presents tremendous opportunities for Hong Kong surveying professionals to play an important role in developing and upgrading the infrastructure network along the Belt and Road.
The Closer Economic Partnership Arrangement between Hong Kong and the Mainland (CEPA)
Under the CEPA framework, reciprocity agreements on professional qualification recognition have been sought with the China Institute of Real Estate Appraisers and Agents (CIREA), the China Engineering Cost Association (CECA) and the China Association of Engineering Consultants (CAEC):
The Hong Kong Institute of Surveyors (HKIS) entered into a reciprocity agreement with the CIREA on mutual qualification recognition in 2003. Under the terms of the agreement, corporate members of the HKIS' General Practice Division (GPD) who satisfy the application requirements are eligible for reciprocal recognition of the CIREA if they have satisfactorily undertaken a 3-day (16 hours) training and test session conducted by the latter. Currently, there are about 200 practitioners from the HKIS' GPD given recognition by the CIREA. GPD members with CIREA qualifications can practise on the Chinese mainland if they are employed by a valuation firm with a valuation licence granted by the Ministry of Housing and Urban-Rural Development (MOHURD, or formerly the Ministry of Construction).
In 2005 the Quantity Surveying Division of HKIS reached a reciprocity agreement with the CECA on professional qualification recognition. The first and second batch of training and assessment for members in Quantity Surveying Division of HKIS and CECA members from the mainland were held in 2005 and 2011 respectively. At present, there are more than 300 quantity surveyors of HKIS who had gained professional qualification on the mainland, with some 140 of them having registered as CECA member to practice on the Chinese mainland. The third batch of training, which requires CECA and HKIS members with at least seven years of post-qualification experience, is expected to conduct assessment exercises by the end of 2016.
In 2006, the HKIS signed the mutual recognition agreement with the CAEC under which HKIS members in the Building Surveying Division (BSD) with five years of relevant post-qualification experience are eligible for application as engineering consultants on the mainland. Successful applicants are subject to the registration system established under the prevailing MOHURD regulations. In 2007, the first training and assessment was held in Shenzhen. There are more than 200 members of the HKIS's BSD who have obtained professional qualification on the mainland.
In addition, CEPA provides Hong Kong surveyors with the relevant working experiences to undertake professional qualification examinations related to surveying on the mainland. Further information on the latest CEPA agreements can be found here.
Architecture & Planning
Real Estate Services