https://hkmb.hktdc.com/en/1X003V0F
Licensing Industry in Hong Kong
Overview
Hong Kong has been chosen by many international licensors and licensing agents as the strategic base to expand their licensing business in Asia, particularly the Chinese mainland.
Hong Kong offers clear advantages as an ideal platform for licensors, licensees, agents and manufacturers to get together, which include intellectual property (IP) rights protection, respect for business agreements, distribution networks, access to quality licensees, availability of industry talent, market sensitivity and close business connections with the mainland.
The annual Hong Kong International Licensing Show (HKILS) held since 2002 has been widely recognised as the best licensing show in Asia and has helped Hong Kong consolidate its position as the regional licensing hub. The 16th edition of HKILS held in January 2018 has attracted more than 22,000 trade visitors from over 100 regions and countries, including manufacturers, licensees, retailers and distributors, with over 1,000 brands & properties shown by more than 380 exhibitors from around the globe.
China is a fast-growing market for licensed goods, which has increased by about 22% to US$6.7 billion in the period of 2013-2016, according to the latest available data from the website of The Licensing Letter. In 2016, China was Asia's second-largest retail sales market of licensed merchandise after Japan, accounting for 33.1% of licensed merchandise retail sales in the region.
In 2010, the International Licensing Industry Merchandisers' Association (LIMA) opened its Hong Kong office, which serves as the regional hub for promoting licensing businesses and broadening the business network of LIMA members in Southeast Asia's licensing markets.
Market Characteristics
Hong Kong's licensing market began to take shape in the early 1990s. Despite a relatively short history of development, Hong Kong has grown into a highly developed licensing market in Asia. Similar to the global and regional pattern, characters and entertainment properties from the US and Japan are also popular in Hong Kong.
Hong Kong consumers are sensitive to the latest market trends, with trendy licensed products and high-end international brands having a strong local presence. Main categories of licensed products are food and beverages, toys, books, gift items, stationery, computer supplies and sales promotions for fast food chains and banks. As a popular destination of shopping and entertainment in Asia, Hong Kong has attracted a number of sports brands to launch their licensing activities too.
Services Providers
Hong Kong has relatively few home-grown brands and properties for licensing. Nevertheless, many international licensors, like Warner Bros., Mattel and the National Basketball Association (NBA) have chosen to set up offices in Hong Kong, many of which also function as the licensors' regional headquarters in Asia. Moreover, many famous foreign licensors have entrusted the exclusive property rights to Hong Kong licensing agents to develop the business in Asia.
Hong Kong companies, such as YGM Trading, are also licensees of European designer brands, handling the sales and distribution on the Chinese mainland as well as in other Asian markets. There are some Hong Kong licensing agents which are also licensors of local properties, such as B Duck. Many licensing industry participants are members of the Licensing Executive Society of China, Hong Kong Chapter. Utilising Hong Kong as a springboard to the Greater China and Southeast Asia markets, several global licensing agents and brand management companies, including those from Europe, Japan and the US like Iconix Brand Group, have also established their offices in the city.
Trade in Services
The significance of Hong Kong's licensing business lies in its status as a hub for licensing activities in Asia. Local business usually accounts for a small proportion of overall business of licensors and licensing agents, who are most active in other Asian countries.
Licensing activities between Hong Kong and the rest of the world can be partly reflected in the cross-border payments for the use of intellectual properties.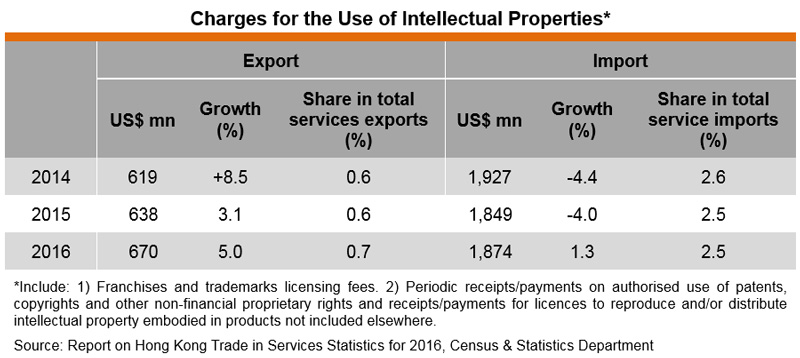 Industry Developments
The global retail sales of licensed goods amounted to US$271.6 billion in 2017. North America remains the largest market for licensed merchandise and services, with revenue accounting for 58% of the global market. Meanwhile, North Asia and Latin America recorded the strongest growth, increasing by 6.2% and 7.6% respectively.
Licensing has become a global business. According to LIMA, more than 40% of the global licensed product revenues are currently generated outside the US compared with only one-tenth a decade ago. Meanwhile, developing economies like China and Southeast Asia are turning into the new focus of licensing companies looking for business.
China is a fast-growing market for licensed goods, which has grown by 7% from US$6.3 billion in 2015 to US$6.7 billion in 2016, ranking as the 5th largest licensed goods market in the world and the second largest in Asia, following Japan.
As blockbuster films are keen to have simultaneous releases in various markets to maximize the global buzz, international co-productions are becoming popular and contributing to a rise of cross-border entertainment properties in the global licensing market. For instance, Warner Bros is successful in creating a continued revenue stream from Harry Potter through various types of licensing deals. For example, the Wizarding World of Harry Potter at Universal Orlando, a 20-acre theme park opened in 2010, was the result of the licensing partnership between Warner Bros and Universal.
Entertainment/character remained the largest group of licensing property in terms of global licensed merchandise sales in 2017, accounting for US$121.5 billion, or 44.7% of the global licensing market. Corporate/brand trademarks was the second largest property type, generating US$55.8 billion of retail sales (20.5% of the total).
The Internet and mobile commerce is affecting international licensing business. Characters, fads, brands and fashion trends now travel at hyper-speed across the markets, cutting short the time needed to get a product from licensed concepts to retail shelves. With increased internet penetration and the possession of electronic gadgets in Asia, digital media, online videos and games, such as Angry Birds, play an active role for licensed product promotion. Social media, particularly Facebook, is also an important channel for marketing new properties. Meanwhile, the characters of mobile games and social networking platforms, such as LINE Friends, are popular licensed properties in Asia.
Collaborations or co-branding among retailers and licensors have become popular in recent years. Through partnership with international licensors, licensees or retailers launch limited editions or character specific collections. For examples, LINE had set up permanent store and pop-up stores for selling LINE Friends merchandise. The company also collaborated with local Hong Kong illustrators to launch special editions LINE stickers in the app. Bandai licensed the cartoon character Gundum to Times Square for the Gundum docks at Hong Kong II exhibition. The Japanese cartoon character Tapu Tapu the Panda by Futaba Ltd (Japan) collaborated with Chung Hwa Book Company (HK), and organised the "Tapu Tapu the Panda" promotional event at two branches of the bookstore.
Both the public and private sectors have been working hard to promote Hong Kong as an international licensing hub. For instance, the Hong Kong government signed the first IP co-operation agreement with the mainland government in November 2011, strengthening the co-operation in areas of laws, education and staff training. The seventh Business of IP Asia Forum, held in December 2017, was jointly organised by the Hong Kong Government, the HKTDC and the Hong Kong Design Centre. The two-day event was attended by more than 2,500 professionals and business leaders in design, R&D, finance and legal profession, as well as IP traders. Business practices on IP licensing was one the main discussion topics during the Forum.
The Hong Kong International Licensing Show (HKILS) held since 2002 has been well-known in Asia and has helped further promote Hong Kong as the regional licensing hub. The 16th edition of HKILS held in January 2018 has attracted more than 22,000 trade visitors from over 100 regions and countries, including manufacturers, licensees, retailers and distributors. Over 1,000 brands & properties were shown by more than 380 exhibitors from around the globe. During the event, more than 600 business-matching meetings were arranged to help industry players to explore new partnership opportunities.
The Asian Licensing Conference 2018, concurrently held with HKILS, was joined by 30 expert speakers from various international brands and many sectors in the licensing industry, focusing on new opportunities and strategies for licensing business in Asia. The event also serves as a networking platform for international licensing executives and business people to gather latest industry intelligence and explore new opportunities.
The Asian Licensing Association was established by Hong Kong industry leaders in 2011, aiming to promote Hong Kong as an international licensing hub. The Innovative Entrepreneur Association organised the first Cross Industry Matching Showcase in the same year, which aimed to provide a platform for business synergy between local licensors (e.g. character creators and graphic designers), licensing agents and enterprises.
China's burgeoning licensing market
While the global licensing market has generally been stagnant, licensing activities are growing in Asia, particularly the China market. China is a fast-growing market for licensed goods, which has grown from US$5.5 billion in 2013 by about 22% to US$6.7 billion in 2016. Despite a short history of development, the huge size of the economy has made China the second largest licensing market in Asia, following Japan.
In China, e-commerce has become one of the top trends in the licensing industry. Many foreign brands and properties are fast gaining popularity in China through utilising some B2C online platforms, which often require more support and resources from the licensors. For instance, basketball sport brand NBA has established an online shop in Alibaba's Tmall, which helped the brand strengthen its presence in the Chinese consumer market. Leveraging the marketing impact of social media platforms, such as Sina's Weibo, NBA China established its online fans club with interactive campaigns to help promote licensed NBA products.
At present, characters are the major type of properties handled by the Chinese licensing industry players. The number of home-grown licensing properties on the mainland has increased rapidly in recent years, popular characters include Pleasant Goat and Big Big Wolf, Balala the Fairies and Armor Hero.
With strong networks on the Chinese mainland and in Southeast Asia, Hong Kong licensing agents are considered by many foreign licensors the most preferred partners to tap these emerging opportunities. Hong Kong-based licensing companies are major players on the mainland, setting up offices in cities like Shanghai and Guangzhou with distinct functions.
On the other hand, Hong Kong is the best gateway for mainland-based enterprises to promote their brand names and trademarks overseas due to Hong Kong's remarkable international network, as well as resourceful licensing players providing quality licensing services, including public relations support and personnel training. The increased demand for licensing services from mainland-based companies is expected to drive the Hong Kong licensing industry to a higher level.
Closer Economic Partnership Arrangement between Hong Kong and the Mainland (CEPA)
Among other provisions, CEPA further opens up the mainland market for Hong Kong products and the distribution business to Hong Kong companies.
In 2014, the Agreement between the Mainland and Hong Kong on Achieving Basic Liberalisation of Trade in Services in Guangdong was signed for implementation from March 2015, and the geographical coverage was extended from Guangdong to the rest of the mainland starting from June 2016 under the Agreement on Trade in Services (ATIS). Under ATIS, HKSS are granted national treatment to conduct retailing and wholesale services on the Chinese mainland[1]. Unlike the ten yearly Supplements which adopted a positive-list approach to introducing liberalisation measures, the two latest agreements adopt a hybrid approach to granting preferential access to Hong Kong using both positive and negative lists. Further information on the latest CEPA agreements can be found here.
Since effective distribution is vital to the success of a licensing deal, Hong Kong companies making use of the opportunities provided by CEPA to develop their mainland business will likely be sought after as distributors for foreign licensors, who prefer to work with distributors that offer adequate IPR protection and services in line with international practices.
Hong Kong manufacturers on the mainland who build their own distribution channels on the mainland or partner with a reliable Hong Kong-invested distributor can become even stronger candidates as licensees for popular foreign properties. Hong Kong manufacturers/licensees can also benefit from CEPA, given that all Hong Kong-produced goods fulfilling the required origin rules – many of which are hot products for licensing – can now enter the mainland market free of tariff.
---
[1] The negative list of ATIS explicitly excludes the distribution services in relation to books, newspapers, magazines, cultural relics, though it is added therein as a positive-list item for HKSS to distribute these products.