Three decades ago a young scientist working at CERN, the international nuclear research facility that straddles the French-Swiss border, proposed solving the problem of sharing the vast amount of data his field generated by linking text mark-up with the Internet, which at that stage was little-known outside academic and military circles.
The resultant world-wide web (www) must have exceeded Tim Berners Lee's wildest expectations. Within just five years the commercial Internet appeared, bringing one of the greatest investment booms (and crashes!) ever seen.
Few to many
The history of WWW can be divided into three parts, each spanning about 15 years. The first was a one-to-many web where a small number of providers put content, goods and services online for large numbers of readers or buyers. E-commerce giant Amazon and search engines (Alta Vista gave way to Yahoo! Gave way to Google) defined the era, Web 1.0.
Many to many
The proliferation of social media firms such as Facebook brought in the new era, where users began providing almost as much information and services as they consumed, bringing Web 2.0. "Influencers", merging advertising with word of mouth, became key drivers of e-commerce.
Much entertainment was generated by users and supplied free of charge on platforms like TikTok and YouTube (who could ever forget Bus Uncle?)
Now we have Web 3.0 where influencers, freelance video creators and part-time writers can take ownership of their services and products.
One of the key drivers of this evolution has been the rise in data capacity and sharp drops in the cost of storing, categorising and transmitting data, which let social media outlets grow exponentially.
The jump from Web 2.0 to Web 3.0 in turn has also been driven by innovations not dreamt of until very recently, such as blockchain and non-fungible tokens (NFTs) which hand a great degree of control to producers.
Charting a new course
Web 3.0 is no longer simply a "maybe" for discussion by technology experts but will be the dominant theme for the Internet (where most of us work, like it or not) going forward.
Recognising this, Hong Kong launched the Web 3 Festival in April this year, organised by W3ME and running at the Hong Kong Convention and Exhibition Centre at the same time as the Hong Kong Trade Development Council's InnoEx and Spring Electronics Fairs.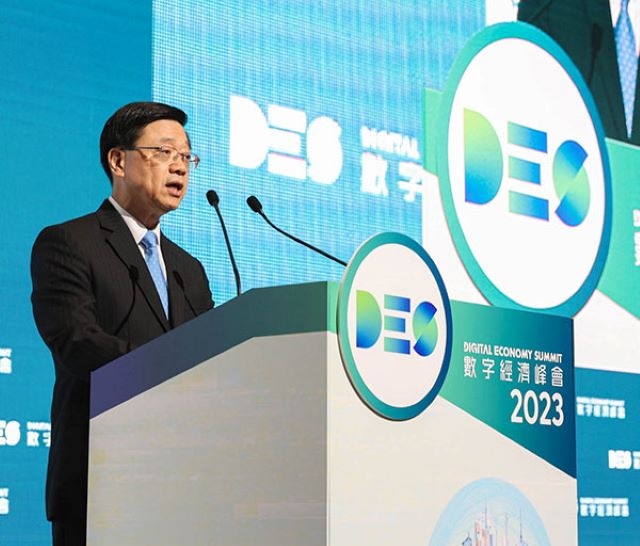 At the opening, Hong Kong Special Administrative Region Chief Executive John Lee said innovation and digital technologies were central to the plans of both the Central and Hong Kong governments going forward and outline the measures taken.
"We have also issued a policy statement last year to set out Hong Kong's commitment towards the development of virtual assets. This forms our larger plans in capitalising on the development of the third generation Internet, or Web 3.0, in which we see huge potential for future growth. All these clearly demonstrate that the Hong Kong SAR Government will continue to proactively steer our future high-quality economic development in the era of digital economy.
"Ladies and gentlemen, as the only city in the world where the global advantages and the Mainland China advantage converge, Hong Kong will continue to be the ideal base for mainland enterprises to develop their global reach and a launchpad for foreign companies to gain access to the Mainland Chinese market. It is our top priority to ensure that the business and investment prospects in Hong Kong will continue to flourish in the years to come."
Fintech
As Asia's financial hub, Hong Kong natural offers fertile ground for fintech. Addressing the FinTech Forum of the summit, HKSAR Financial Secretary Paul Chan said the government had large plans to capitalise on Web3.0 development.
"The emergence of Web3 is triggering a new wave of innovations in fintech. Virtual assets, stablecoins, DeFi (decentralised finance), NFTs, etc. They are set to become major forces of financial transformation in some years to come. We know they are irreversible trends that need to be embraced. But at the same time, some important issues arise. For example, would there be regulatory gaps? Would they transmit risks to traditional financial system and threaten financial stability? How could we best protect individual investors from fraud and scams?"
Hong Kong Trade Development Council (HKTDC) Deputy Executive Director Dr Patrick Lau also addressed the opening, saying the potential of Web 3.0 for small and medium-sized enterprises (SMEs) was huge. Web 3.0 technology can provide SMEs with increased privacy, security and reliability. SMEs could easily interact with customers and no longer needed to worry about their data being exposed or compromised, eliminating the need for a third-party intermediary. Web 3.0 could help businesses maintain transaction ledgers for customers and manage supply chains. It also enables SMEs to automate some services, such as lending and borrowing using smart contracts, he said.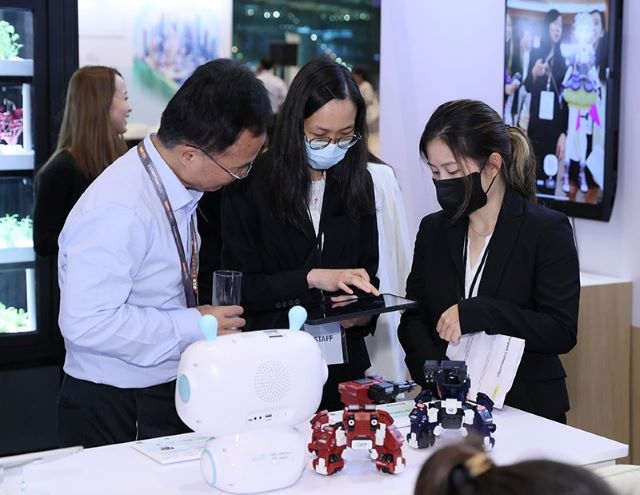 Web 3.0 can also made it easier for SMEs to accept instant payments from customers around the world in different digital currencies, eliminating costly transaction fees that have previously plagued many SMEs.
"In short, Web3 can impact the transformation potential of SMEs. Their successful business transformation, that is what drives us at the HKTDC every single day. Our modus operandi is to empower SMEs. We advocate for their success, which is ultimately Hong Kong's success," Dr Lau said.
"One of HKTDC's key platforms is our Transformation Sandbox, or T-box, business support programme, which we launched in April 2020. We help SMEs transform by enhancing their competitiveness in the areas of branding, e-commerce, manufacturing and supply chain solutions, and new markets."
He said the HKTDC encouraged SMEs to embrace innovation, the digital economy and Web3 at many flagship events throughout the year. "You may have heard about InnoEx, which debuted last week as one of the flagship events of Business of Innovation and Technology Week, an initiative driven by the Hong Kong Government. InnoEx is a major innovation and technology event showcasing the latest cutting-edge technology products."
Related links
InnoEx