Fashion-conscious office workers in Central, Hong Kong, have long turned to IL Sarto Tailor – a local specialty tailor focussing on Italian-style, custom-made suits – for such sartorial needs. Yet, the fallout from the pandemic meant many face-to-face meetings were shelved and working from home became routine. Office workers no longer needed to dress to the nines in order to meet customers, which abruptly halved IL Sarto's business. The brand adapted immediately: in addition to focusing on wedding suits, and launching casual and women's clothing lines, the tailor also plans to open a store in the United Kingdom to capitalise on demand there for tailor-made clothing, particularly in London.
IL Sarto joined the T-box upgrade and transformation plan of the Hong Kong Trade Development Council (HKTDC) to understand and analyse the UK market. To that end, the Council formed a London office.
With assistance from the team at the HKTDC's office in the nation's capital, IL Sarto successfully collaborated with London & Partners, the official promotion agency of the City of London in a three-day trade mission. The London Development and Promotion Agency organised the trip to aid foreign retailers like IL Sarto to better understand the British business environment and retail market, especially in London where many fashion trends are set. Another goal of the initiative was to establish contacts with representatives of professional organisations, with an eye towards preparing for future openings.
Overall image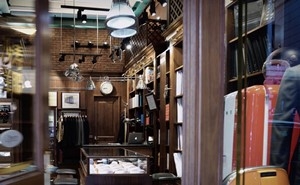 IL Sarto's Hong Kong shop is in a traditional building in Queen's Road Central. Its interior furnishings are full of charm, taking customers back in time to the heyday of custom-made clothing in the first half of the 20th century. Joanna Cheng, Women's Clothing Director at IL Sarto. She said the brand is committed to providing customers with professional, caring and detail-oriented Italian suit customisation services at affordable prices.
She believes suits are more than just good looking and durable attire, but have an element of a magic. "Life is like a play. Wearing a well-tailored suit can enhance your sense of immersion, just like wearing a costume – and you can speak more confidently, professionally and convincingly."
Designed for the occasion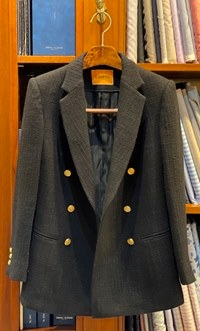 IL Sarto stocks more than 3,000 Italian fabrics and different linings, button options, necklines and bag designs; the combinations and permutations are ever-changing. Ms Cheng said in the first instance, she communicates with customers to carefully understand their needs and provide design suggestions. She then draws exclusive pattern templates for them, which she then hands over to Shanghai-trained sewing masters in local Hong Kong workshops. After customers try their garments on, IL Sarto will make final adjustments. The whole process takes about a month.
"What we sell is not just products, but also services."
She said Italian-style suits tend to be regarded as fashionable and fancy, with soft fabrics and a tight fit.
"They are suitable for work and can also be worn with Chinos (twill pants), or jeans for leisure."
IL Sarto also collaborates with designers of different nationalities to launch new suits and sells the IL Men fashion accessories series. "Women especially like to go to the store to choose gifts during Christmas, Valentine's Day and other festivals, so as to send warmth to the better halves."
Women's clothing line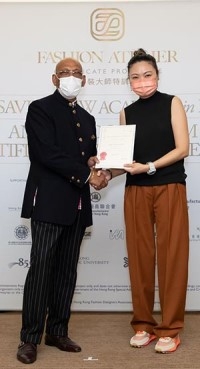 Ms Cheng's women's clothing series was launched on 16 December, she said – thus also helping IL Sarto make inroads into the women's fashion market. "The office suits are elegant and have the effect of adjusting body proportions and [are] slimming. In addition, we will use elastic fabrics to make them more comfortable."
She participated in the Fashion Creative Industry Master Certificate Special Training Course, co-organised by the Hong Kong Fashion Designers Association and Create Hong Kong. Andrew Ramroop, an international master tailor from London's famed Savile Row Academy came to Hong Kong to teach the course. As a result, Ms Cheng says she improved her tailoring and production skills, which have given her more confidence to launch new collections.
To reiterate: IL Sarto is actively expanding overseas. In fact, it was Ms Cheng that approached the HKTDC for help and joined the T-box upgrade and transformation plan. In doing so, she was introduced to the HKTDC's London office and this past October, flew to London to join the aforesaid trade mission organised by London & Partners. The event was specifically designed for global retailers intending to open outlets in the city. During the event, Ms Cheng met the Mayor of London Sadiq Khan (main picture centre), and she learned about the local business environment and retail trends.
"Many people told me they liked our designs and would be the first customers, which made us more confident to develop in London," she said. The conference also arranged for appointments with local service providers such as real-estate agents, lawyers, accountants and human resources consultants. "We quickly established a business network, handled matters such as finding stores, recruiting people, and promoting, so as to prepare for [a] future opening."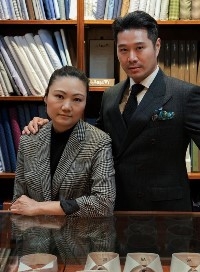 Ms Cheng believes the UK market has great potential for development. "The custom-made suit culture is prevalent in the UK. Londoners pay attention to dressing up and love fashion. The market has demand, which is very suitable for brand development. We plan to open a store in London's West End in 2024, because it is the centre of the city, there is a lot of traffic and bespoke tailors cluster there. But we also have to weigh many factors, including such issues as the local economy and taxes."
She added that the founder of IL Sarto, Danny Choi Lai-chak, runs multiple businesses, including a design firm, a car modification company, and two restaurants: Pun's Food in Tsim Sha Tsui and Lang's Cafe in Causeway Bay. "We also intend to open a restaurant in the UK. Next year, we will visit London to inspect the environment and explore business opportunities in the catering industry. We hope to receive more support through the assistance of the HKTDC and the T-box team."
T-Box
To help Hong Kong enterprises implement business transformation and explore opportunities, the HKTDC launched the "T-box Upgrade and Transformation Programme" (T-box) based on the sandbox concept, to provide services including business consulting, workshops, governmental subsidies, market information and exchange opportunities to help Hong Kong companies grasp trends, improve their skills and expand business connections.
The programme has been well received since its launch. More than 2,600 Hong Kong companies have participated in the programme and nearly 700 free consultations have been provided by professional organisations, representatives of chambers of commerce, business partners and HKTDC overseas offices. Please click here for details.